Crystals and Mesh: Lizzo Sets the Standard For Sexy Spring Outfits in a Sheer Crop Top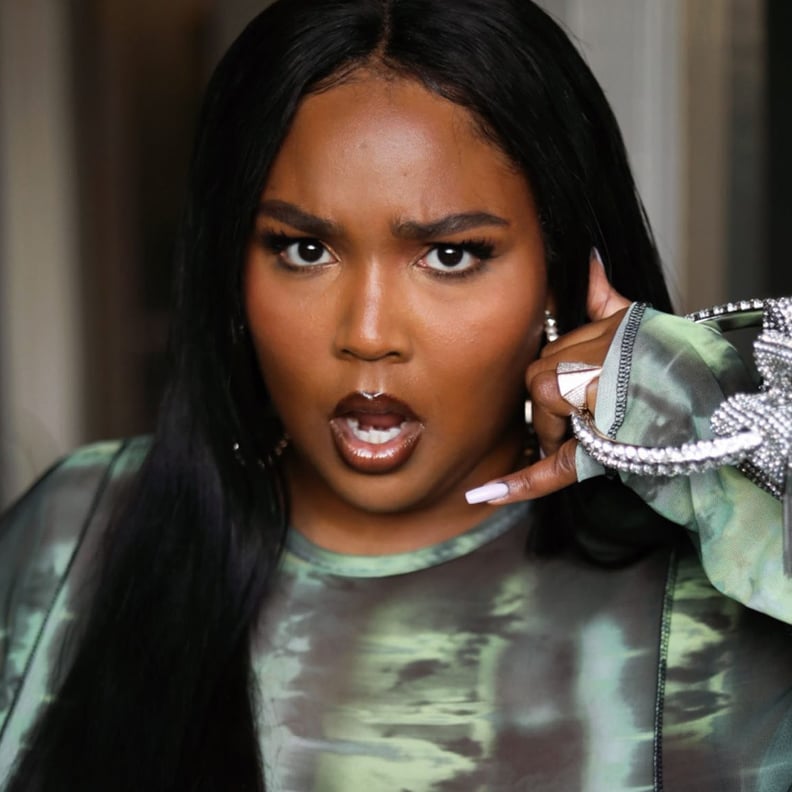 Goddess of glam, Lizzo, is working her fashion magic again in a sheer two-piece set from Doja Cat's affordable PrettyLittleThing collection and a "casual" Thursday outfit never looked so good. The "Good as Hell" singer paired the Abstract Watercolor Mesh Crop Top ($25) and matching Abstract Watercolor Mesh Leggings ($30) with a crystal-embellished Jimmy Choo purse, hoop earrings, a white miniskirt, and Stuart Weitzman White Satin Aleena Sandals. "First I wanna thank @dojacat for the fit.... and jimmy choo for the bag [sic]," she captioned an Instagram post. "Don't tell jimmy choo I was doin lay-ups w/ his bag [sic]," she added in a follow-up video of herself throwing her purse through a basketball hoop. After all, fashion can be fun in more ways than one, right?
Like a living work of art, Lizzo posed to show off the translucent two piece from every angle. As far as outfits for spring and summer go, we're already feeling inspired clicking through the photos on her IGS, taken by Lizzo's friend and makeup artist Alexx Mayo. Take a closer look at Lizzo's sheer green watercolor outfit — and her gorgeous makeup — here.