Return to Lolla Land: The Best Festival Looks From Last Year's Lollapalooza
Lollapalooza is just a few days away, and like the music festivals that have come before it (Coachella, Bonnaroo, Glastonbury . . . you get the drill), Chicago's band-standing weekend is a prime time for music fans to break out their crop tops and cutoffs. Before we return to Grant Park, we're reminiscing about festival fashion with a look at last year's street-style contenders.
Could this have been the Coachella of the Midwest? Only one way to find out. See the best looks from last season (don't forget the accessories!), and stay tuned for our up-to-the-minute coverage of this year's fest this weekend.
As with the rest of the world, black and white is a color combination not lost on Lollapalooza fans. Anya played up the trend with a vintage shirt, H&M shorts, and an American Apparel floppy hat.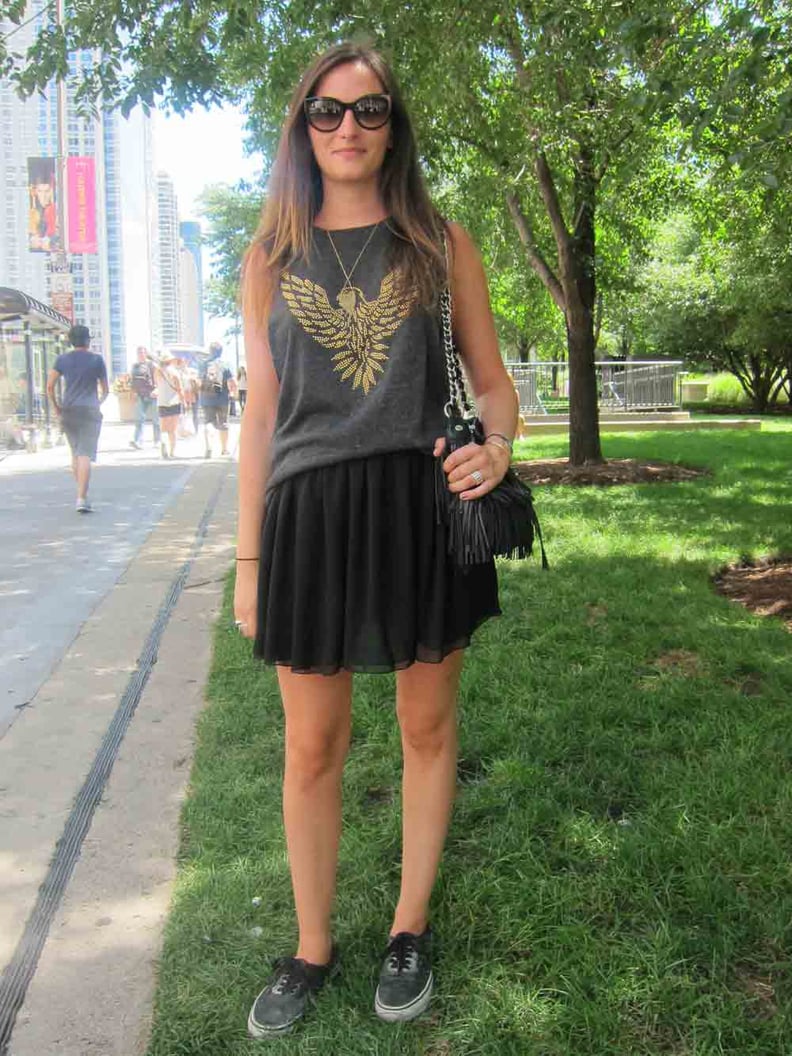 Emblem shirts were a must have this weekend. This golden eagle tank from Forever 21 served as the perfect focal point of Marine's outfit, which included an American Apparel skirt and dusty-silver Vans.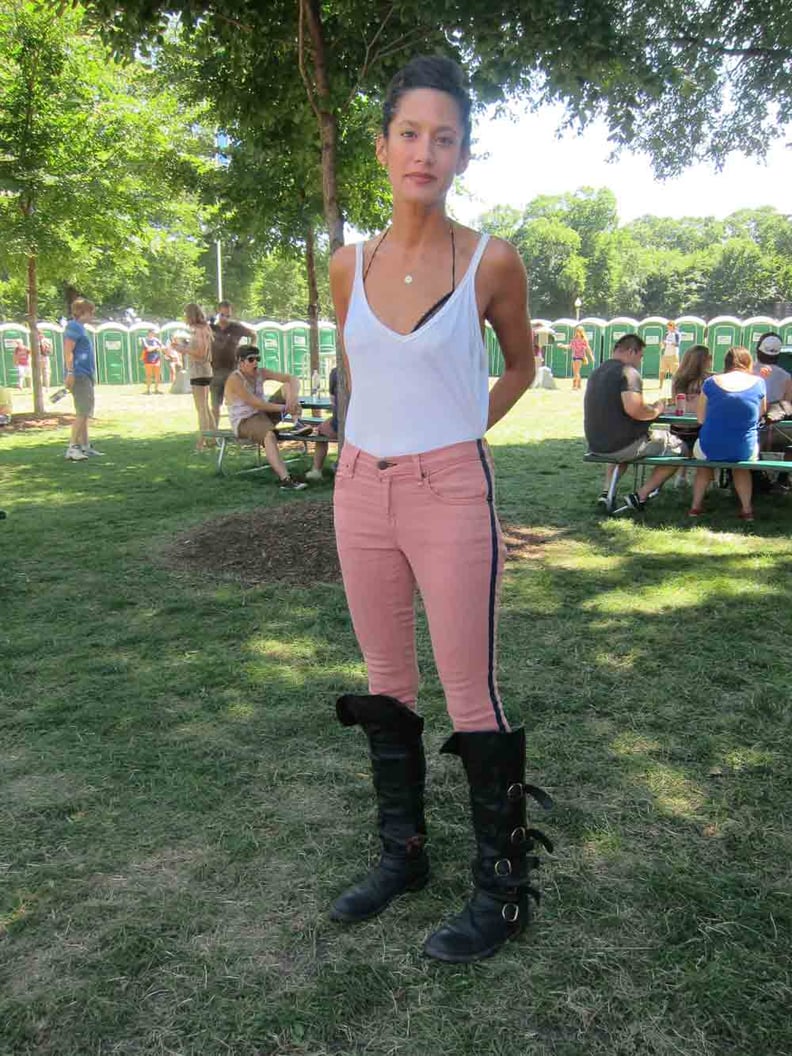 We won't lie: we've seen a lot of bras this weekend. Still, we were surprised with just how chic we thought Beatriz's styling was with her trim white tank over a halter bra. Sure, her pink tuxedo-striped Rag & Bone shoes and Fiorentini & Baker boots didn't hurt.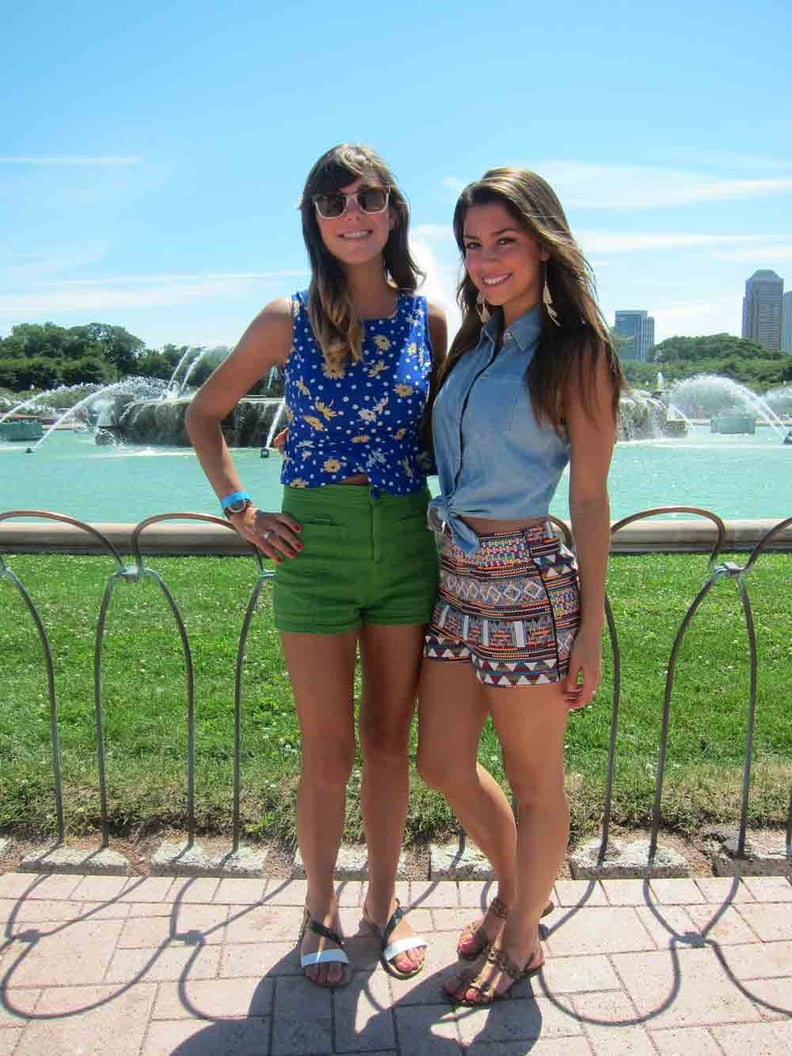 Bright colors, big city: friends Sara and Chelsea proved that bold colors — including Sara's green H&M shorts and Chelsea's tribal Akira ones — are a standout style statement.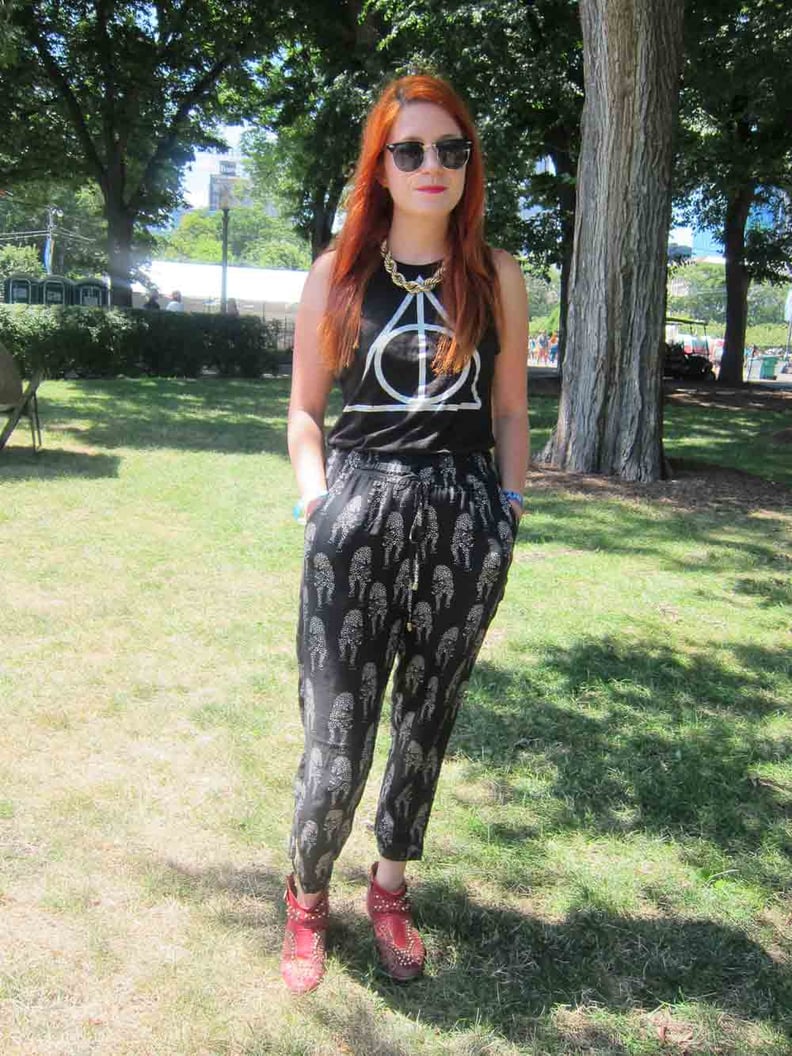 What's black and white and red all over? Karee's festival look, which included Zara horse-print slouchy pants and red studded booties also from Zara. The printed shirt? Handmade!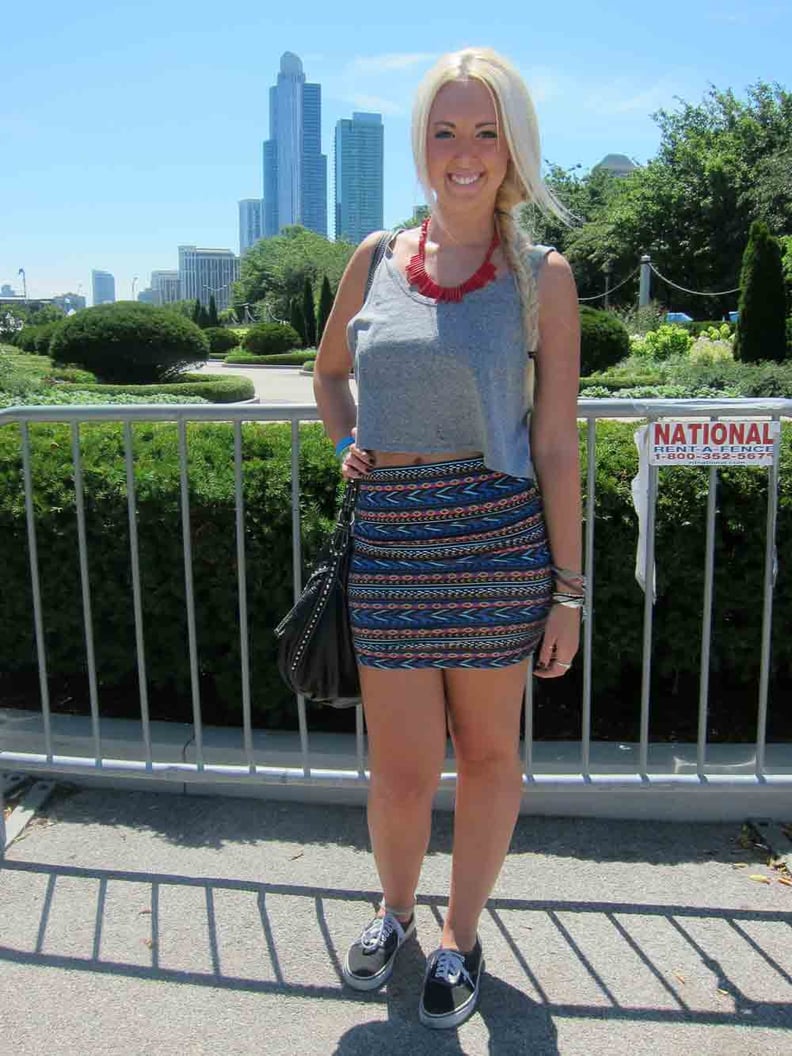 We love how Kaitlyn toned down her printed Charlotte Russe skirt by pairing it with a simple gray tee, classic Vans, and an H&M statement necklace.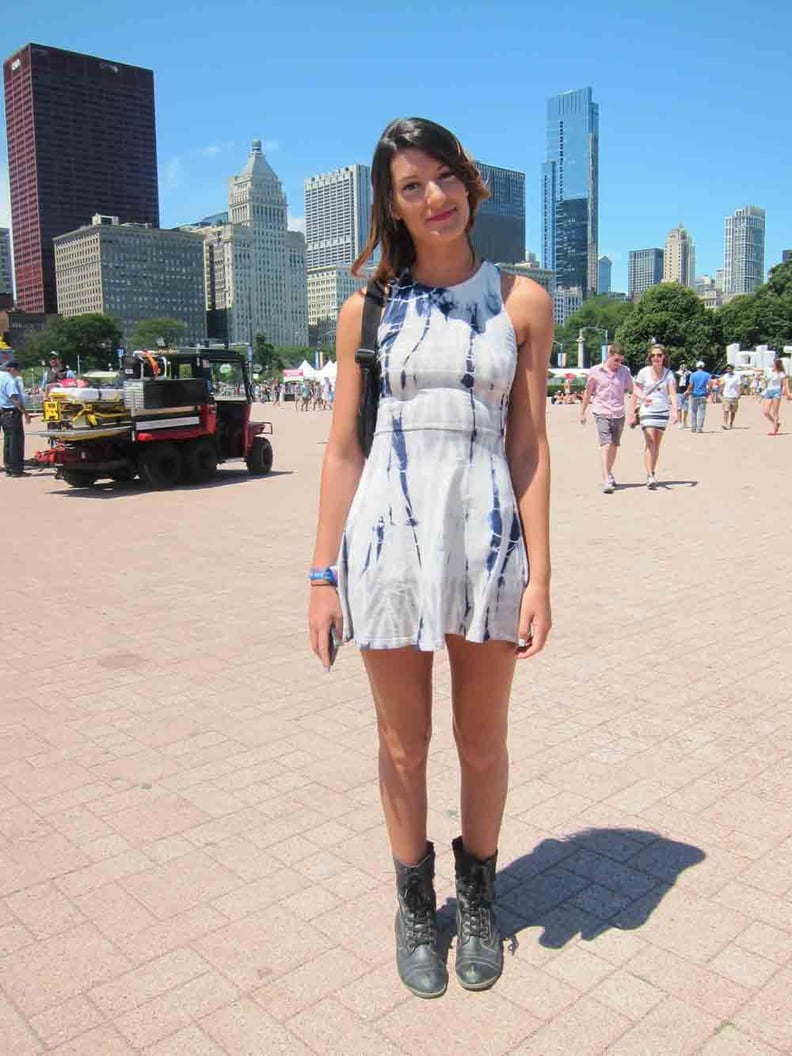 Melissa's fitted Akira dress was the perfect subtle nod to all the tie-dye seen at this year's festival. The figure-flattering silhouette also served as the perfect mashup to her more masculine Topshop boots.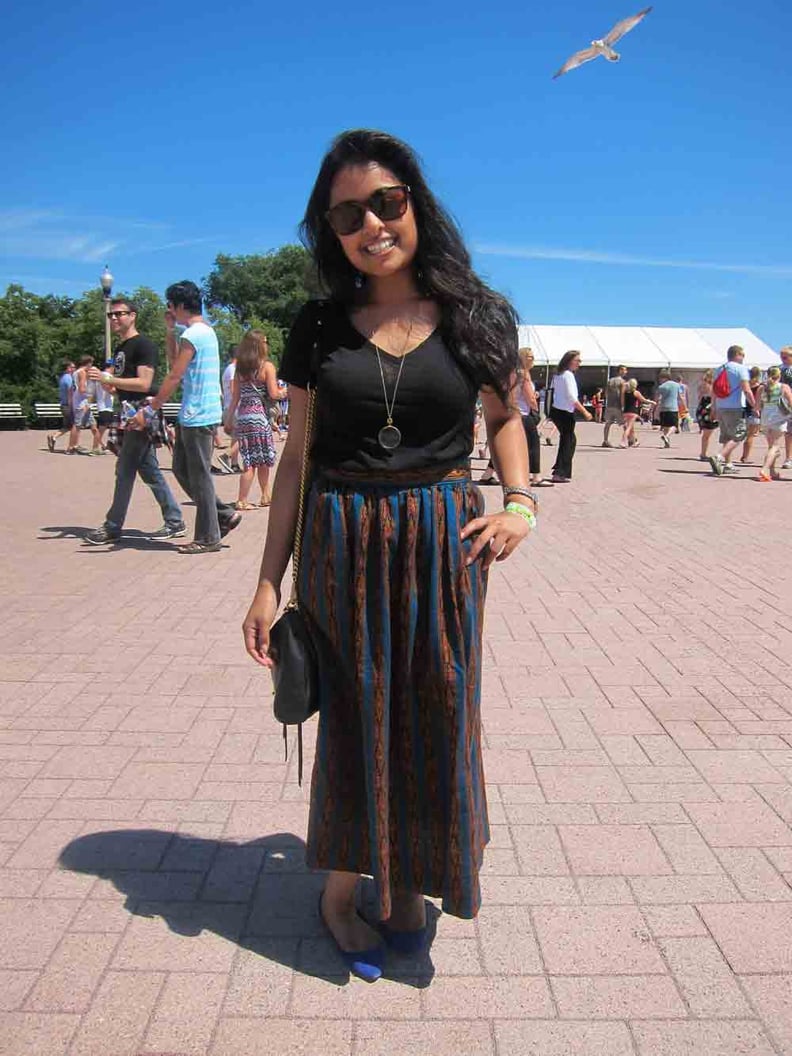 Heidi's vintage pleated maxi skirt was the statement piece that grabbed our attention.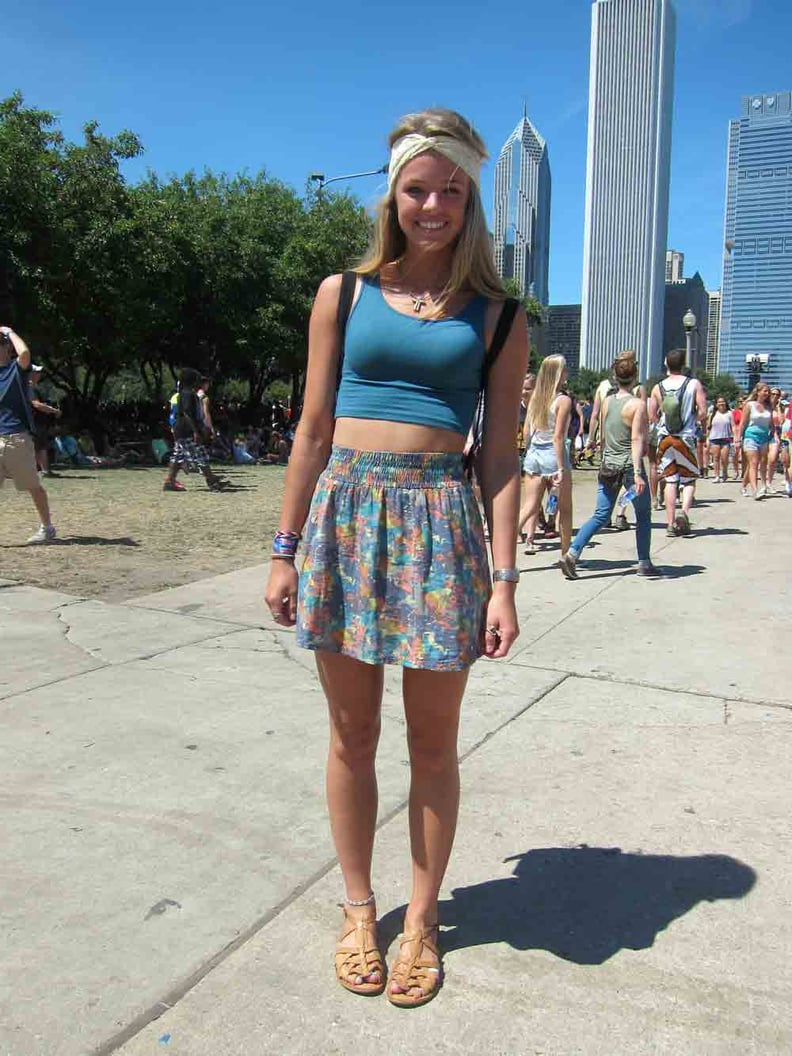 Maeve paired her blue Nordstrom crop top with an old pastel-printed skirt and an Urban Outfitters turban for a look that was revealing but somehow still adorable.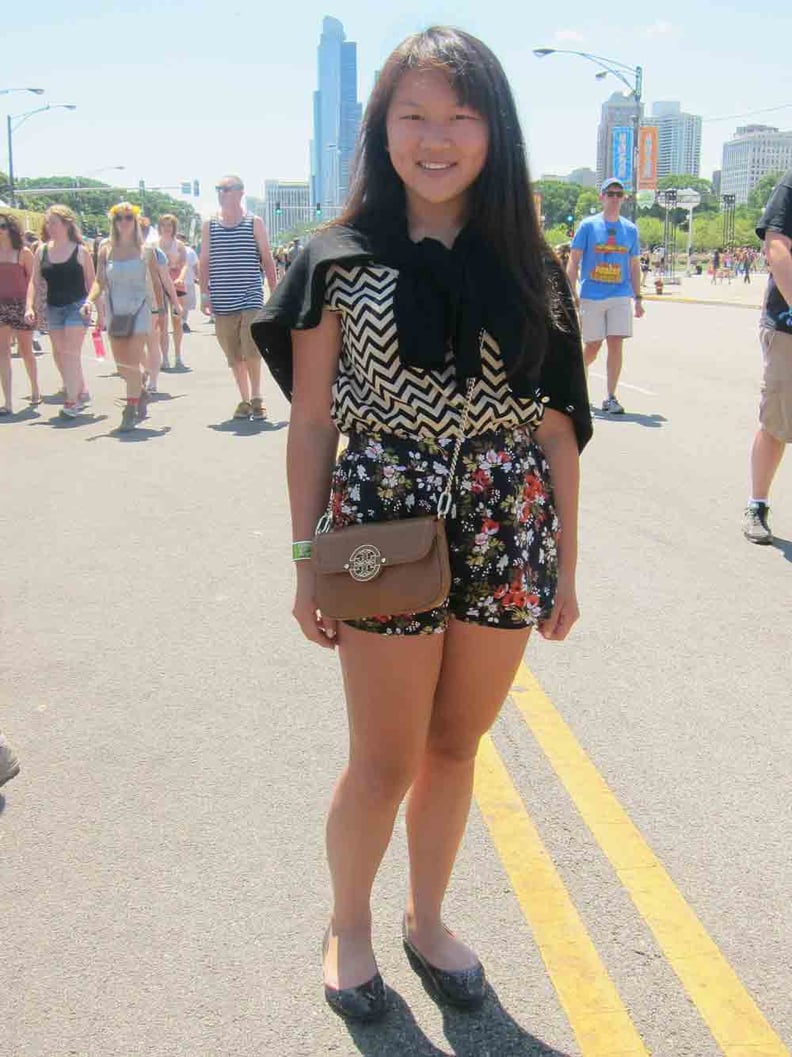 Elizabeth dared to try one of our favorite trends and hit a high note with print clashing her Charlotte Russe chevron top with floral shorts. Her Tory Burch crossbody and over-the-shoulder cardigan added the perfect prep polish.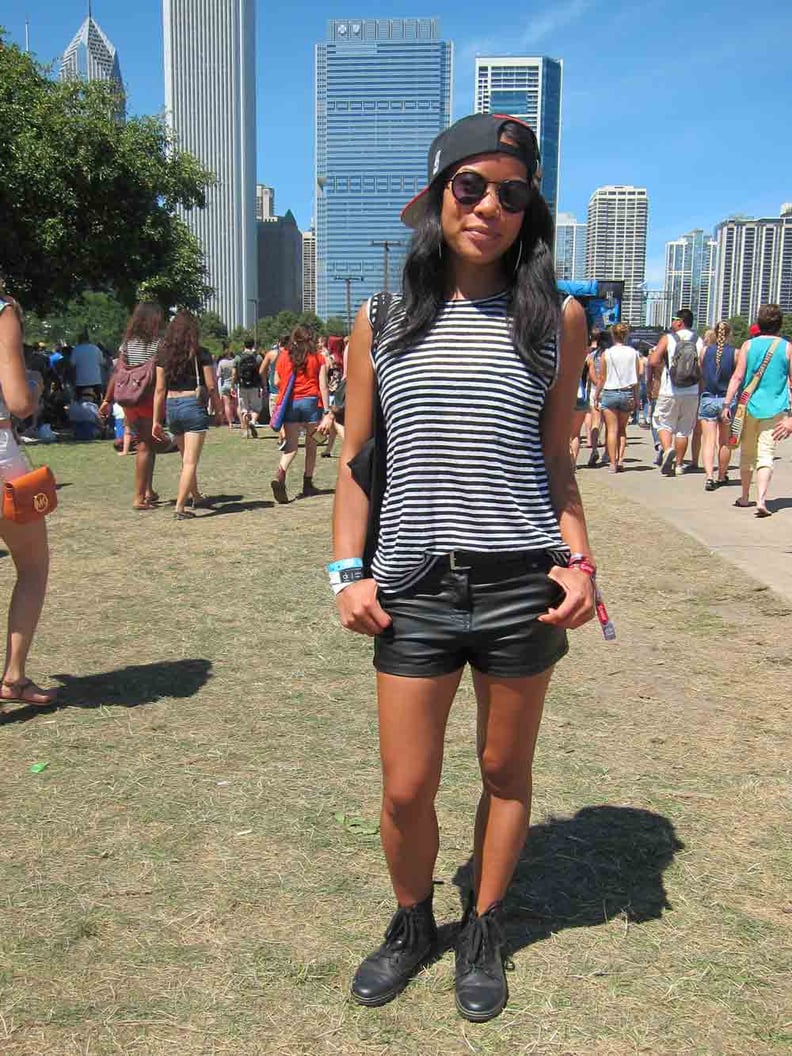 Forget flower crowns and bohemian ruffled dresses: for Jamie, this festival was all about street wear, from leather shorts and backward Chicago Bulls baseball caps to Doc Martens.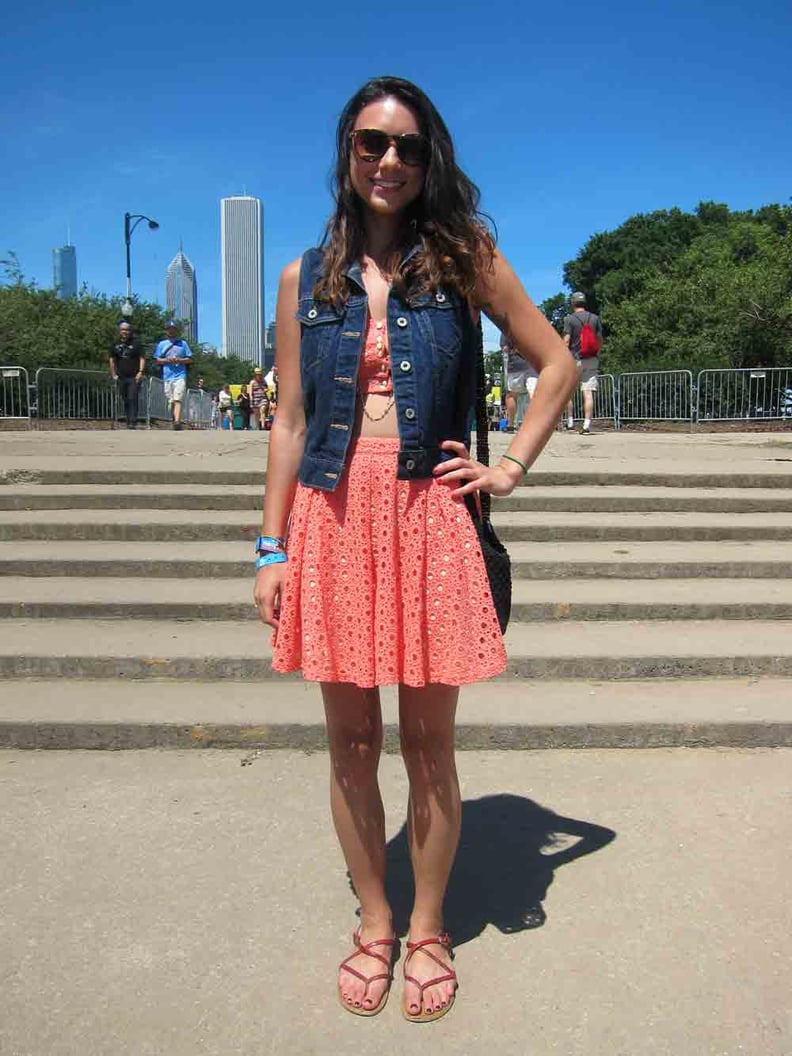 Don't let the light coral hue or the prep-friendly eyelets deceive you: this skirt is secretly a bare midriff in good-girl's clothing. Still, Jackie kept her Urban Outfitters skirt-and-bandeau-top set demure by layering a dark-wash Levi's vest on top.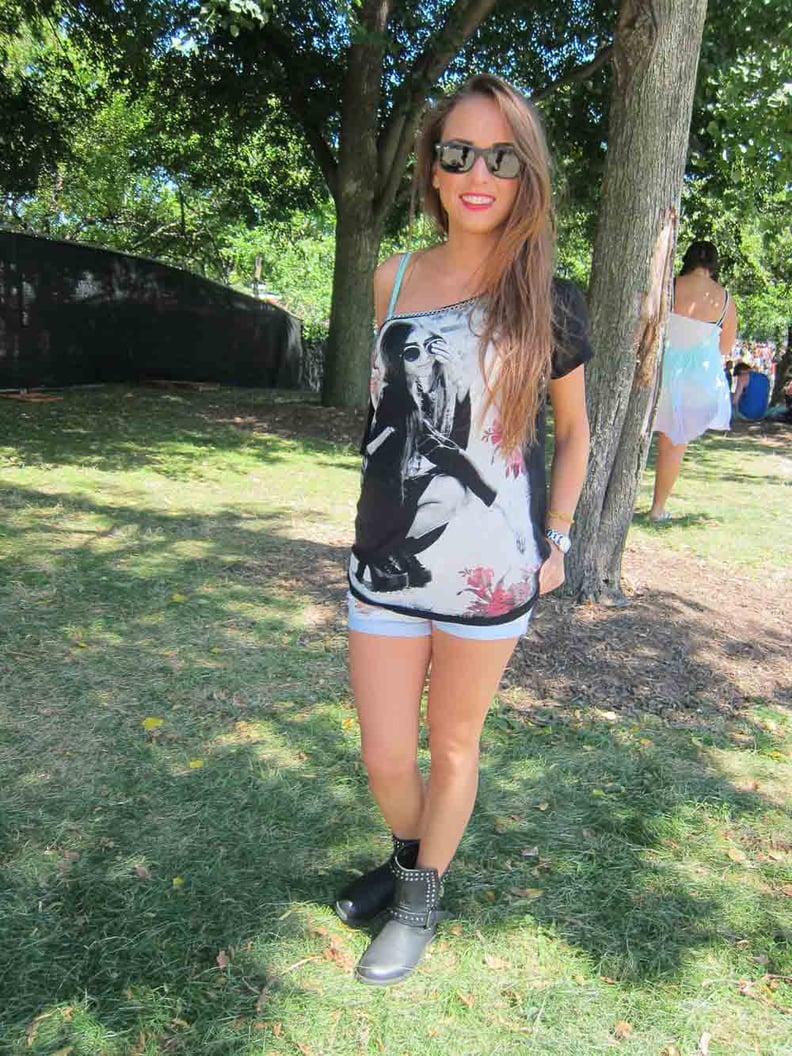 Face facts: Andrea's photo-print off-the-shoulder top is one we'd love to try on for size.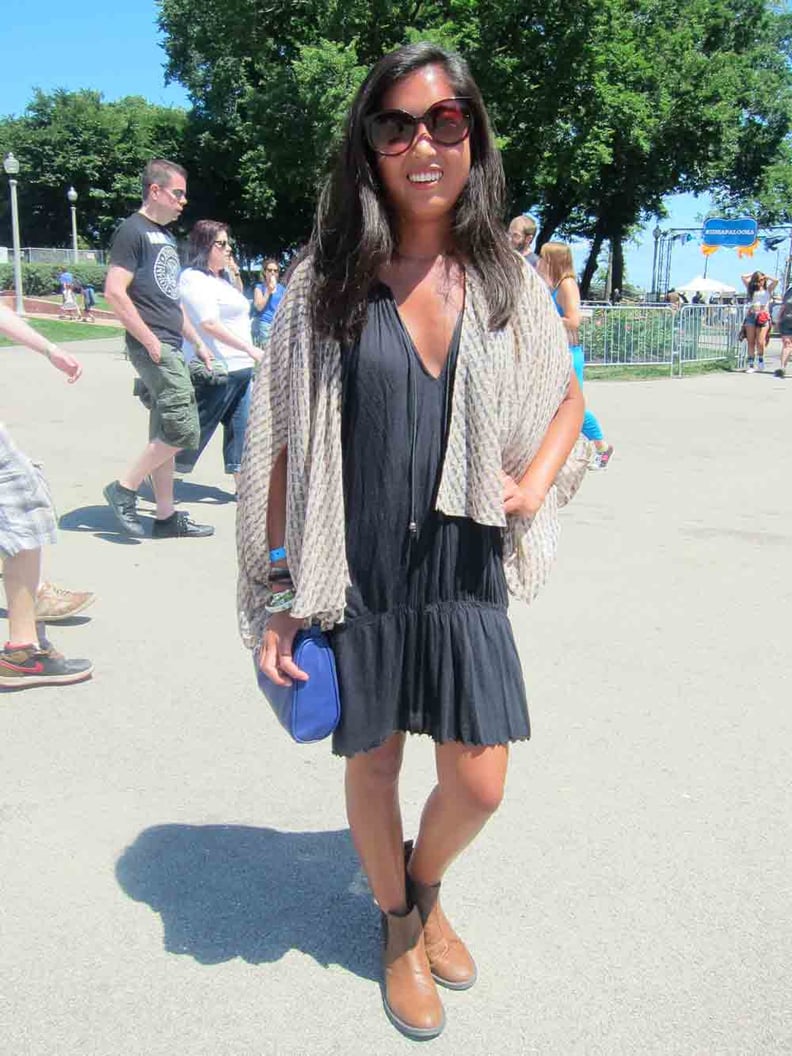 Chicago weather can leave you hot one minute and chilled the next. Stacey clearly came prepared for all conditions with an Akira kimono layered over her Free People dress. Her House of Harlow sunglasses and H&M bag didn't hurt, either.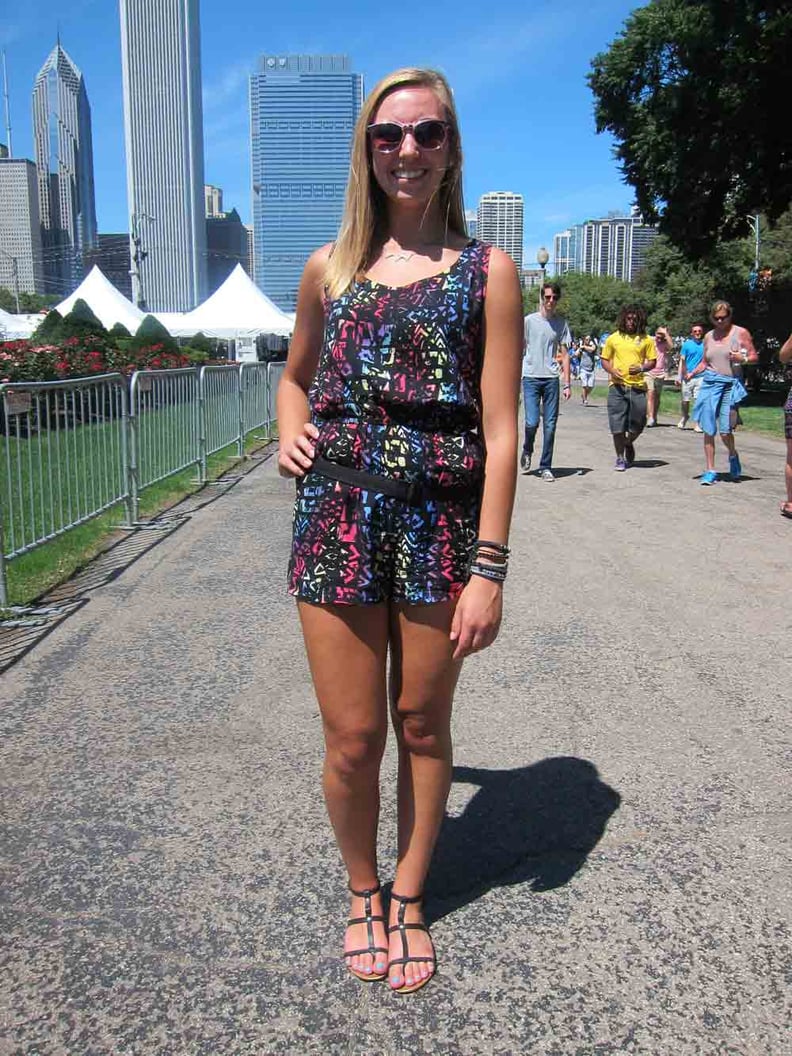 We were surprised with how few rompers saw the light of Lolla this season, so when we saw Samantha's colorful neon Forever 21 version, we were plenty relieved.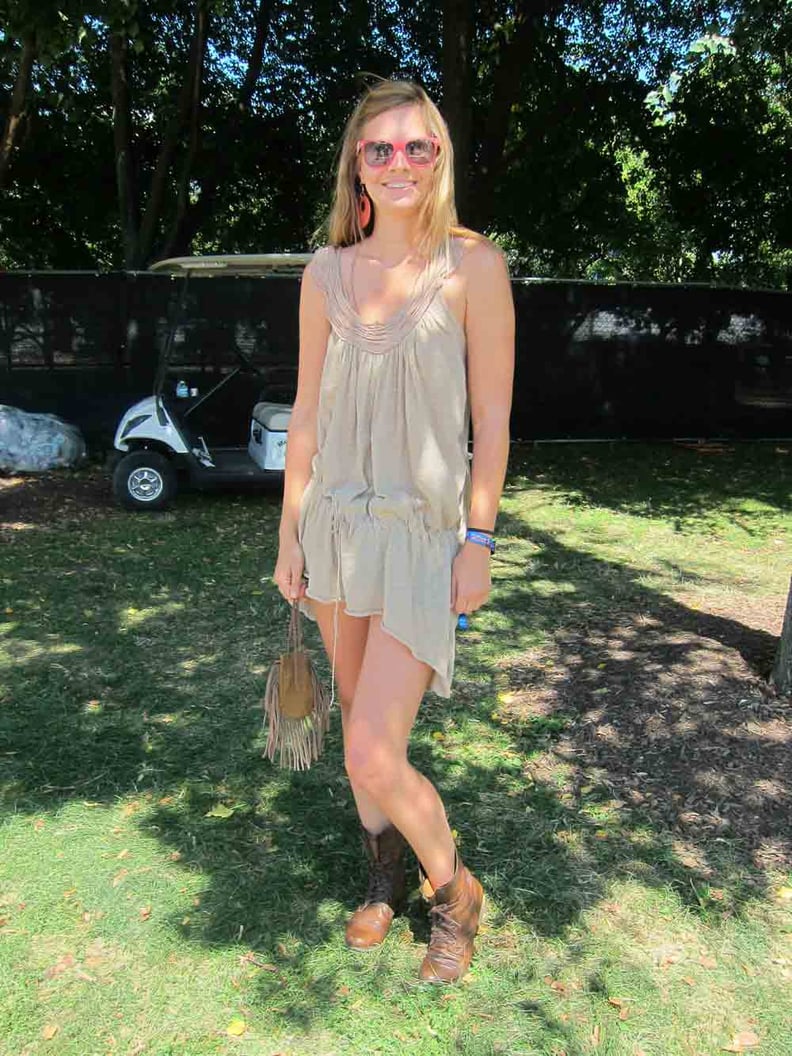 Nothing looked more diaphanous than Kara's nude Free People dress.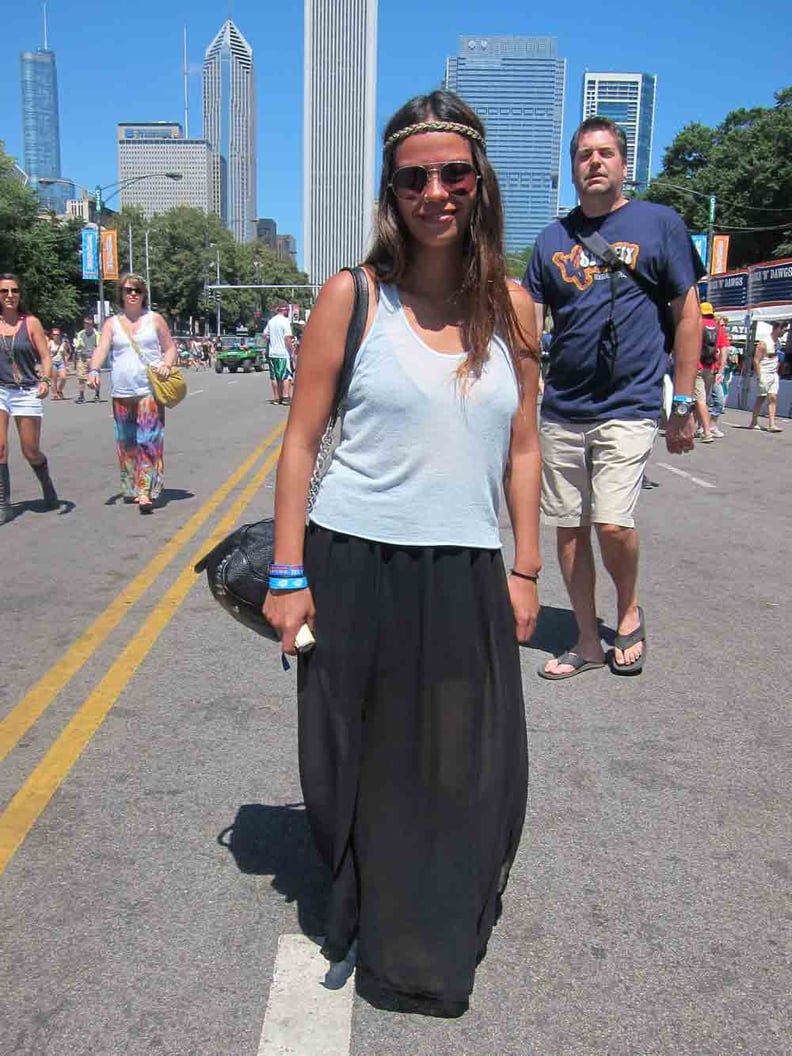 Viridiana's breezy ensemble — a loose white tank over a sheer black maxi shirt — was a nice antidote to the festivity's '90s revival of acid-washed denim cutoffs.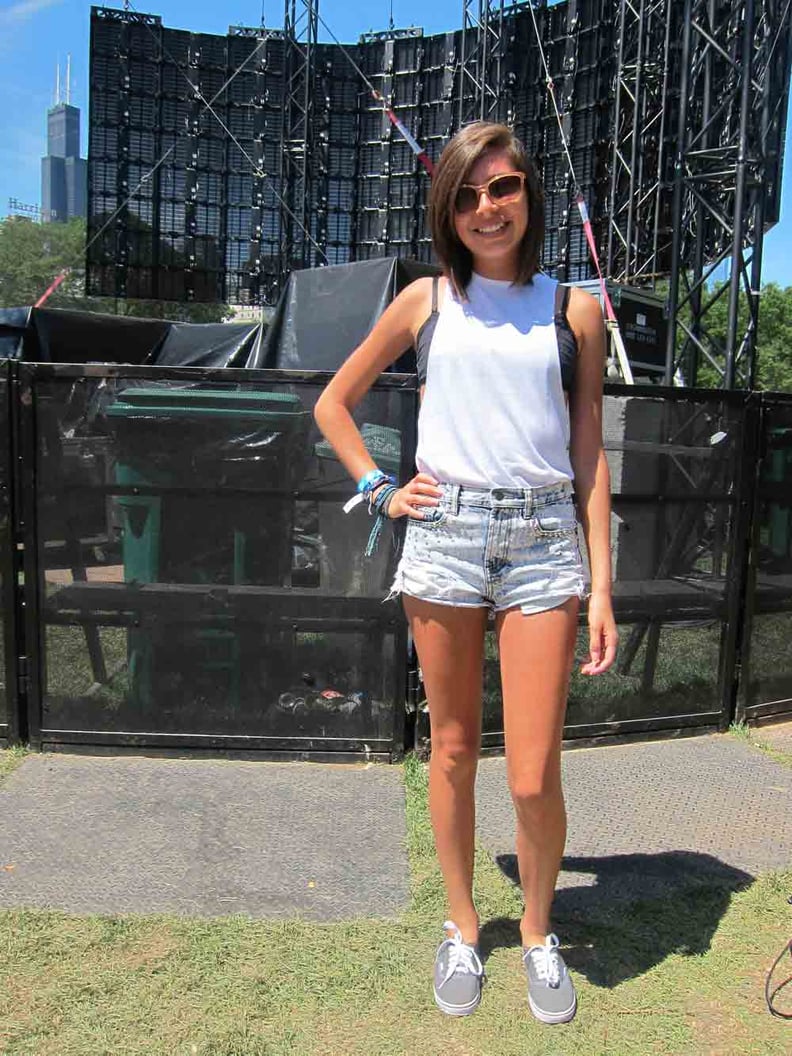 We don't know if it's the high neckline on this white tank or the fully covered black bra underneath, but we thought Zerbrina's look was undeniably cool while still feeling conservative.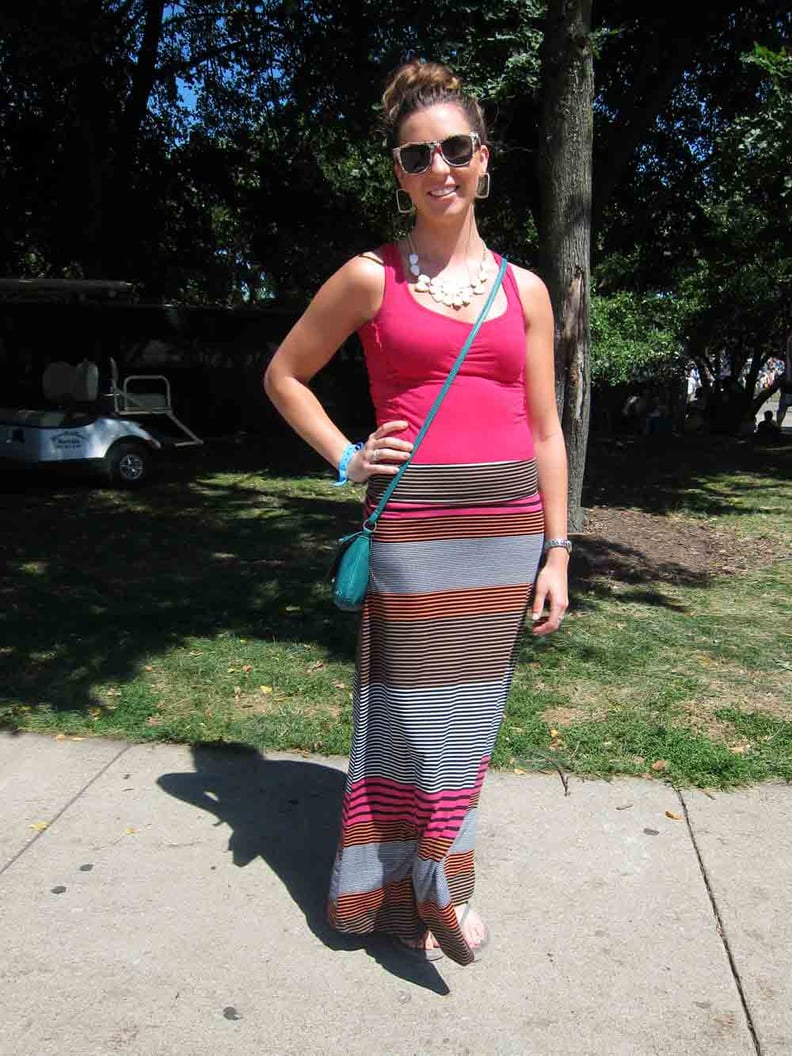 Bright pink had its moment in the sun with Mary Kate's striped colorblock Target skirt with similarly colored sunglasses.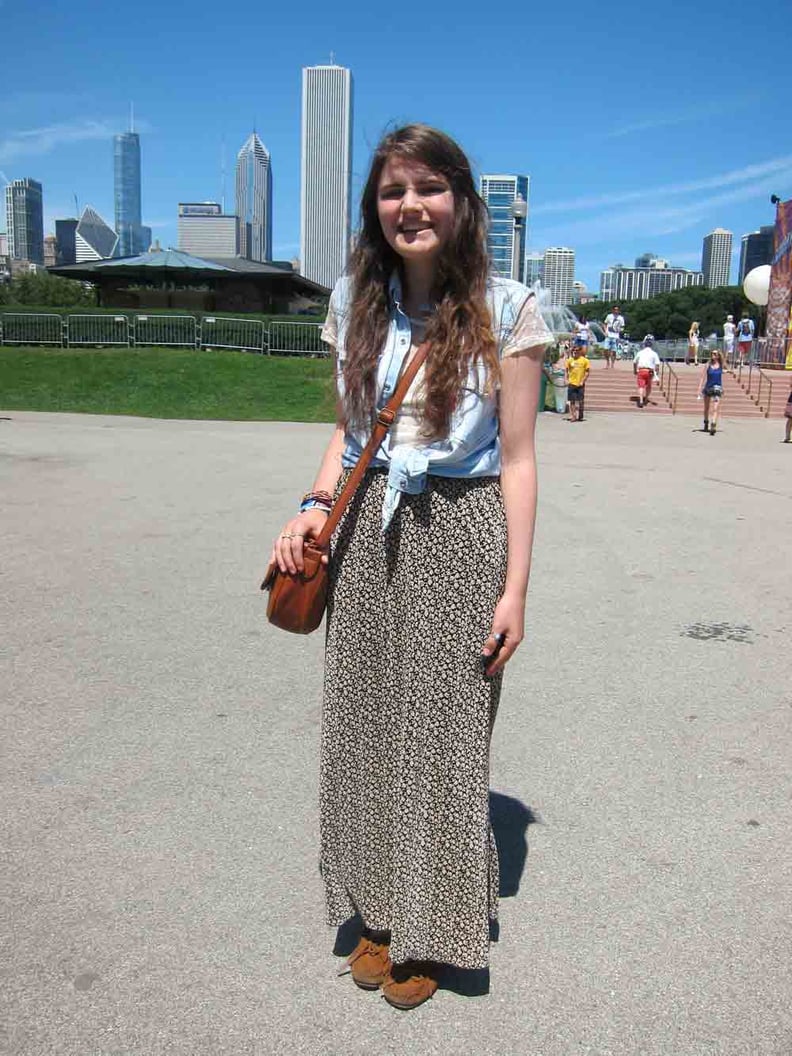 You can't buy style, and it seems Ellie didn't have to! Her look — which included a maxi skirt found at the Salvation Army and old moccasins — comprised items found and borrowed, like her mother's denim vest.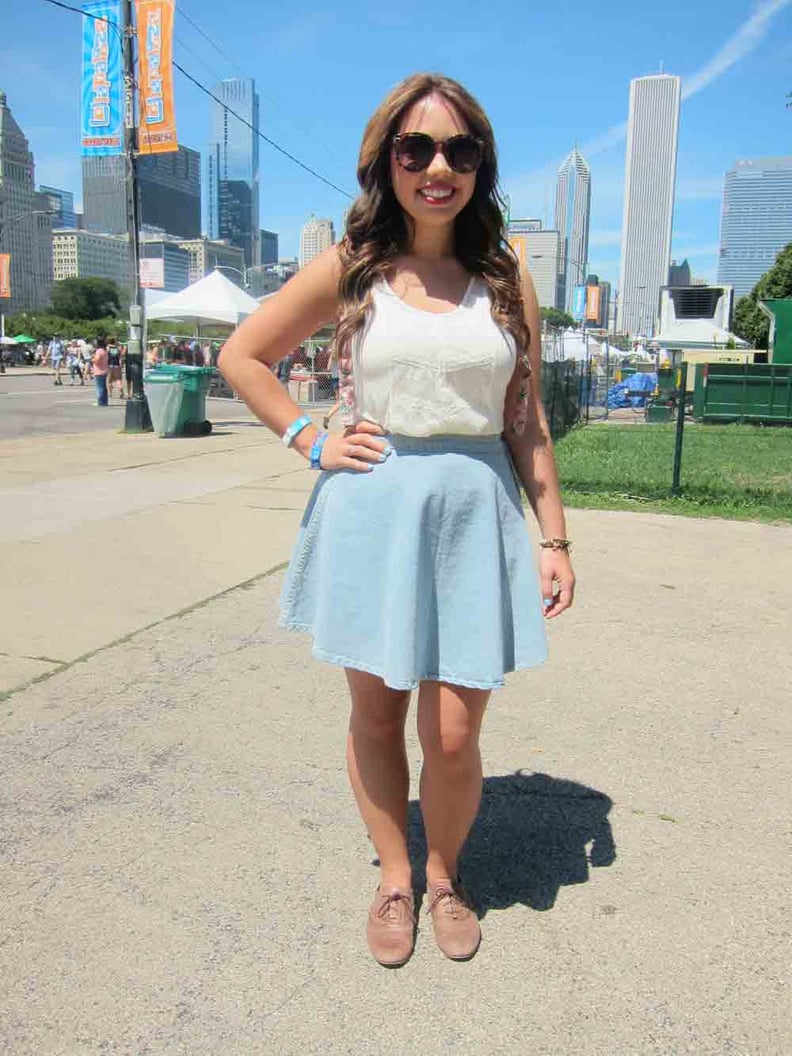 For the amount we saw, denim may as well have been an official Lollapalooza sponsor. Still, it was rare to spot the material in anything other than cutoff shorts, so we were thrilled to see Mary sporting a light denim American Apparel skirt.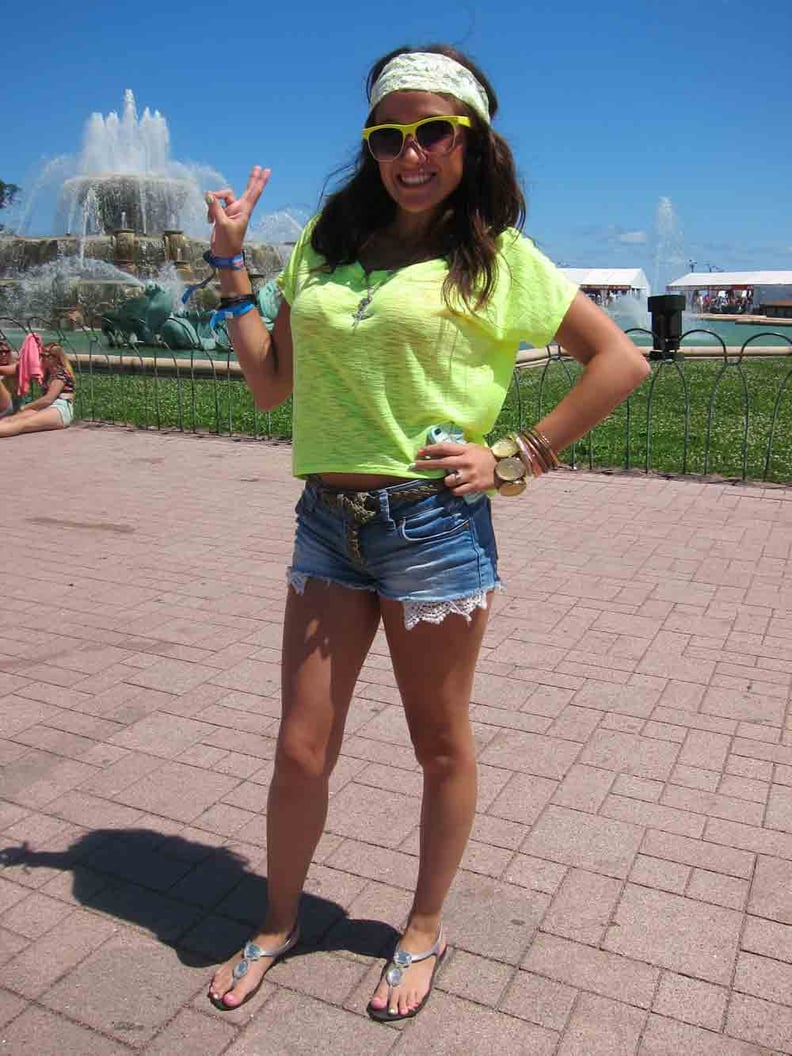 One nice thing about neon? It makes you easy to spot in a crowd! We saw Jessica from a distance thanks in no small part to her coordinated lime-green top and sunglasses.
Talk about texture: Nicole's liquid-metallic top stuck out as the statement despite her also-fetching vintage round sunglasses.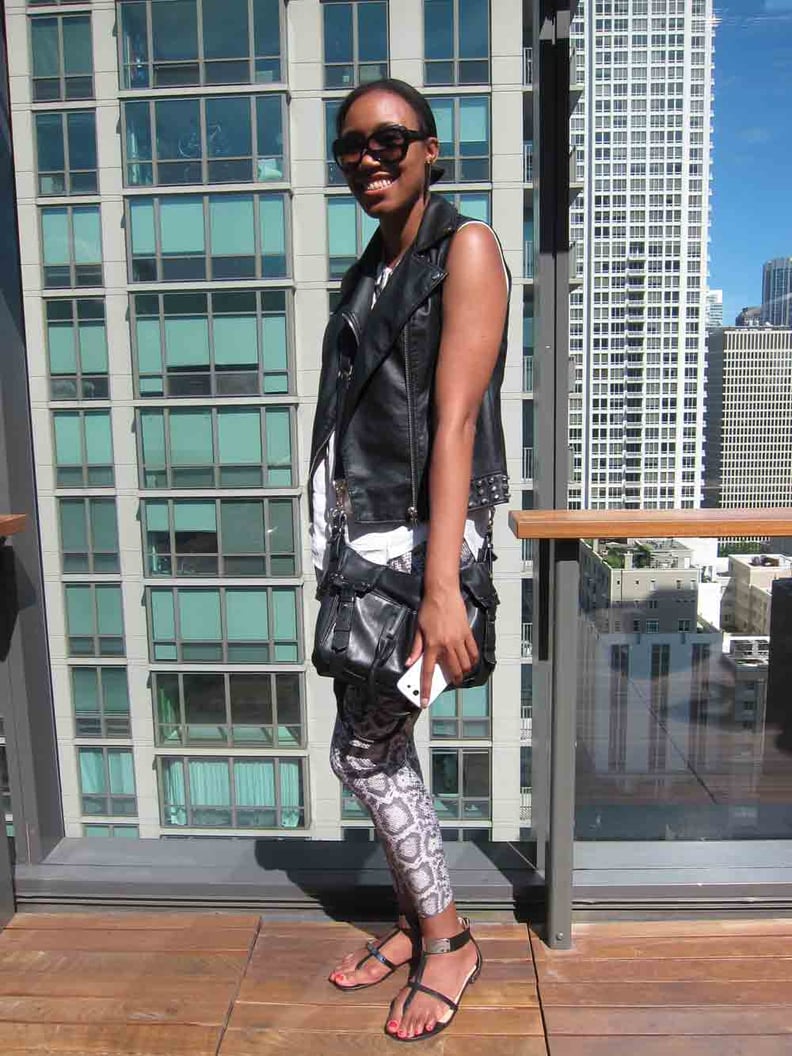 Taneisha channeled a cool-girl biker chic at the MAC Lollapalooza party. Along with a Forever 21 sleeveless moto vest and snakeskin leggings, she kept things cool with a Vince Camuto bag and Prabal Gurung for Target sandals.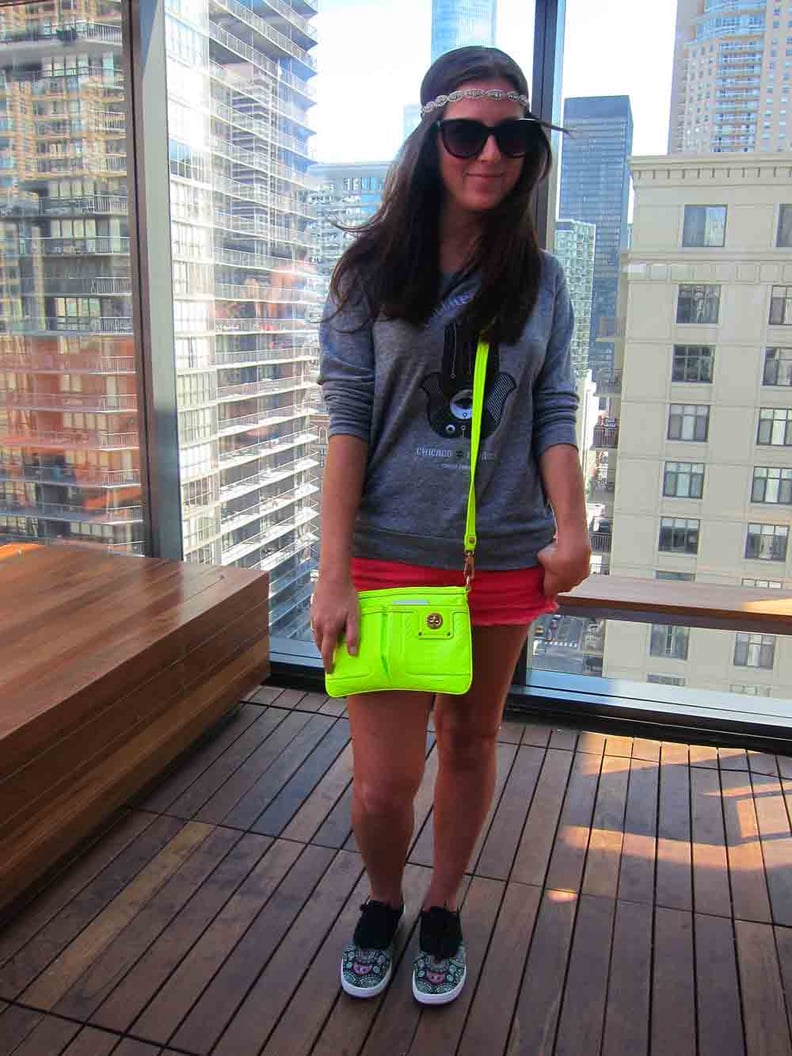 At a MAC Lollapalooza rooftop party, Katie showed how much fun it is to wear festival merchandise. She paired her sweatshirt with a neon yellow Marc by Marc Jacobs bag and BucketFeet owl-print shoes.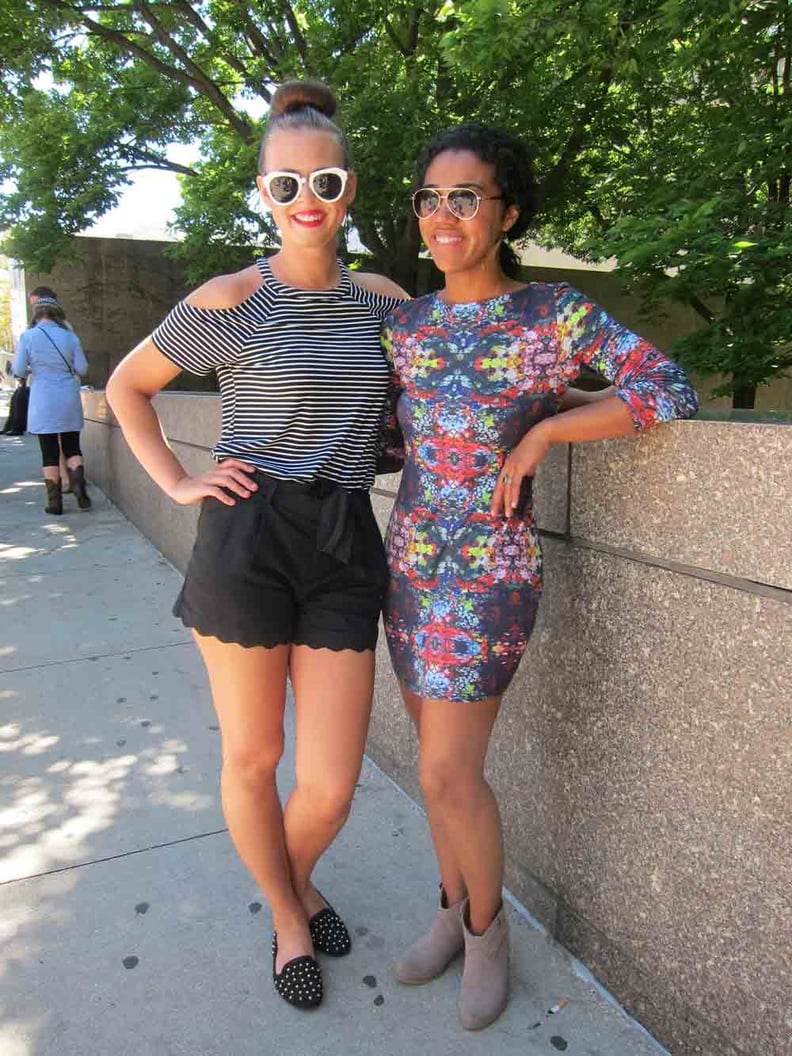 On-trend friends! Jade went black and white with an open-shoulder MinkPink top and sunglasses and studded flats, both from Topshop. Meanwhile, Pamela opted for a digital-printed dress from MinkPink (this style was popular at Lollapalooza!) and taupe Target booties.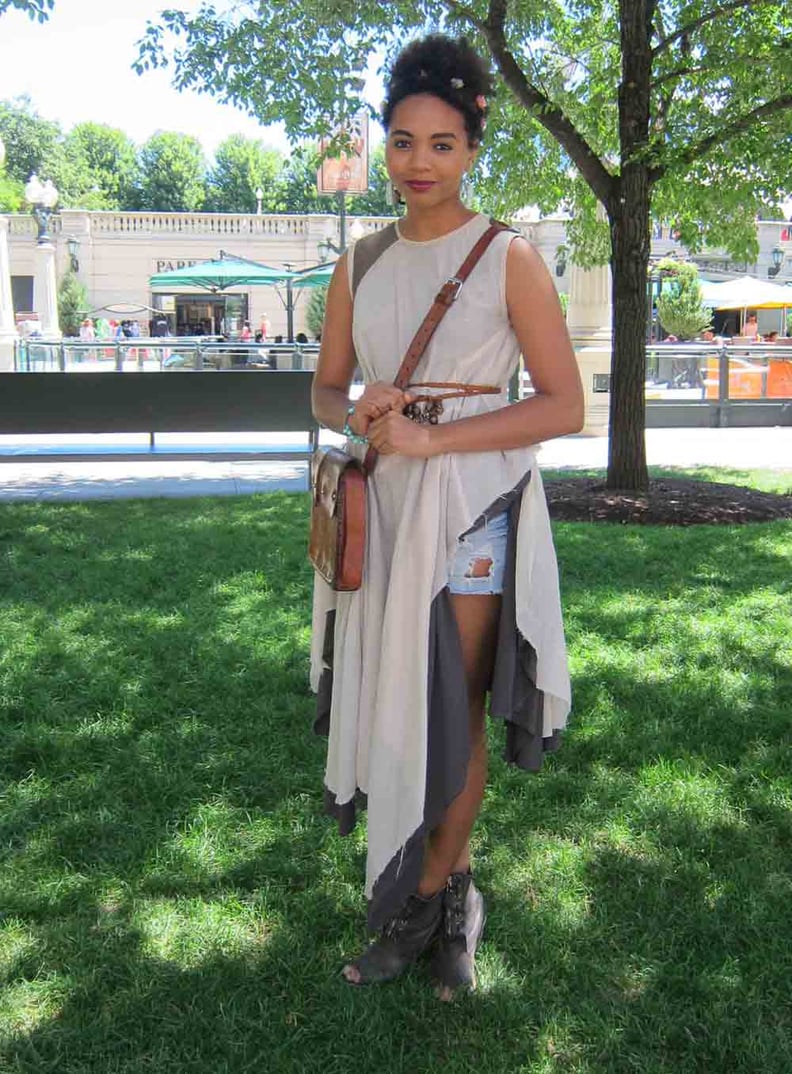 Like a true bohemian, Brayleen hit up Grant Park in a handmade dress over ripped cutoffs. To complete the look, she paired it with a vintage leather purse and open-toe All Saints boots.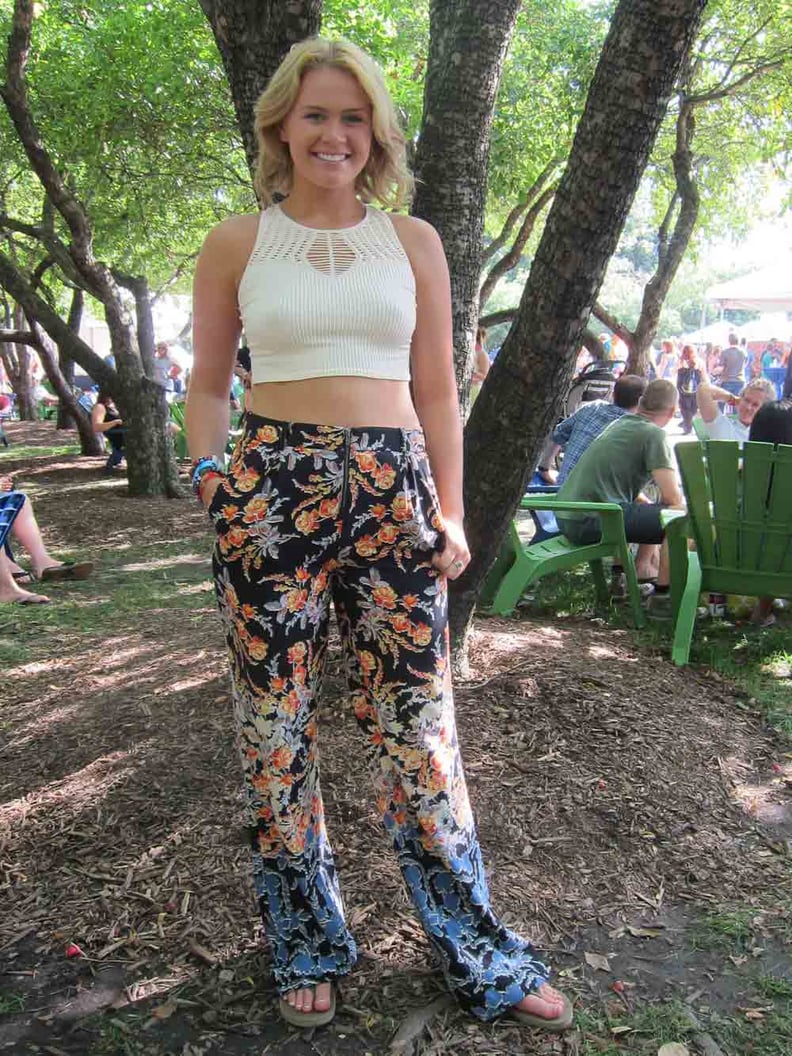 We'd wear Tori's floral-print BCBG Max Azria pants to the office! We love how she paired them with a cream Free People crop top for the festival but strongly encourage her to get as much use out of them as possible.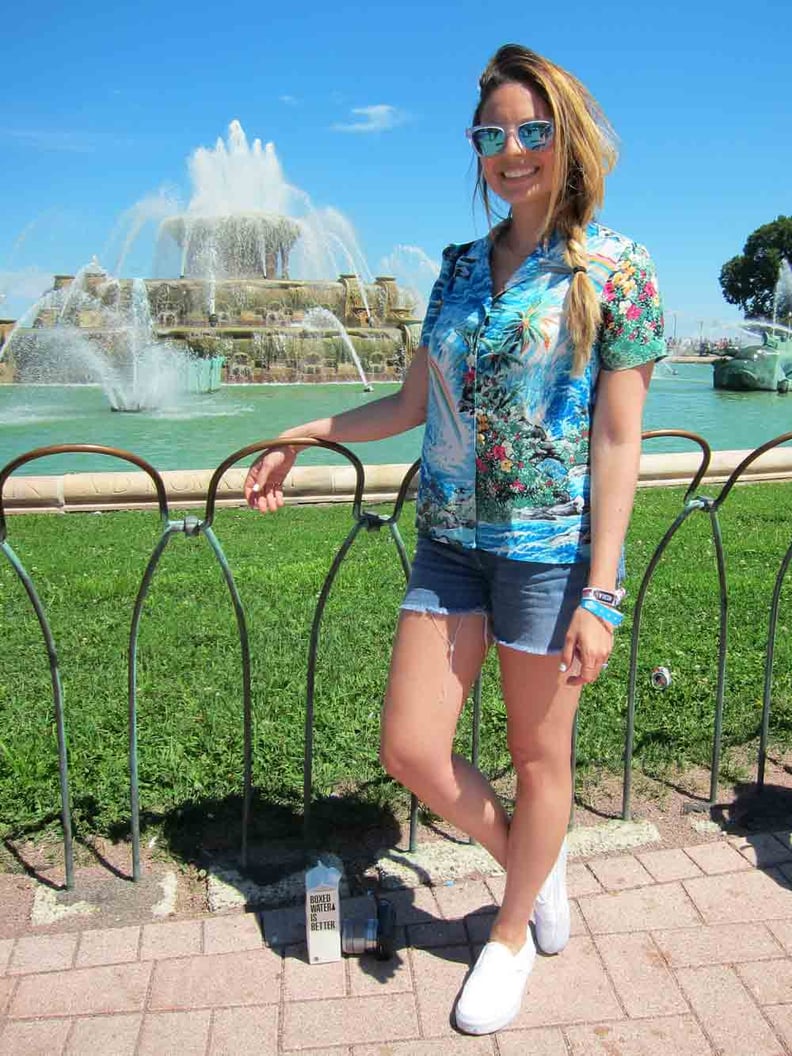 Alyssa brightened things up in a fun, beachy Reformation shirt and mirrored Westward Leaning shades. And we still can't believe how she kept her Vans so perfectly white!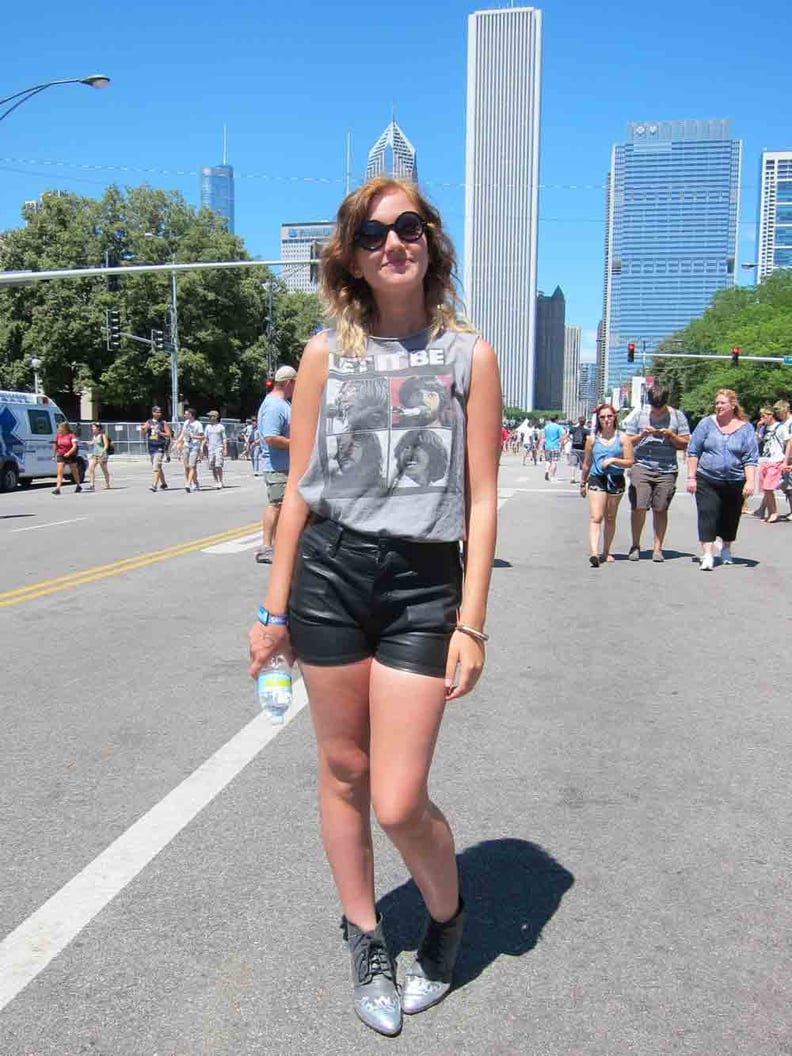 Josie let it be known (sorry, we couldn't help it!) that her favorite band wasn't on the lineup. Among all the music fans wearing official Lollapalooza merch, this vintage Beatles shirt stood out from the crowd. We're also impressed with how she managed to handle the heat in black leather shorts and Urban Outfitters silver-cap boots.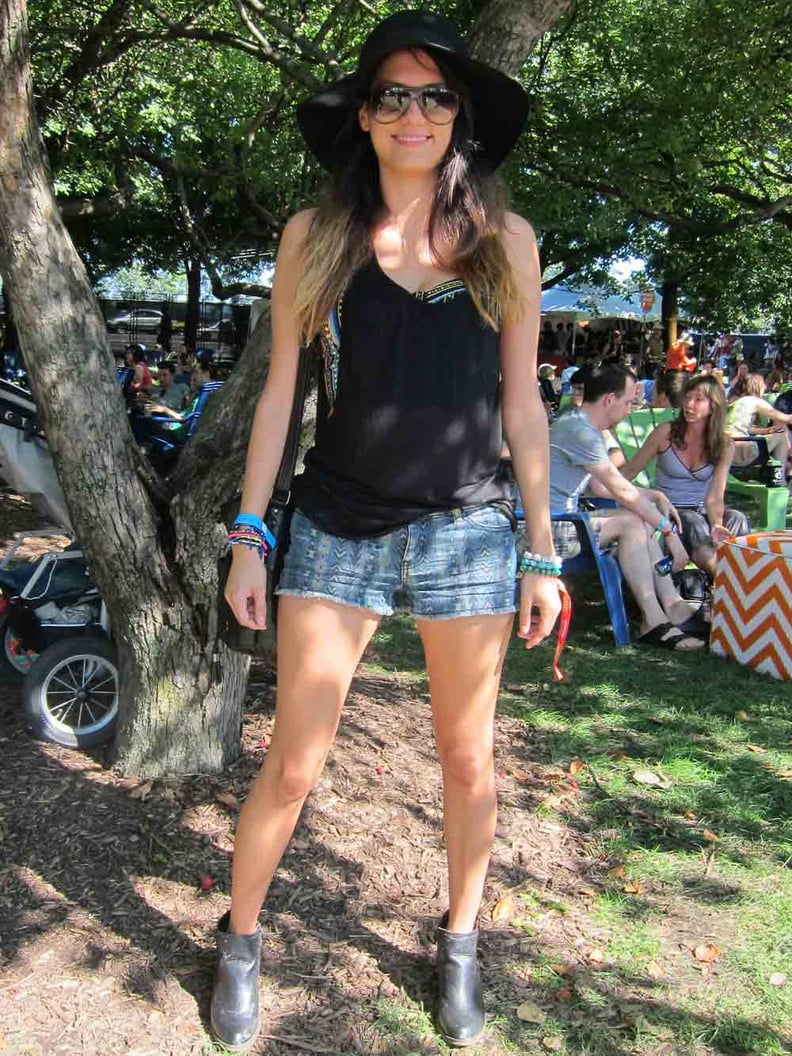 Of all the bustiers on display, Antonia's was one of our favorites — and she kept it covered up! We respect her giving just a peek of the printed number, and we love how she kept everything else simple, from her Roxy hat to Target boots.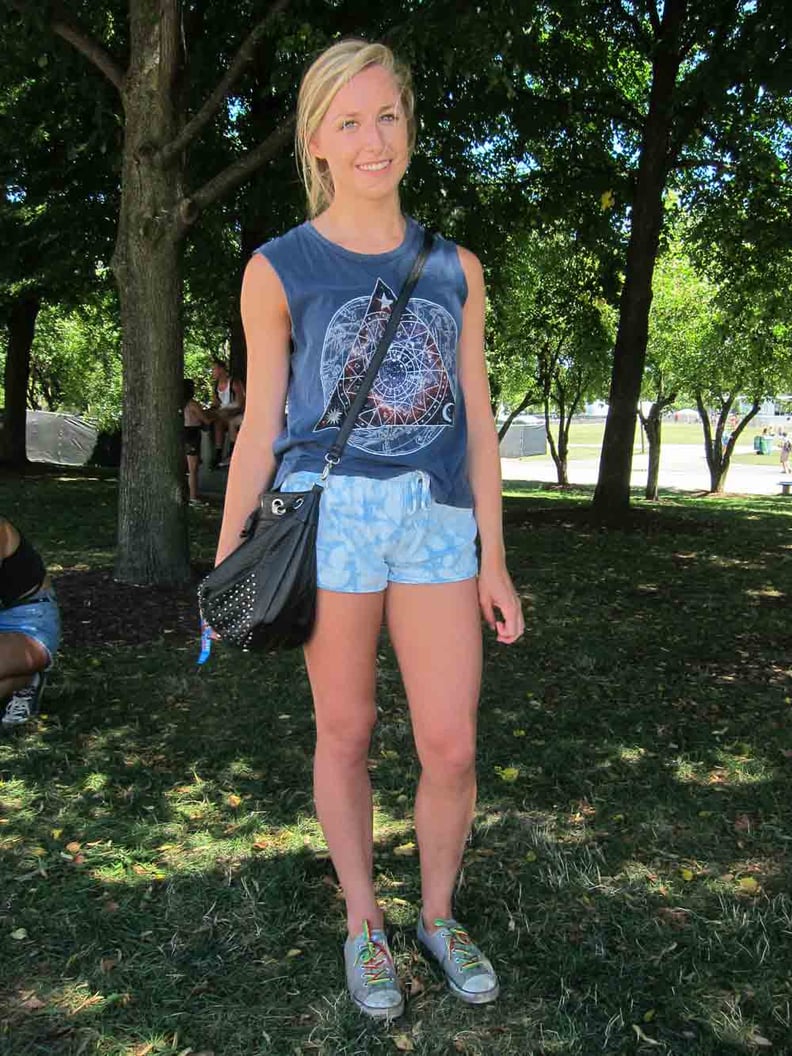 Maybe it was the constellation tank from Urban Outfitters that got us in the mind-set, but Kiana's PacSun tie-dyed shorts looked a bit like the weekend's blue skies.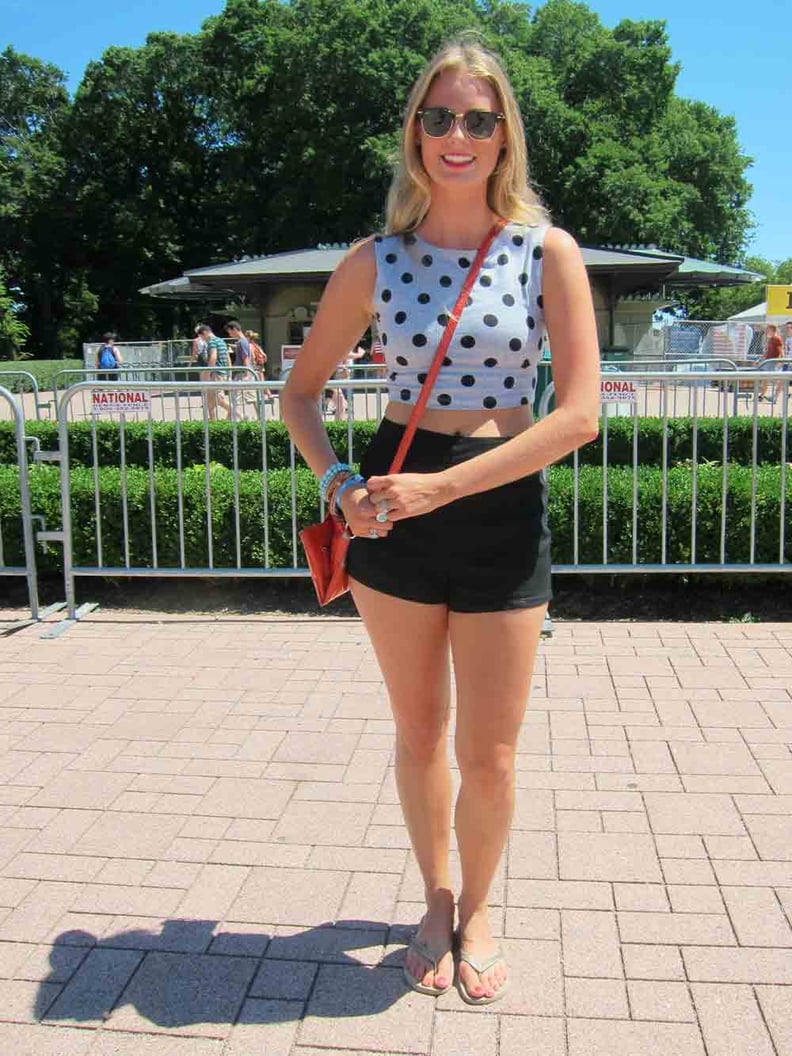 Bringing polka dots to Lollapalooza, Bethany's fitted crop top complemented her high-waisted black shorts. A Nine West crossbody and Ray-Ban Clubmaster sunglasses finished things off.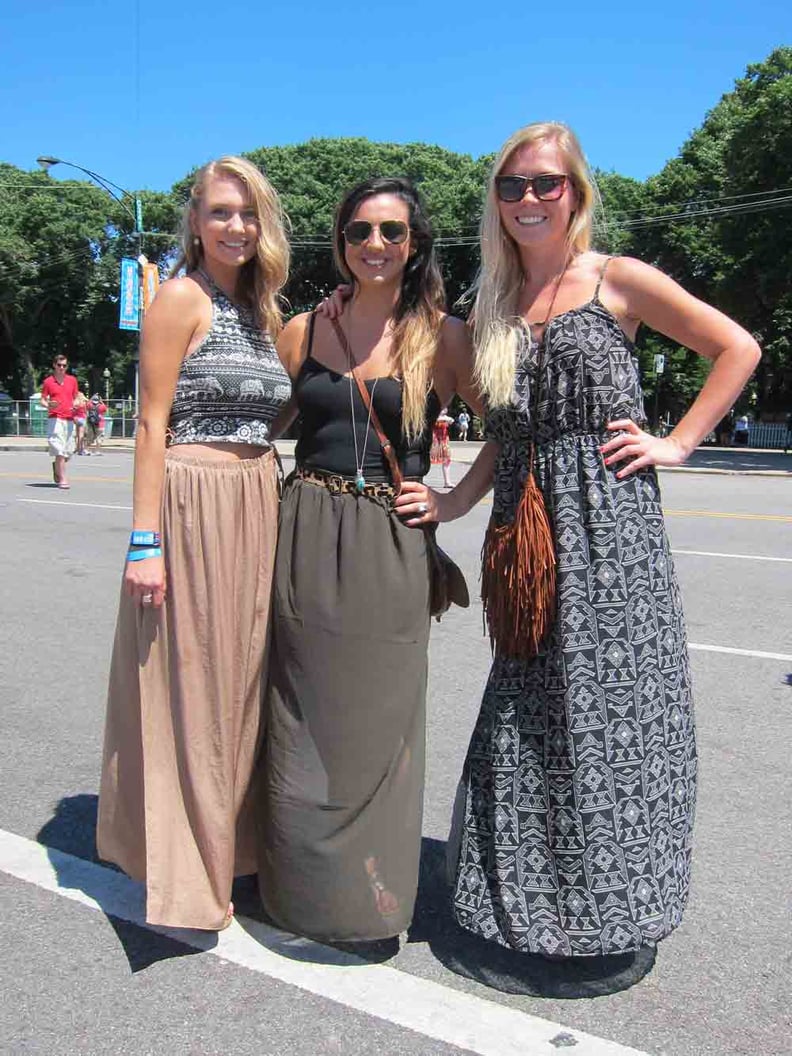 Three's company: Nicolette, Marley, and Megan all went for long, billowing maxis as opposed to the more fest-friendly short shorts, and we thought it was a breath of fresh air. We particularly love Nicolette's fitted Urban Outfitters crop top and Zara skirt.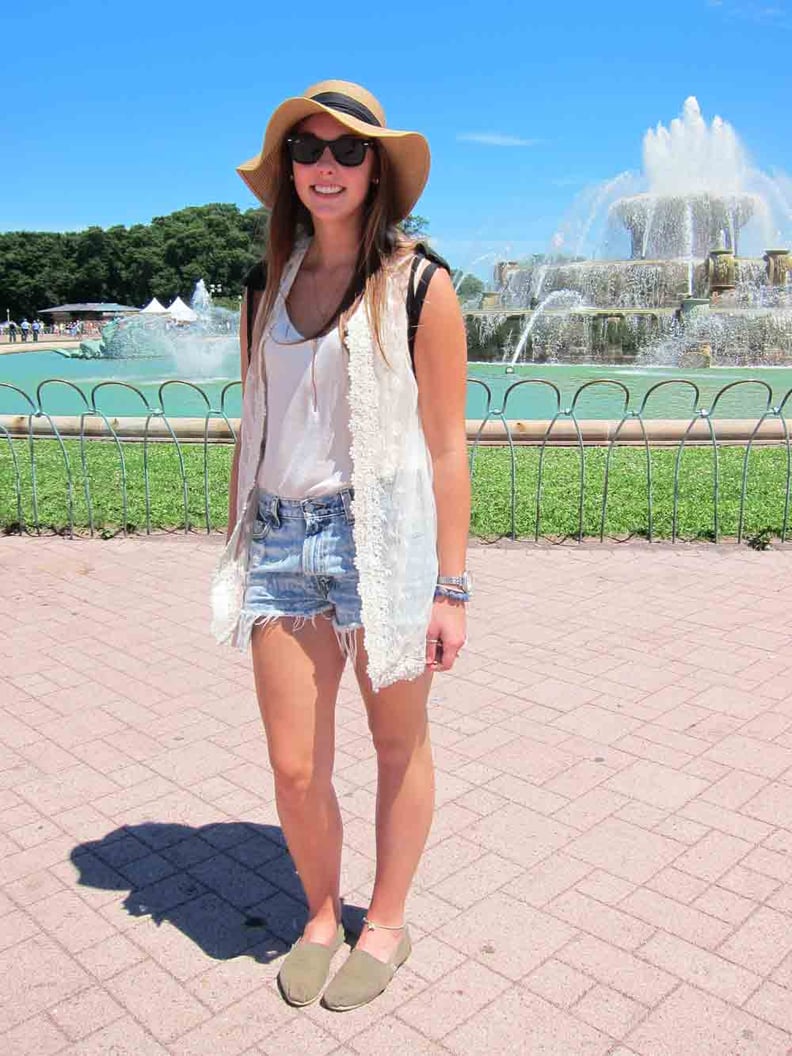 Fashion can be comfortable, as Alice proved with her loose white tank and sheer lace-lined vest. Her olive-green TOMS and Uniqlo hat — essential on an SPF-70 kind of day — were our favorite accessories.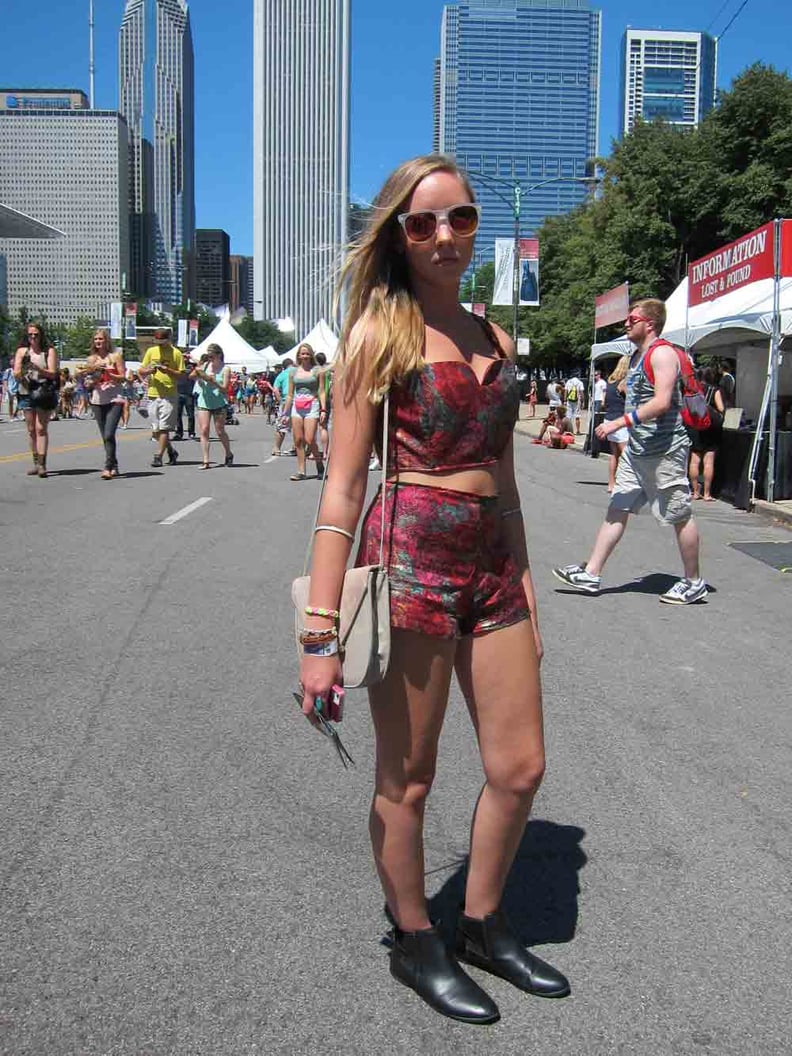 If you can't find a festival look that's right for you, just make it! Deanna, in frost-framed Akira sunglasses, took apart a vintage dress and designed her own printed crop top and shorts.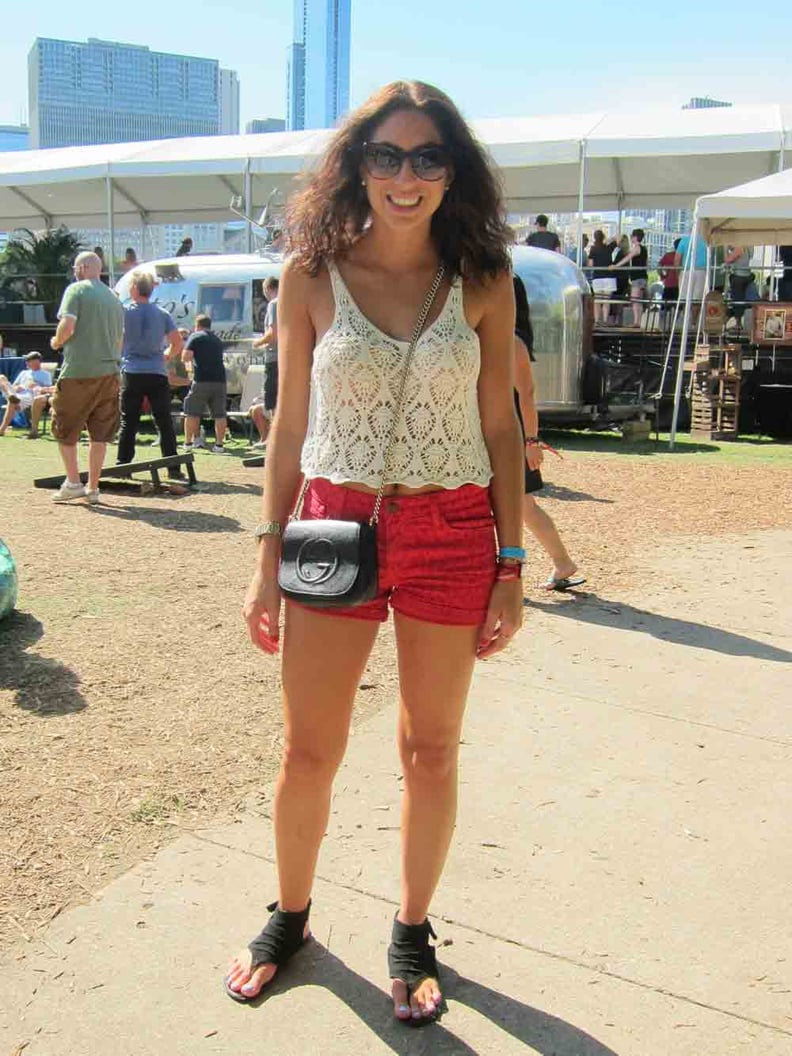 Sarah's new Gucci Soho bag caught our eye immediately, but we loved her whole look, from a breezy crochet tank to red denim shorts.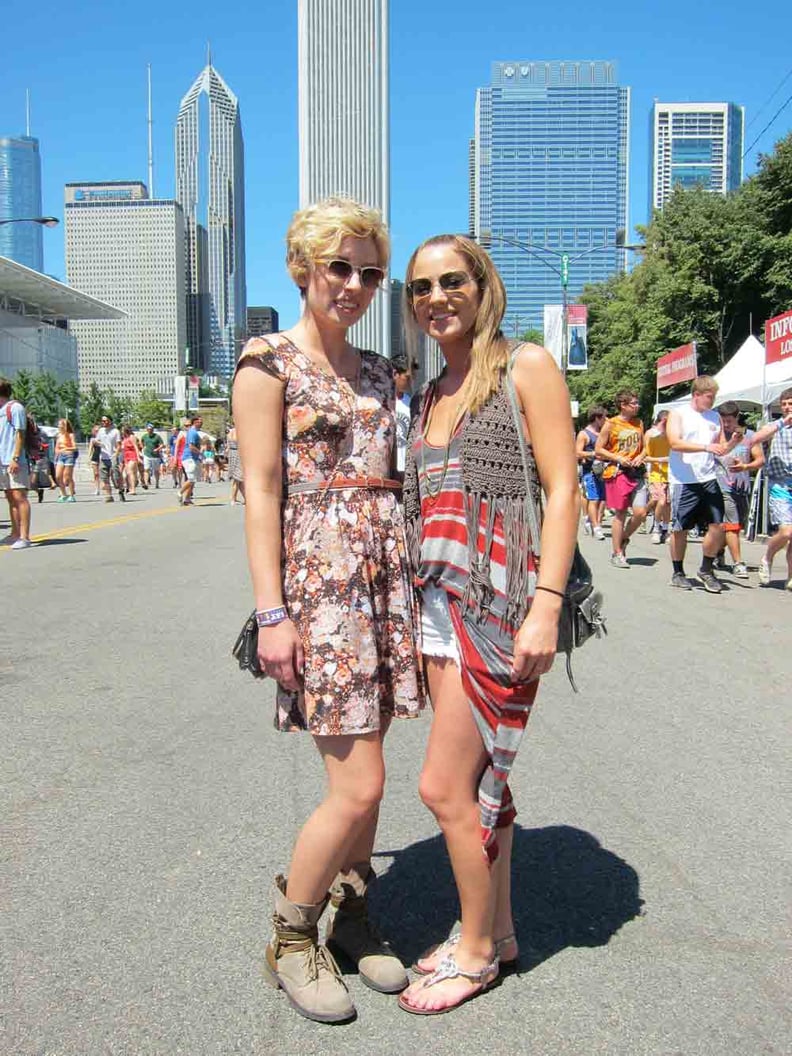 Marissa opted for florals with her fit-and-flare Target dress but edged it up with Alloy boots. Lindsey paired her striped tank with a PacSun vest that paired two popular fest apparel styles: crochet and fringe.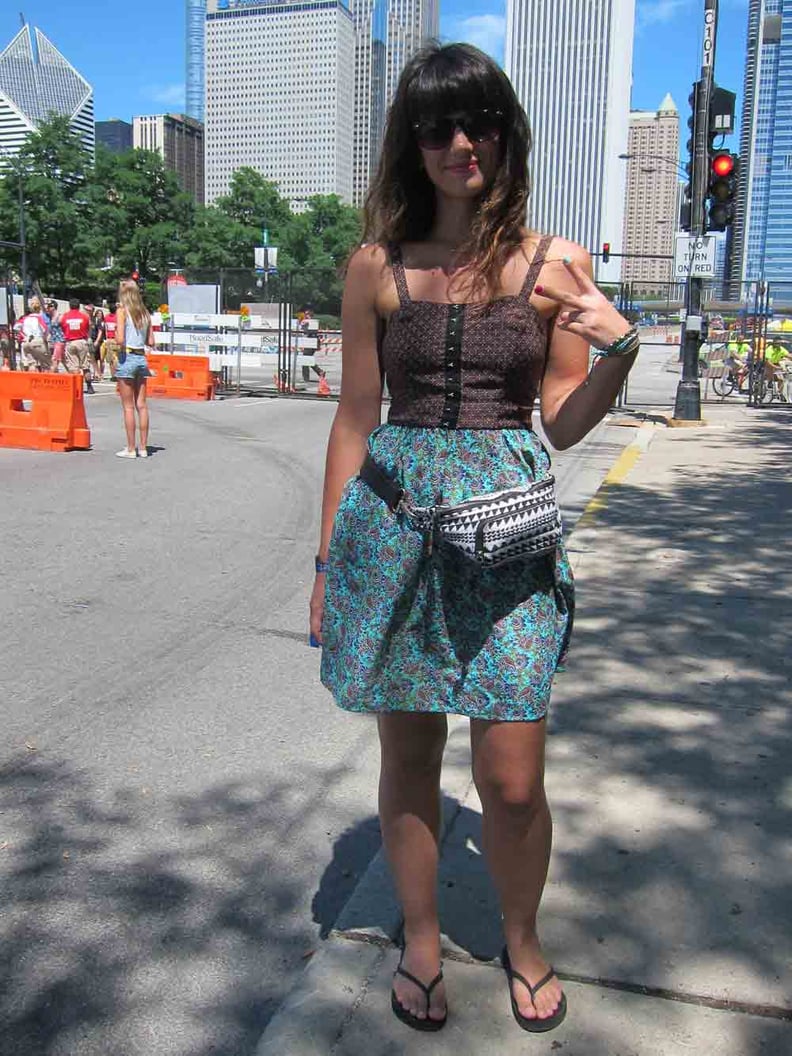 Krista's look — a two-print Target dress and an American Eagle Outfitters fanny pack — was a peace of cake.
Brittni kept it simple with DIY cutoff jean shorts and a Forever 21 tank but kicked it up with neon-blue laces on her Converse sneakers.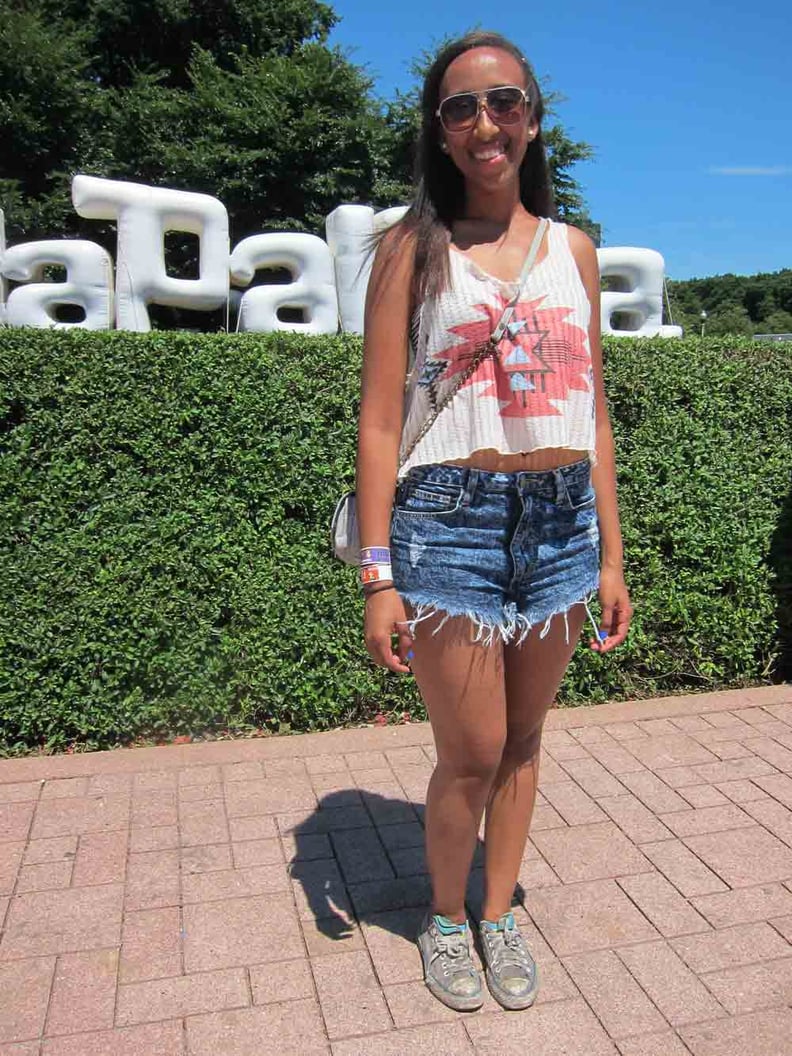 One of the more popular accessories on festivalgoers were worn, muddied sneakers. But Eden made sure to keep the rest of her look cute and clean with her tribal-print tank and frayed shorts.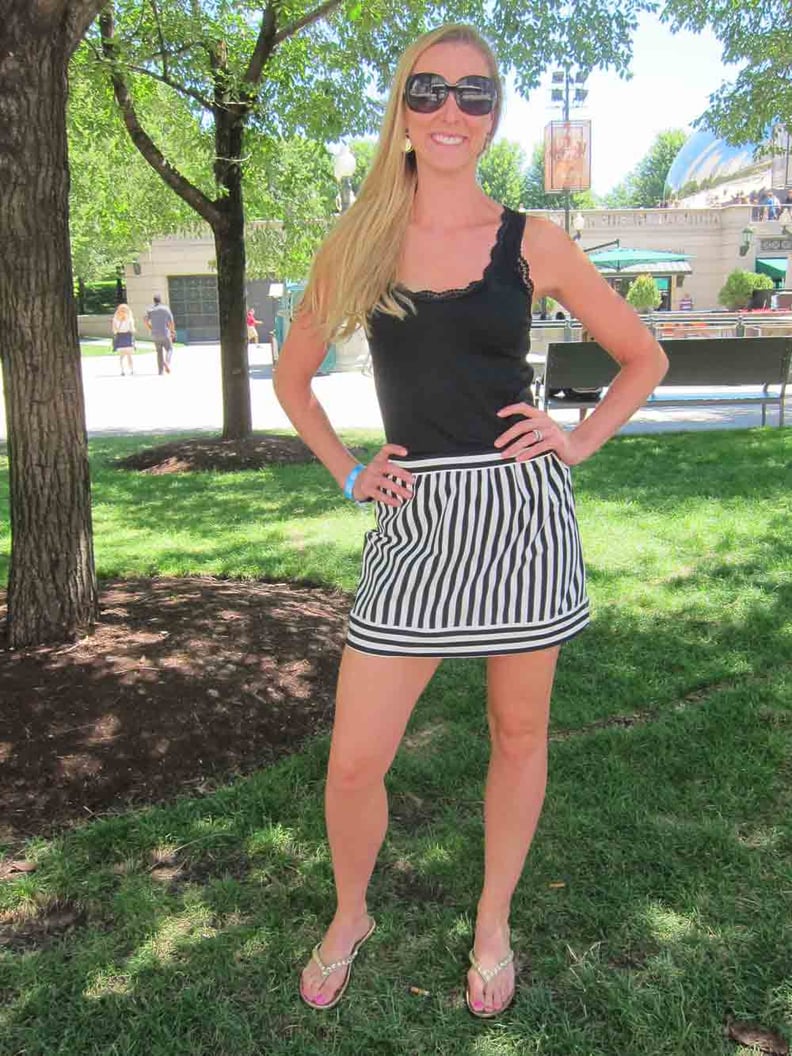 Ashley bucked tradition and brought some Parisian style to Chicago with a black-and-white-striped skirt that she picked up in Paris.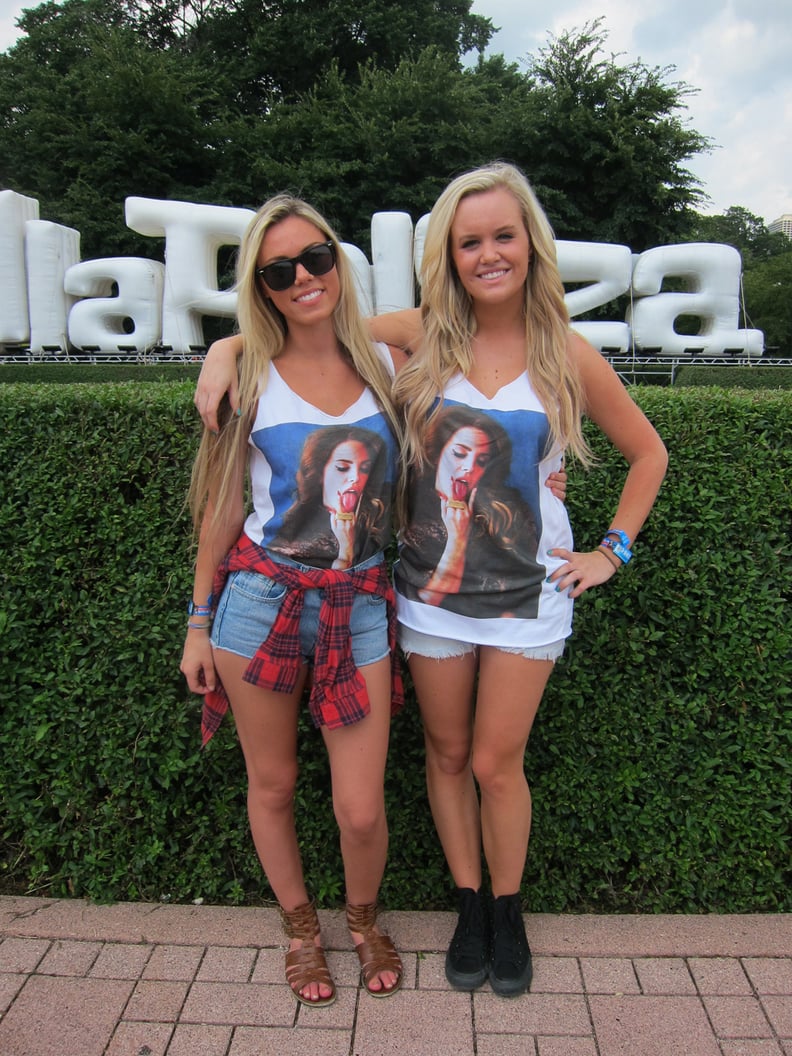 It's clear who Sadee and Austin came to see. Clad in matching Lana Del Rey t-shirts, the two showed that imitation is truly the sincerest form of flattery.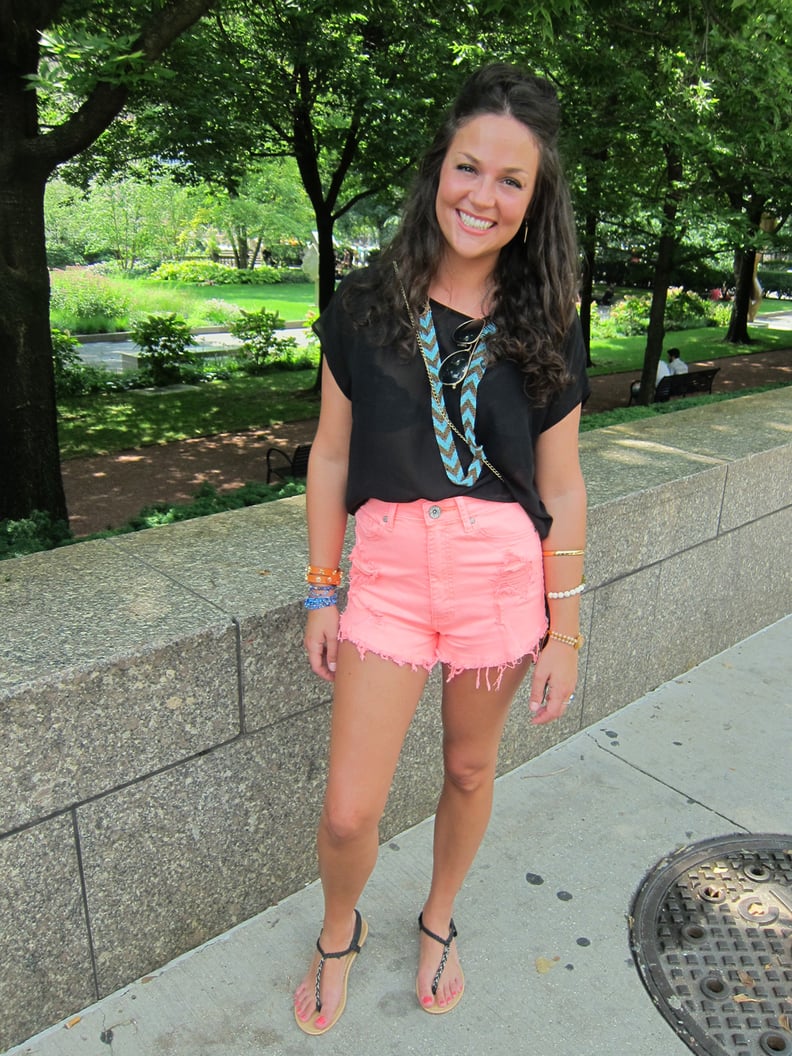 For a feminine approach to fest fashion, Hannah opted for pale-pink high-waisted denim cutoffs. For a sexier spin, she matched them with a sheer black tee that showed off a well-paired black lace bra.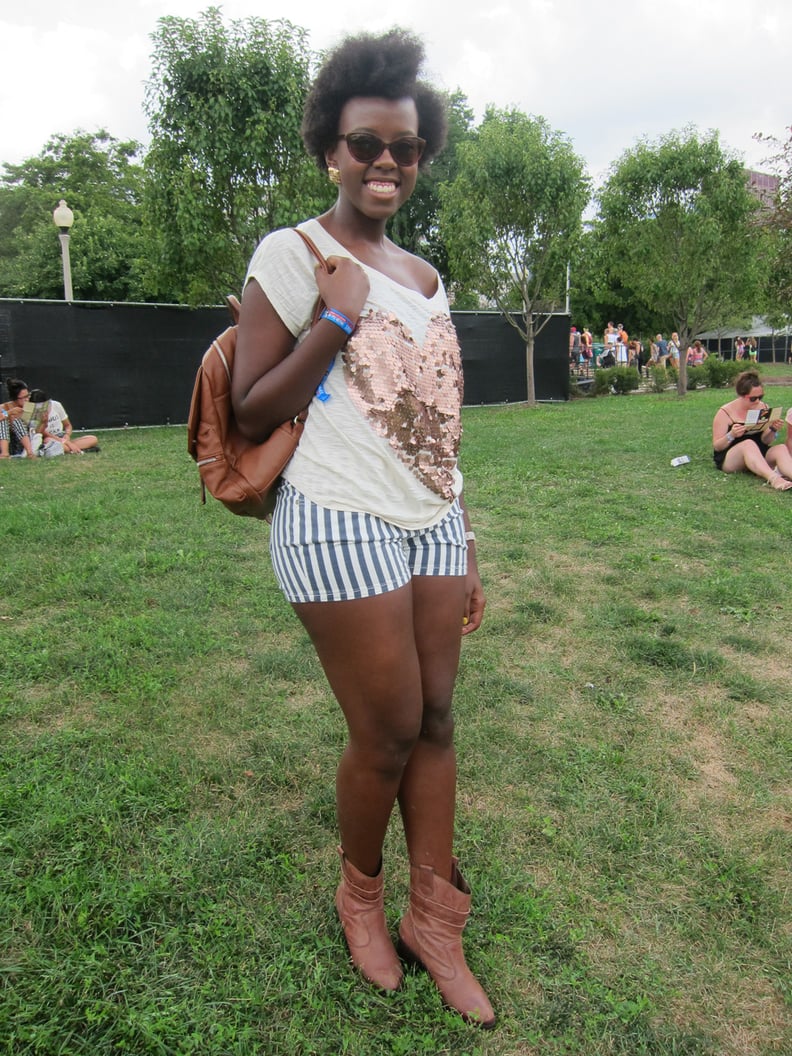 Ebony showed some serious Lollapalooza love with a sequined heart tee paired with striped denim.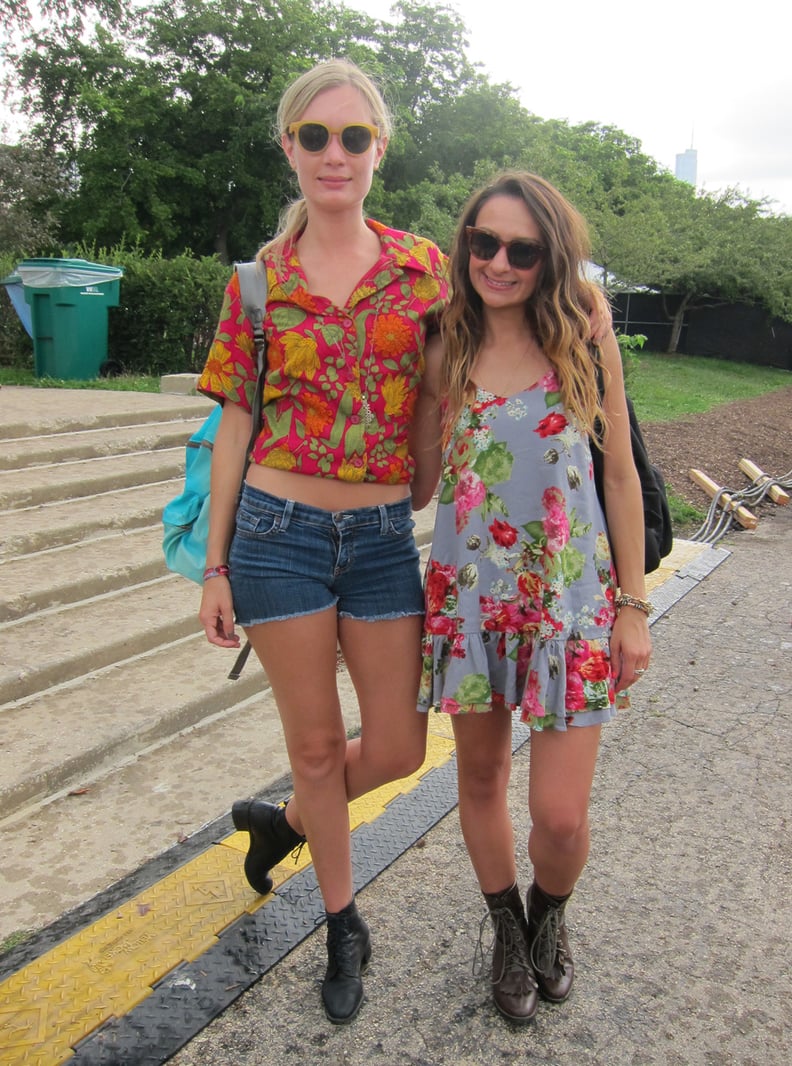 We love friends who coordinate! Both in TOMS sunglasses, Katie paired her yellow frames with a Lonely Dot top, vintage Levi's, and an Opening Ceremony backpack. Whitney also went floral with a vintage dress.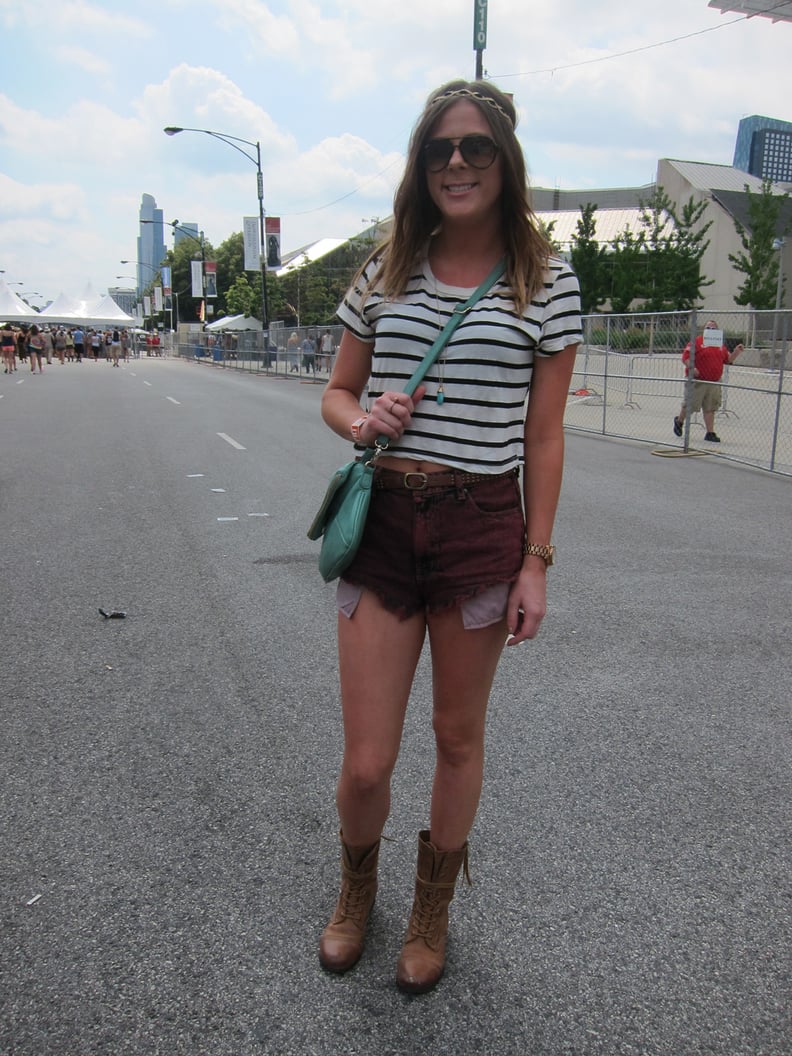 Amid all the crop tops, we loved Ashley's subtle hint of a bare midriff in her black-and-white-striped shirt and burgundy denim shorts.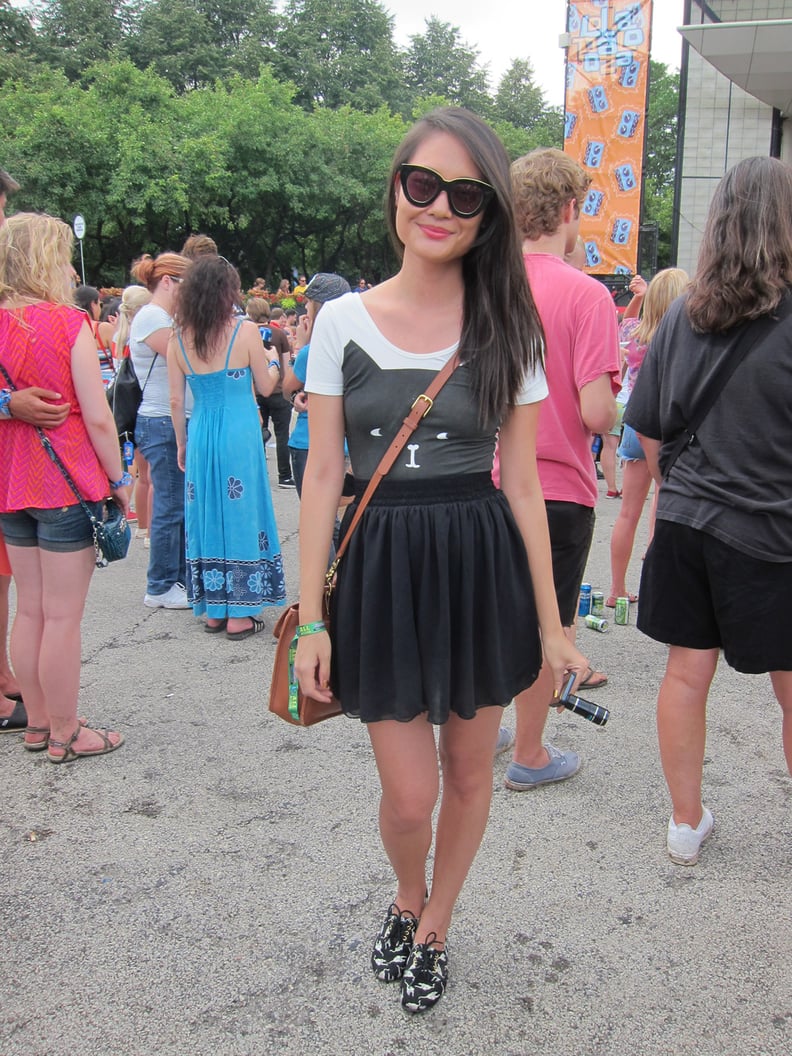 We sense a theme here: for the Jessie Ware concert, Hally paired a Lazy Oaf cat tee with cat-print shoes and, of course, Karen Walker cat-eye sunglasses.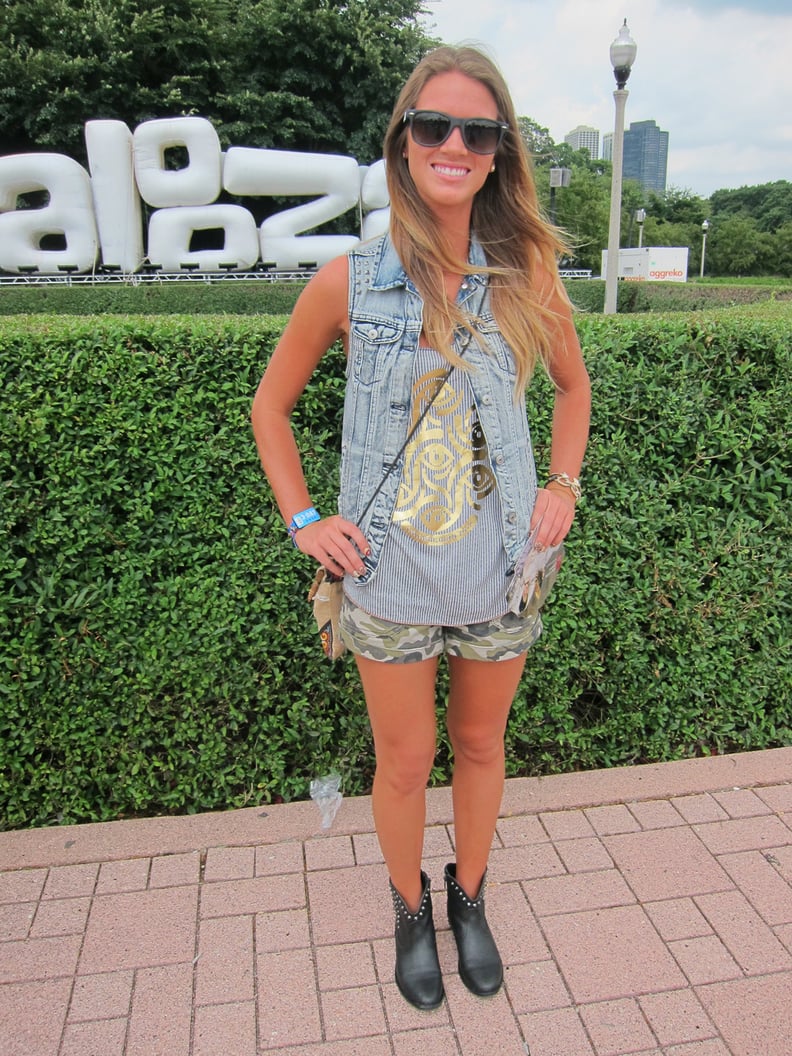 It doesn't get much cooler than Jessica's styling — from her washed denim vest to her evil-eye cotton tank to those cuffed camo shorts.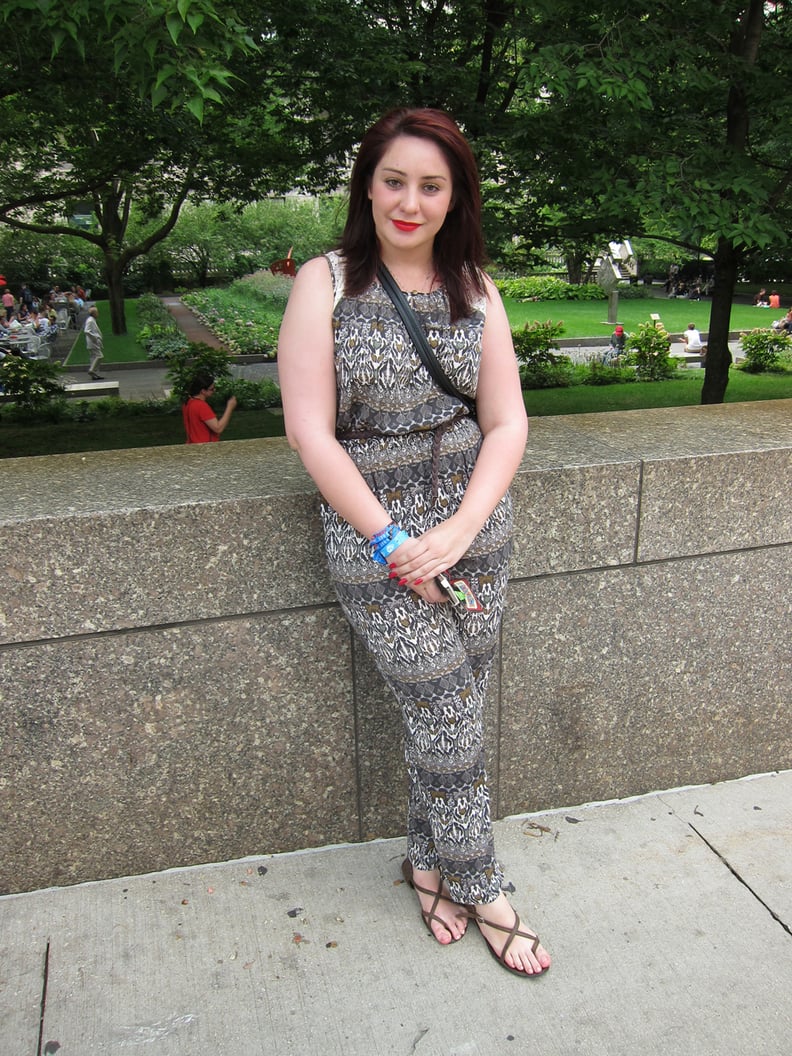 One of the most daring style choices you can make at a hot, outdoor Summer festival is wearing pants. Isabel's printed Forever 21 jumpsuit, cinched with a woven belt, was both bold and refreshing.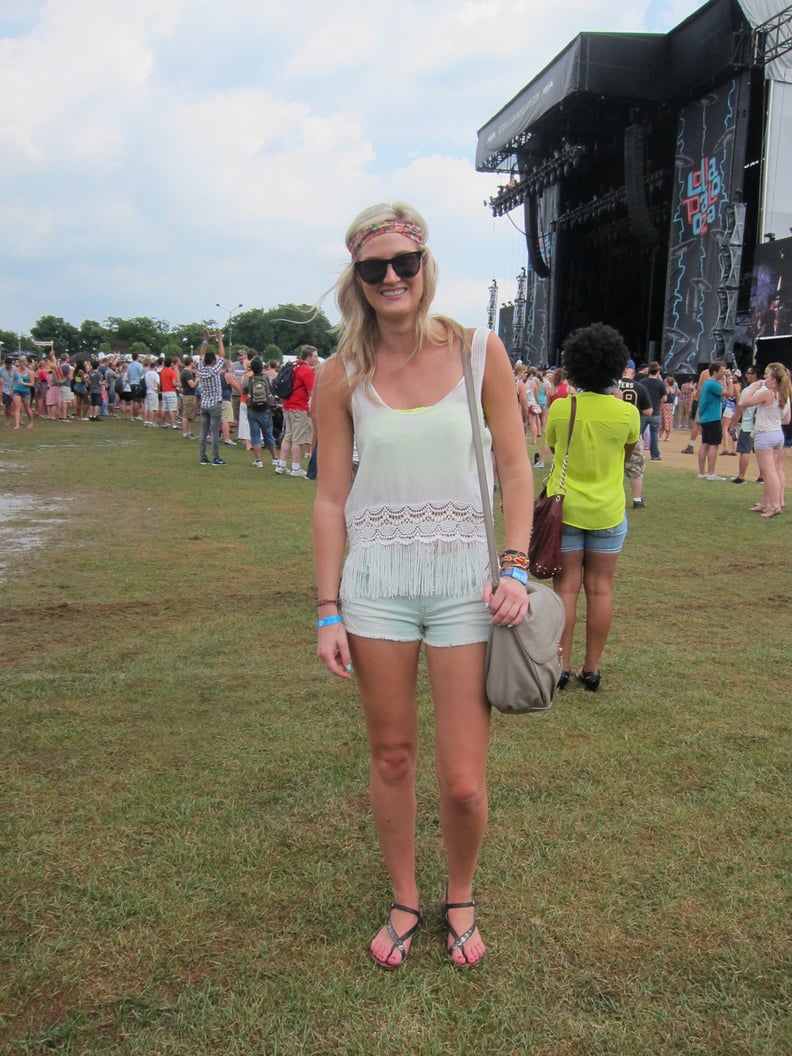 We love how Kelsey, outside of the Emeli Sandé show, let a hint of her neon bandeau show through her white fringe Forever 21 tank.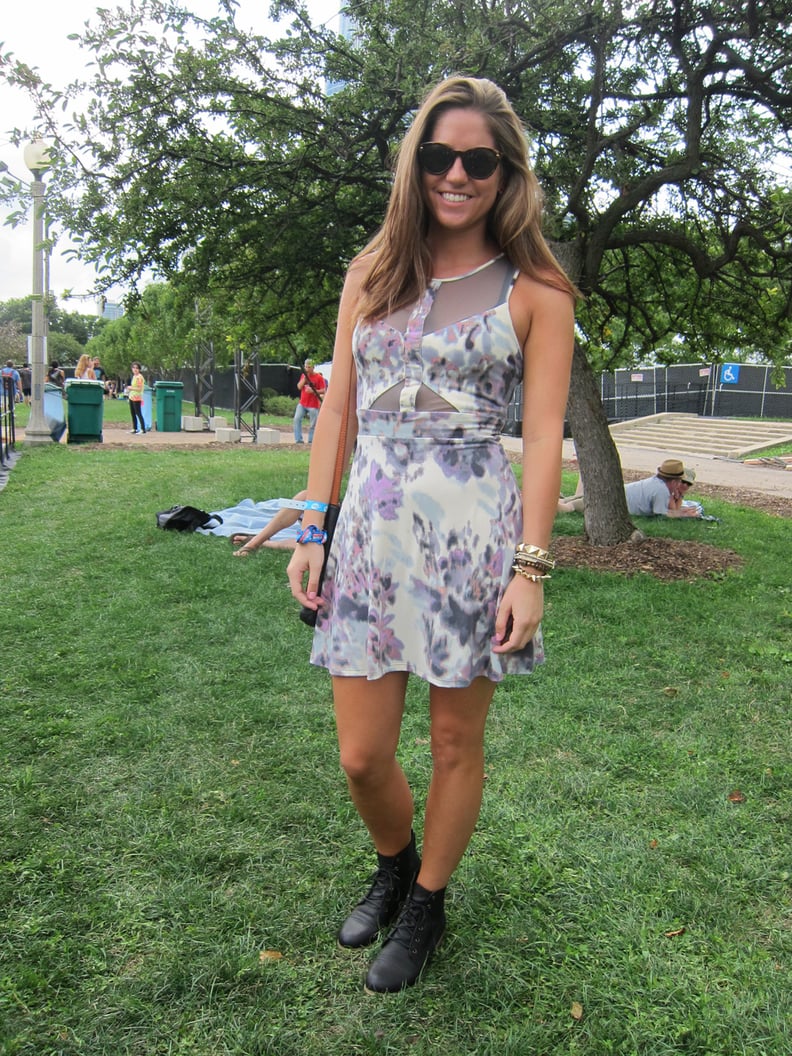 When the majority of the crowd is in cutoffs, it's refreshing to spot a dress. Janie's Urban Outfitters sheer-paneled frock could easily take her from the fairgrounds to dinner downtown.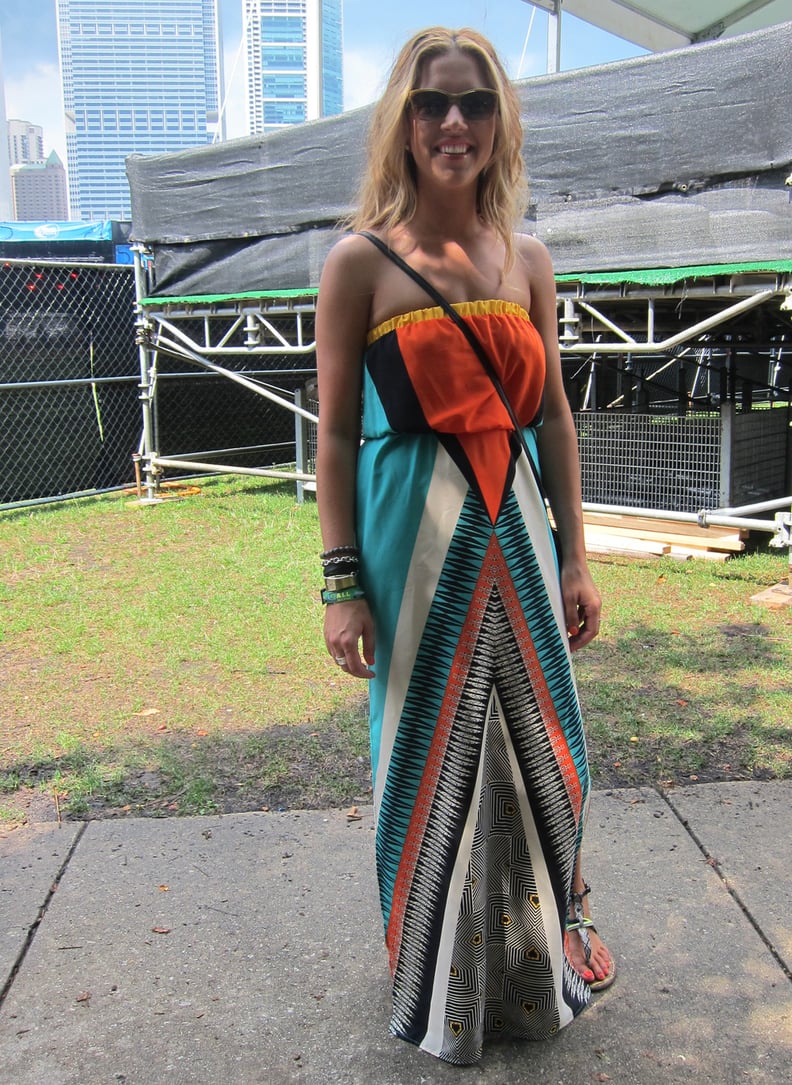 Behold the power of a maxi dress: Penny looked polished but was just as comfortable as her fellow festivalgoers.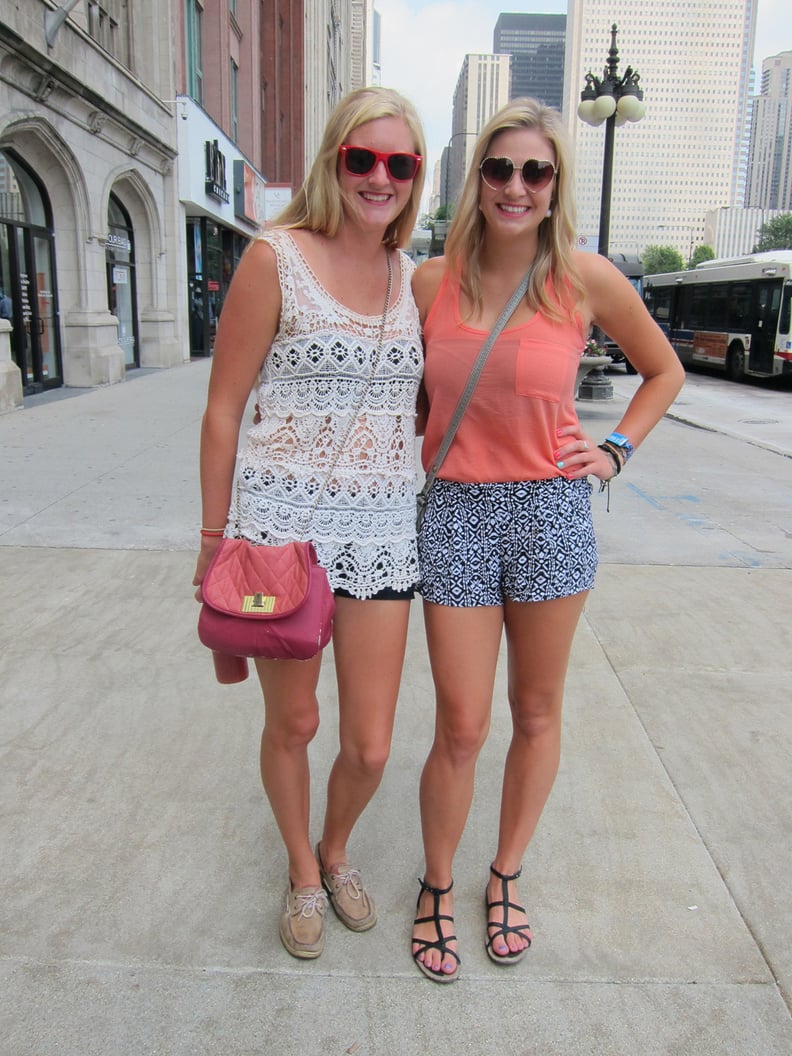 When prep meets fest: Sarah and Morgan wore playful sunglasses and crossbody bags with breezy tanks and crisp shorts. We love Morgan's black-and-white printed ones from PacSun.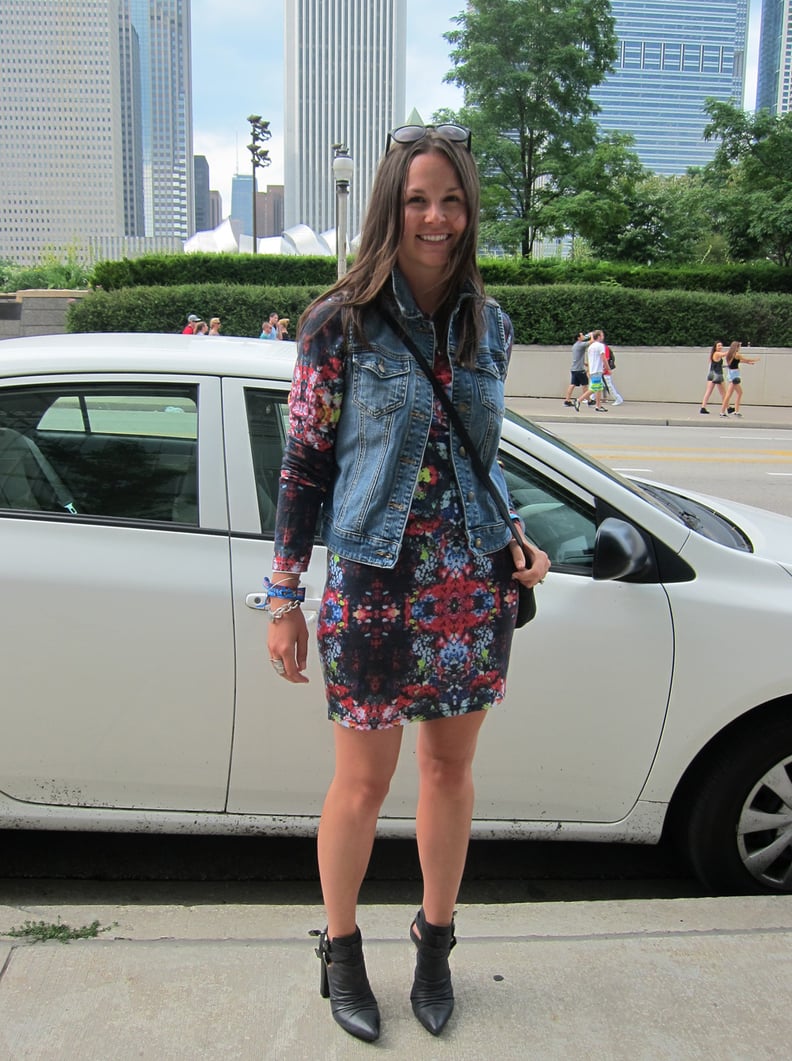 Day to night done right: Brandy wore a MinkPink mirrored-print dress and Jeffrey Campbell heels but gave it that fest finish with a classic denim vest.