Mindy Kaling Is Having a Lot of Fun With Her WFH Outfits, and We Wouldn't Expect Anything Less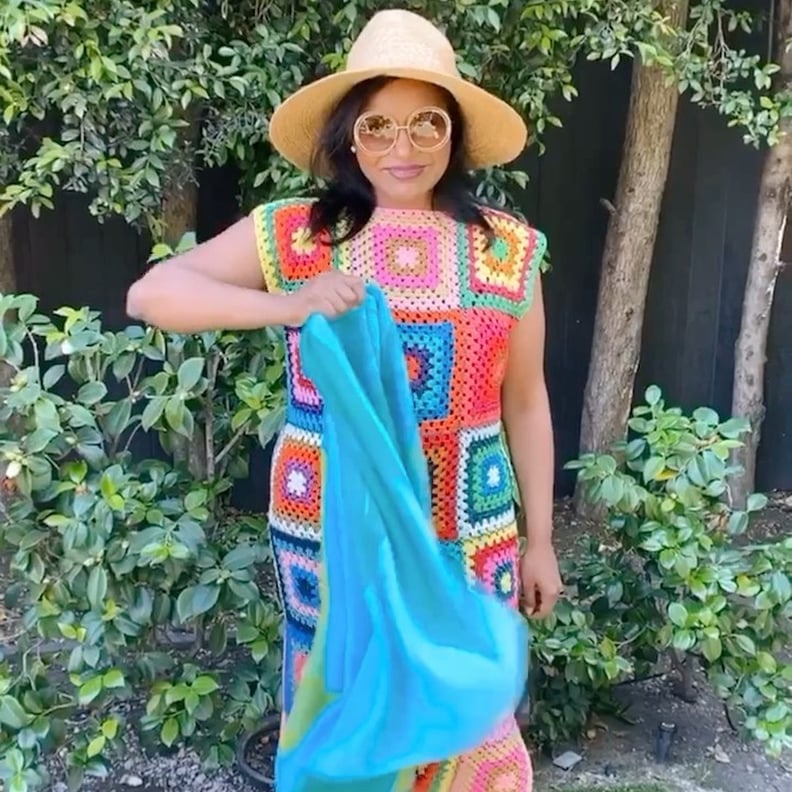 Mindy Kaling is making the most of her work from home situation. While we are all practicing social distancing, Mindy tried to lighten the mood by showing us her colorful work from home looks. While some people, like myself, have been living in sweatpants and hoodies, others, like Mindy, have been dressing up and taking the looks to Instagram. I also love that Mindy has been adding a bit of humor to her #OOTD posts, which is something we could all use right now. Much like her street style, Mindy's outfits have been preppy, playful, and full of fun prints.
So far, Mindy has posted a picture of herself in her backyard wearing a pair of colorful striped pajamas with sunglasses, UGG boots for comfort, and a bright yellow Chanel bag for a bit of glamour. She captioned the photo, "When pajamas become 'outdoor clothes.'" She also posed on her couch wearing a floral Tory Burch dress and Rachel Roy heels while holding a mimosa in one hand. Her whimsical outfits bring a smile to my face and have encouraged me to dress up a bit more while working from home. Keep reading to see all of her whimsical outfits ahead.
Wearing a pair of adorable owl-print pajamas.
Styling a crochet dress with a straw hat and sunglasses.
Dressing up at home in a pink Alexander McQueen dress with Celine heels.
Wearing a yellow sweatshirt that says "whatever you do, do it with love."
Styling a pink coat with a colorful bag and sunglasses.
Styling her colorful pajamas with a bright yellow Chanel bag and Ugg boots.
Being fabulous in a Tory Burch floral dress and Rachel Roy heels.
Working from home in a button-down top, sweater vest, and pajama bottoms for good measure.
Practicing her piano skills in a star-print Gucci top.
Playing with her daughter's toys in a striped sweater, jeans, and shearling-lined slippers.