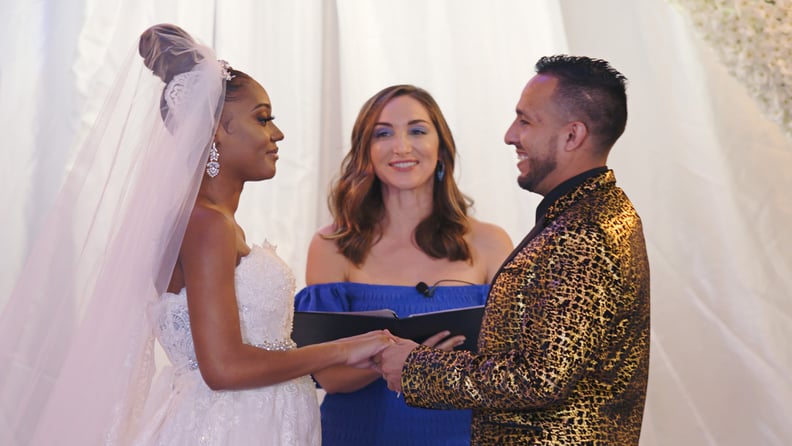 Courtesy of Netflix © 2021
Courtesy of Netflix © 2021
As POPSUGAR editors, we independently select and write about stuff we love and think you'll like too. If you buy a product we have recommended, we may receive affiliate commission, which in turn supports our work.
Hilarious comedian and Ted Lasso writer Jamie Lee is now hosting Netflix's reality show The Wedding Coach, in case you weren't yet aware. No surprise here — Jamie plays the host in question, showcasing her knack for making people giggle every five seconds with her relatable and real personality. As she coaches the couples she meets through their wedding woes leading up to the big day, she takes the time to really get to know the brides and grooms and weaves meaningful details into their ceremonies.

"Wedding guests should dress to feel good about themselves. That should be the goal: to feel hot."
The first six episodes in season one feature couples from diverse backgrounds navigating the ins and outs of managing a budget and planning a reception that will be magical. Despite minor real life tiffs and the pressure-inducing feeling of obligation to please every possible family member involved, the weddings do take place in splendor, and Jamie is always there to watch.
Being that she's a certified "coach," we weren't surprised to find that she knew exactly what to wear to every party — and she thanks her "fashion guru," stylist Anna Schilling, for that. "[Anna] is a friggin' dream. She used to be a model in Paris and has such an interesting, risk-taking, beautiful style of her own. Everything she puts me in feels high-fashion, even when it's simply from Zara. She has taught me to not be so afraid of clothes: patterns, accessories, crazy belts, neck scarves — all of it. It's all fun and playful," Jamie told POPSUGAR.
Schilling was kind enough to break down the wardrobe she curated for Jamie, elaborating on the tone they set for each episode: "We wanted Jamie to stand out as the host in something super-fabulous but also be considerate of the wedding theme and location. When sourcing the looks, we went to mid/high level contemporary brands, designer vintage, and high end designers."
Jamie wears the likes of Cinq à Sept and Zara for the weddings, reaching for eye-catching accessories to jazz up the more minimal looks. As for advice she could provide for all of us as we venture back into the wedding world, masks on, her suggestion is both realistic and her signature brand of funny: "Wedding guests should dress to feel good about themselves. That should be the goal: to feel hot. You don't have to do the obligatory Rent The Runway rental of a cocktail dress worn by 700 people before you. You can do nice pants or a dress you've worn before that is your wedding go-to. Whatever you feel good in. But if what you feel good in is, like, just a thong and some glitter tassels for your nips, maybe avoid that. Unless the wedding is burlesque-themed, in which case, tassel away, baby!"
Ahead, see and shop Jamie's wedding guest looks one-by-one from The Wedding Coach.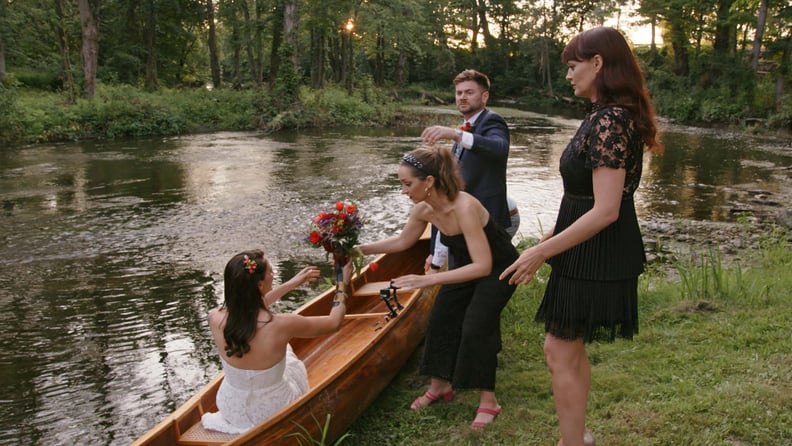 Season 1, Episode 1
"For the DIY wedding we paired a fun black eyelet jumpsuit with fun accessories," Anna Schilling said.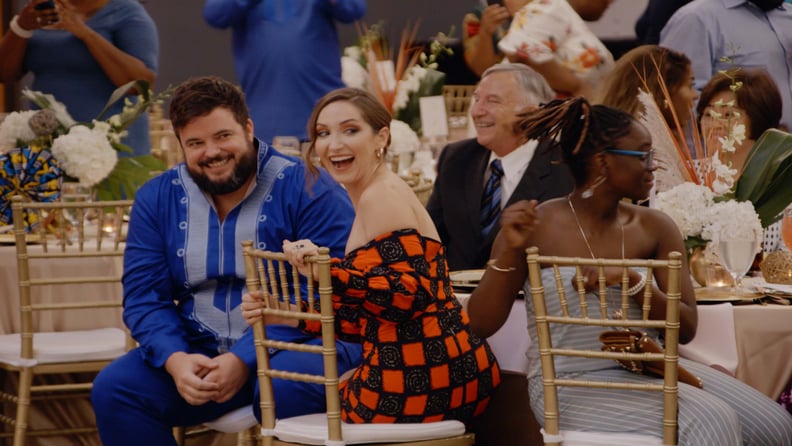 Season 1, Episode 2
"For the Nigerian wedding, we sourced a traditional dress from a Nigerian designer in beautiful fun colors," Anna said.
Season 1, Episode 3
Season 1, Episode 4
"For 'Royal Wedding Georgia', we chose a bright, fun colored look from Cinq à Sept. This brand is a go-to for fabulous prints in seasonal styles," Anna said.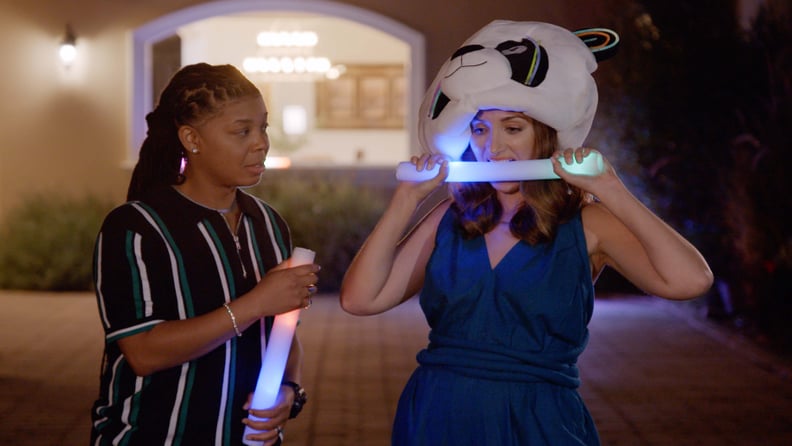 Season 1, Episode 5
"Wed Chella was a super-fun one, as we planned an outfit that would be something you would wear to an actual music festival. The jumpsuit is from Electric Feathers. This designer specializes in unique, season-less pieces in high-end colors and fabrics," Anna said.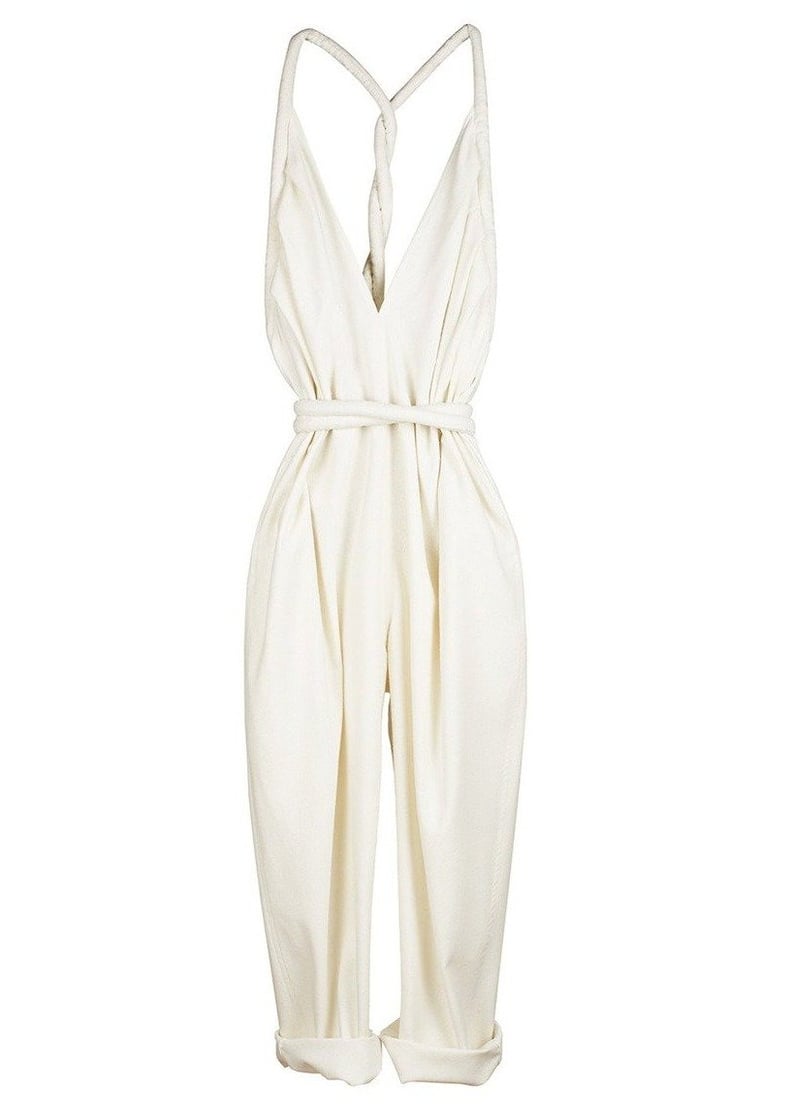 Shop the Exact Look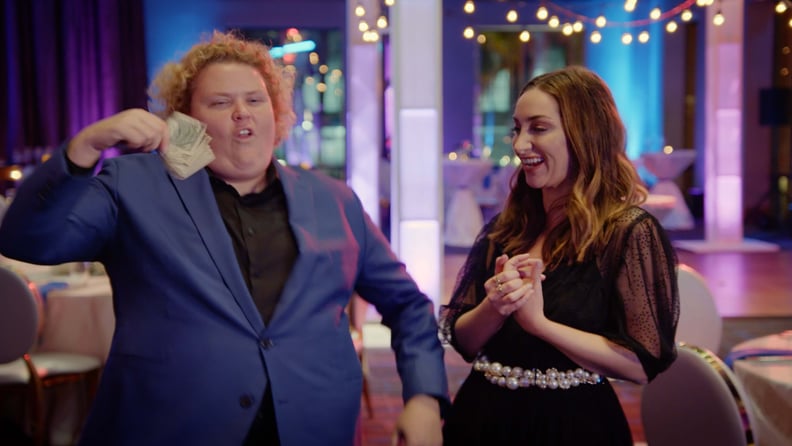 Season 1, Episode 6
"For the [Mamma Mia] Greek wedding, we went with a simple black dress from Zara with statement accessories to keep the look elevated," Anna said.