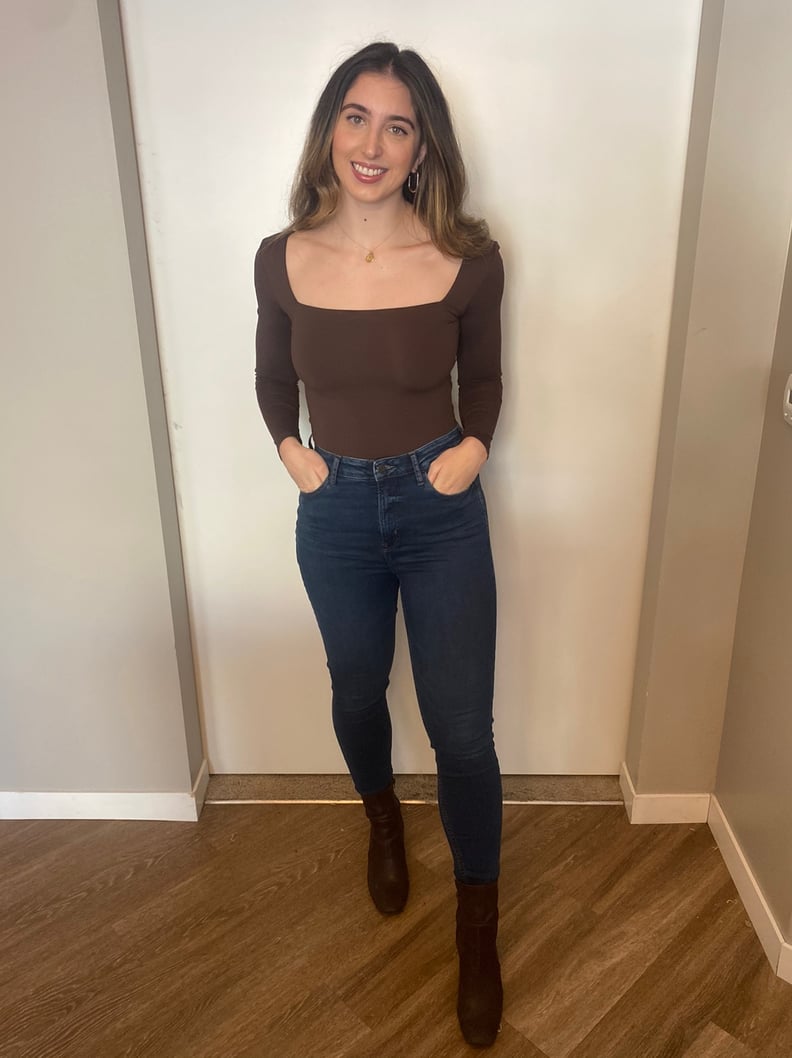 Getty | Edward Berthelot
POPSUGAR Photography | Marisa Petrarca
Getty | Edward Berthelot
POPSUGAR Photography | Marisa Petrarca
As POPSUGAR editors, we independently select and write about stuff we love and think you'll like too. If you buy a product we have recommended, we may receive affiliate commission, which in turn supports our work.
Shopping for jeans is no easy feat, especially when your size varies significantly from brand to brand. At some stores, I'm a size 6, while at others, size 8 is too snug. Team that with the fact that my weight fluctuates throughout the year like everyone's does (it's v normal, y'all), and I find myself tempted to steer clear of purchasing new denim altogether. But recently, while perusing Old Navy's jeans section, I came across the brand's "FitsYou" style that fits three sizes. The technology sounded game-changing, so I couldn't help but look into it further.
The debut "FitsYou" style is the Extra High-Waisted Rockstar Super Skinny Jeans ($45, originally $55), which come in four different washes and one ripped design, all featuring a contoured extra high-rise waistband. So how does the multi-sizing work? Well, per the brand, the jeans harness the power of Lycra-free technology, which allows the fabric to "expand over your body while remaining comfortable and not compressive."
Shoppers choose from a size range (0-00, 2-6, 8-12, 14-18, 20-24, and 26-30) rather than a singular number (which feels so much less stressful and risky, especially while ordering online). After taking a quick quiz to determine my size, the brand recommended adding the 8-12 range to my cart. I went with the dark-blue wash called "Cher" and then selected two-day shipping (because I have no chill).
I was cautiously optimistic about this order, especially since I wasn't entirely confident that the size 8-12 range wasn't the right fit. But upon slipping the jeans on, I was shocked to find that they hugged my body perfectly. They didn't feel too big, nor too small, and the stretchy material felt as comfortable as a pair of leggings. (Yes, really).
My *only* complaint is that I'm not as committed to the skinny jeans as I used to be. These days, I prefer a boot cut or wide-leg design à la the brand's Extra High-Waisted Sky Hi Ripped Wide-Leg Jeans ($50), but that doesn't mean I'll ditch the style entirely. I do hope the brand utilizes the "FitsYou" technology in other styles, because there's not a doubt in my mind that it's genius. We just need some more options!
The verdict? I absolutely recommend giving these jeans a try, especially if you're someone who gets frustrated with jeans sizing like me. I love knowing this pair will meld to my body just as nicely if my weight fluctuates in the future — be it next week or a year from now. As far as fashion innovation goes, these jeans deserve an award for being — wait for it — ahead of the curve.