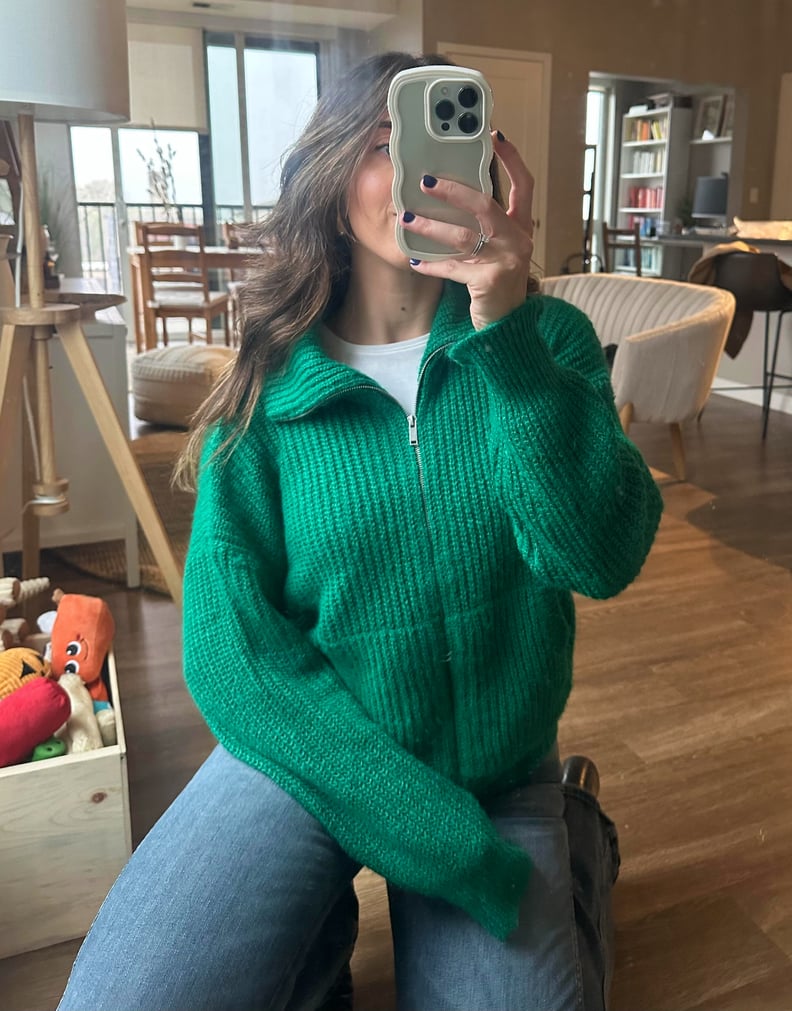 POPSUGAR Photography | Marisa Petrarca
POPSUGAR Photography | Marisa Petrarca
As POPSUGAR editors, we independently select and write about stuff we love and think you'll like too. If you buy a product we have recommended, we may receive affiliate commission, which in turn supports our work.
For a long time — namely, when I lived in New York City — I wore almost exclusively black-colored clothing (yes, I embraced the cliché). Special event? Black dress. Casual weekend activity? Black T-shirt. I was completely wrapped up in the neutral trend, steering clear of vibrant hues and, thus, constantly gravitating towards a beige, white, and black palette. While this monochromatic safety zone has its comfort, it has grown mundane. On social media, I've noticed more content creators embracing vibrant colors, and consequently, I'm starting to develop a soft spot for color. This unsolicited bout of self-reflection leads me to my latest Old Navy purchase, straight from the brand's new arrivals section: the Full-Zip Cardigan Sweater ($55). I'll admit that I initially considered ordering it in black but forced myself to click on the rich green color instead — and I'm glad I did. Read on for what I love about the cozy collared sweater and what's worth noting before you make it yours, too.
What I Love About the Old Navy Full-Zip Cardigan Sweater
Surprisingly, my favorite aspect of the Old Navy Full-Zip Cardigan Sweater is its vibrant green color. It's undeniably bold yet mood-lifting, a refreshing departure from my usual neutral palette obsession. I'm equally obsessed with the full-zip front and the spread collar, two features that make it more practical for layering and elevate its appearance, respectively. One savvy shopper who awarded it five stars coined it a "swacket," or more of a fusion of a sweater and a jacket than a cardigan. I often reach for it during work hours when I feel like throwing on something cozy or stepping out to walk my dog when it's chilly.
What's Worth Noting About the Old Navy Full-Zip Cardigan Sweater
When looking at this sweater in the photos, the material appeared to resemble thick cotton, like that commonly found in high-quality vintage-thrift-store finds. However, in reality, it is lightweight, unstructured, and soft to the touch, made of a blend of polyester and nylon. My only concern with this sweater is its tendency to pill. Despite having worn it only a few times, I've already seen signs of pilling, a sentiment shared by other shoppers, too. A reviewer who gave it a three-star rating wrote: "I fell in love with the color of this sweater. However, I'm less enamored with the quality and shape. The material (polyester and nylon) is scratchy and prone to pilling after only one day of wear." While I'd personally rate it four stars overall, I recommend being gentle with it and diligently following the brand's care instructions to ensure it stays as pill-free as possible.
Who Is the Old Navy Full-Zip Cardigan Sweater Best For?
The Old Navy Full-Zip Cardigan Sweater comes in three colors: black, hot pink, and green.
It comes in sizes XS–4X and is also available in extended tall and petite sizes.
To wash and care for it, the brand recommends machine-washing it on a cold, gentle cycle and laying it flat to dry.
Rating:
★★★★☆