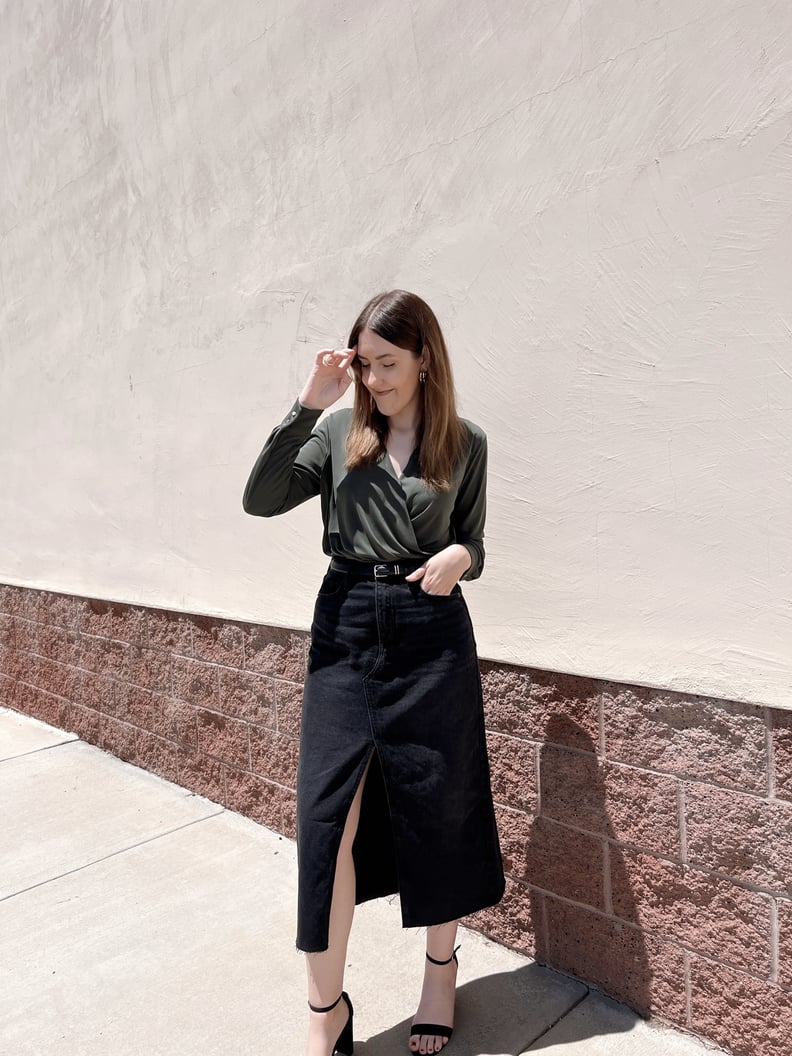 POPSUGAR Photography | Kyley Warren
POPSUGAR Photography | Kyley Warren
As POPSUGAR editors, we independently select and write about stuff we love and think you'll like too. If you buy a product we have recommended, we may receive affiliate commission, which in turn supports our work.
Despite the warm outdoor temperatures, I've recently been prepping my closet for the transition into fall (wishful thinking, I know!). It's a tradition I follow every year — moving my summer-specific clothing into storage bins and drawers, all while simultaneously swapping in some of my other, forgotten styles for fall. While most of the pieces in my autumn collection are styles I've managed to rewear and reimagine year after year, every once in a while, a new item will find its way into my fall wardrobe. Such has already been the case this season, with the latest addition to my closet being the Old Navy High-Waisted Black Wash Jean Skirt ($30, originally $40).
Much like a number of other '90s fashion trends, the midi skirt has reemerged this season in all of its lengthy, country-chic glory. Kendall Jenner donned several denim iterations of the style throughout the summer, along with other stars like Bella Hadid and Katie Holmes. And while the jean midi skirt is a versatile staple in any season, the style is especially perfect for fall — with chunky sweaters, knee-high boots, and a number of other autumnal pieces doubling as seamless fashion companions for the style.
Naturally, when I saw the charcoal-washed jean midi skirt in Old Navy's new-arrivals section, I knew it was worth adding to my digital shopping cart. Read on for my honest thoughts of the style.
What I Like About This Old Navy Jean Midi Skirt
First and foremost: this midi skirt is just so damn chic. I'll be the first to admit that I've had my reservations about lengthier skirts in the past, even going so far as to avoid them altogether because I wasn't convinced they worked with my personal style or frame. But this Old Navy jean skirt has proven to be a pleasant and welcomed surprise.
The black-wash coloring of the style alone was a huge selling point for me. While I love a classic pair of light-wash or baby-blue denim, I also know that the look often boasts a much more casual and relaxed daytime appeal, rather than something you'd want to dress up or wear for a chic evening ensemble. But the charcoal-hued coloring of this skirt provides so much outfit versatility. Not only can I dress it up with a wider range of colors, but I can also just as easily style it into a day-to-night outfit with a chic blouse, a gold-toned belt, and the right pair of stilettos. The moodier coloring honestly makes me forget that I'm wearing a jean skirt at all — especially in photos.
Another thing I love about the product is its high-waisted design. I have somewhat of an hourglass frame, which means that while a bottom might be more snug around my hips, the fit is often much looser at my waist, creating a distorted, baggy, and often distracting design. But thanks to this skirt's high-waisted design, the style has a more universally flattering fit, providing a curve-hugging silhouette that emphasizes my figure without making me feel too constricted or uncomfortable.
What's Worth Noting
The skirt is crafted from a nonstretch jean material that also features a "Never-Quit Shape Retention" technology. While the style does fit beautifully, I'll also admit that it requires a bit more wiggle for me to actually get into the skirt — and this is while wearing my normal size six. Other reviewers have also noted that the skirt's fit is on the snug side.
In all honesty, I don't mind the initial effort required to fit into the skirt. The allure of this style (in my opinion) is that its high-waisted design helps to create a more formfitting look that is easy to pair with bulkier clothing items and also avoids drowning out my figure altogether. While I'd certainly recommend this midi skirt, the snug fit is definitely worth acknowledging if you're hoping for something more breathable upon initial wear.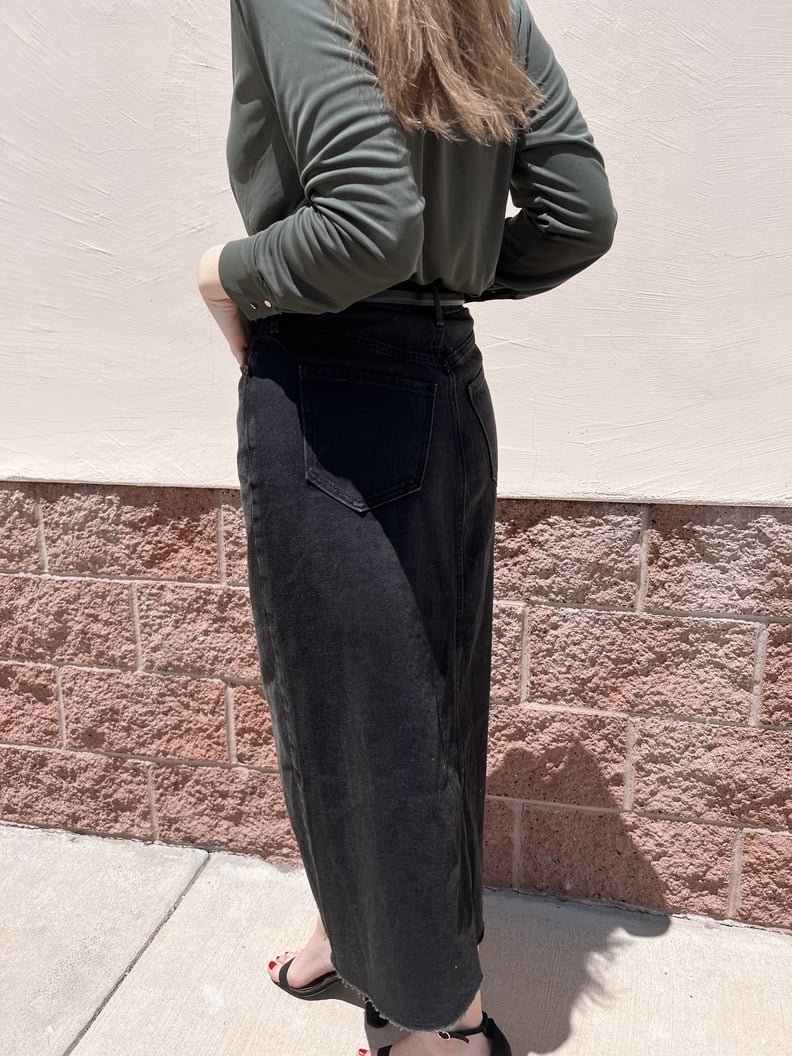 Who Is This Old Navy Jean Midi Skirt Best For?
I'm a denim-pants-lover through and through, but even I struggle with wearing them through transitional seasons. What I love about this jean midi skirt in particular is that I can enjoy the same styling aesthetic of a classic pair of denim without the hassle of having to wear an otherwise dense or warm pair of pants — especially through August's fluctuating temperatures. During the day, it's easy to pair the style with a cropped white tee and my Air Force 1s, whereas in the evenings or even if I'm heading to a work event, I can just as easily elevate the skirt with a bodysuit, a cropped blouse, or even an oversize sweater and heels for a more robust (and elegant!) look.
This jean midi skirt is so perfect for anyone looking to invest in a fashion staple that's as versatile as it is comfortable — and easy to wear in any season. Plus, for a quality denim style, you really can't beat that under-$50 price point.
Where Is This Old Navy Jean Midi Skirt Available?
This midi skirt is available to shop exclusively at Old Navy.
Additional Details
The jean midi skirt is available in US women sizes zero to 30.
The style features deep, scoop pockets at the front and back.
This denim skirt style is made with five percent recycled cotton, which supports Old Navy's mission to incorporate more sustainable pieces into its product line.
Rating:
★★★★☆