Old Navy High-Waisted Side-Slit Flare Jeans I Editor Review
These $50 Split-Hem Old Navy Jeans Are a Dupe For Designer Styles
As POPSUGAR editors, we independently select and write about stuff we love and think you'll like too. If you buy a product we have recommended, we may receive affiliate commission, which in turn supports our work.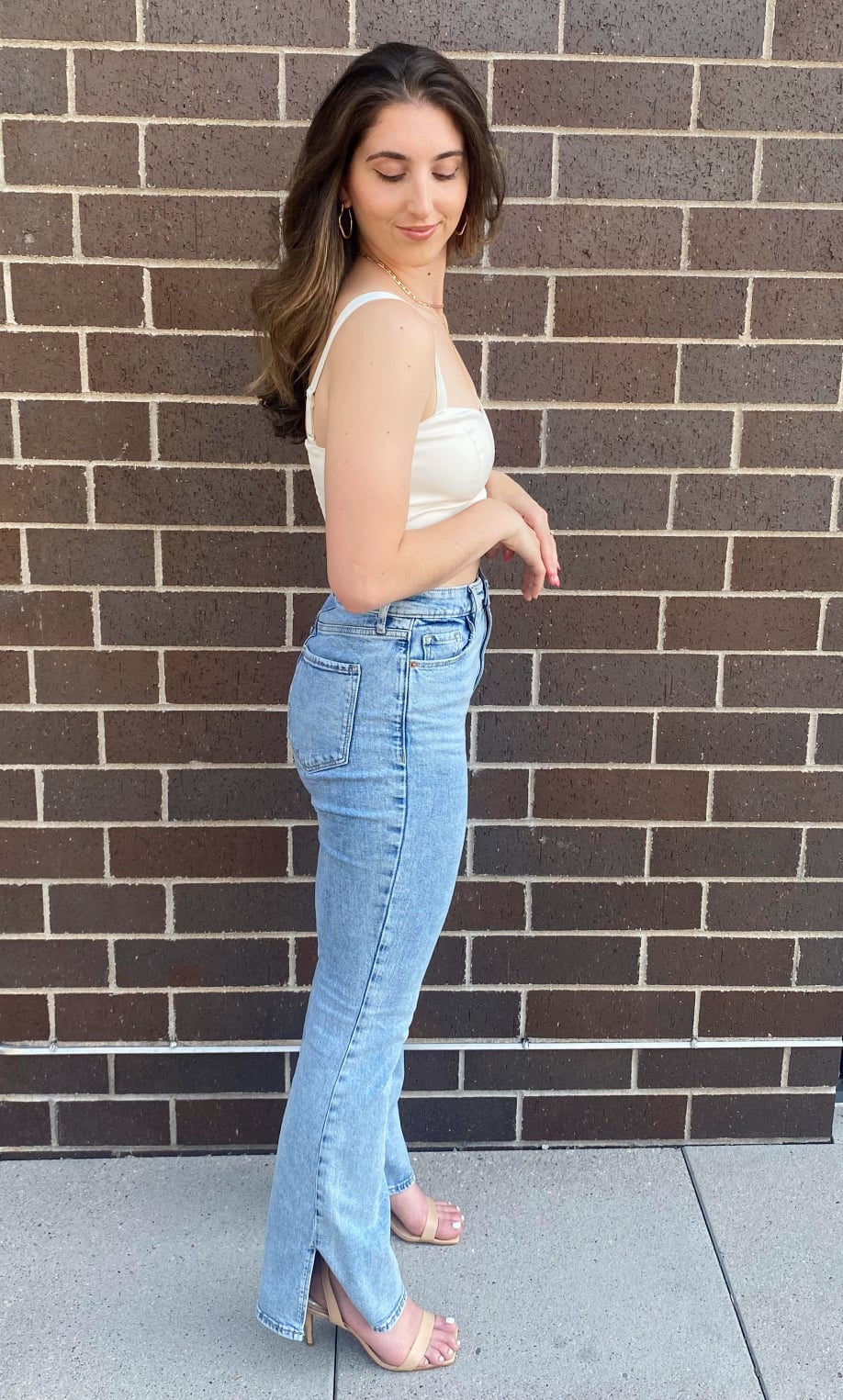 Like matching sets, split-hem jeans occupy a rather large part of my brain recently — they're just so damn chic. It's not easy to find an affordable pair, though. Up until a few weeks ago, nearly every style I came across was well over $100, and I couldn't justify a price tag that high right now, especially when some of my favorite pairs of jeans cost me around just $50 at Old Navy.
That brings me to my latest purchase from the retailer, which I'm so obsessed with that I want to shout about it from the rooftops. Enter the Higher High-Waisted Side-Slit Flare Jeans ($45), which made me audibly gasp when I scrolled by them for the first time. Admittedly, I've never bought a pair of jeans — or anything, for that matter — as fast as I did this pair of denim.
Right from the start, I loved everything about them, from the side slit to the flared style to the light wash. They looked nearly identical to a pair I was eyeing from a high-end retailer and at a fraction of the price. I ordered them in size 6 and — not to be overly dramatic — legitimately counted down the days until they arrived on my doorstep.
I'm thrilled to report that I love these jeans just as much IRL as I do online. Not only do they look good, thanks to their curve-hugging design, but they also fit perfectly and are really comfortable, thanks to their slight stretch. If you love a flared style and a split-hem style as much as I do, trust me when I say that you need these in your wardrobe.
Today, I'm teaming them with a crop top and a pair of heels as I have a special event on the calendar, but I'm also pumped to pair them with a casual top and slides for a more low-key look. What's most exciting of all is that I just know that people are going to ask me where I got them, and I'm so excited to say I found this hidden gem on Old Navy's website.
Image Source: POPSUGAR Photography / Marisa Petrarca