Whether these models, designers, celebrities, well-known influencers, or regular street style heroes were celebrating Pride in New York City or across the country in San Francisco, it was all about self-expression and celebration on June 30. Tie-dye t-shirts took over the streets, and the most powerful slogans were splashed across the front. It was my first time attending the Pride festival in NYC, and I was blown away by some of the outfits people came up with. They were outrageous! Colorful! And all the while, everyone looked so cool, comfortable, and confident. While I needed all my fingers and toes to count the people who showed up in the rainbow H&M biker short set I chose for the event, there were also over-the-top ensembles with intricate floral appliqué and thousands of beads (so many of which were impressively handmade!).
Let's make one thing clear: these weren't costumes, they were just the clothes people chose because they know they can wear what they want and they have the freedom to define who they are. Especially on the 50th anniversary of the Stonewall uprising, that idea couldn't have been more important to the LGBTQIA+ community. While Billy Porter rocked a custom Christian Siriano tulle gown, we can't all be so lucky. Although, who knows, Lady Gaga's fringed shorts and some of the bright pop art shirts you'll see here may be just as exciting to you. Herein, get a look of some of my favorites: there are Instagrams, candid snaps, and paparazzi shots in the mix. Scroll down to get all the details, including designer info, about the pride outfits that I know will stick with me and likely with you now too.
Donatella Versace wearing a rainbow sequined minidress and matching thigh-high boots.
A guest wearing a Saloni dress with Schutz shoes.
Jonathan Van Ness wearing a feather rainbow skirt, cropped graphic-tee, and neon sneakers.
Riccardo Tisci and Irina Shayk wearing matching Burberry t-shirts.
Marc Jacobs wearing a Riot tee, floral shirt, and tinted sunglasses.
YouTuber James Charles wearing a Michael Ngo look with Haus of Gee embellished Chanel sneakers.
A guest wearing a Love Culture rainbow tank.
Madonna wearing a Versace leather trench and rainbow eye patch.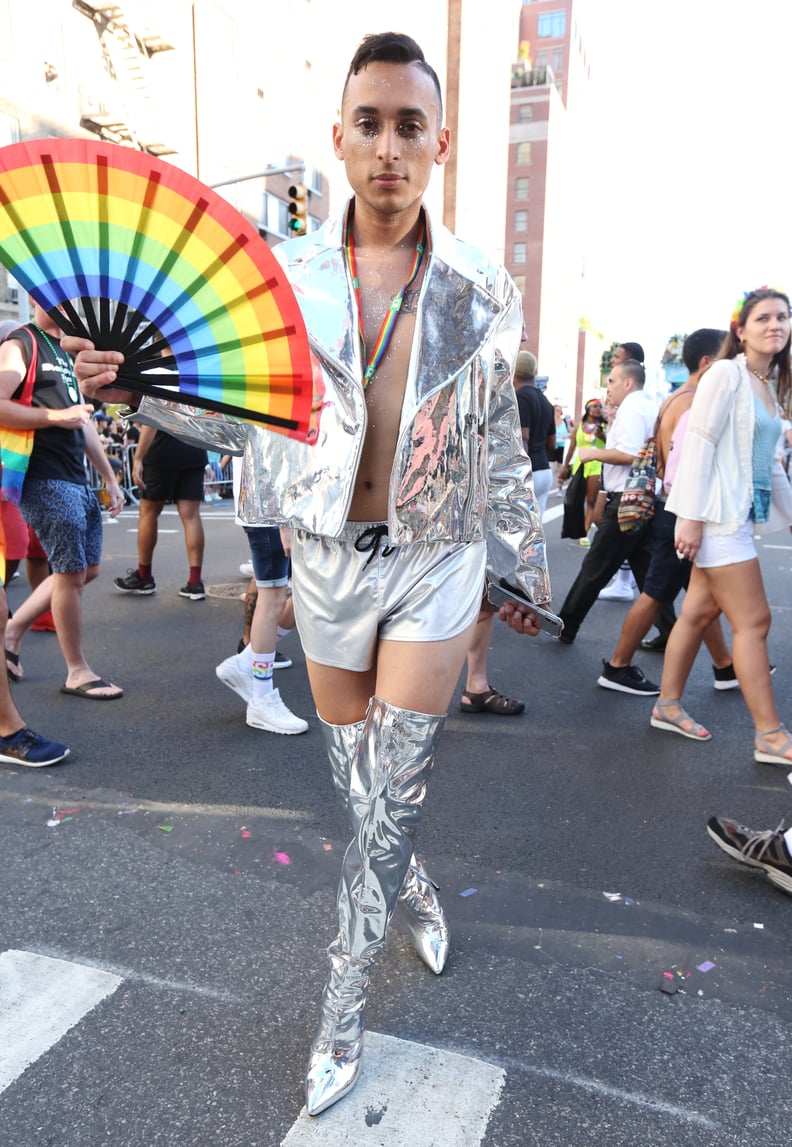 A guest wearing a metallic jacket and matching thigh-high boots with silver gym shorts.
A guest wearing an American Apparel tee with striped shorts.
A guest wearing a purple pastel set with chunky sneakers.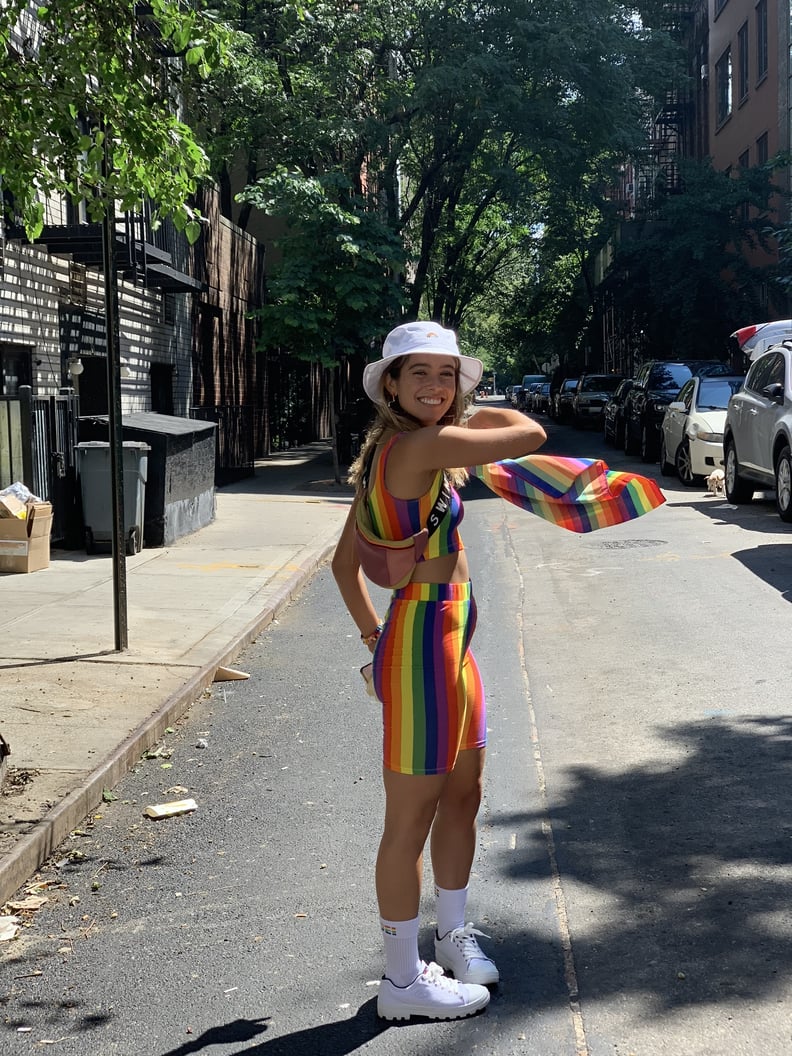 I enjoyed my first NYC pride festival wearing an H&M rainbow set, Kenneth Cole hat, BaubleBar rainbow heart earrings, and Urban Outfitters Pride socks.