Meet Quannah Chasinghorse's Met Gala Jewelry Designer
The Powerful Story Behind Quannah Chasinghorse's Met Gala Beadwork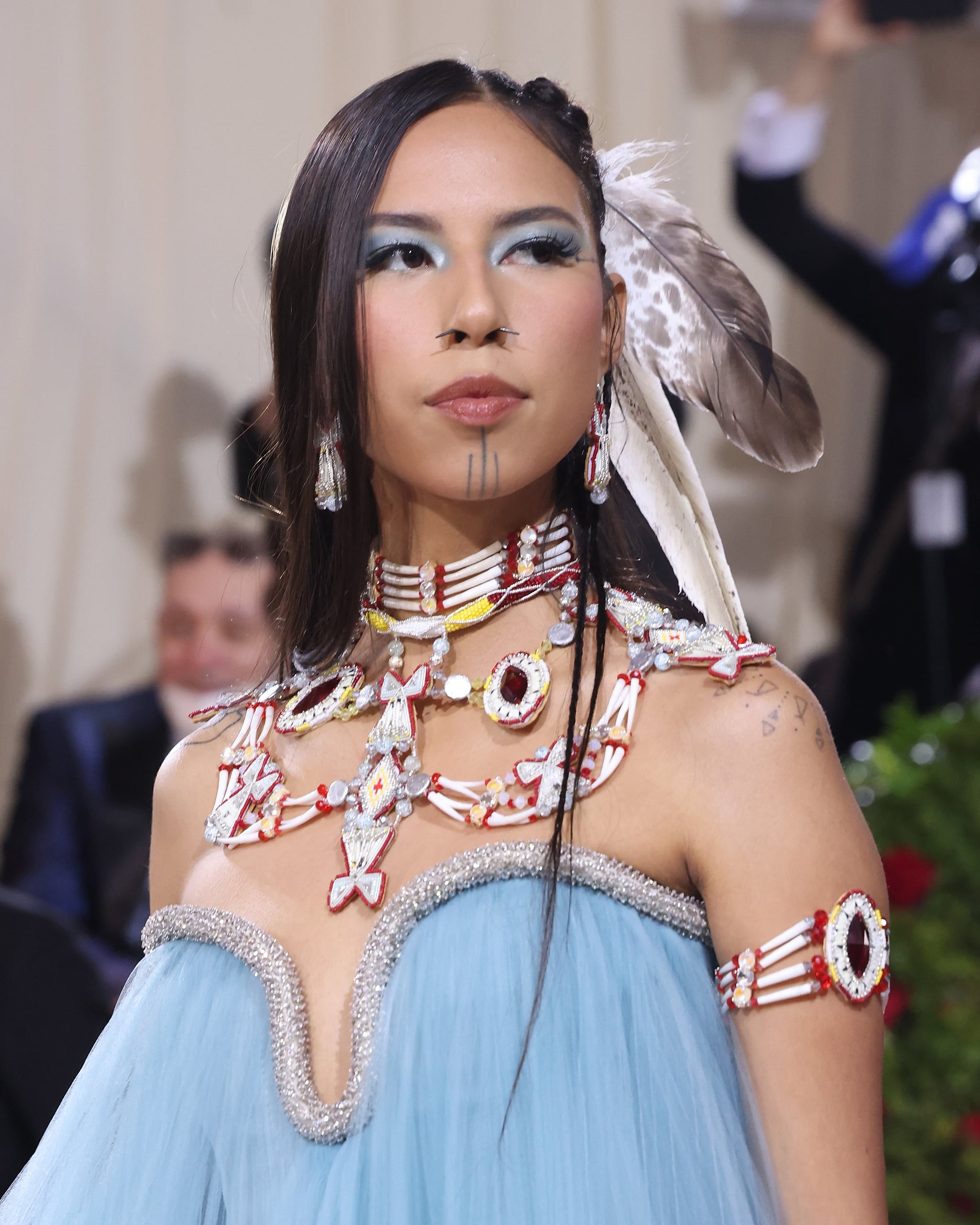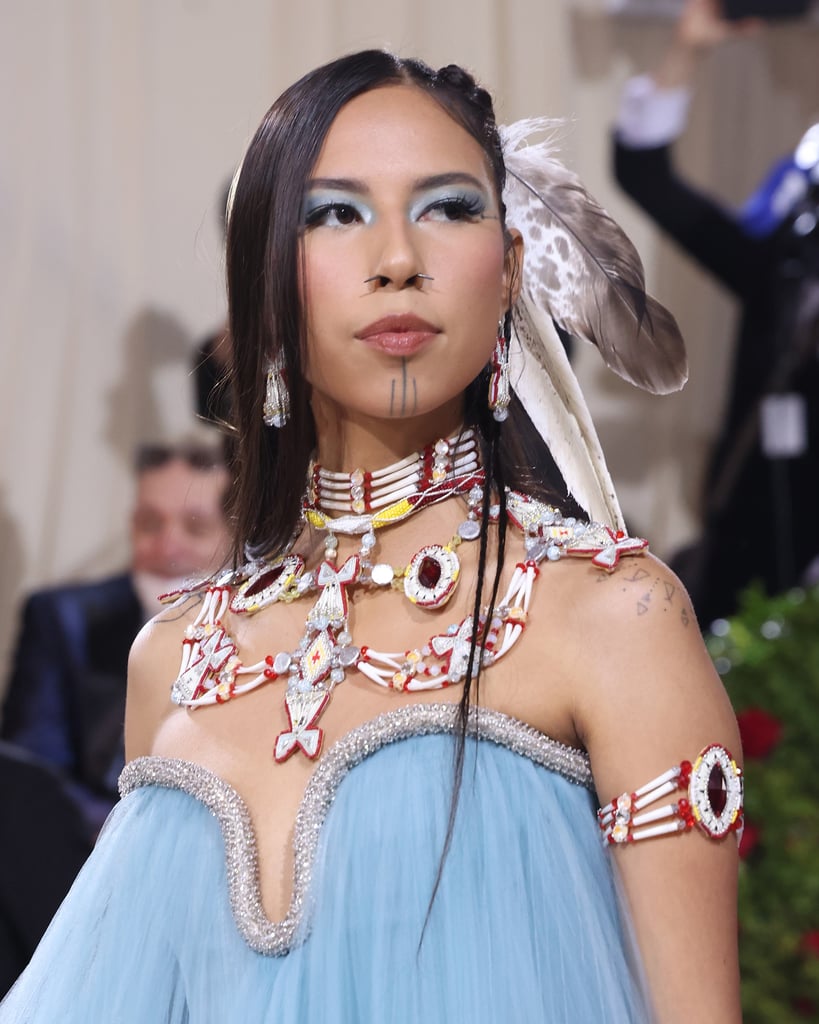 Image Source: Getty / Taylor Hill
We're told it takes a lot to get on the Met Gala red carpet. Generally, an invite seems to require some semblance of notoriety, fame, and talent. But for certain groups, despite having all of the above, invites are still rare, and when they do happen, they can be an isolating experience. Such was the case for Quannah Chasinghorse, an Oglala Lakota and Hän Gwich'in model and advocate, who described her first Met Gala in 2021 as flat-out "lonely."
So when Chasinghorse reached out to Lenise Omeasoo, a Native American beadwork artist, to create the jewelry for her 2022 Met Gala outfit, she was clear about wanting to incorporate traditional aspects of Indigenous culture into the design. Omeasoo was inspired to craft a literal community of tipis to rest upon Chasinghorse's shoulders — a physical and symbolic reminder that Chasinghorse was not going to be alone.
"Quannah is one of the kindest celebrities I've worked with," Omeasoo tells POPSUGAR. "When I was sending ideas to her, she fell in love with the first one. She is part Rosebud Sioux Tribe and I'm Blackfeet Tribe, so I kinda had an idea of what she meant by 'traditional.'"
To make each individual piece of Chasinghorse's jewelry, Omeasoo used a mix of modern and traditional materials. "I'm a reconnecting Native so there's a twist between modern and cultural designs in my work," she explains. The jewelry she made for Chasinghorse's Met Gala look included porcupine quills, dentalium shells, and buckskin, all of which Omeasoo received through trade with other Indigenous artists.
Once Chasinghorse selected the final design, Omeasoo had a tight deadline to meet, often working through the day and night. She admits that out of the seven days she had to make all of the pieces, she probably only slept three full nights. But, she shares, all the effort and sleepless nights were worth it to be a part of Chasinghorse's Met Gala experience.
"It's pretty cool and such a big honor to have my artwork showcased on such a huge platform and on a strong Native activist like Quannah," Omeasoo says. "She is literally our It girl."
While the Met Gala is often considered the biggest night in fashion, Omeasoo says there were a few drawbacks to working the event as an Indigenous artist. "When we look at the theme being the Gilded Age, a lot of hard stuff happened for Native people, [and] during this time we lost a lot of land," Omeasoo says. "After finding this out, I needed to add aspects of the land into her piece." Amid the whirlwind of hashtags, TikToks, and Explore pages, it's easy to forget that fashion, at its core, is about expression and representation. And the reality is it's impossible for any institution to brand itself as an authority on style, especially when entire cultural groups remain largely excluded from events like the Met Gala. For Omeasoo, the inclusion of Indigenous beadwork on the red carpet was a significant step in the right direction, but she'd like to see even more Indigenous representation in the future.
"Inclusion is a must. Listening to people's stories is a must."
"Inclusion is a must. Listening to people's stories is a must. Giving opportunities to cultures that you're inspired by is a must," she says. "The Native fashion community is all about storytelling, and when you listen, you see a truth about this land you didn't know."
Chasinghorse thanked Omeasoo in Gwich'in (a language spoken by Indigenous tribes in Alaska, Canada, and the western and southwestern United States) while commenting on the artist's Instagram post, writing, "MAHSI'CHOO for this incredible piece. I walked the red carpet feeling seen and not alone this time! It's an honor to be able to be here, represent, and showcase your talent/work!" In her own Instagram post, Chasinghorse expressed her gratitude for Omeasoo's work and talked about the meaning behind her look in greater detail.
"The beadwork included Tipis and traditional colors, to make me feel less alone and in a way surrounded by my community. . . . The Traditional Lakota dress that's showcased in the exhibit had the same exact earth elements that was used for the jewelry. So yea, on theme," Chasinghorse wrote.
While Met Gala red carpet invites remain hard to come by, especially for BIPOC communities, it's encouraging to see designers like Omeasoo creating space for real inclusivity at such high-profile events.
"This art form isn't just a hobby, it's a lifestyle that a lot of Natives use to reconnect to their culture," Omeasoo says. "It's a beautiful community of artists learning from each other, advocating for Native rights together, and now we are getting the opportunity to dress some of our best Native talent. The Native community is growing and healing. I'm so honored to be a part of that."