Rebecca Minkoff Makes a Political Statement at Her Los Angeles Show
Make the world your runway, they say. In a sense, Rebecca Minkoff did. One of the select few designers who decided to jet away from New York during Fashion Week, she brought her Spring 2017 "See Now, Buy Now" Fashion Show to Los Angeles. (Tommy Hilfiger, Rachel Zoe, and Tom Ford are all swapping coasts as well.) But instead of setting up shop in a studio, she took over The Grove, a signature LA landmark.
Throughout the day, Rebecca had a presence at the outdoor mall with a variety of activities for the public, specifically with her millennial consumer in mind: yoga, Essie manicures, a wine tasting, Keke Palmer's book signing, The Little Market pop-up shop, and even a chance to be a spectator during the runway show. Similar to her Fall 2016 RTW show, her beguiled fashion brigade included top influencers like Aimee Song and Chriselle Lim, models like Coco Rocha and Pyper America Smith, and actresses like Jamie Chung and Victoria Justice. Celebrities like Lauren Conrad, Camila Alves and Keke all attended the show.
Choosing Los Angeles as the show location was partly due to the theme of her collection, which is heavy with SoCal influence. "I was vintage shopping and I saw a terry cloth tank top from the '70s that said 'California,' and I thought, 'That's my sign. Let's do this,'" Rebecca told us. The hair, provided by Glamsquad, was "triangular" and meant to be big, voluminous, and reminiscent of the '70s. "The hair is airy and fluffy. Lots of wave in there, but we want to see frizz. We don't want it to be too perfect or polished," said Giovanni Vaccaro, creative director of Glamsquad. Rebecca instructed Lori Taylor Davis, global pro lead artist at Smashbox, to create a makeup look reminiscent of the California sunset, so for the eyes, warm, magic hour shades were used on the models with light-to-medium tones; deeper skin tones were gilded with red and orange shades. The nails were anything but basic. "We're doing nail art, rainbow nail art," said celebrity manicurist Michelle Saunders. "It feels very young, very '70s. Rebecca wanted to do a monochromatic rainbow, not traditional colors, so reds, pinks, and peaches," said Michelle.
The show was an experience. And it was meant to be: it took over an expansive portion of The Grove, as mentioned, and several activations were available afterwards, giving the public a chance to interact with their favorite influencers. Perhaps the most compelling and touching part of experience, though, was during the show's final walk.
Upon the last look, worn by Coco Rocha, the sound was cut. Not abruptly — the song had ended. But it was cut before she reached the end of the trolley runway; it was a long enough silence that it made you wonder, "is someone getting fired?" It was then that "Quiet," the song many consider the anthem of the Women's March, was sung a cappella. LA-based performer and writer of the song MILCK, along with 7 other women, closed the show by walking the runway, followed by the models.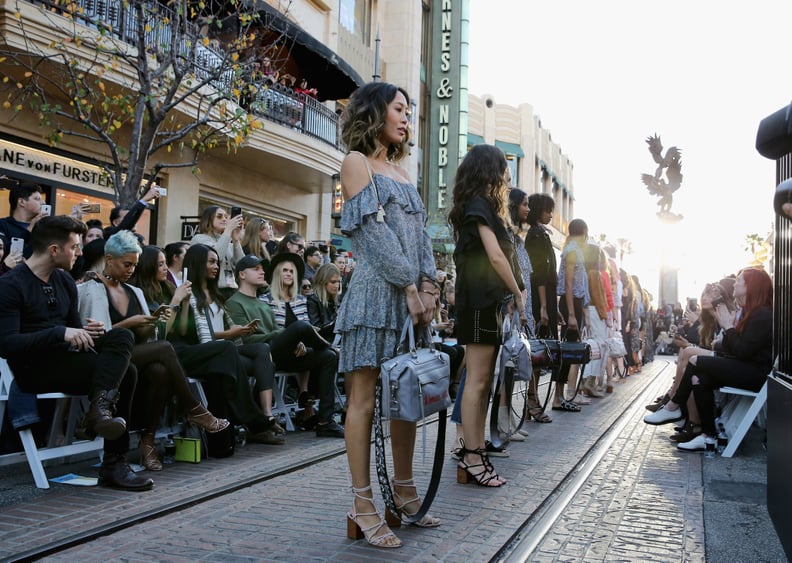 We saw Jamie Chung become emotional during that moment. "It was so cool. I was turning the corner and I was like, 'I think I might cry.' It was just beautiful," said Jamie. "I mean, you can't be quiet. You have to stand up for what you believe in. I think especially during these really scary times, it's important to have your voice heard."
Victoria Justice, who walked in the show along with younger sister Madison Reed, mimicked those sentiments. "It's such an important time for women, and to have all of those women singing was a beautiful, special moment," said Victoria.
As for the collection, there were various flirty and whimsical silhouettes, floral prints, woven details, a few LA-centric tees, and statement bags with sayings like, "Woman Up!" and "Love is love is love," pushing both the laid-back California aesthetic and female empowerment.
Rebecca's Spring 2017 collection is available for purchase now.