How Sustainable Designer Sami Miró Builds Relationships With Celebs Like Cardi B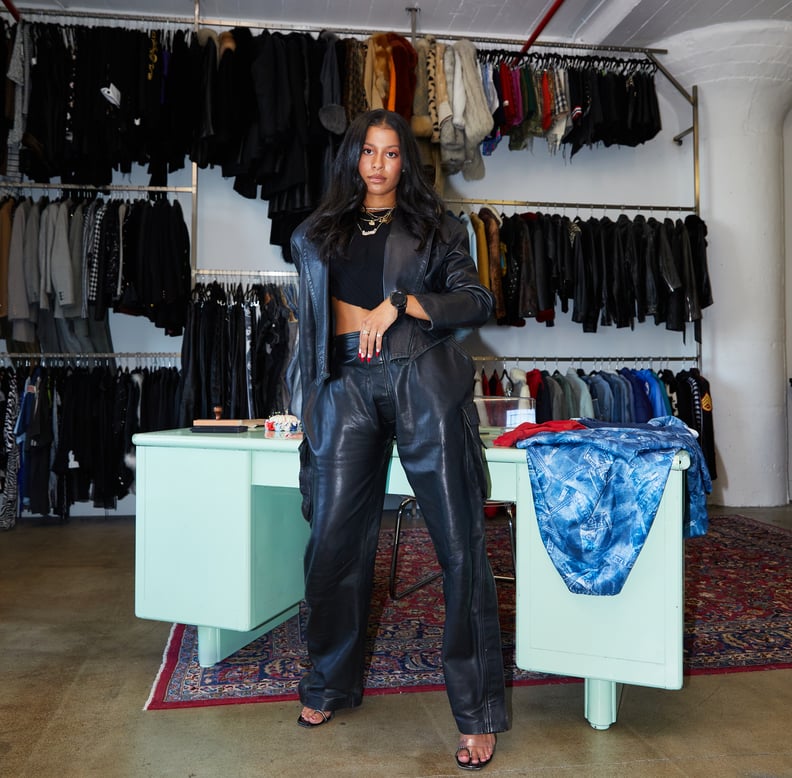 Courtesy of Samsung
Courtesy of Samsung
Designer Sami Miró is making waves in the realm of sustainable fashion, which is becoming increasingly important across the industry. Miró has every intention of making it the sole focus, educating her customers about her efforts in reworking old fabrics — namely organic hemp, organic cotton, vintage denim, and deadstock materials — to make something new.
Celebrities like Bella Hadid, Justine Skye, Teyana Taylor, Cardi B, Kylie Jenner, and even Jenner's daughter Stormi have taken note, wearing and posting about the Sami Miró Vintage brand for two key reasons. "I think it's a combination of being able to look really cool and different, and also knowing that you're supporting a brand that cares and that's doing something positive for the world," Miró told POPSUGAR in reference to the look and feel of the materials she uses, which aren't rigid and doesn't look to scream "sustainability," but are actually cruelty free.
"Everybody who's tagging and supporting us is doing it out of their love for what the brand stands for."
Miró's online store invites clients to shop cut-and-sew collections directly at a contemporary price point, whereas her reworked vintage pieces are made specially for celebs, who often DM Miró's team directly, or ask their stylists to do so. In that case, Miró will create something custom for a mood or moment. "The growth has been amazing and so special because everything has been organic. We haven't put any marketing dollars into this ever. So, everybody who's tagging and supporting us is doing it out of their love for what the brand stands for and for the design," she said.
While Miró maintains personal relationships with people like Justine Skye and Bella Hadid, other outfits that end up being reposted across the internet are surprises. "When someone pulls any of my pieces, they have a very large selection of options. I never get too excited until I see a photo, because you never know what the outcome is going to be or if the piece didn't work specifically for what they were trying to create at the time. But most of the time, it does end up working, so I'm really lucky to have the types of designs that people want to incorporate into their attire."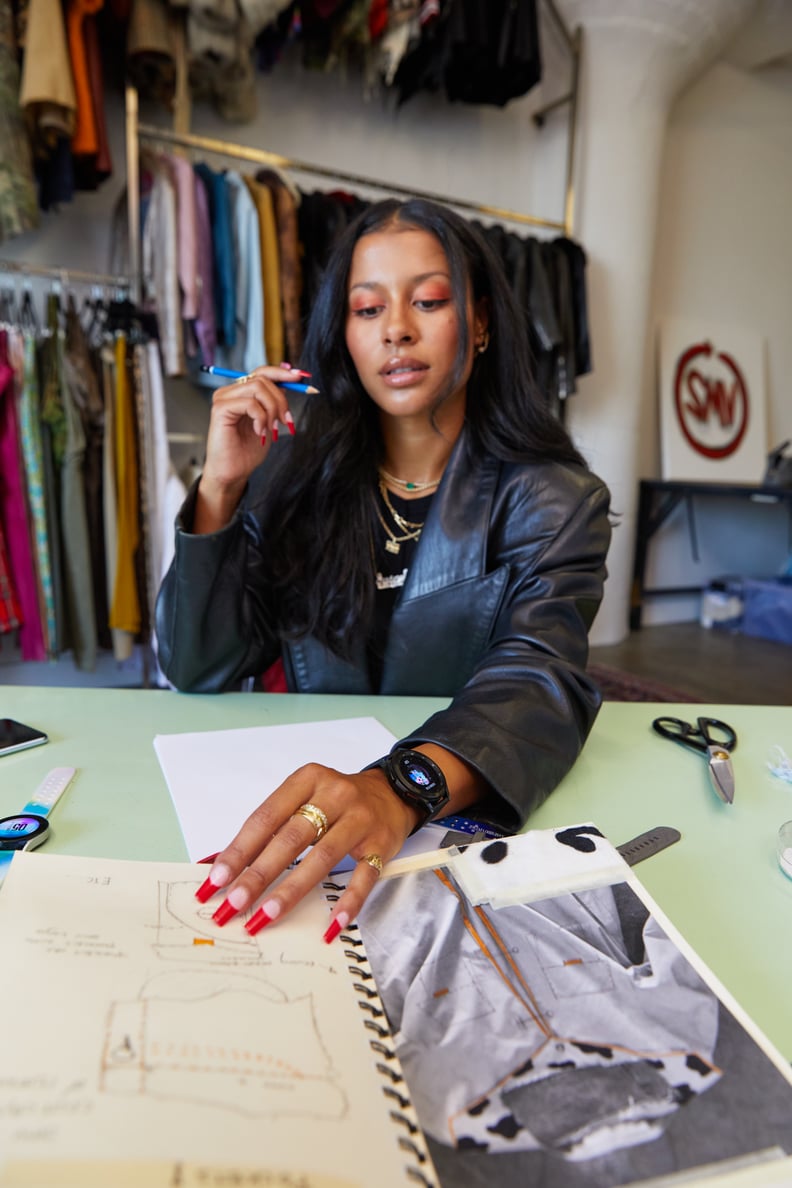 Miró has recently brought her highly covetable aesthetic to Samsung, designing new sustainable watchbands for the Galaxy Watch4 series. They're made out of recycled apple skin peels, retail for $50, and are completely vegan and cruelty free. Miró says they're meant to evoke positivity and mindfulness, and she's excited to cast a wider net in the industry so shoppers understand that they can wear something stylish that's also mindful of the environment.
"Under the Galaxy for the Planet initiative, which is Samsung's first collection specifically focused on sustainability, I created five watch bands and three watch faces. The fact that a huge company like Samsung was interested in working with a smaller, more niche brand like Sami Miró Vintage really spoke to their authenticity and new focus," Miró said.
It's honestly only a matter of time before Bella Hadid's incorporating the accessory into her next SMV look on Instagram. Ahead, see some of Miró's most notable celebrity dressings and find out how they were brought to life ethically, through a 100 percent eco-conscious supply chain in Los Angeles.
Bella Hadid Wearing Sami Miró Vintage
"Bella Hadid has been a supporter of mine since the very, very beginning. And she's consistently wearing SMV and posting the clothes almost monthly," Sami said. In this instance, Bella put in a personal request for the Porterhouse jeans to wear with her Marshall Columbia top.
Justine Skye Wearing Sami Miró Vintage
Justine also requests pieces directly from Sami, which was the case with this hoodie. "She's a good friend of mine, and she has been a huge supporter of the brand as well and loves to wear the pieces," Sami said.
Cardi B Wearing Sami Miró Vintage
Sami says Cardi B helped launch one of her capsule collections, wearing head-to-toe Sami Miró Vintage. In the case of these lime-green coordinates, Cardi's stylist Kollin Carter reached out.
Gigi Hadid Wearing Sami Miró Vintage
Gigi's reworked Harley Davidson sweatshirt was sourced through her stylist. It's an older piece, but she still keeps it in rotation.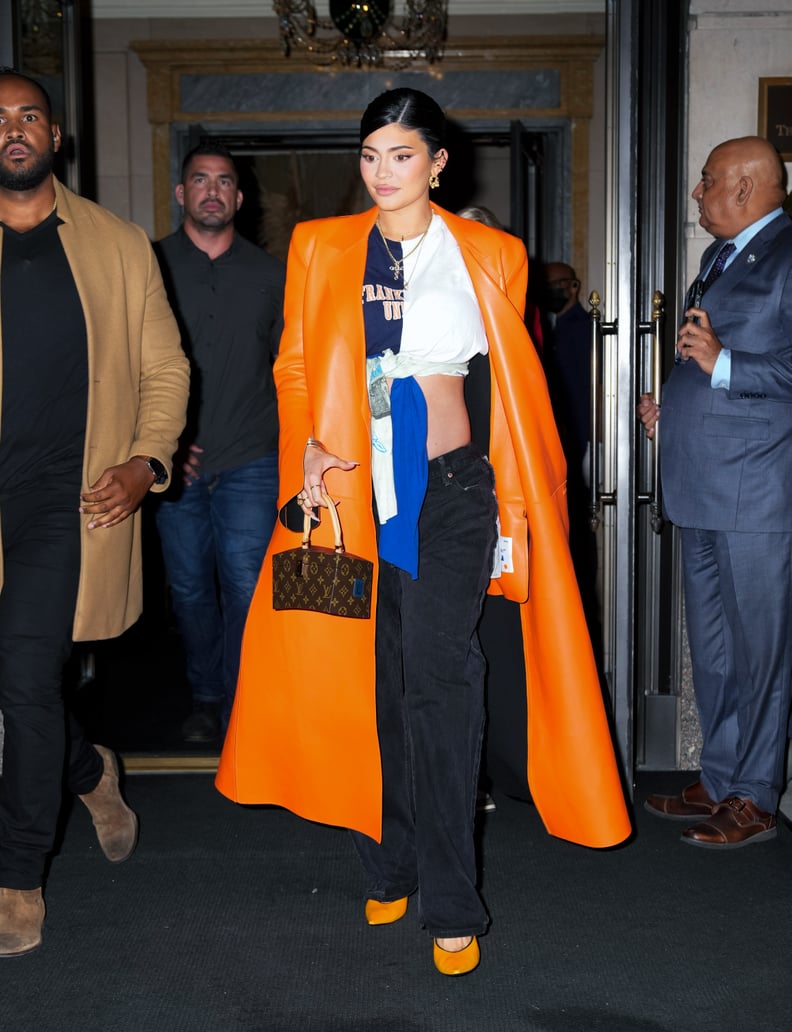 Kylie Jenner Wearing Sami Miró Vintage
Kylie Jenner helped launch Miró's fall/winter 2020 collection. She wore a pair of the brand's famous Porterhouse jeans, made from reworked vintage denim, during Fashion Week this September in New York City.
Stormi Webster Wearing Sami Miró Vintage
Yep, Stormi owns Porterhouse jeans too! "Stormi has actually been wearing those jeans a lot for the last few months, and apparently Kylie says that they're her favorite and they love them. She has them in blue and white," Sami said, continuing, "It's funny, Kylie's stylist reached out to me specifically to make these in white as a special request for Stormi. So I sourced toddler jeans for her, and I actually hand-bleached them myself personally. Since then, we've been able to re-create them for our customers, and we've sold out already."