The 1 Styling Tip Kate Middleton May Be Borrowing From Meghan Markle
The Duchess of Cambridge has been at this public figure malarkey for so long now that even the various components of her wardrobe have achieved icon status — from her tan hosiery to a bouncy blowout, nude skyscraper stilettos to colorblock coats, and tasteful daytime formal dresses to her ever-present clutch bags. Right? Well, just lately maybe not so much. . . Although Kate often favored a big slouchy purse with handles in her preroyal days, along with shorter hemlines and floaty sundresses, they all but disappeared once she was married.
As she made her royal style clear, over the past seven years Kate has displayed a dizzying array of clutches in baby pink snakeskin, teal satin, gold sequins, and bow-bedecked scarlet, but where she would once never have stepped out on a royal engagement without her all-important clutch, over the past few months, she has begun to slip in a number of purses with handles — much like her soon-to-be sister-in-law, Meghan Markle.
Meghan has taken no time in cementing her royal style, and it is notably different from the duchess, mixing up fingertip rings and messy buns with wrap coats and berets, but one of the most significant differences from Kate is that Meghan always favors a good, solid handbag over a dainty clutch. Until 2017, Kate had never carried a handbag on a formal public engagement, but since then, she has mixed up her usual look with a number of new additions.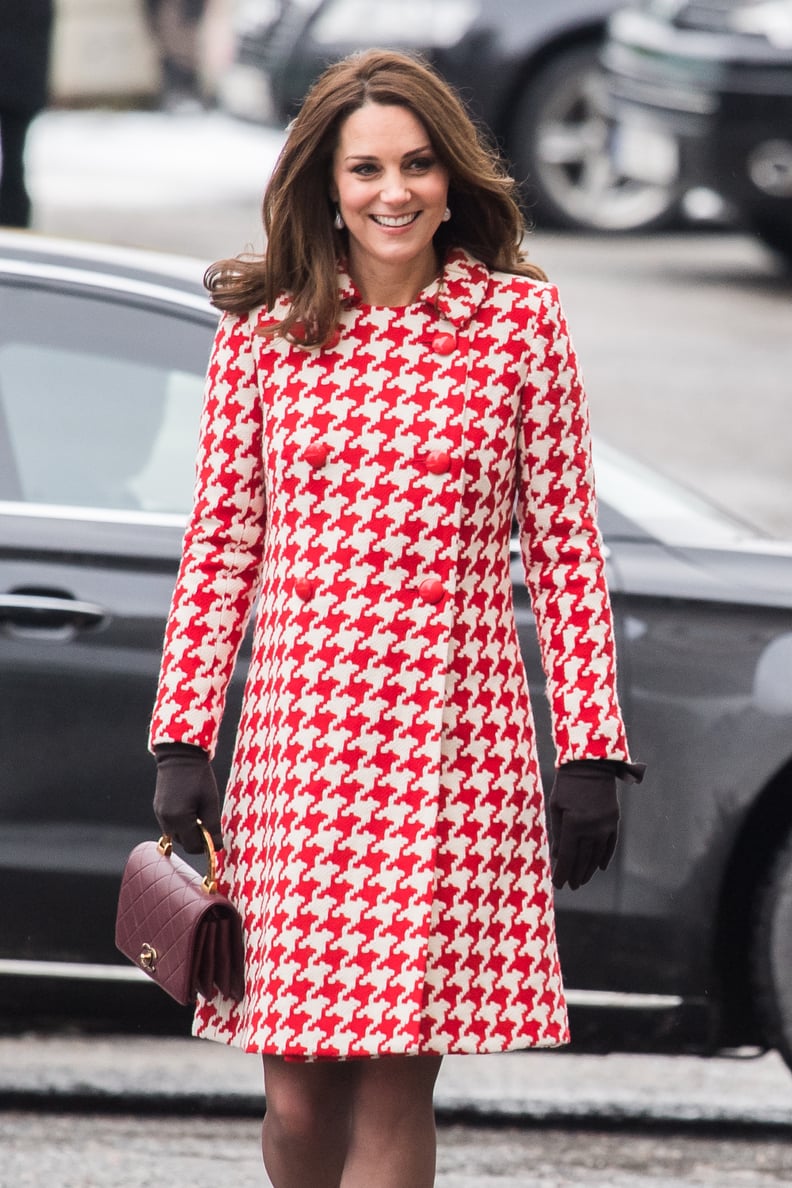 Starting with a trip to Paris in March 2017, Kate wore Chanel for the first time, teaming her bouclé suit with the designer's Nouvelle flap bag. It has swiftly become a firm favorite, and the duchess carried it again for a trip to church in January 2018 and on an engagement in Sweden lter (pictured above) that same month. Kate has also carried her white Victoria Beckham Quincy bag for three separate Wimbledon trips and debuted a new black Mulberry Mini Seaton in Sweden.
Something tells us that Kate won't be ditching her other favorites like skinny jeans, espadrille wedges, and daytime diamonds any time soon, but we'll be keeping an eye on any ways the two royal fashionistas might be influencing each other over the months to come . . .