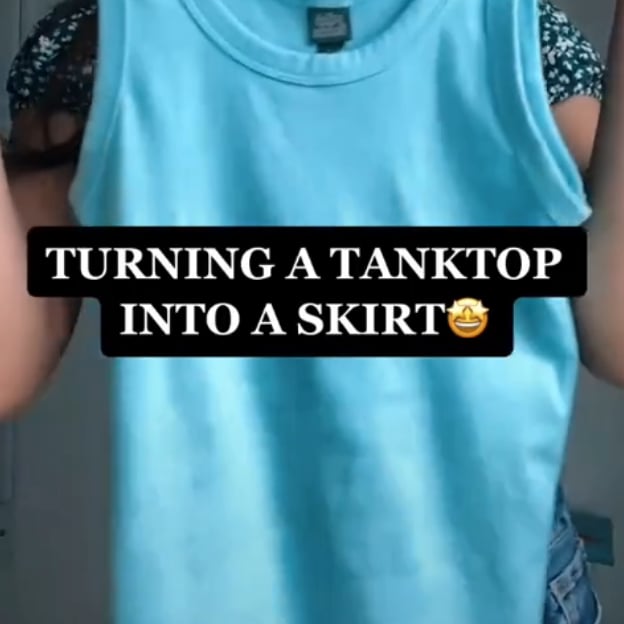 Another week, another viral TikTok hack that we feel compelled to try. The latest how-to trending on the app has users transforming old tank tops into formfitting miniskirts — absolutely no sewing necessary. We'll be the first to admit that we were skeptical, to say the least.
The origin of the hack can be traced back to TikToker @kalechng and consists of three simple steps: 1. Flip the tank top backwards (so the front is facing you); 2. Crisscross the straps; 3. Step into it, as if it's a skirt. That's it, that's the trick. Some adventurous users go a step further and tuck the straps in the back for a slightly more modest vibe.
Believe it or not, the resulting look is a chic crisscross miniskirt that's perfectly suited for summer. Pair it with a crop top and an oversize jean jacket, or wear it as a beach cover-up. Considering that tank tops are usually made from a thin fabric, this piece is ideal for those balmy days that seem too sweltering for clothes at all.
As someone with curvy hips, I've struggled to get some of my tank tops over my legs in the past. That said, this method can only be used with tank tops that offer a little give, and it definitely takes a few tries to find one that fits you correctly. I personally found that my best-fitting DIY miniskirts were made from very stretchy tanks with shorter straps.
If you can't manage to find a tank top that works, some further TikTok sleuthing led me to this No Boundaries Rib Cami ($3) from Walmart that does the job seamlessly. Sure, shopping does add a small cost to the endeavor, but we'd argue that it's definitely less than the price of a skirt. Whether you're looking to minimize spending or breathe new life into old pieces, this viral TikTok hack may be for you.
Keep reading to see how you can turn your old tank tops into brand-spanking-new skirts. Happy DIY-ing!