Paid Content For
Banana Republic Factory Store
What to Wear For a Comfortable, Fashionable Travel Day
Paid Content For
Banana Republic Factory Store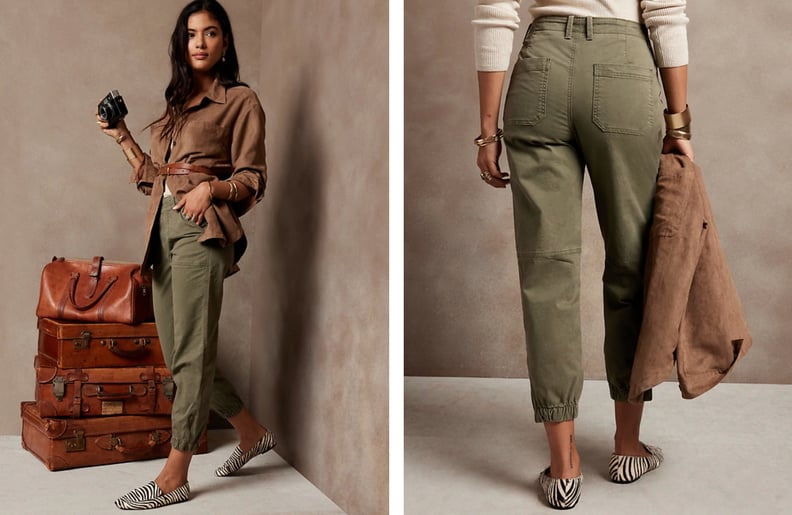 Banana Republic Factory Store
Banana Republic Factory Store
As POPSUGAR editors, we independently select and write about stuff we love and think you'll like too. If you buy a product we have recommended, we may receive affiliate commission, which in turn supports our work.
From running out the door to using public transport, to rushing around the airport, to sitting cramped in your seat, travel days are endlessly stressful. That's why you should have a good travel outfit. Don't just throw on any old thing when you're headed to the airport. Be strategic — put on comfortable shoes that won't give you blisters, layer up for hot terminals and chilly planes, and bring something cozy to use as a pillow.
These little tricks can be the difference between travel misery and travel luxury. And just because you're focused on comfort doesn't mean you can't look chic. Ahead you'll find our picks that'll have you looking (and feeling) good as you jet off for your next getaway.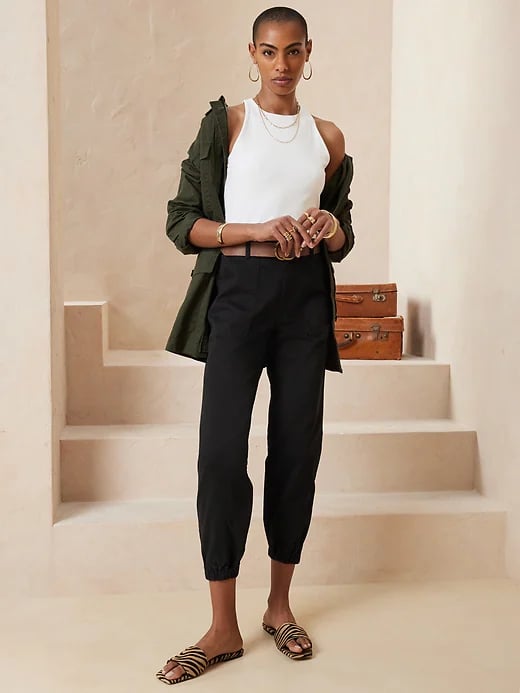 Banana Republic Factory Store Authentic Chino Utility Jogger
Whether your destination is warm or cool, pants are usually your best bet if you're flying. More coverage is more comfort. Instead of stiff jeans, go for a pant that you can curl up in, like these utility joggers ($42). They come in four colors, all of them more polished than your average sweats. They're the perfect pant to get you where you need to go, looking your best.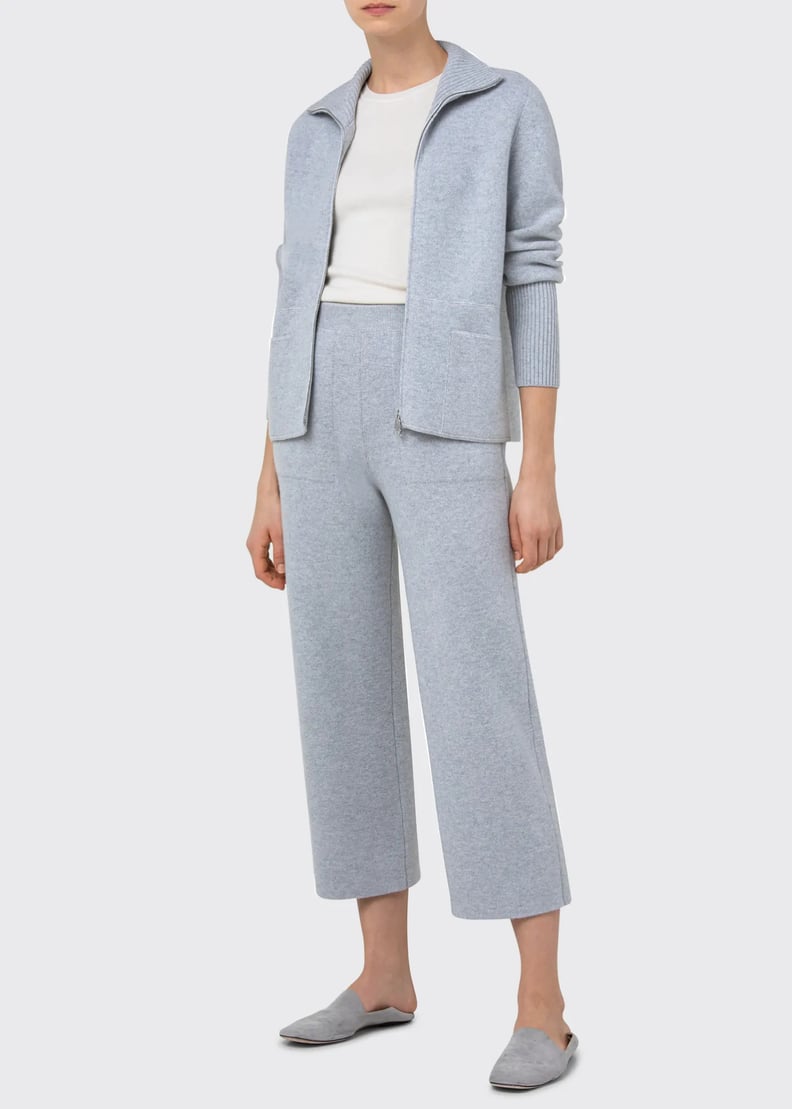 AKRIS Cropped Cashmere Pants
For a more luxurious but equally chic look, bring out the cashmere pants ($372). They'll keep you cozy, no matter how stressful the journey. We love the cropped look here for style and for practicality. You don't want your nice pants dragging on a dirty floor.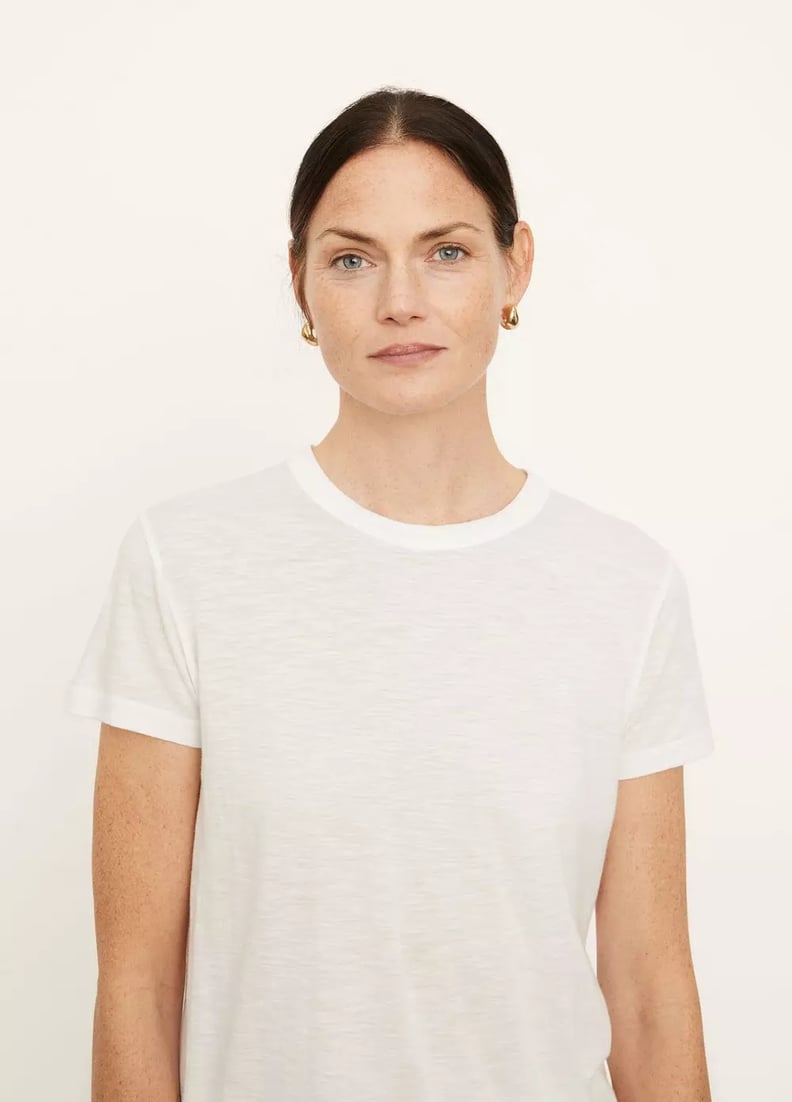 Vince Short Sleeve Relaxed Tee
A plain white tee is an essential any day of the week. When you're traveling and want to dress in layers, it's even more important. For this layer, we love a super soft 100 percent pima cotton tee from Vince ($85). Do a French tuck into whatever pant you choose, and you'll already look far more put-together than your fellow travelers. Once you arrive at your destination, it'll work with just about anything you've packed, from a silk maxi skirt to your structured chinos.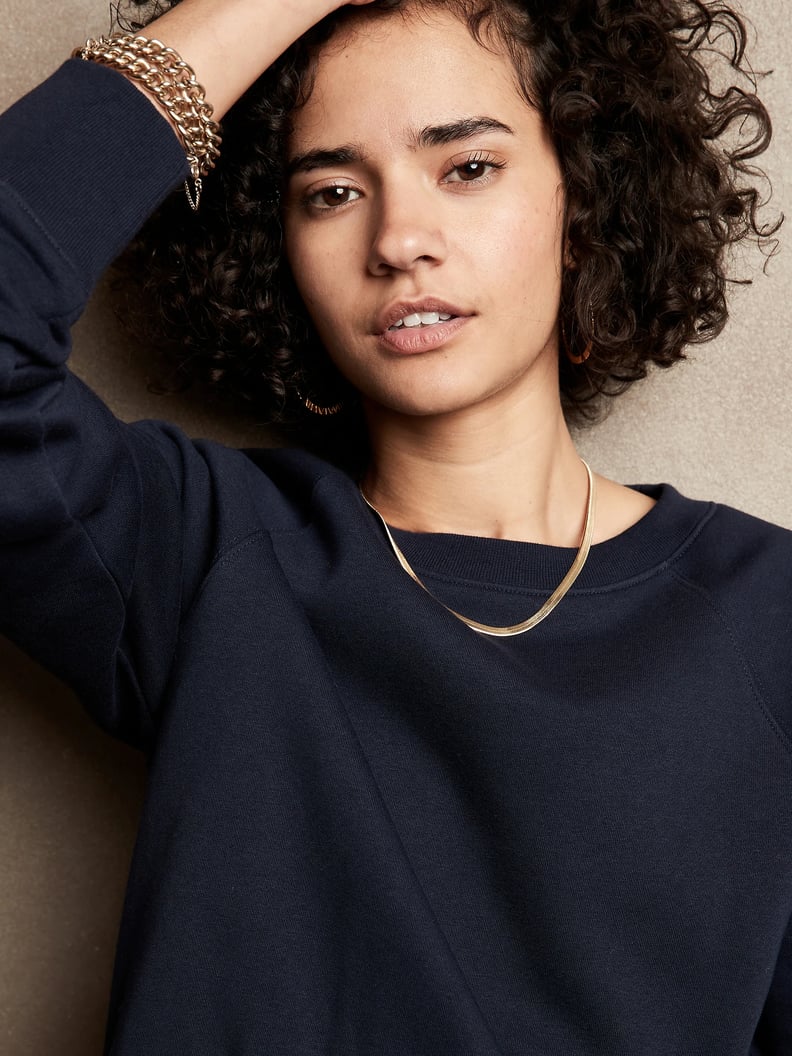 Banana Republic Factory Store Soft Fleece Sweatshirt
Like we mentioned, dressing in layers for the trip will help you acclimate to whatever temperature changes occur. On top of your white tee, pop on this sumptuous fleece sweatshirt ($30). It comes in a range of colors and can be easily dressed up with a statement necklace or earrings. You'll be glad you have it when the cabin reaches 10,000 feet and your talkative seat-mate just turned on their fan.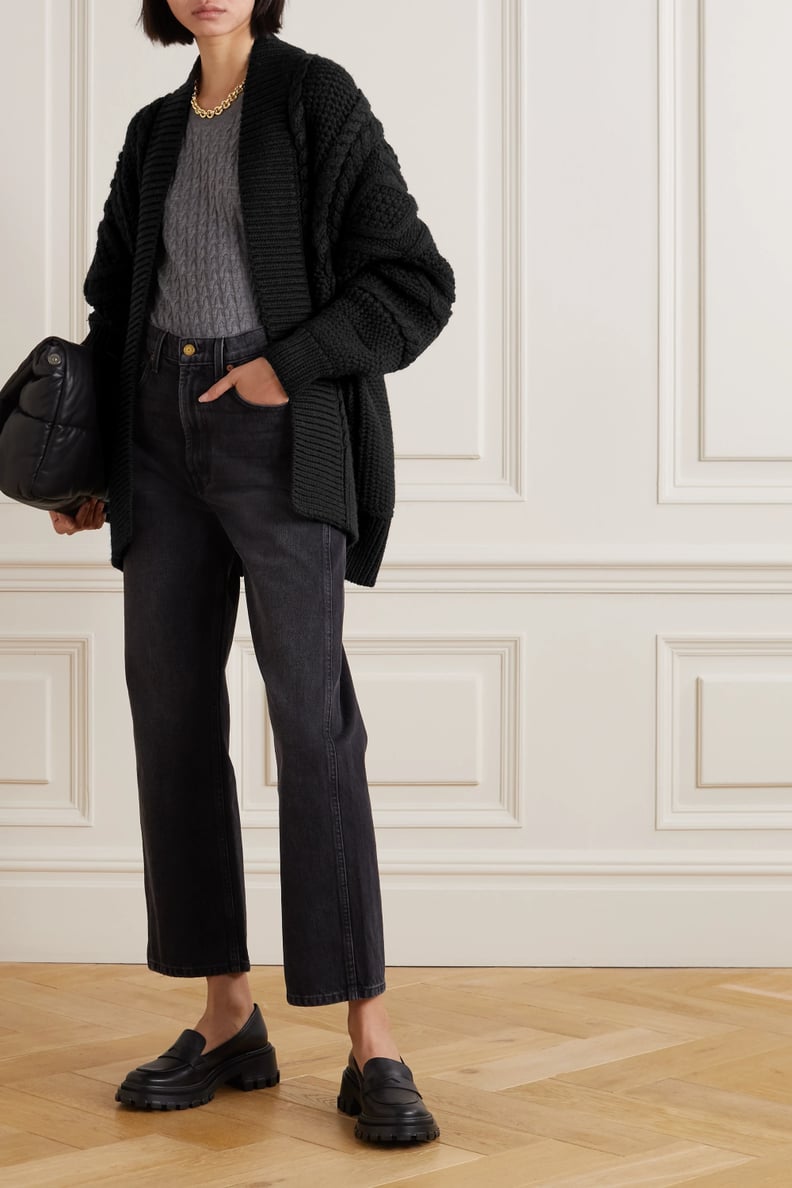 Mr Mittens Cable-Knit Wool Cardigan
To elevate your look, upgrade your outer layer to a chunky cardigan. An oversize fit will keep you extra comfortable on your journey. We love the intricate patterns of this luscious sweater ($625). Wrap yourself in it and you may just forget you still have four hours until you land.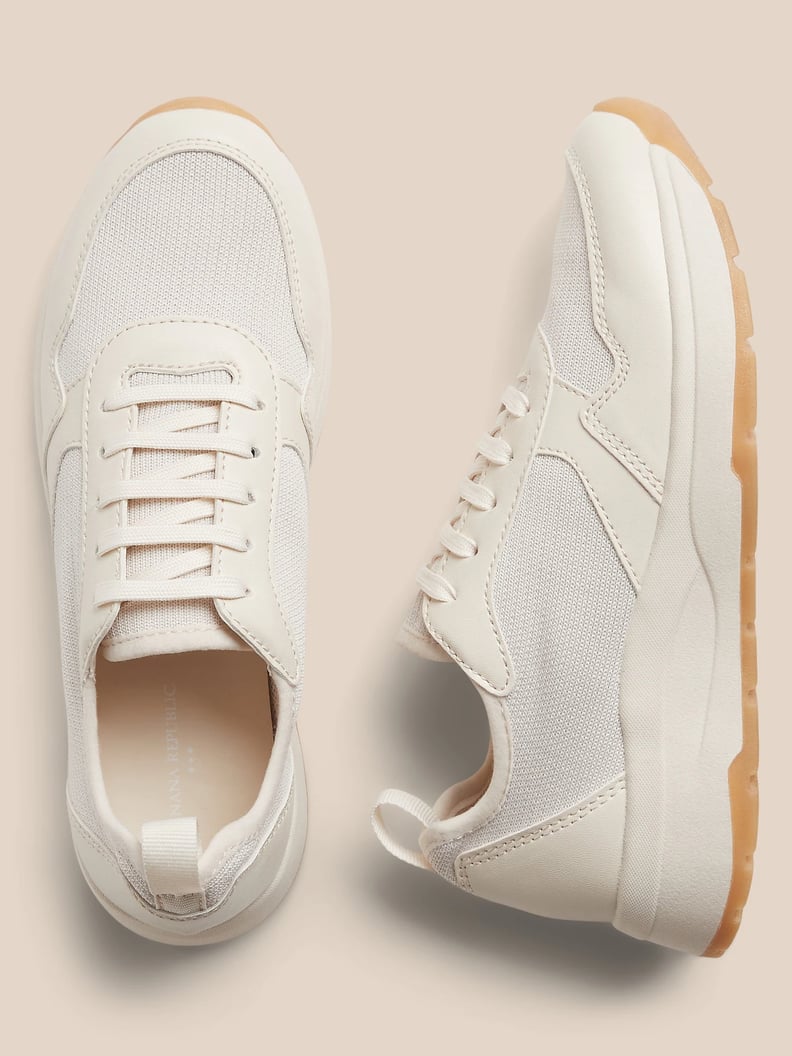 Banana Republic Factory Store Knit Sneaker
When it comes to footwear, comfort is king. You'll want a pair of shoes for standing around, traversing the terminals, and running (if you're running late). Take it from us: Pack your heels and wear your sneaks ($36). You'll be grateful when you're on your last leg of a long journey.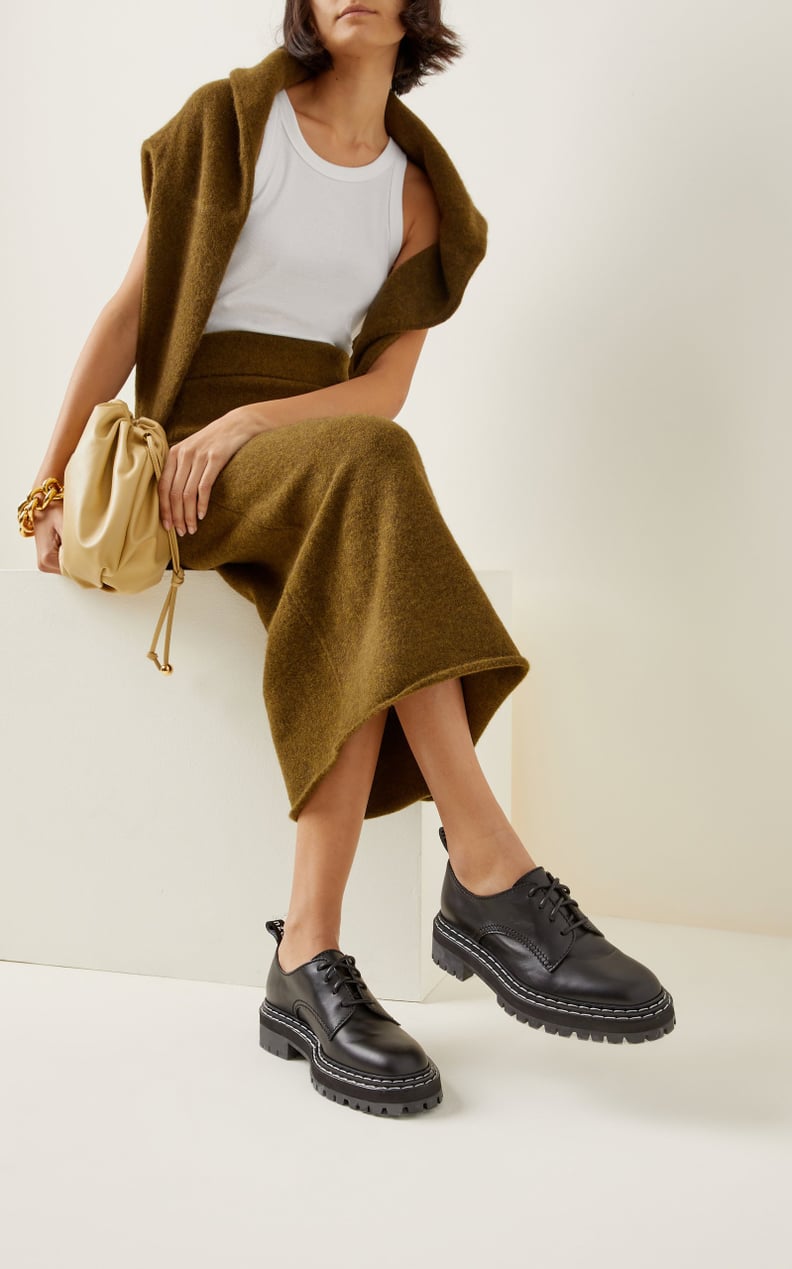 Proenza Schouler Lug-Sole Leather Oxfords
If you feel like plain tennis shoes are a bit too pedestrian, we recommend some leather oxfords, which offer a sleek and polished look, without compromising the sanctity of your toes. This pair ($795) also has the benefit of lug soles, giving you some extra padding as you walk and walk and walk to find the nearest coffee in your terminal.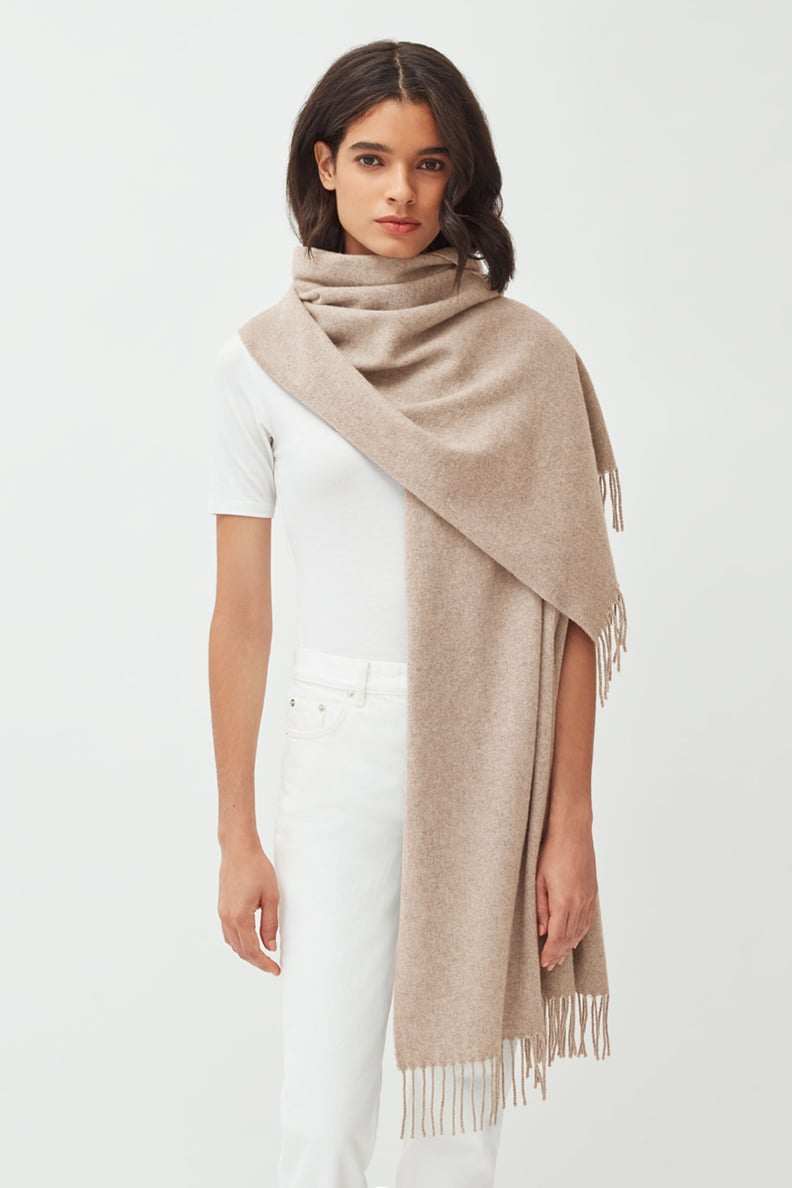 Cuyana Recycled Cashmere Scarf
The most important accessory for your trip is a big cozy scarf. A beautiful scarf ($198) can cover up a multitude of sartorial sins. It can also act as a blanket or pillow in a pinch. While you could go for cotton, we recommend amping up your look with some cashmere. Play the off-duty-model look well enough and you may even get bumped up to first class. (We've never experienced this ourselves, but remain hopeful.)