I Went to Bridal Week With a Celebrity Stylist, and Now I Know How to Find My Wedding Dress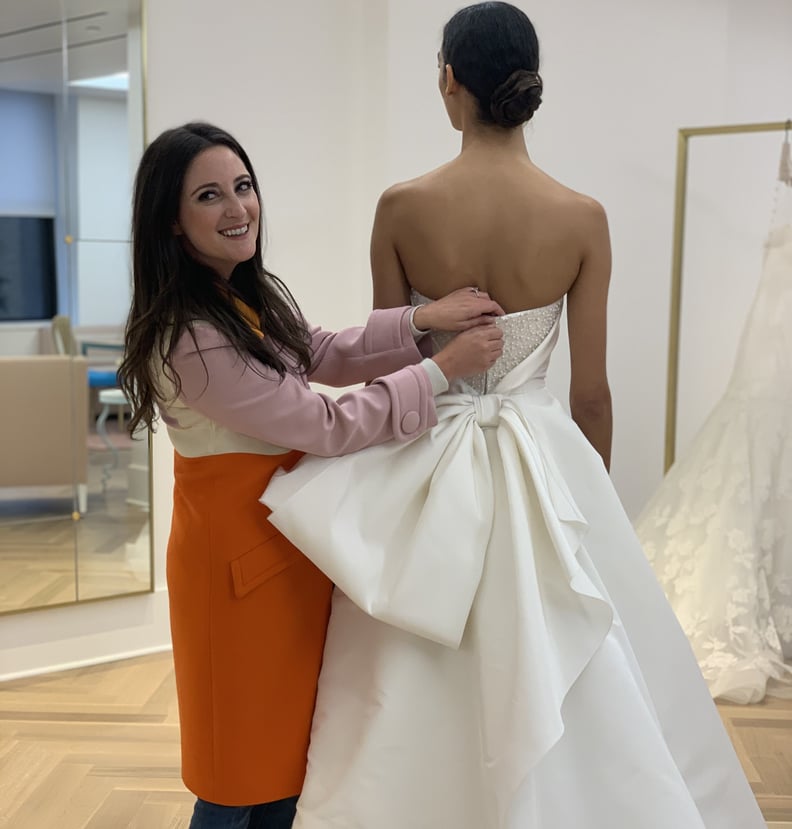 POPSUGAR Photography | Sarah Wasilak
POPSUGAR Photography | Sarah Wasilak
Celebrity stylist Micaela Erlanger is a new bride-to-be, and boy, does she know her way around a designer studio. Micaela, who dresses the likes of Lupita Nyong'o, Meryl Streep, and Lucy Hale for red carpet events, wore a Lela Rose pantsuit for her own engagement party, which I loved. I knew I could trust her when it comes to all things bridal, so I accompanied her to the Carolina Herrera press preview to see the new Fall 2020 collection.
Micaela began by talking about designer Wes Gordon and his impact on the Carolina Herrera fashion house. She floated straight across the room to the dress on the mannequin. "Wes is really putting his footprint on Herrera, whether it be ready-to-wear or bridal, and you can see it through a dress like this, where you've got a black, sort of sister version of it from resort that just showed, and this is the bridal version," she said, proceeding to point out the similar details.
We delighted over each and every silhouette together — they were all stunning — and Micaela posed with the "Michaela" gown for a photo. How fitting! For a full hour, we discussed tips and tricks that Micaela recommends for brides or clients she's dressed for their own special day. We tapped specifically into the Carolina Herrera bride, of course. "I would say it's a very good club to be in," Carolina Herrera Communications Director Stephanie Castillo said to me. I couldn't help but agree. Perhaps with Micaela's useful pointers, I'll be heading down the path to my own bridal look soon.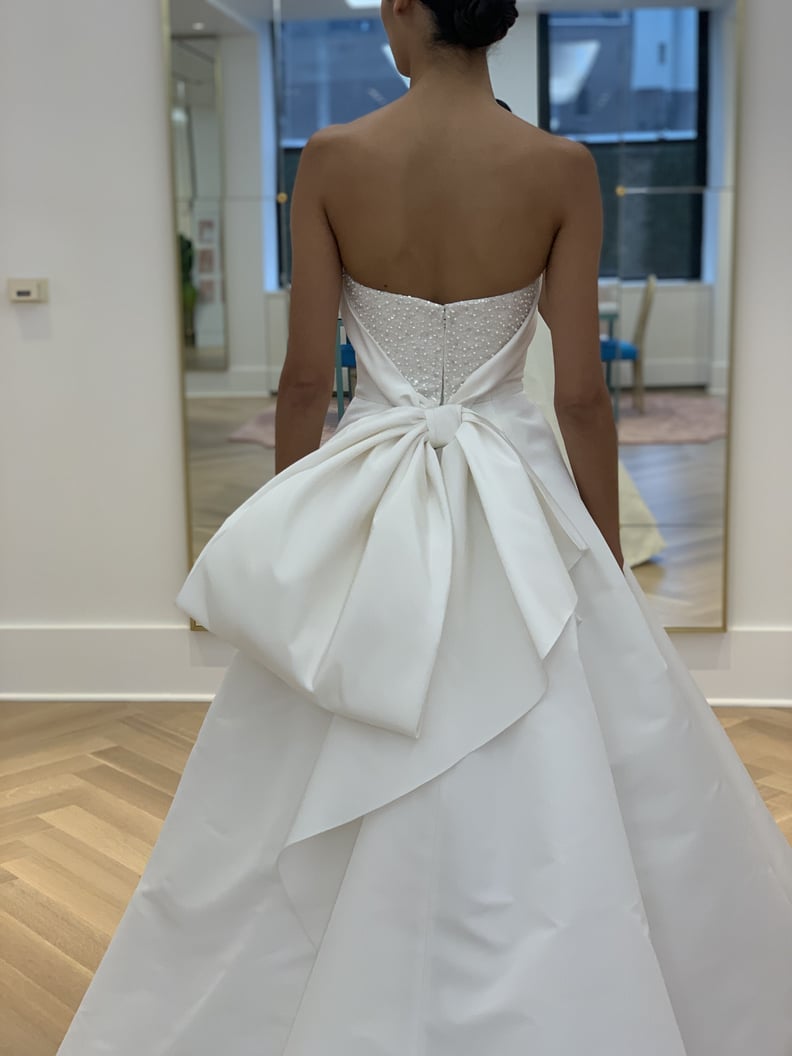 How to Navigate Wedding Trends
"I don't believe in trends for the aisle. I believe in being classic and elegant on your wedding day. These are pictures that are going to last a lifetime. You want to be as classic as the moment. Don't try something totally crazy; it ought to be timeless. These [Carolina Herrera dresses] are shapes that people can come back to. I think that, being a red carpet stylist, the closest thing to walking on the red carpet is walking down the aisle. These are the moments that stand the test of time, so you have to make yours classic."
A Carolina Herrera wedding dress from the Fall 2020 collection.
How to Find Your Wedding Dress Muse
"You definitely don't want to follow the Pinterest route. I think you should find a muse, you should find a reference, and you should stick to it. Look at history, look at iconic moments over time. You asked me what my favorite bridal looks are — Amal Clooney, Grace Kelly, Carolyn Bessette-Kennedy. Gwen Stefani in pink! That was amazing. It had to be the perfect dress and the perfect person in order to encapsulate that moment. Like, [Gwen] could wear pink, but not everyone could pull that off. I really believe in doing your research and your homework, and finding a muse. When I work with my clients, I draw inspiration from all different moments in time. I draw inspiration from my peers, I draw inspiration from other celebrities, I draw inspiration from editorial tears; from old stuff, from new stuff, and from street style."
Grace Kelly wearing her wedding dress by costume designer Helen Rose, a gift from MGM Studios, in 1956.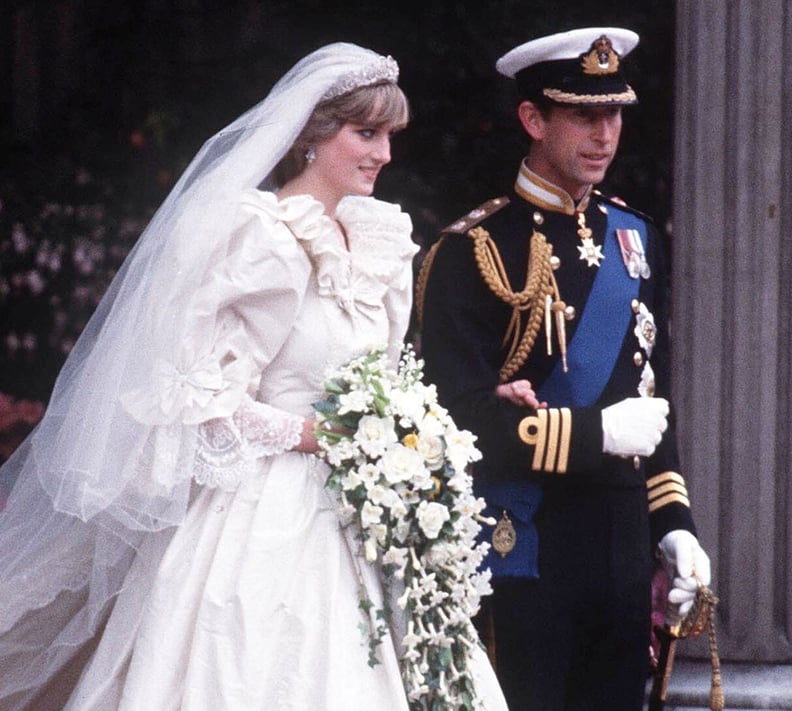 How to Accessorize Your Wedding Dress
"A bride needs her things, especially the modern bride. I think pearls are just classic. Princess Diana wore pearls; Grace Kelly wore pearls. Your veil is also an accessory, let us not forget. Not every bride needs a veil, but it depends on whether the dress calls for it, your settings, and what your comfort level is. One of my best friends just got married with no veil, but she had a pretty barrette that felt appropriate, because she wasn't having a religious ceremony. I will have a veil, but I think every bride calls for something different."
Princess Diana wearing her wedding gown, designed by husband-and-wife duo David and Elizabeth Emanuel, in 1981.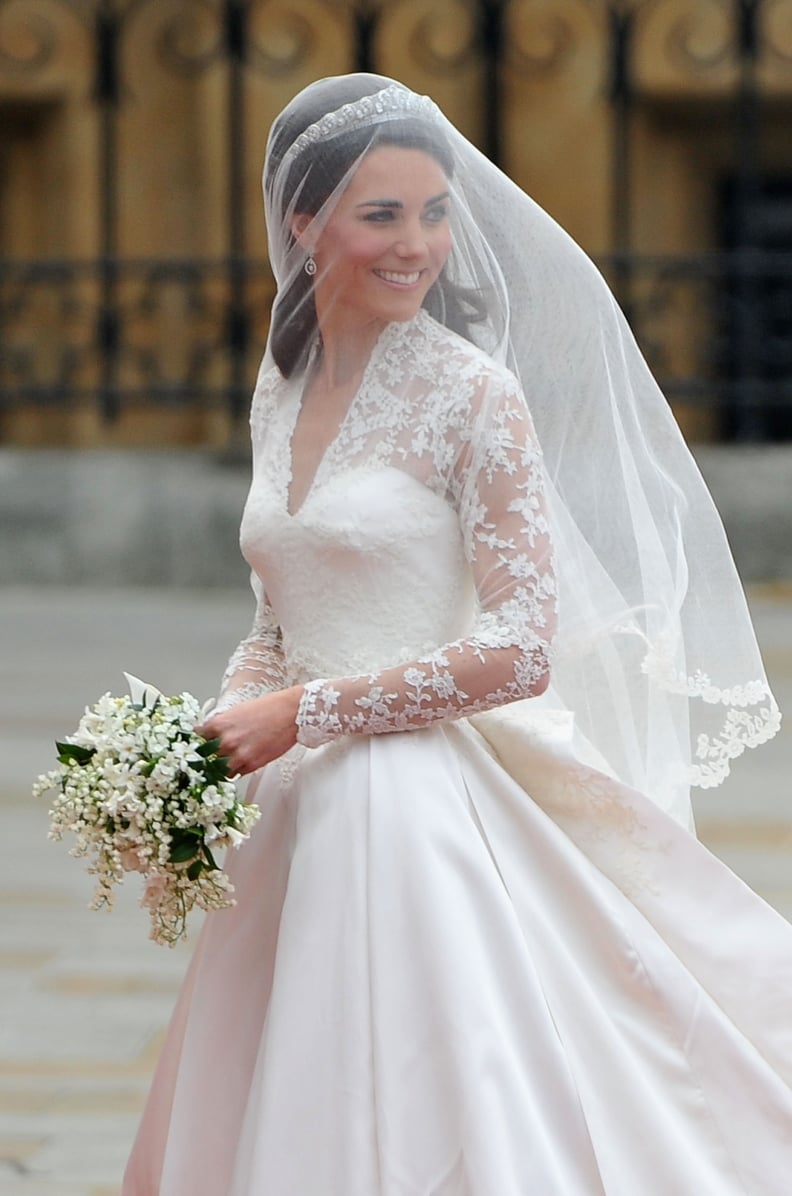 How to Find a Modest Wedding Dress
"If you have a more conservative ceremony, something like [a bolero] is really beautiful. You can wear it down the aisle, but then you can take it off for your cocktail reception or dancing or whatever it might be for a little bit more movement and freedom. It's a two for one. I love a two for one for the bride who wants two dresses but doesn't feel like buying two dresses. This is the equivalent. I am also all about a sleeve. Whether or not you're self-conscious, I just think it is a very classy touch. Let's pay a nod to Kate Middleton for reminding us. Just because you have a long sleeve doesn't mean it has to feel older. It can be modern and elegant."
Kate Middleton wearing her Alexander McQueen wedding dress in 2011.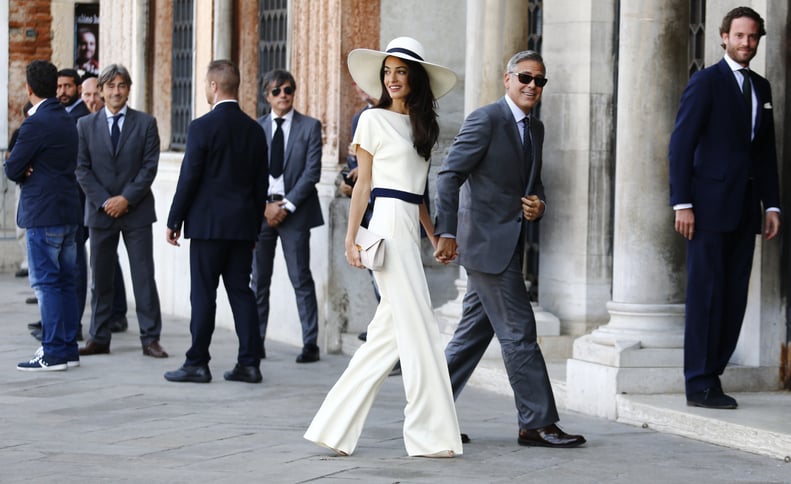 What to Wear For All Your Wedding Events
"I believe in creating a picture-perfect moment. I'm looking at your wedding day as an editorial — the right dress to fit with the right setting to fit with the design or the aesthetic with the time of day. I approach it from that perspective, but at the end of the day, all that matters is that you feel good. But what's your rehearsal look? What's your bon voyage look like? It's all about the occasion."
Amal Clooney wearing a Stella McCartney jumpsuit during her wedding weekend in Italy in 2014.