Meet the Badass Woman Who Designed Meghan Markle's Wedding Dress
The name Clare Waight Keller might not have been familiar a few years ago, but the royal wedding changed that. Clare was the artistic director of Givenchy and the woman responsible for Meghan Markle's custom Givenchy wedding dress — a moment she calls "the most memorable" of her career. On April 10, it was announced that after three years at the helm of the brand, Clare would be stepping down. Here are five things you need to know about Clare and why you won't be forgetting her name anytime soon.
She was the first-ever woman artistic director of Givenchy. It took 66 years for a woman to take the helm of the historic luxury French fashion house, which was founded in 1952. But on May 2, 2018, Clare was announced as the artistic director — and 17 days later, Meghan wore her custom Givenchy design down the aisle for all the world to see.
She worked on Meghan's wedding dress secretly for five months. That is one big secret to keep! Her husband didn't even find out that she was behind Meghan's dress until the morning of. Clare revealed that she, along with a small team of ateliers based in Paris, worked for months on the dress — and never let the secret slip.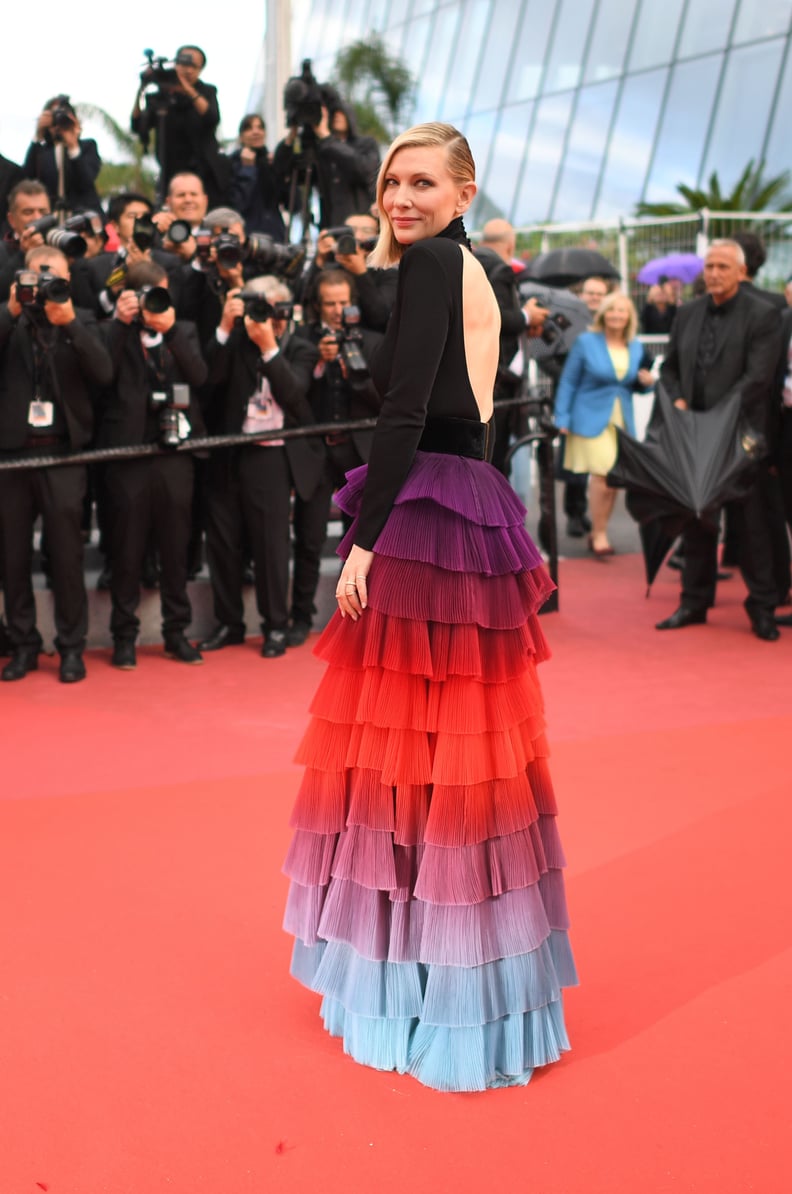 Image Source: Getty / George Pimentel
She is behind some of our favorite red carpet looks. And chances are, you've also admired her designs. Case in point: Cate Blanchett in this rainbow-hued organza-tiered skirt and cutout top in Cannes and Lily Collins at the Met Gala.
She has some serious fashion industry street cred. She cut her teeth as a stylist at Calvin Klein and Ralph Lauren before being hired by Tom Ford to lead women's ready-to-wear and accessories for Gucci in 2000. From there, she served as artistic director of Pringle of Scotland from 2005 to 2011, then at Chloé from 2011 until her historic move to Givenchy. In 2020, she stepped down from her role at Givenchy.
She is a working mom of three. As a mom of three, Clare knows a thing or two about work-life balance. In a Vogue interview, she said that "being a parent you just become really good at multitasking quickly, accurately, and efficiently, because you're so distracted." And she recognized just how hard it has been to juggle having a family alongside a fast-paced career in fashion. "I hate to say it but it's true, women are constantly overlooked because they are still prejudiced for having families, which I find very small-minded and not very progressive. It's hard because this industry isn't as welcoming as people think to get to the top."
Bonus: you can follow her next moves. Lucky for you (and us), Clare shares snippets of her life — from design inspiration to the celebrities who wear her designs to her insider point-of-view on Meghan and Prince Harry's big day — on Instagram. Follow her here!