When Happy Hour Calls, You Can Wear These Work Outfits Straight to the Bar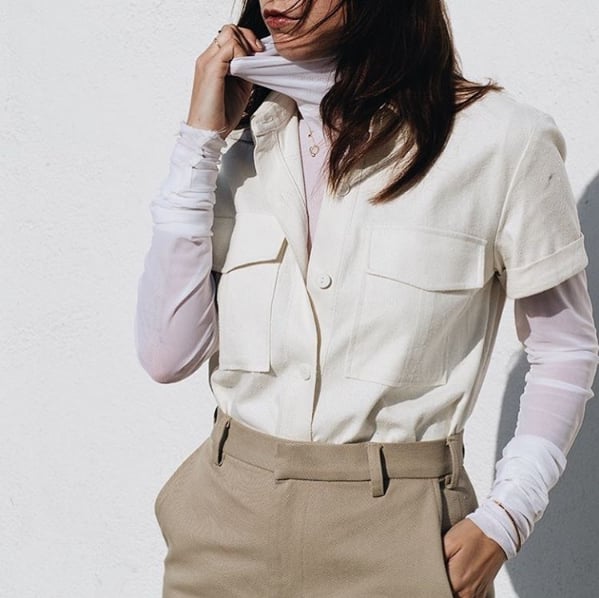 It's a problem we all struggle with, particularly on Fridays: what office-appropriate outfit also works for a night out? Sometimes, we just don't have the time to run home and change before we meet up with the girls for dinner. We stand in front of our closets, searching for versatile pieces that pair as well with our closed-toe pumps as they do with those strappy stilettos we've been dying to show off.
There's a solution to your office-to-drinks conundrum, and it comes in the form of the ladies you follow on the 'gram, who provide daily inspiration. Read on for 34 modest looks that could easily transition into something a bit sexier. And get out your notepad or laptop — these are outfit ideas you'll want to remember.
01
A Lightweight Ruffled Dress and Heels
02
A Neutral Cardigan and Cream Pencil Skirt
03
A Long Wrap Skirt and Pumps With Your Leather Jacket
04
A Slinky Statement Dress and a White T-Shirt
05
An LBD and a Moto Jacket With a Nice Pendant Necklace
06
A Tailored Suit Works Every Time
07
A Peplum Set With Embellished Shoes
08
A Silk Camisole Layered Over Your Button-Down
09
A Fit-and-Flare Printed Dress With a Wide Belt
10
A Loose Shirtdress With a Designer Purse
11
A Functional Skirt That You Can Unbutton Later On
12
A Fun, Lightweight Statement Jacket
13
An Elevated White Blouse and Trousers
14
Wide-Leg Pants and a Lace or Crochet Shirt
15
A Matching Top and Bottom That Looks Like a Jumpsuit
16
Leather Pants and a Pair of Black Pumps
17
Florals and Peep-Toe Shoes
18
An Open-Back Top and Mules
19
A Tight Top Under a Dress and Booties
20
A Bomber For a Casual Touch
21
Dark Skinnies and a Pearl Necklace
22
Long-Sleeved Midis and Statement Heels
23
White Pants and a Silk Blouse
24
Slip Into Your Metallic Loafers After Hours
25
A Tight Double-Breasted Top in a Fun Color
26
A Monochrome Structured Outfit With Miniheels
27
A Coordinated Set With a Trench to Cover Your Midriff
28
High-Waisted Trousers and Mules
29
A Funky A-Line Skirt and Sequined Top
30
A High-Neck Sweater Dress and Knee-High Boots
31
A Black Blazer, Tight Pants, and Chunky Shoes
32
A Long Dress That Shows a Little Slip of Leg, Complete With a Coat
33
A White Jacket and Knee-Length Skirt Accented by Black Accessories
34
The Standard, Work-Appropriate LBD