Circling Three-Legged Dog Running Warmup
The Quickest Way to Warm Up Before a Run
Tight hips and hamstrings are a common runner's complaint, and while doing some mountain climbers or jumping jacks is a great warmup before a run, they don't do much to slowly open up those tight areas. Here's a fun yoga move called Circling Three-Legged Dog that will loosen up tight hips and hamstrings while increasing circulation to the legs, ankles, and feet.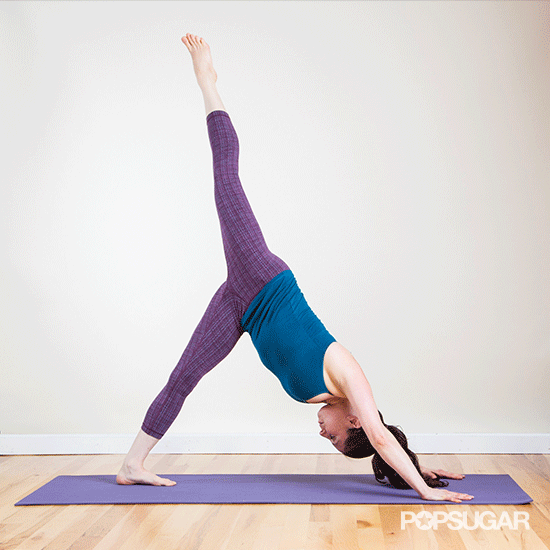 Begin in Downward Facing Dog with equal weight on the hands and feet. Flare the heels slightly wider than the toes so the outside edges of the feet are parallel with the outside edges of your mat. Spread the fingers wide, and press into the palms to push the hips away from you. Work on lowering the heels to the floor without rounding the spine. Relax the shoulders and head, and gaze at your navel as you breathe for five breaths.
Inhale to step both feet together and raise the right leg into the air, holding Three-Legged Dog for five breaths. Circle the right foot in both directions, and point and flex the foot to loosen up the ankle joint.
Take a breath in, and as you exhale, slowly lower the right foot toward the floor beside your left foot, but before it touches the ground, swing it back up to the right, making a circle and coming back to Three-Legged Dog.
Repeat, circling the leg for a few breaths in this direction, and then switch the direction of your circles for another few breaths.
Lower the right leg back to the floor. Hold here for one complete breath, and then raise the left leg into the air, repeating on this side.
If you loved this move, here's another Down Dog variation called Down Dog to Tuck-Toe Up Dog, which is great for warming up the hamstrings, calves, lower back, and shoulders.