Cute, Cheap Leggings
I Own a Pair of $14 Leggings From Costco . . . and I Don't Hate Them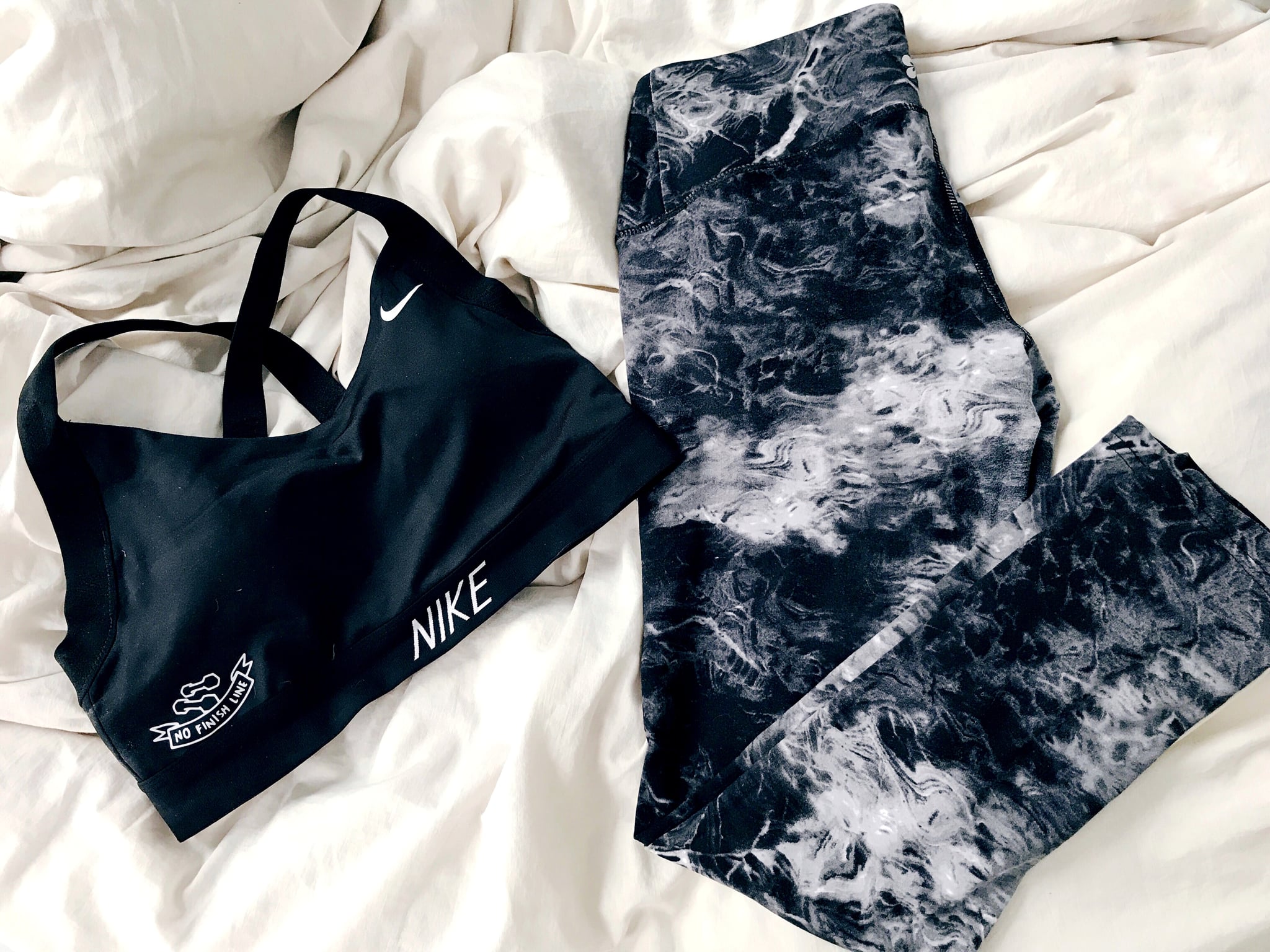 I'm not kidding when I say I'm about to reveal one of my deepest, darkest secrets. I'm the girl whose first "splurge" was on Lululemon's Wunder Under Pant (that I still own five years later!) and who swears by pieces from Nike and Outdoor Voices. I'm a firm believer that when it comes to athletic clothes, it's better to invest, because I've seen many a pair of discount leggings rip on the inner thigh or unravel at the ankles.
But when all is said and done, I own a pair of $14 leggings from Costco . . . and I don't hate them.
For as long as I can remember, I've been stealing clothes from my mom. From socks to dresses to pairs of boots, nothing is safe. But the real treasure trove is her athletic clothes drawer.
My mom works out almost every day and thus justifies the overflowing drawer of sports bras, yoga pants, leggings (that she never wears), and tanks. Every time I'm home, I rush up to her room and immediately begin my five-finger-discount shopping spree in her drawer.
This has been going on for so long that I know exactly which pieces I can get away with taking, and 99 percent of the time, it's leggings.
It was while looting my mom's athletic clothes drawer that she offered me a pair of black cotton leggings with a simple marble-like design. I tried them on and was so happy to find that not only was the material super soft, but it also hugged all the right places and sat perfectly right above my ankle. I've spent a lot of money shortening and tapering leggings in the past, so I was excited to take on a pair that needed no work at all. I didn't recognize the logo on the back but happily sported them to the barre class my mom and I attended together later that day.
A few months after adopting the leggings from my mom, I decided I was ready to invest in a second pair. They'd lasted through spinning classes, hot yoga, and even boxing. No holes, no rips, and they sprung back into shape perfectly after a wash.
I had disappointed so many complimenters who inquired on where these trendy marble leggings were from, so when I called up my mom to ask, you could imagine my surprise when she said, "Yeah, they were like $13.99 at Costco," like it was NBD. She had literally thrown them in the cart on top of a carton of cotton candy grapes and that was that!
Now, I'm not trying to suggest that my Costco leggings stand up to my higher-end favorites, but for $14, it's worth taking a second look after you hit up the avocado aisle.
Image Source: POPSUGAR Photography / Madison Meltzer