Gear Beast Running Backpack Review
I've Run For 10 Years and Finally Found the Right Way to Carry My Phone — For $20 on Amazon
As POPSUGAR editors, we independently select and write about stuff we love and think you'll like too. If you buy a product we have recommended, we may receive affiliate commission, which in turn supports our work.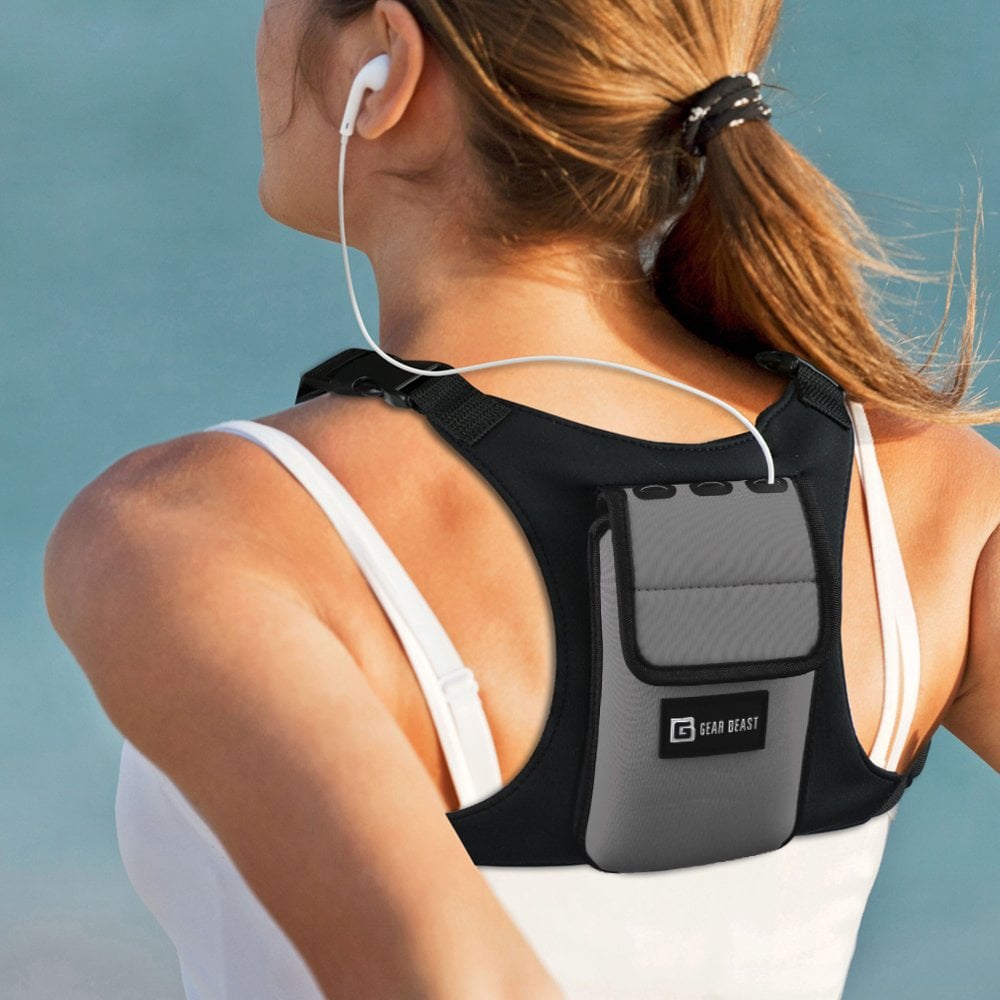 I've been running for almost half my life, and the one thing that's always stumped me is not what shoes to wear or what to eat beforehand, but what the heck I'm supposed to do with my phone. There are many options, but one by one I've tried and abandoned each of them. Arm bands were sweaty and itchy. Belts flopped around. Sticking my phone in a side pocket made my leggings sag. Holding it in my hand, which is what I ended up doing, made my shoulders sore.
I frequently gave up and just left my phone at home, but the GPS is essential when I'm running a new route. I also want my phone for safety when I'm running through unfamiliar areas. And having access to my Spotify instead of the relatively short iTunes playlist on my Apple Watch would definitely make hard runs a little more bearable.
The Gear Beast Smartphone Fitness and Running Backpack ($20) was a new and, frankly, intriguing option I found while browsing Amazon one day. It's the first phone-holder I've seen that goes on your back, which seems perfect — centered so you don't feel off-balance, and more stable than your hips so the phone wouldn't swing around. The fact that it's called a backpack might make you think it's large and bulky, but in the brand's photos it looked small and sleek.
Gear Beast Running Backpack Features
The backpack itself is minimalist, which is what I wanted. The pouch, made of a soft neoprene material with a Velcro flap, is just big enough for a phone and a couple of small items like keys, energy chews, or ID cards. There are three small holes in the top to thread your headphone cord through, and the back is lined with a mesh fabric to wick sweat and keep your phone from getting damp. The straps were adjustable and similar to regular backpack straps; to wear, you slip your arms through and snap the extra chest strap into place for more stability.
Is It Comfortable?
Two miles into my 10-mile run, I forgot I was wearing the backpack — that's how comfortable it was. The only tough part was getting the straps tight enough so the backpack didn't shift around. It took some mid-run adjustments and a bit of creativity with the extra strap material — I ended up threading it back through the adjustable latches. Once the pack was firmly in place, though, it didn't bounce or move around at all.
The straps came pretty tightly under my armpits to keep the pack in place, and they're not made of the same soft neoprene as the backpack. Since I was wearing a tank top, I could feel some rubbing from time to time, but nothing really uncomfortable, and I didn't see any chafe marks on my skin after the run. When I switched to a shirt with sleeves on my next run, there was no rubbing at all.
It was hot and sunny on my run, meaning I got to test out the sweat-wicking mesh pretty thoroughly. The backpack didn't feel hot or sweaty while I was running, and it wasn't damp at all afterwards. The straps under my arms were, though — again, possibly because I wore a tank top instead of sleeves — but they dried out within a few hours.
Phone accessibility was important, too. I can skip and pause songs through my AirPods, but wanted to be able to easily grab my phone to adjust volume, pick a new song, or look at a map. The phone rests high up, just below your neck and between your shoulder blades, so it was easy to reach back, lift the top flap, and slide my phone in and out.
My last concern was that it would feel like I was carrying a weight on my back, which would would make me hunch forward. Big problem, when you consider the importance of your upper-body form on a run. I didn't run into either issue; with just my phone inside, the backpack was extremely lightweight. And I loved that it was centered on my back, which helped to avoid the off-balance feeling I'd get with an arm band, leggings pocket, or just by holding my phone in one hand.
Do I Recommend It?
For any runner, hiker, or cycler who's dissatisfied with pockets, arm bands, and running belts, I recommend this backpack, 100 percent. I've tried many, many similar products and never thought I'd find one that would make it possible for me to take my phone on every run. In terms of comfort, I'll say this: my favorite fitness gear items — shoes, sports bras, leggings, phone holders — are the ones that are so comfortable, I barely feel them. This backpack hit that level, exceeding my expectations. Here's to many comfortable, hands-free, phone-included runs in the future.