How to End Burnout
A Guide For Recognizing the Signs and Symptoms of Burnout
Burnout is long-term exhaustion meets diminished interest, energy, and passion. What can you do about it? Our friends at Jill Conyers explore.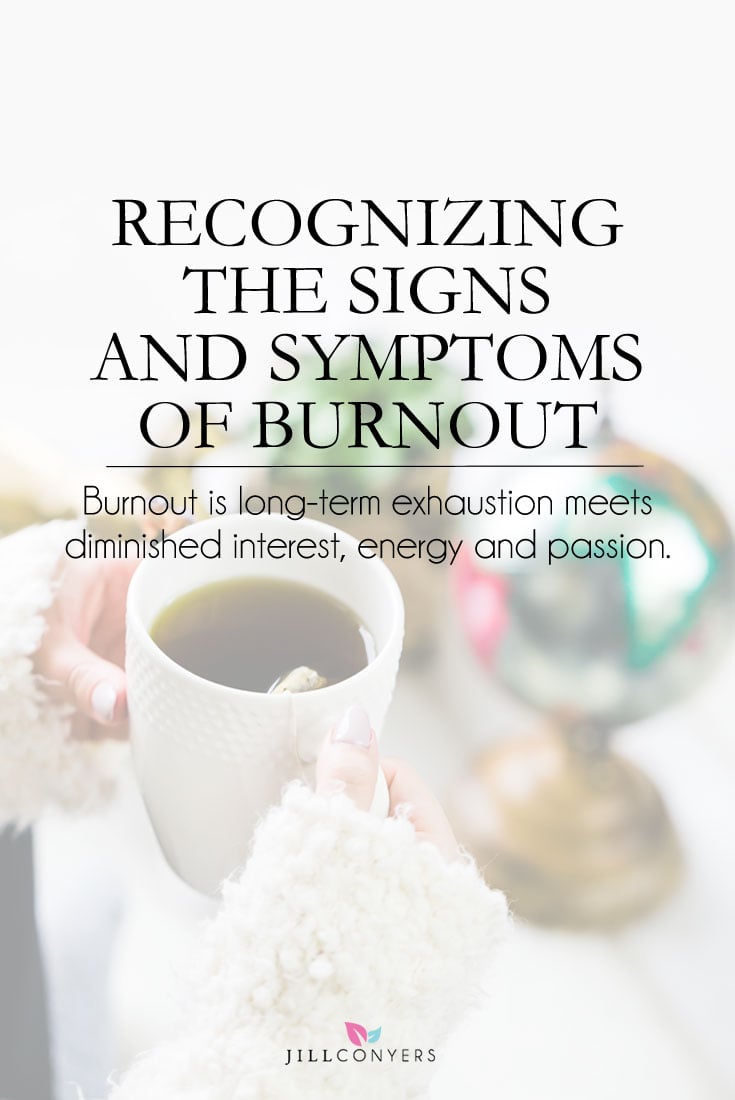 I've never been very good at recognizing burnout until the symptoms and feelings could no longer be ignore.
Looking back not too long ago I now recognize a time when I was very burned out. I attributed feelings and symptoms to other things. It wasn't until I started making changes in my lifestyle and started feeling incredibly good that I realized how bad it was.
Burnout is a state of emotional, mental and physical exhaustion cause by unbalance; too much work or responsibility and too little time to do the things that need to be done, causing a prolonged period of excessive stress. Burnout occurs when you feel overwhelmed, physically and emotionally drained, and unable to meet the constant demands of day to day life and the simplest of tasks.
THE SYMPTOMS OF BURNOUT ARE NOT ALWAYS DRAMATIC. THEY'RE OFTEN OVERLOOKED OR ATTRIBUTED TO SOMETHING ELSE.
Symptoms
You have an illness that you can't seem to recover from. Like having a cold that seems to last forever.
You go to bed physically and mentally exhausted every night and you wake up tired every morning. Even when you get enough hours of sleep you're not waking up feeling rested and refreshed.
Everything feels like it takes too much energy and effort, visiting friends, going out to dinner, or going shopping. Things you would otherwise enjoy and look forward to doing.
You're unusually cranky and overly emotional. You feel like you're frequently on the verge of tears and it's not always obvious as to why.
You feel trapped and hopeless.
You feel like you're never doing enough.
It's a challenge to find contentment and happiness in life.
You constantly feel like you have to prove yourself to others.
You seek the approval of others more often.
When you feel "off" and you're not sure why or how to fix it.
Sound familiar?
WHAT CAN YOU DO WHEN YOU'RE BURNED OUT?
Assess your interests, skills and passions. Are the things you're doing match your interests or core values?
Related content: Align Your Actions with Your Priorities
Identify and manage the stressors that contribute to burnout. Look at your stressors individually instead of the big picture. They're a lot less overwhelming and making changes can be easier.
Seek support. You're not alone. The support of loved ones helps with stress and feelings of burnout.
Evaluate your options. What can you realistically change about your lifestyle?
Get enough sleep. Sleep restores well-being and helps protect your health.
Related content: Are You Getting Enough Sleep?
Adjust your attitude. Consider ways to improve your outlook. Rediscover enjoyable aspects of your life. Make the time to do things you enjoy.
Get some exercise. Regular physical activity can help you to better deal with stress.
Related content: 7 Mental Benefits of Fitness
When you realize you are or on the path to burnout, it's up to you to make the lifestyle changes that need to be made.
FIND THE STRENGTH AND DRIVE TO RESTORE YOUR SENSE OF WHOLENESS AND SELF.
This information is for informational purposes only. It is not intended as a substitute for the medical advice and supervision of your personal physician.