Pot d'Huile Cannabis Olive Oil Review
I Tried a Weed-Infused Olive Oil, and It's the Only Thing I Ever Want to Cook With Now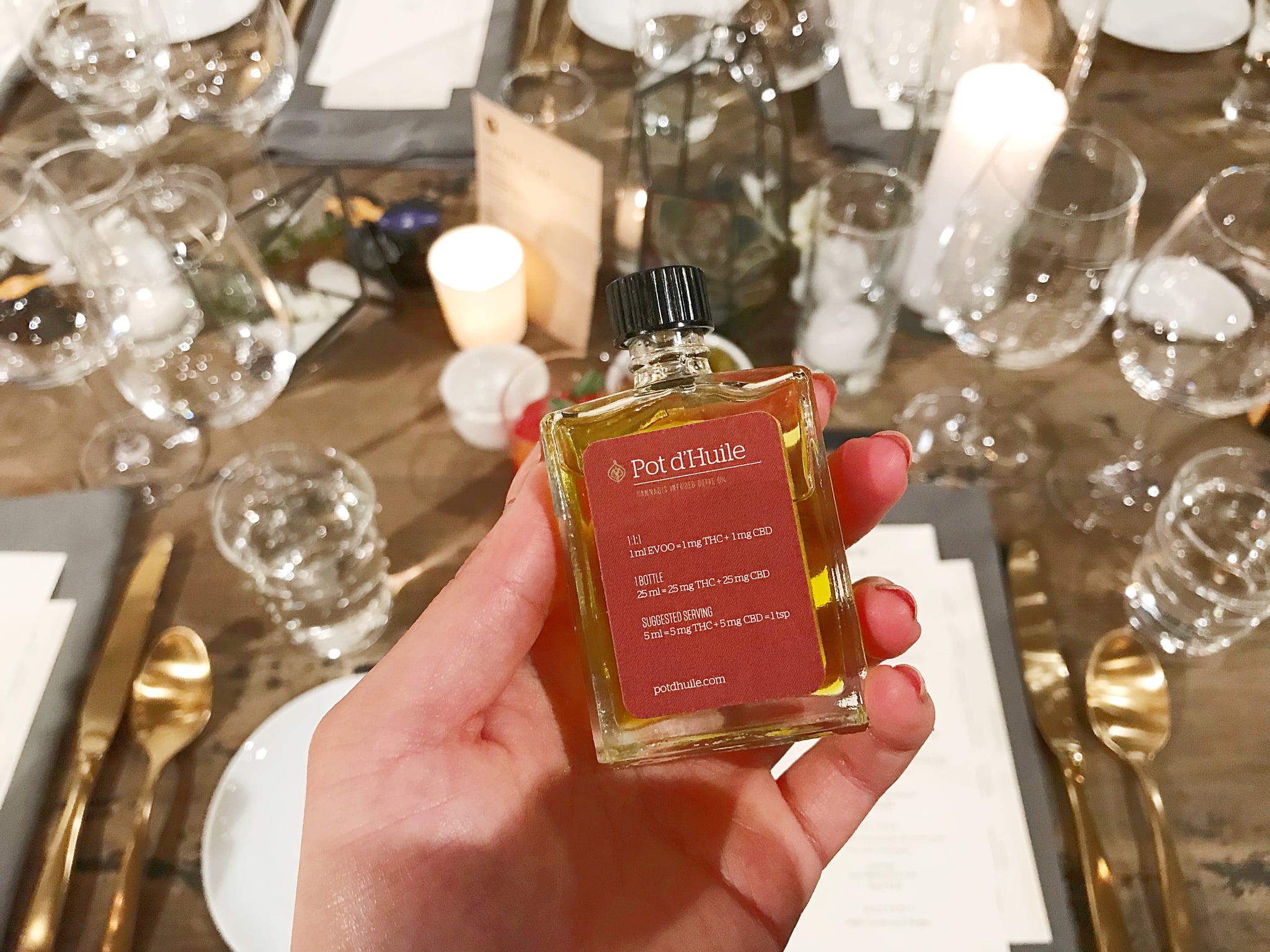 On top of helping lower your risk of heart disease and stroke, we can now add "a nice buzz" to reasons we love olive oil. Pot d'Huile is a cannabis-infused EVOO that can be used in place of regular olive oil in any recipe. I had the pleasure of trying it out myself at a recent cannabis dinner, hosted by Jamie Evans (aka The Herb Somm) and Devika Maskey of TSO Sonoma, and it was an "elevated" dining experience indeed.
Pot d'Huile was designed for use by both culinary professionals and folks cooking at home. Using high-quality cannabis flower and certified extra virgin olive oil sourced by Northern California farms, the San Francisco-based product boasts fantastic taste in addition to consistent dosage. There's one milligram of THC per one milliliter of olive oil, so if you're new to edibles, begin with no more than one teaspoon (five mg to five ml) to first gauge how your body responds.
Throughout the dinner I attended, guests were able to self-dose each course to their liking. We started out by dipping rustic breads into Pot d'Huile, and I was pleasantly surprised to find out that it tasted, well, just like olive oil. Despite being infused with weed, I didn't get any of the lingering flavors of cannabis that normally exist with traditional edibles. Guests around me began experimenting with their own pairings, and found that adding a teaspoon to the served Winter squash soup added a flavorful layer to the dish. Although onset time can vary person to person (it can be delayed by up to two hours for some), the party really got started about 30 minutes into the dinner. The endless wine definitely played a factor, but I noticed a mellow, full-body relaxation creeping up on me, and others felt the same.
Pot d'Huile will be launching two new products around the end of April, including the 1:1 THC to CBD olive oil product I tried firsthand, and a 1:1 CBD-only olive oil. These will be available at select dispensaries across California, priced at $16 for the 25ml bottle and $50 for the 100 ml bottle. If you can't wait until then, the 1:1 THC-only olive oil is currently sold at certain Bay Area dispensaries.
Not only did this weed-infused olive oil make me rethink the many ways cannabis can be incorporated into one's lifestyle, but I was mainly impressed by the uncompromised flavors. The fact that it tasted good in addition to making me feel good was a definite bonus. I can see it enhancing dinner dates with my boyfriend and meals with friends, and I'm excited to start cooking with it at home!
Image Source: POPSUGAR Photography / Nicole Yi