Pure Barre Class Review
I Took a Pure Barre Class Without the Barre, and This Is What Happened
A few weeks ago, I attended the Self Up 'N Out Studio annual event. While I had done my research and asked my fellow editors what to expect from this, nothing could prepare me for what was about to take place. I walked into the huge Tribeca studio and found myself surrounded by 3,000 fitness-crazed young men and women, all smiling and decked from head to toe in the latest athleisure wear ready to take on a day of fitness classes.
I signed up for Pure Barre and was super excited, but when I walked into the gorgeous open studio overlooking New York City, there was something noticeably absent — a barre. Now, I've taken a few barre classes in the last few years, but this was my first Pure Barre class, and I wasn't sure how it was going to play out without a barre. How is all of the tucking and thrusting going to work without something stable to hold onto? And the pulses with a ball between my legs and no barre to grab?! My balance radar was flickering and I was nervous, but it was game time and I was ready to take on the next 50 minutes.
The warmup was great. The teacher, Katelyn DiGiorgio, had the entire room pumped up with her positive energy and soothing beats, but I could tell this was not going to be a walk in the park and I knew that from the minute she started. Thankfully, Katelyn had an assistant with her to replicate the moves and I had an expert to follow the whole time while she controlled the energy of the studio.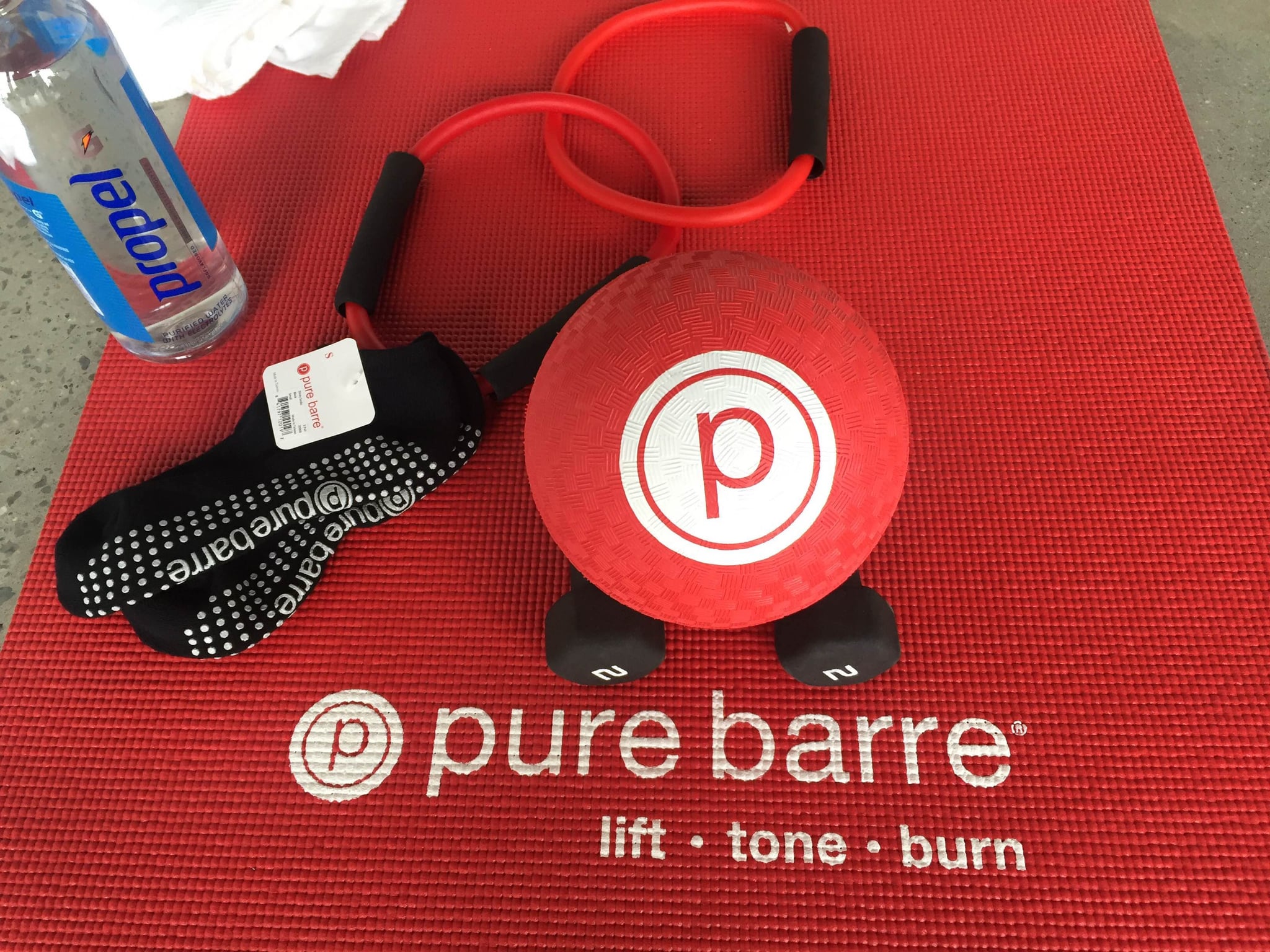 Image Source: POPSUGAR Photography / Perri Konecky
After the warmup, it was time to tone up the arms, so I grabbed my two-pound weights and stood up from the planks that left me shaking. My heart rate was up, and I was feeling the burn. Lift, tone, and burn is the Pure Barre motto, and I can definitely attest to that. Next came thigh toning and seat lifting, the isometric movements that I thought would be virtually impossible without a barre. But, honestly, I didn't actually notice that we weren't using a barre until after the class had ended. I had to rely on my own brain and persistence for balance, and yes, it was as difficult as it sounds.
While I do consider myself to be in relatively good shape, I am by no means a fitness guru, and I think the lack of the barre was rubbing that in my face, because the next day I could absolutely feel it. My midsection was sore from the ab exercises on the floor, and my thighs, yeah, they burned for the next two days. Overall, it was an incredible workout and something I could definitely see myself getting into. Taking a Pure Barre class with no barre not only mentally stimulated my muscles, but it also made me even more excited to take on the barre in the future. Until next time, PB!