What Does a Healthy Dinner Plate Look Like?
Why This Trainer Says You Need to Be Eating More
Being a SoulCycle instructor requires a lot of energy — both mentally and physically — which is why food plays such an important role in a trainer's life. Just ask Eve Kessner, a NYC-based SoulCycle instructor and holistic nutritionist. Eve manages to teach 15 classes a week and still make it home to her daughters feeling energized and ready for the day. Because we're always wondering what keeps a trainer on top of her game, we asked Eve to share with us her perfect idea of a dinner plate. You'll be happy to know that carbs are not the enemy.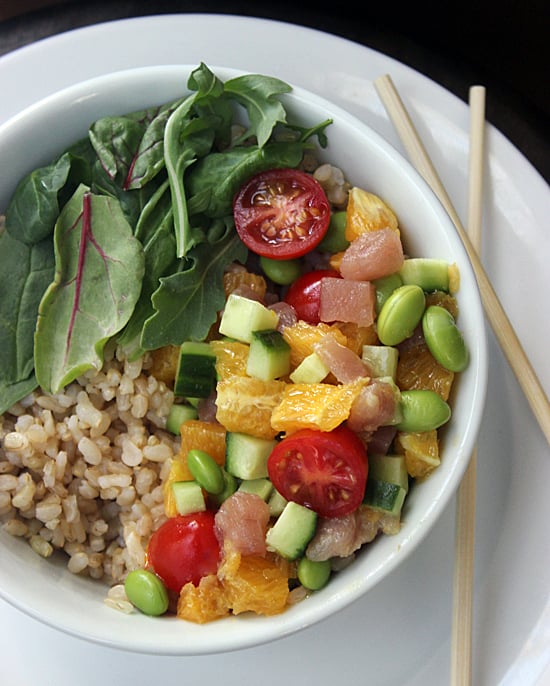 Eve's basic principle for loading up at dinner is pretty easy to remember: half of any plate should be filled with veggies (and better if raw; "Think salad," says Eve), a quarter protein, and a quarter whole grains like rustic bread, quinoa, or brown rice. When it comes to veggies, Eve says the brighter the better — especially orange. Sweet potatoes are a big favorite of hers, and we agree. This root veggie is full of vitamins A and C, potassium, and is known to help with weight loss. When dishing out protein, it's important to not go overboard: a serving is about the size of your fist. "If you overdo it [on protein], your digestive system, among other things, will not agree with you," she warns. And no dinner plate of Eve's would be complete without a huge glass of water.
Even with the best intentions, it may be hard to divvy up your plate to Eve's specifications. In those situations, Eve says to opt for as much natural goodness as possible. Stay away from processed foods and refined sugars as much as you can by sticking to fresh and raw foods, says Eve. "Raw foods have higher nutrient density, so you get more bang for your buck and inherently less sugar." But whatever you do, eat.
"The biggest problem I see with people is that they are actually not eating enough! So many people believe that eating less is better, but by undereating you are slowing your metabolism and hurting your chances of weight loss and optimal health," says Eve. "Eating less is wrong. Eating clean is what you need to be doing."