What Does a Professional Mountain Climber Eat?
What a Pro Mountain Climber Who Burns 10,000 Calories a Day Really Eats
Melissa Arnot's body needs a lot of fuel. The professional climber and Eddie Bauer guide made history earlier this year as the first American woman to summit Everest without using supplemental oxygen. The 32-year-old's latest feat? The 50 Peaks Challenge. She and climbing partner Maddie Miller set out to make it to the top of the highest mountaintop in every single state, and on Aug. 7, they achieved their goal in a record 41 days and 16 hours. The hectic schedule and demanding terrain were no walk in the park (even if sometimes they literally were). "On average, we were burning 2,500 to 6,000 calories a day. On really demanding days, I think we were burning more than 10,000 calories," Arnot told POPSUGAR. "We tried to eat as many whole foods as we could. You're using your body in such high demand, you have to be nice to it. But I'll be honest with you: we absolutely ate gas-station nachos one day." Read on for a breakdown of Arnot's daily diet to see what it really took to fuel her record-setting challenge.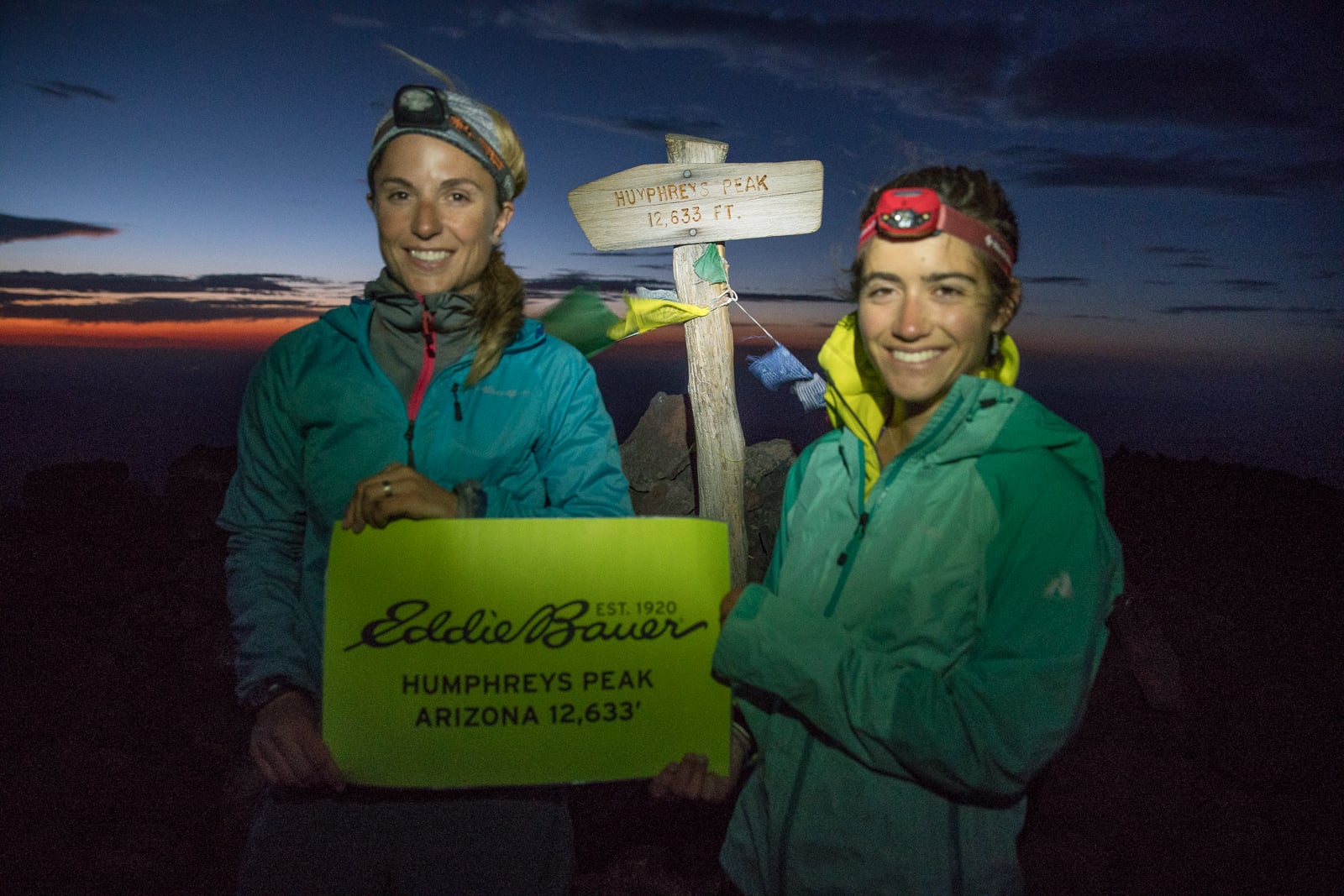 Image Source: Jon Mancuso
Arnot (left) and Miller (right) at the top of Humphreys Peak
Breakfast
Black coffee: 2 calories
Modern Oats, Chocolate Cherry flavor: 310 calories
Arnot kept her breakfast routine simple but preferred a little bit of sweetness with her on-the-go morning oats.
Lunch
A Subway footlong club with cucumbers, spinach, and banana peppers: 620 calories
Subway was a mainstay for the 50 Peaks team, since it was available almost everywhere they stopped.
Snacks
2 bags of Tangy Barbecue Popchips Ridges: 120 calories each
1 string cheese: 80 calories
1 package of Cajun spicy snack mix: 310 calories
A handful of almonds: 210 calories
1 package of gummy bears: 130 calories
1 Snickers bar: 250 calories
Tons of water
Climbing in the Summer made hydration key. "We had a five-gallon jug inside of our van, and for four people, we'd fill that up twice a day," Arnot said. But she also made sure to keep a steady stream of snacks coming during their daily hikes and climbs, including chocolate bars and gummy bears when her body craved a quick hit of sugar.
Dinner
A big platter of the local cuisine (i.e. BBQ in Alabama): 890 calories
We admit we were a little surprised at the let-loose abandon with which Arnot and her team approach their daily dinners. But she said it not only kept them in the spirit of the 50 states trek's ode to America, but it was also a fun way to cap off a challenging day and fill up on much-needed calories. One of her favorite dinners was Navajo cuisine in Taos, NM. "Navajo food is kind of a mix between Central American and Mexican food. Spiced rice, frybreads — fried tortillas that are sometimes served sweet — and a bunch of fresh Hatch chiles," she said. She also loved the BBQ dinner they ate in a small town in Alabama. "It was a divey barbecue place Yelp told us was amazing. They had like 30 house-made barbecue sauces. We had baby-back ribs, slow-cooked pulled pork, and a barbecue chicken salad that was basically barbecue chicken on top of coleslaw."
Total calories: 3,040
A previous version of this story referred to Melissa Arnot as the first woman to climb Everest without supplemental oxygen. She is the first American woman to do so.