What It's Like to Be in Rio During the Olympics
What It's Really Like to Be in Rio During the Olympics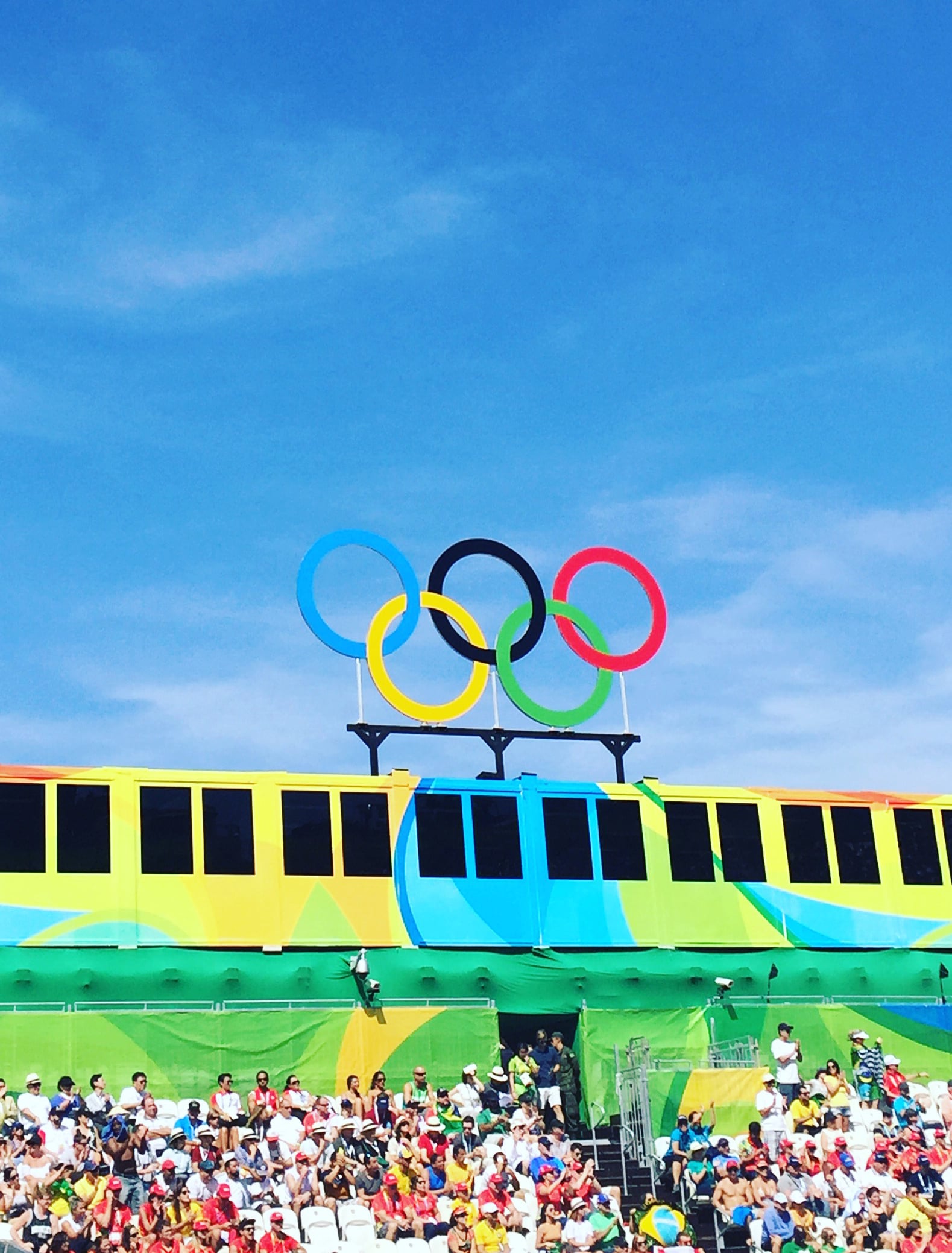 A view of the Olympic rings at the beach volleyball stadium on the famous Copacabana Beach.
When I got word that I'd be heading to Rio for the Olympics, I had a total "pinch me" moment. Here I was, going to a country that I'd never visited to see an event that had long been on my bucket list. As the Games grew closer, my initial feelings of excitement started turning into anxiety. Almost all of the media reports coming out of Rio likened the Games to a ticking time bomb. Besides the risk of Zika, violence in Rio is reported to be at an all-time high, petty theft is rampant, and an unstable economy had many speculating that the Olympics were over before they had even started. I tried to take these stories with a grain of salt, reminding myself that negative press around the host city is typical. Despite the sanity check, I was still nervous, and it didn't help that everyone in my life was also worried.
The media's focus on everything wrong with Rio was a disservice to the city and its incoming visitors.
After a week spent in Rio, I can say that the media's focus on everything wrong was a disservice to the people who live there and its incoming visitors. Yes it's true that Brazil is in a major economic and political crisis, which has led to heightened disparity, poverty, and violence, but Rio is still an amazing metropolis worth traveling to. For those of you heading to Rio for the Olympics — or otherwise — here's a firsthand account of things to keep in mind.
Safety in Rio
A lot has been said of how violent Rio is, but what a lot of these reports fail to say is that tourists are not usually on the receiving end of this violence. As The Guardian first reported, the data coming out of Brazil shows that most homicides happen in poor communities away from the city center. As a visitor to Rio, you're much more likely to be a target of theft, if anything at all. in In 2015, almost 50,000 muggings happened in Rio, and this number has steadily increased in 2016. Did it happen to me? No. While right place, right time helped, years of living in a big city means that I practice street smarts wherever I am. Stay aware of your surroundings, travel with a group when possible (especially at night), keep your nose out of your phone, leave the jewelry at home, and do your research before venturing off into unfamiliar neighborhoods; some parts of Rio are known for having a higher risk of crime than others. And if you are mugged, don't resist; many thieves do carry weapons. If you keep your wits about you, you'll likely be OK, but be smart and play it safe.
It's also not lost on me that being in Rio as a guest of Oakley gave me a huge advantage. Our media group was afforded a level of security reserved for dignitaries: Rory Steyn, the head of Oakley's security detail, was once Nelson Mandela's chief security officer. Media perk aside, I never felt unsafe in Rio, and I went out on my own several times. This included afternoon visits to the neighborhoods of Leblon and Lapa and breakfast in Ipanema. Several people in my group went on solo runs along Copacabana Beach every morning, while some danced the night away at local samba bars. Not once were any of us harassed.
If you're still feeling nervous about traveling in an unknown city, hire a driver or local guide, or sign up for a group tour. On my flight to Rio, many of the people I sat next to said they had already lined up a driver and that it was pretty affordable to do so. A couple who was making their fifth trip to Rio said that they always work with a local tour guide since it gives them a more authentic experience and helps with the language barrier. Whatever you choose, do your best to relax and have a good time.
A lesser threat during the Winter months is Zika, though I still covered myself in bug spray when leaving the hotel each day. Protect yourself by using insect repellent that contains deet or picaridin and practicing safe sex.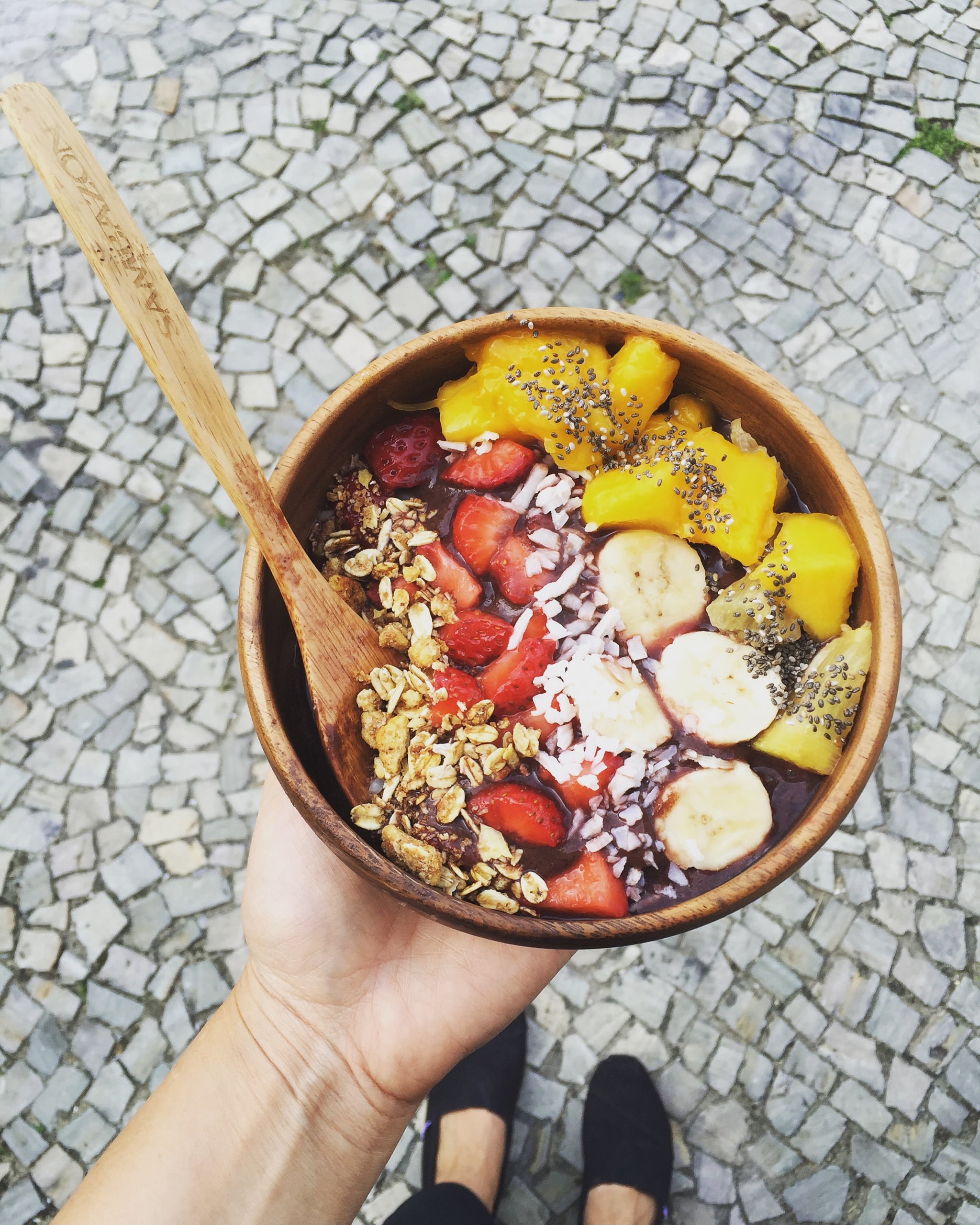 Brazil: the birthplace of the acai bowl. You can find acai just about anywhere in Rio, from upscale eateries to local diners.
Navigating the Games
Here's the funny thing about being at the Olympics: unless you've struck the ticket lottery and have a helicopter, you have a better chance of seeing it on TV. The arenas are not in close vicinity of each other (and traffic is notoriously bad), matches are happening at the same time, and a majority of the events are sold out. Also, depending on your seats, it's likely you'll have a better view watching it at a bar — though you should take any opportunity to attend a match. Despite sitting pretty far up during the opening ceremony and needing to watch the large screens to see everything happening on the stage, there is nothing that can come close to the feeling of being immersed in a crowd of 60,000 fans screaming, dancing, and crying tears of joy. It's certainly a moment I will remember forever. I had excellent seats during a beach volleyball event, but regardless of where anyone was sitting, they brought a massive amount of excitement to the game.
If you are trying to get advanced tickets to an event, know that you'll have to go through your country's official ticketing agency; for the US, that's CoSport. At this time, there's still availability for a handful of events like basketball, judo, volleyball, and even the closing ceremony. While I struck out each time I tried to get same-day tickets at the events themselves, a few people in our group were able to get into a beach volleyball game, and some guests I spoke to at my hotel had no issue getting tickets for sailing events. Their big gripe, however, was that they were not able to buy tickets for multiple events at once and had to stand in line for each individual event.
Here's the funny thing about being at the Olympics: you have a better chance of seeing the events on TV.
That leads me into what will be the biggest stress of all when it comes to seeing events in person: the lines. There are lines to get into things, get out of things, order food, order water, and buy souvenirs, and to put it quite crudely: they suck. Organization is an area the Rio Games need improvement on, and this was an annoyance to almost everyone I spoke with. To buy food, you first have to stand in line and pay for your items. You are then given a receipt to take with you to another line where you go to trade in the receipt for whatever premade food you ordered. I spoke with at least 10 people who said that by the time they made it through the second line, the concessions were completely out of food. Additionally, while I was at a beach volleyball event, there were only two cashiers working the entire stadium and three pickup areas for food. After standing in line for almost an hour to get water, my group left the match to eat, only to find out we weren't allowed back in despite having tickets.
I'd suggest bringing your own water and food, but you might not get it inside. Some of us made it through with everything in tow, and others were forced to trash everything. As a whole, security was physically present at the events but inconsistent in their approach. Some of us had to go through metal detectors, while others didn't. Some of us had to open our bags for searches, yet many made it through without a second glance. Given all the reported threats leading up to the Games, it was a little unnerving to see the lack of organization and attention to detail.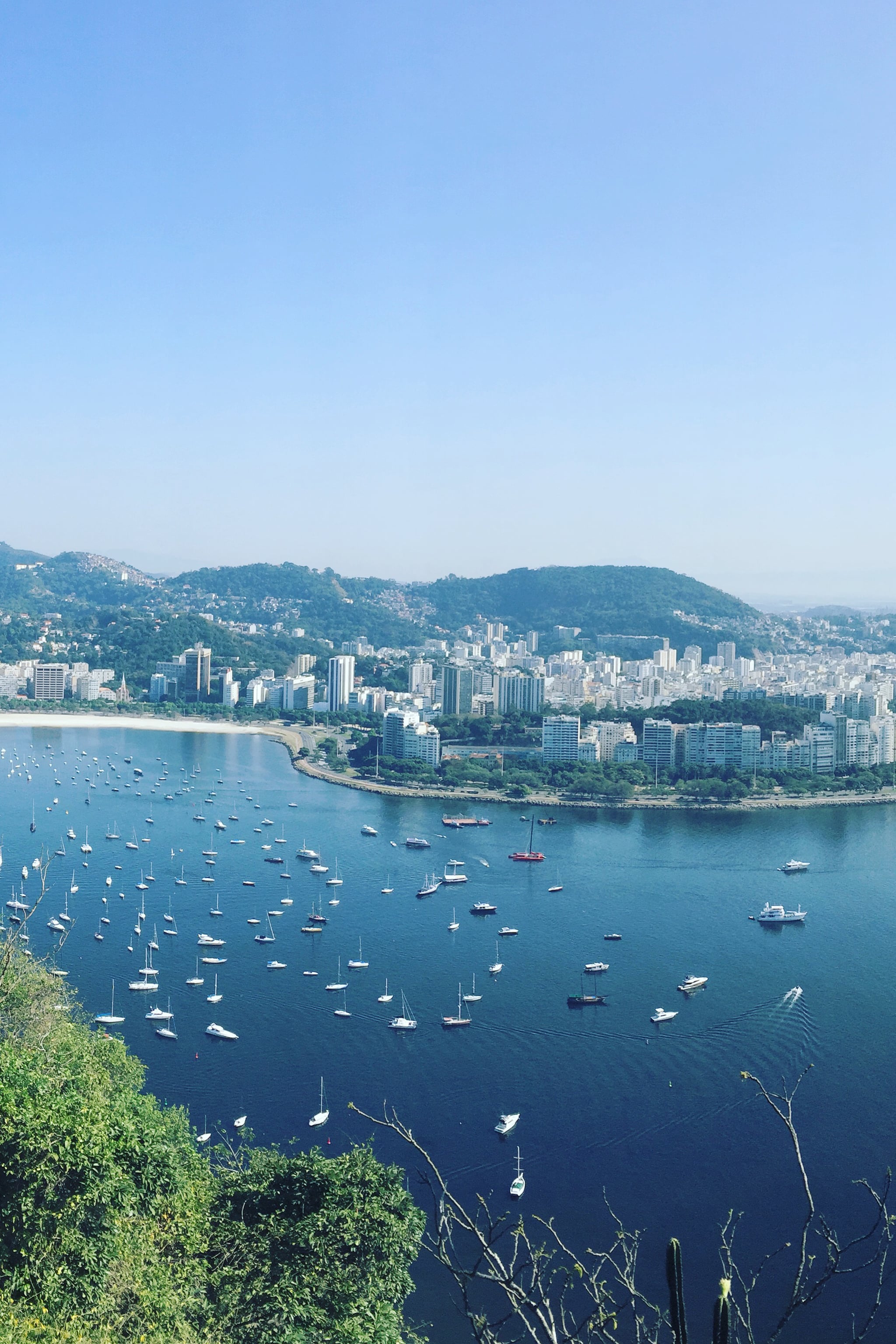 A view from the top of Morro da Urca, a popular hike in Rio that travels 720 feet above the city.
What to Do When You're Not at the Games
The best part of seeing the Rio Games is being in Rio, of course. The city is lively, full of art and culture, and it's also where I've met some of the kindest people on all my travels. It's the kind of place that makes you want to sit at an outdoor cafe for hours, dance to samba music until the wee hours of the morning, and get lost while touring its impressive architecture. It's also incredibly active city; I saw people running, playing beach volleyball, and packing soccer fields throughout my visit. While our travel guide is an excellent resource, here are a few standouts I had during my whirlwind five-day trip.
To do: Hiking Morro da Urca. Hiking up Morra da Urca was one of the highlights of my trip; the 360-degree views of Rio are spectacular! Once you've reached the top, you'll see Rio's many beaches, bays, and downtown area. You'll also have a clear view of the iconic Christ the Redeemer statue. From Morro da Urca, you can also take a gondola across to Sugarloaf Mountain, an even higher peak in Rio.
To do: Samba in Lapa. Even if you don't dance, it's imperative that you head to the Lapa district for a night out. Locals and tourists line the streets where live music seems to be happening on just about every corner. There are also a ton of bars and clubs you can pop into, as well as an open-air food market in case you need a late-night/early-morning snack before heading home.
To see: Copacabana and Ipanema: No trip to Rio is complete without visiting the famous beaches of Copacabana and Ipanema, conveniently located right next to one another. If you only have time for one, make it Ipanema. Here you'll find more bar and restaurant options and world-class shopping. It was in Ipanema that I bought gifts from Havaianas and Granado, quintessential Brazilian boutiques.
To see: Escadaria Selaron. These gorgeous steps should not be missed on a trip to Rio. The 215 steps stretch up through the neighborhood of Lapa and are covered with more than 2,000 tiles. From there, walk around Lapa, which is full of colorful murals and the aqueduct arches, a popular photo spot in the city.
To eat: Galeto Sat's. This was hands down my best meal in Rio. The intimate eatery is known for its roast meats — especially the chicken, which is covered in a garlicky sauce. If dining with a group, I recommend ordering the complete meal, which comes with an entire chicken, rice, beans, french fries, and egg farofa (a specialty in Brazilian cuisine). You should definitely get two orders of garlic bread, and do not forget a round of caipirinhas, the Brazilian national drink.
To eat: Aprazível. On our last night, Oakley arranged dinner for us at Aprazível, a truly unique dining experience. Located in the picturesque Santa Teresa neighborhood set high on a hill, entering Aprazível is like being in another world. The open-air restaurant is made up of palapas, connected together by different stairways and set in a lush jungle-like environment. While the food is rooted in traditional Brazilian cuisine, it's a much more modern take. We dined on mango-infused grilled fish in a cashew sauce served alongside coconut rice and roasted plantains. I also enjoyed the best pão de queijo (Brazilian cheese bread) of the trip here.
A closer look at the mosaic tile work on the Escadaria Selaron, aka Selaron Steps, in the neighborhood of Lapa.