Amy Bockerstette 1st Down Syndrome Golfer NCAA Championship
Amy Bockerstette Is the First Athlete With Down Syndrome to Compete at a National College Championship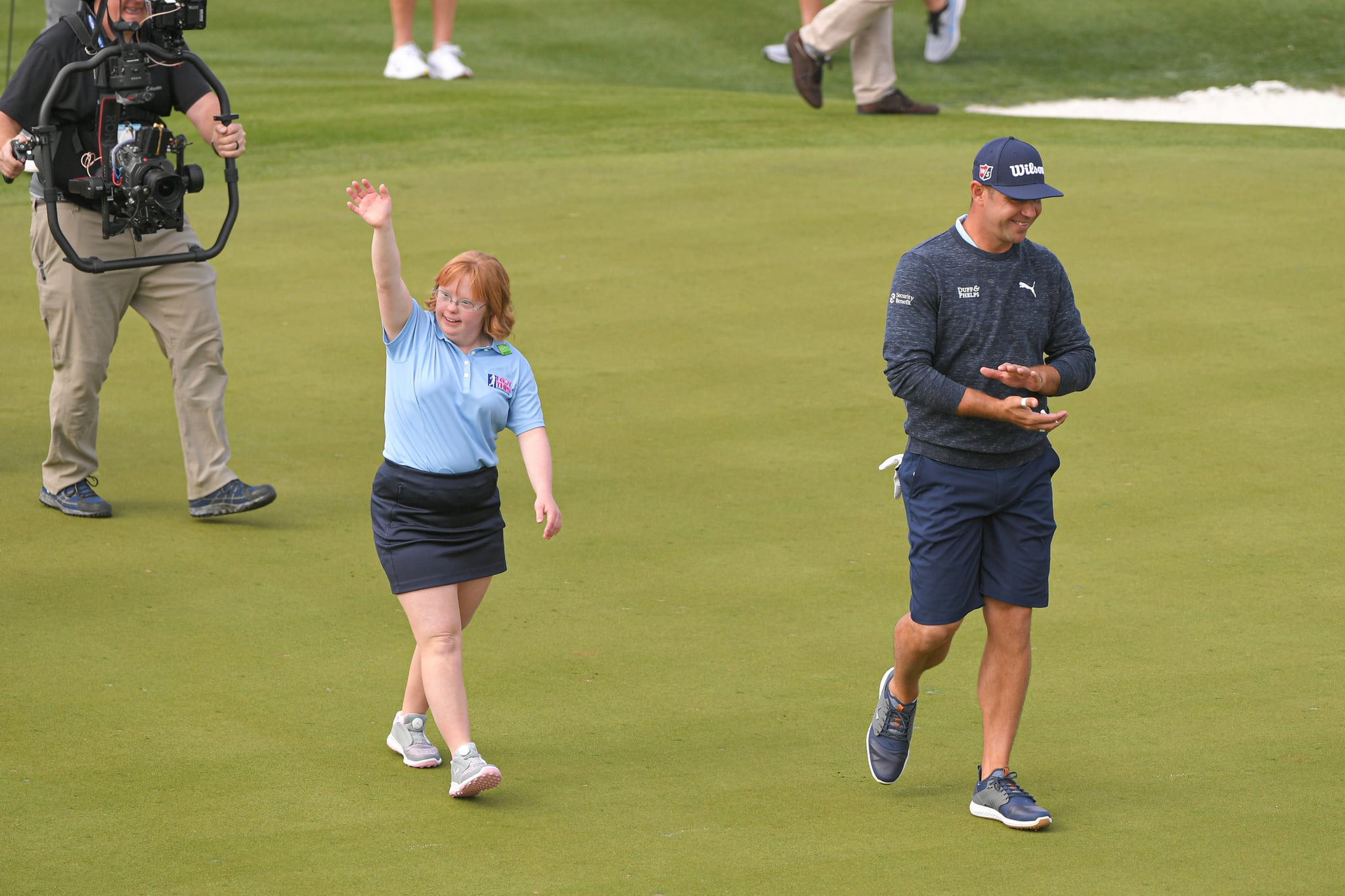 Image Source: Getty / Ben Jared
Golfer Amy Bockerstette's nickname is "Amazing Amy," and for good reason. On May 10, at the start of the 2021 National Junior College Athletic Association (NJCAA) Women's Golf Championship in Ormond Beach, FL, she made history as the first person with Down syndrome to compete in a national collegiate championship. She is a member of the Paradise Valley Community College women's golf team out of Phoenix, AZ, and was the first person with Down syndrome to receive a collegiate athletic scholarship in 2018. A school spokesperson confirmed she's currently studying music and dance.
Bockerstette, who also participates in the Special Olympics, told People that she doesn't get nervous, "just very excited!" When asked what her message is for other people with Down syndrome who aim to follow their sporting dreams, she said, "You can achieve your dreams too! Just breathe and believe! You can do this! You got this!"
The 22-year-old started the I Got This Foundation, a nonprofit aligning with a catchphrase of hers, "I got this." Two years ago, she played the par-3 16th hole with pro golfer Gary Woodland during a practice round of the Phoenix Open, which he won in 2018, and she used that phrase while making par. The moment went viral. Her foundation is dedicated to helping people with Down syndrome and other intellectual disabilities play golf.
Bockerstette shared that her team was cut from the NJCAA Women's Golf Championship on May 13, the last day, after 54 holes due to "time constraints caused by weather delays." She wrote on Instagram, "We are disappointed, yes, but we are also very proud of what we accomplished."
Bockerstette spoke with CBS News recently (you can watch the segment in full ahead). Her dad is her caddie, and he said some of the most fun moments he's had with her have taken place on the golf course. Bockerstette's optimism and go-getter attitude surely can translate outside of her sport — and we'll be keeping a little advice from her close by at all times!
AMAZING AMY: Golfer Amy Bockerstette, the first person with down syndrome to compete in an NCAA championship, is showing the world that limits are meant to be broken.@NorahODonnell introduces this inspiring young woman whose advice for a tough shot can be advice for life. pic.twitter.com/0FhoTc1BQQ

— CBS Evening News (@CBSEveningNews) May 10, 2021