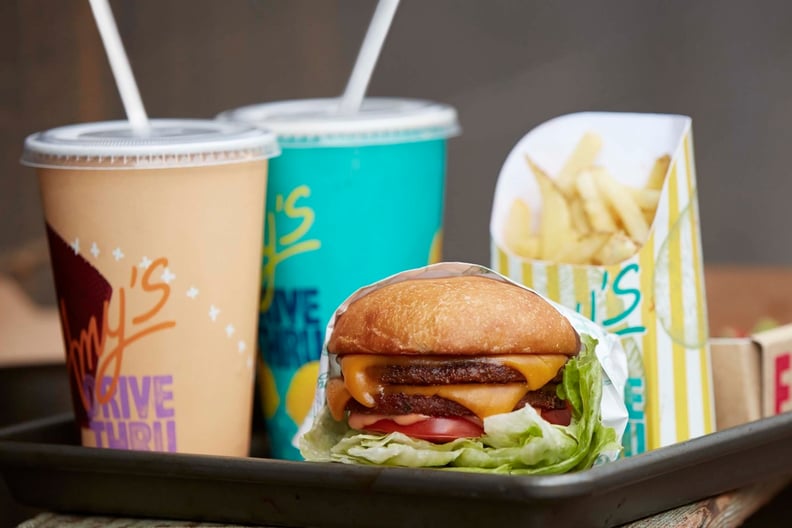 Amy's Drive Thru
Fans of Amy's Kitchen frozen foods are sure to be very excited over this news: the first Amy's Drive Thru recently opened outside of San Francisco. Amy's has everything you'd expect from a fast-food spot: it's quick, convenient, and low-priced, but that's where comparisons stop. You won't find any meat at Amy's. Instead the menu consists only of vegetarian and vegan options, all of which come from organic and non-GMO ingredients. It's definitely a welcome change to all the supersized offerings currently in the market. If these opening-day photos are any indication, it's looking like Amy's is going to be the new hotspot in town to grab a meal when you're on the go. All organic, no GMOs
It's the first fast-food joint of its kind, and everything at Amy's is made with organic and non-GMO ingredients (all of which are peanut- and egg-free). Not only that, but there are gluten-free and vegan options available for all menu items. We couldn't have said it any better
"YOU GUYS, AMY'S IS OPEN!! I'm losing my mind right now!!"
Runs on Love
Powered in part by solar energy, Amy's also has a living roof, which helps to reduce the building's energy needs. The site also has a water tower to collect rain, which will be used to water the roof. The Amy
Amy's version of a Big Mac and Double-Double is made with two veggie patties, two slices of cheese, lettuce, tomato, onion, pickles, and Fred Sr.'s Secret Sauce in regular or spicy. Have it your way . . .
The burger is totally customizable, and you can order The Amy without cheese or on a gluten-free bun. Pair it with a glass of fresh-squeezed lemonade and some fries (a bowl of chili, cheese fries, or chili-cheese fries), and lunch is served. Meet Master Chef Fred Sr.
He's the man behind the burger's secret sauce. He also has a pretty impressive salad spinner. Fresh from the oven
The burger buns are made fresh each and every day — and always from scratch. Is this really fast food?
The salads at Amy's are more than just a few romaine leaves pieced together with two cherry tomatoes and packaged dressing. Not only do all the vegetables come from local farms, but the topping choices are everything you would hope for: quinoa, pumpkin seeds, goat cheese, tofu, dried cranberries, and hummus are all options. The crowd favorite gets a makeover
If you love Amy's frozen macaroni and cheese, you're going to die for the drive-through version, made on site and from scratch. There are three varieties to choose from (all which come as vegan options, too). We can't wait to get our hands on the broccoli cheddar mac with breadcrumbs. Did someone say dessert?
Get excited for milkshakes! Best part? Nondairy shakes are available, too! Too many decisions . . .
Can't decide? Order one of everything. Just bring along some friends to help you eat it all.