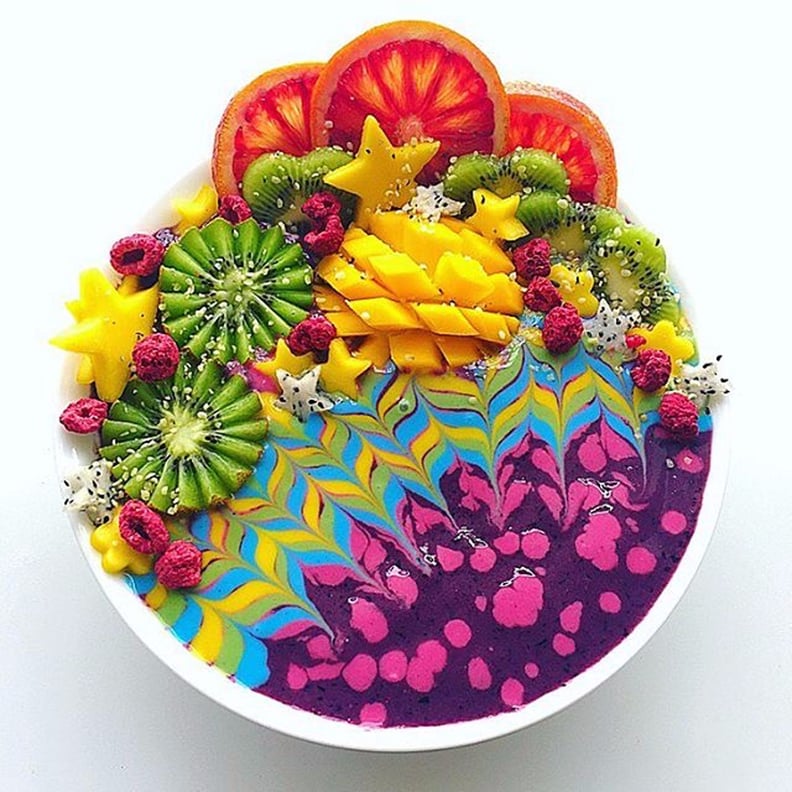 If the saying "you are what you eat" is true, then consider Instagrammer Rachel Lorton a work of art. The vegan and self-professed "smoothie bowl art enthusiast" is not kidding around about her gorgeous meals; the colorful creations that she posts on her feed are pleasing to the eye and the palate. Complete with recipes, how-to videos, and encouragement for her growing group of followers, Rachel's beautiful smoothie bowls are only matched by her cheerful personality.
"I inspire them to eat healthy because they didn't realize vegan food can look so good!"
"I constantly get feedback from, let's just say 'junk-eaters,' who tell me that I inspire them to eat healthy because they didn't realize vegan food can look so good," Rachel told POPSUGAR of her edible artwork. There's just something about a beautiful meal that makes you more likely to eat healthily and broaden your culinary horizons, right?
While Rachel uses a variety of ingredients (which are listed in the captions of each smoothie snap), there's one standout favorite. "I absolutely love using raw beetroot," she said. "I will prep it ahead of time by peeling it, chopping it into cubes, and freezing it." Not only does the root lend a gorgeous magenta color to the smoothie bowls, but Rachel also adores its health benefits: "I love all of its nutritional characteristics, but I enjoy how it helps muscle recovery and stamina for working out the most." Another of her favorite smoothie bowl ingredients is spirulina, a natural algae powder high in protein and antioxidants.
We've collected photos of these smoothie bowls that are almost too pretty to eat — keyword: "almost" — but you should definitely check out Rachel's Instagram for full recipes and instructions for each beautiful meal.
Love what you're reading? Head over to our Snapchat for more awesome, bite-sized content!