Grab Your Light Weights For This At-Home Barre Arm Workout and Feel the Burn
When paired with barre's signature small and repetitive movements, light weights can pack a whole lot of arm-toning power — feel it for yourself with this beginner barre arm workout curated by Andrea Rogers, the founder of Xtend Barre and Xtend Pilates, available on Openfit.
All you need to complete this 20-minute program is a set of 1-, 2-, or 3-pound dumbbells (or even just two cans of food!) and an open space at home to exercise.
Repeat the series ahead two to three times. Perform the first round slowly and pick up the tempo as you feel comfortable.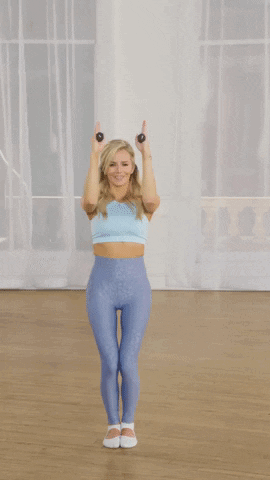 90-Degree Lifts
Setup:
Feet together, knees slightly bent.
Raise arms in front of your face and bend arms at a 90-degree angle, palms facing each other.
Action:
Begin to lift and lower with control for 30 seconds.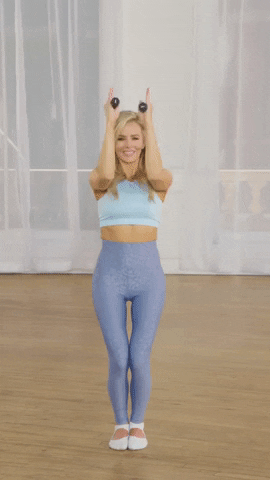 90-Degree Lifts
Action:
Then, keeping the 90-degree angle, open and close arms for 30 seconds.
To flow, move arms up and down, open and close. Repeat for 30 seconds.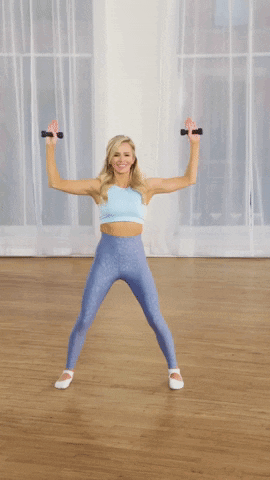 Puppet Arms
Setup
Feet apart just past shoulder width.
Raise arms to side holding 90-degree shape side, palms face forward.
Action:
Press palms down (tabletop) and lift back up. Repeat for 30 seconds.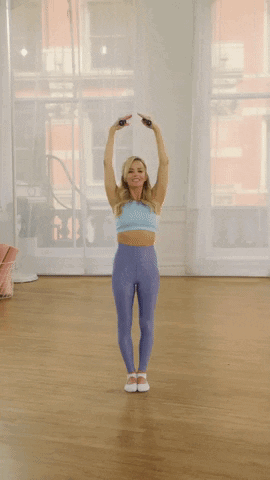 Low 5th to High 5th With C Curve
Setup:
Feet together. Hands at sides.
Action:
Bend the knees (plié), wrapping arms under your thighs.
Sweep the arms back over head (5th position) as the legs extend.
Repeat the flow for 30 seconds.
Advance to toes (relevé) when ready.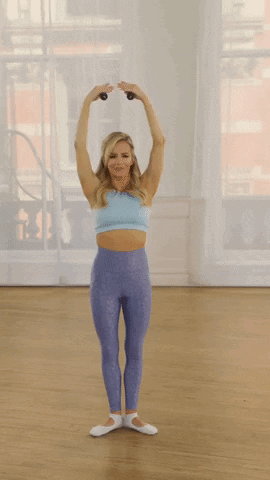 Waltzing Arms
Setup:
Heels together and toes apart (1st position), with bend in the knees (plié).
Raise arms above head, rounded in 5th position.
Action:
Keeping arms up, rotate the arms out and in (palms face out). Return back to 5th.
To flow, Add a bend and extend of the legs. Repeat for 30 seconds. To advance, add a relevé (as seen in video).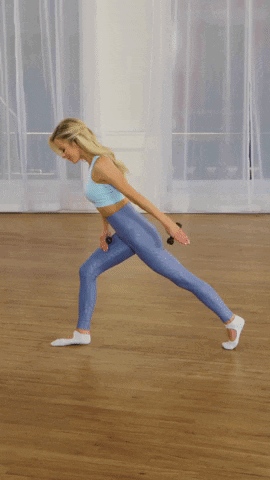 Standing Triceps Lift/Lower
Setup:
Step forward and bend your front leg into a high lunge position.
Hinge over from the hips, place front arm on bent knee, and take the opposite arm and extend straight behind and slightly above the hips (palms facing in or ceiling).
Action:
Begin to lift the whole arm up an inch and down an inch with control for 30 seconds.
Switch legs and perform on the opposite arm.
Click here for more health and wellness stories, tips, and news.