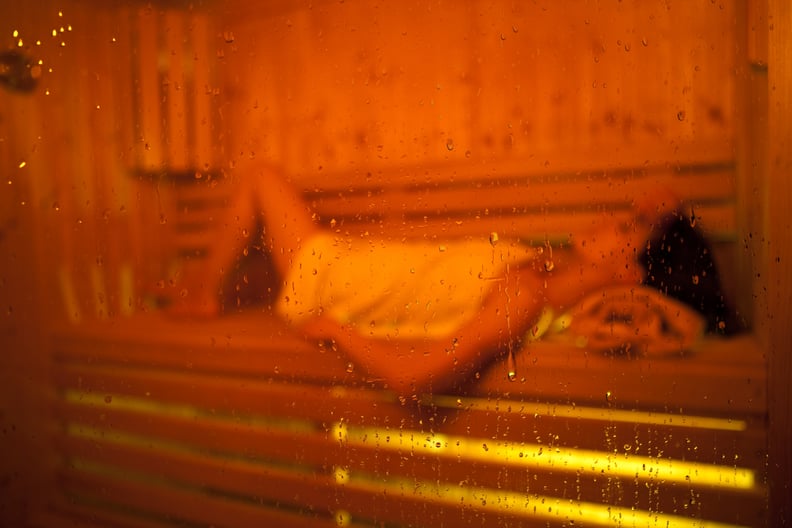 Getty Images | MediaProduction
Getty Images | MediaProduction
I'll admit it — I always thought the multicolor neon lights in infrared saunas were for Instagram pic purposes. I think Gwyneth Paltrow's sauna snap illustrates my point.
It wasn't until I actually went to an infrared sauna myself that I learned the colors were meant for something more than photo ops.
A late bloomer to the infrared sauna game, I decided to road-test the magic that is supposedly sitting (and sweating) in a 140-degree F box after learning of the reported workout recovery and relaxation benefits.
It was four days before Christmas. I was stressed and utterly exhausted with a tension headache in tow. And after back-to-back HIIT and spinning classes, I was also incredibly sore. I needed relief, and I needed it fast.
Before leaving me in my sauna at Clean Market in New York City to stew, the store attendant drew my attention to the lights, explaining that with the click of a button, I could change them from red to perhaps blue, green, or even purple to address different concerns.
The method is properly dubbed chromotherapy (or color therapy), and according to Clean Market, it's a "science that uses seven colors of the light spectrum to attune the body and mind to frequencies that heal and harmonize."
Reading material from the store further states that chromotherapy works on the seven different energy points of the body, balancing using light while aiding with certain mental and physical issues.
For example, red/pink light was labeled "vitality, grounding, balance," and noted to benefit the "circulatory and nervous function of the body." Orange light was listed as a good choice for emotional support, blue light was described as promoting relaxation, which could help relieve muscle pain, while green light was noted as providing a "positive, calming effect" on the mind and body.
Now, the concept of color therapy has been used for centuries, but when it comes to scientific facts and sound studies on the benefits of this specific treatment, the science is sparse.
As someone who's received red-light therapy on my skin at a facial, I was curious to know if the light in chromotherapy infrared saunas was the same.
"The main difference between the two is the specific wavelengths used and the energy of the light," Dr. Joshua Zeichner, the director of cosmetic and clinical research in the Department of Dermatology at Mount Sinai Hospital in New York City, told me.
"In the office, high energy devices provide light to specific areas of the skin. The light used in infrared saunas is not as powerful and may not be of the optimal color to impact the skin," he added.
When I was in the sauna, I opted for the calming green light because I was still stressed out (and a little grumpy) from all the errands on my to-do list before the holidays. I also chose to sit in the sauna for 30 minutes, as opposed to 60 minutes, because the high temperature level freaked me out.
I wrapped myself in a towel, turned on calming music, locked my phone away in a heat-proof box, and sat down to sweat and soak up the light.
After a half hour of basking in the green light, I definitely felt more relaxed. But, that could also be because my phone was locked away, I was enjoying the sweaty warmth, and didn't have anything else to do but meditate and sit quietly in the present — aka no endless Instagram scrolling (and comparing) for me.
My muscles weren't really any less sore, but there's a chance I could have felt differently if I stayed in for an hour or visited again — which I would definitely do.
While I can't sing chromotherapy's praises just yet, I did, however, snap a selfie at the end of my treatment. And yes, it might just make it to the grid.