9 Mental Health Apps For Extra Support on Tough Days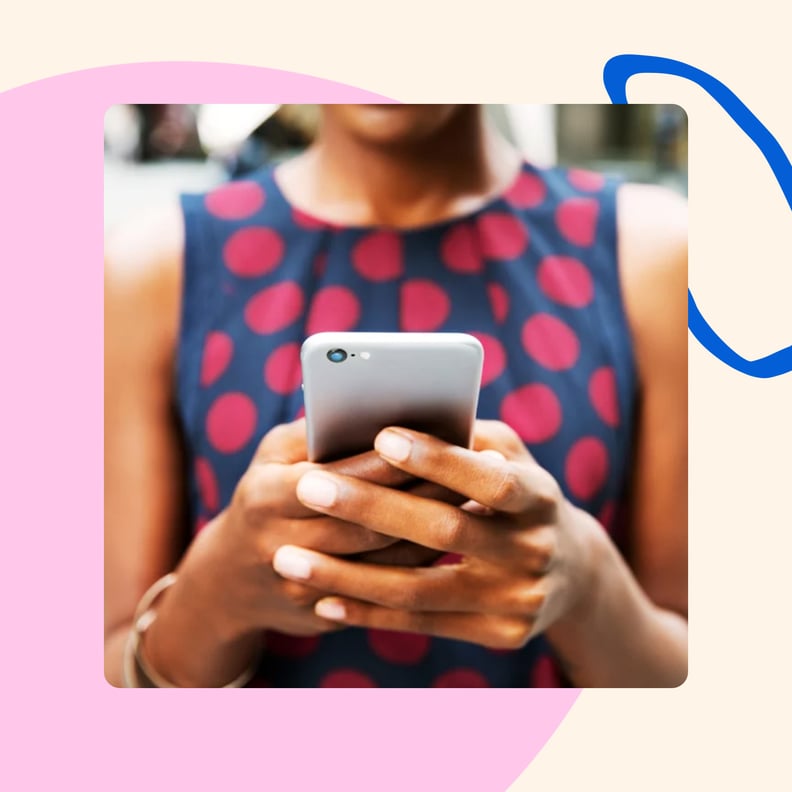 POPSUGAR Photography | Paul Kabata
Photo Illustration: Keila Gonzalez
POPSUGAR Photography | Paul Kabata
Photo Illustration: Keila Gonzalez
Finding the time to nourish your mental health isn't always easy. We all have busy schedules and even busier lives. But making an investment in yourself is one of the best things you can do for your well-being. Simple acts of self-care are known to help manage stress, lower your risk of illness, and increase energy, according to the National Institute of Mental Health.
Still, becoming in tune with your emotions can be daunting. You may be asking the following: How can I be sure of what exactly I'm feeling? And if I don't know what I'm feeling, how am I supposed to know what to do about it?
Mental health apps are an excellent place to start — and we've attempted to round up the best ones on the internet. They all offer different features, from meditation to mood tracking. But they all have a similar goal: to help users become more in tune with themselves. Once you learn to feel your feelings, you can begin to handle your emotions all the better.
Worth noting: Phone apps aren't a substitute for therapy. These mental health apps can be used to supplement time spent with a therapist, but they're only intended to help you manage your mental wellness, not to replace necessary professional help. Ahead, check out nine mental health apps to help tackle symptoms of stress and sadness and improve your overall well-being. Most offer a free version or trial, but we've listed their subscription premiums, since you'll probably want the upgrade. Here's to finding the mental health app that works best for you.
— Additional reporting by Alexis Jones
01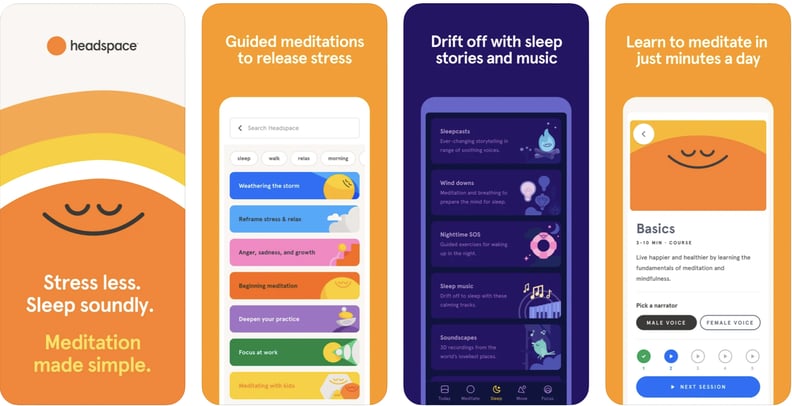 Headspace: Meditation and Sleep
Cost: $13 a month or $70 a year
If you're struggling with stress and looking to integrate meditation into your routine to help relieve anxiety, Headspace: Meditation & Sleep is a great place to start. Whether you need help winding down before bed (Sleep by Headspace), need a quick breather during the workday to help focus (Everyday Headspace), or are dealing with a serious moment of panic
, anxiety, or stress ("SOS" mode), the app has hundreds of guided meditations to help your mind get where it needs to be. Even if you only have two or three minutes to spare, there's a "mini meditation" to put your mind at ease.
02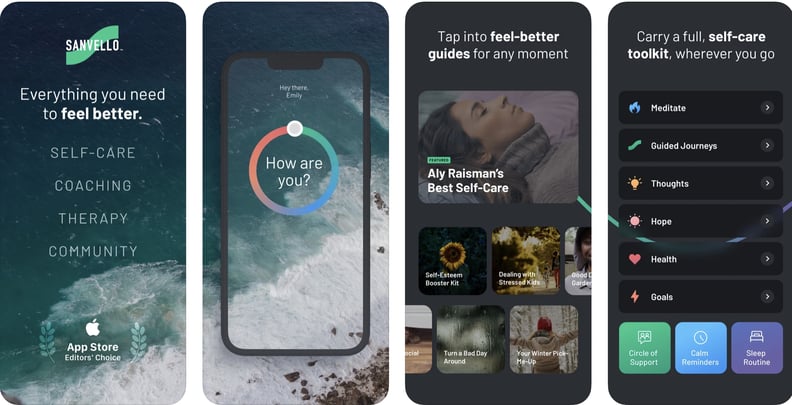 Sanvello
Cost: Starting at $9 a month
Whether you need guided therapy, coaching, coping techniques, meditations, or goal and mood tracking, Sanvello has it all. The app allows you to track your daily habits (exercise, sleep, caffeine intake, etc.), as well as stress levels and mood and it pairs you with a licensed clinician that can help you meet your mental health goals. Plus, the peer-support community board is an excellent way to remind users that they are not alone.
03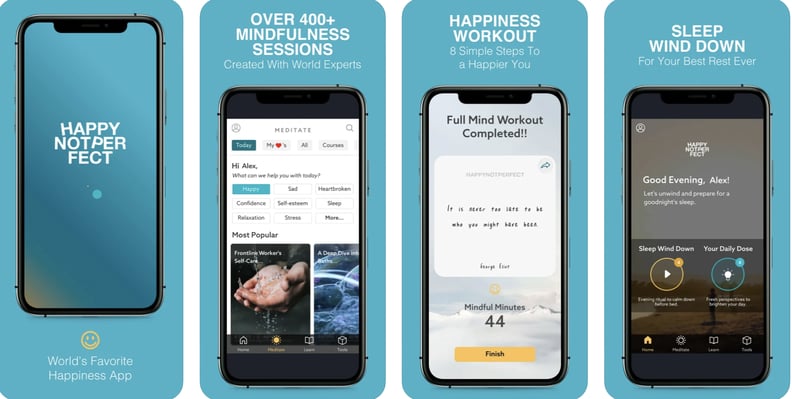 Happy Not Perfect: Meditation
Cost: $10 a month or $60 a year
Happy Not Perfect is a helpful resource that allows users to lead their best, most positive lives through science-backed exercises. It stresses the importance of practicing simple techniques regularly to better deal with stress. The app has over 400 mindfulness exercises to confront every situation that may arise...yep, even exams and relationship troubles. One of the coolest elements of the app is that when you first log in, you're able to select whatever mood you're in and can engage in a personalized, interactive "mind workout" based on that emotion. Whether you're feeling "misunderstood," "magical," "stressed," or having an "off day," Happy Not Perfect allows you to understand your emotions in an easy-to-use stimulating way. Mindfulness has never been so engaging!
04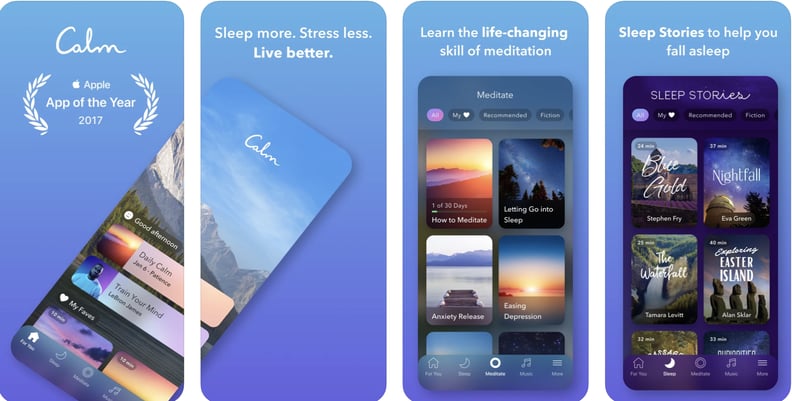 Calm
Cost: $15 a month or $70 a year
The Calm app is a cult-favorite for a reason. Whether you have three minutes or 25 minutes, there's a guided meditation available that can fit into your schedule and help you feel grounded. The app also offers 10-minute daily exercises, sleep stories narrated by celebs like Jonathan Bailey and Matthew McConaughey, and short videos with mindful movement and gentle stretching throughout the day.
05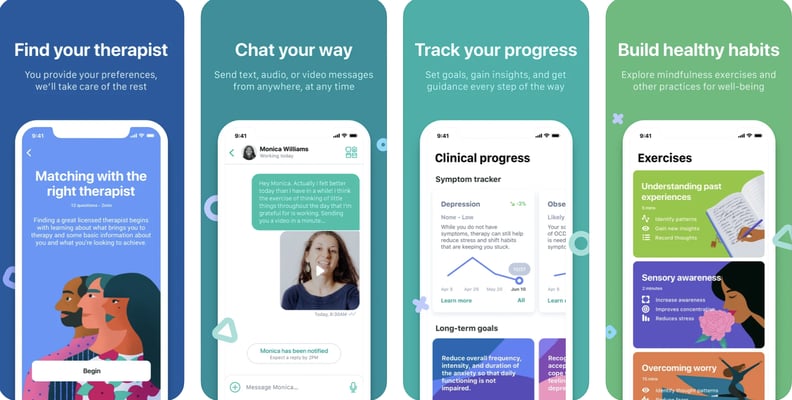 Talkspace Online Therapy
Cost: Starting at $69 a week for messaging therapy
With thousands of licensed therapists, Talkspace can match you with a therapist in your state as soon as you sign up. The app offers text, audio, and live video sessions with their experts. And if you aren't happy with your therapist, you can change at any time. They are trained in treating depression, anxiety, substance use, relationships, PTSD, and more.
06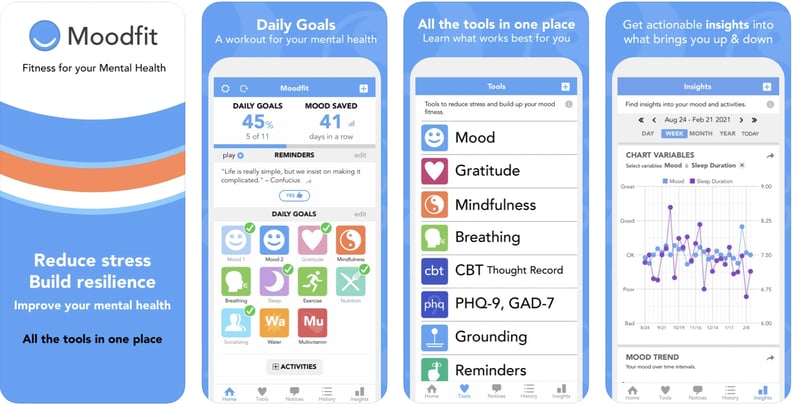 Moodfit
Cost: $10 a month
Your body isn't the only thing you can work out. Moodfit is designed with tools meant to exercise your mind and mood through breathwork, mindfulness, journaling, and more. You can also track any mood-related medications and variables that could be affecting your mood (e.g. your hydration, caffeine intake or interactions with a friend) to better understand what is working for you and what's not. You can even set personalized daily goals for your mood and the app will hold you accountable and help you reach those benchmarks through self-care practices, like gratitude and grounding.
07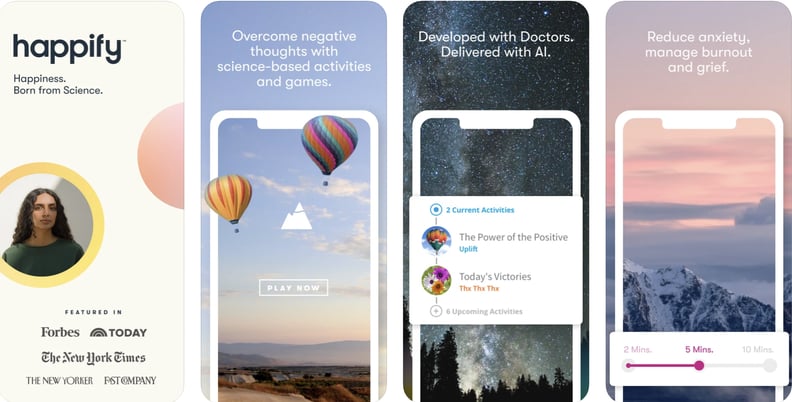 Happify: For Stress and Worry
Cost: $15 a month or $140 a year
Happify is not your typical mental health app, but it's an uplifting alternative to many traditional therapy applications. It's filled with science-backed activities and games proven to reduce stress and help users think more positively. The activities help users learn tactics to overcome negative thoughts and track your progress over time. Users are able to pick their "track," or multiple tracks, whether it's dealing with stress, self-confidence, negative thoughts, career stress, and more.

08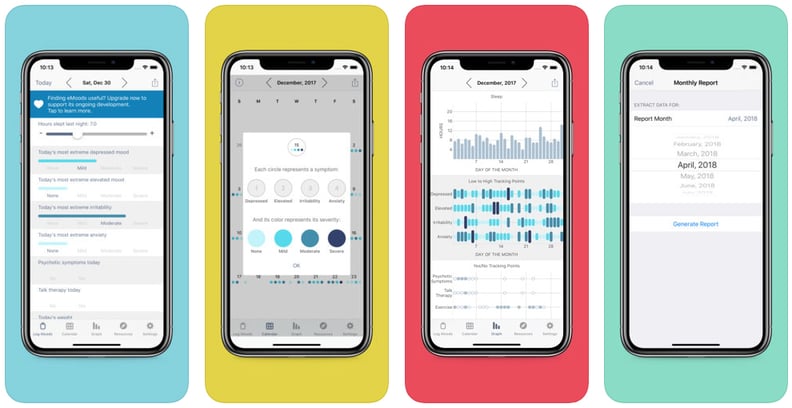 eMoods Bipolar Mood Tracker
Cost: Pro version for $2 a month or $10 a year
As a way to supplement therapy visits, eMoods Bipolar Mood Tracker was made to log feelings related to bipolar I, bipolar II, depression, anxiety, or general mood tracking. It's a cohesive and organized way to keep track of triggers, highs and lows, sleep patterns, and so much more. At the end of the month, you can print or email a PDF of your tracker to understand patterns with your therapist or for your own records.
09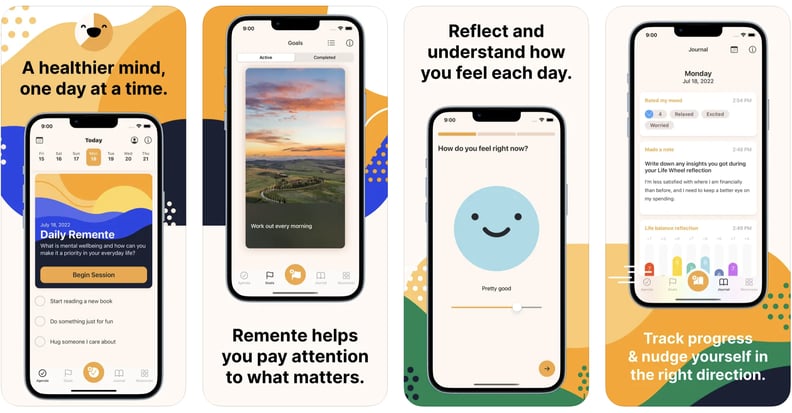 Remente — Self Improvement
Cost: $5 a month or $60 a year
Remente isn't specific for anxiety or depression, but caters to helping users lead a more positive life overall. By offering a number of self-improvement tools, it helps you set goals and make them happen. Mood journaling lets you visualize what you're feeling whenever you're feeling it. There's even a life assessment tool to think about the big picture. Remente offers tons of courses and science-backed resources on topics such as self-love, time management, stress management, goal setting, decision making, and so much more.