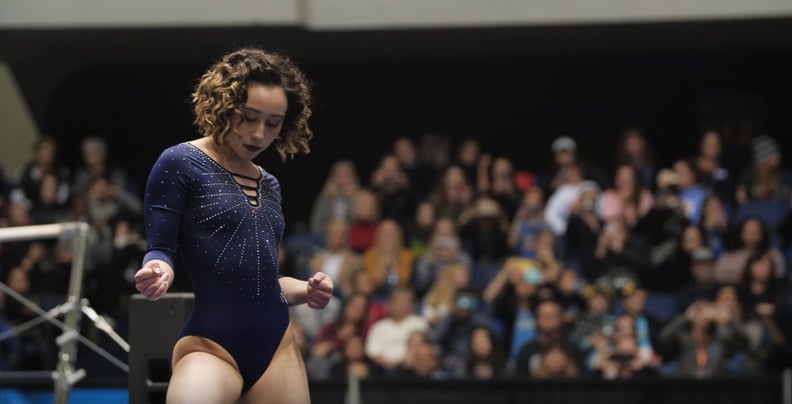 YouTube | UCLA Athletics
Last April, UCLA won its seventh NCAA Women's Gymnastics Championship, but not before a floor routine from one of its student-athletes went viral. The theme was Michael Jackson. The gymnast's name? Katelyn Ohashi. (And yes, she even did the moonwalk.)
In the Bruins' Jan. 12 meet against California, UC Davis, and Michigan State, Katelyn took the internet by storm with a new routine that earned her a perfect 10. This year, the senior dances to a mashup of classics like "September" by Earth, Wind & Fire and Tina Turner's "Proud Mary." Not to mention, she does the moonwalk yet again.
If you loved her dynamic routines, we're bringing you more electric performances on floor from college gymnasts across the country. These women remind us that competition, especially in a sport as intense and dangerous as gymnastics, can actually be fun.
Packed with skill, good music, and lots of fearless attitude, these are a must see.
Sophina DeJesus: 2016 Floor For UCLA
Kennady Schneider: 2017 Floor For Arizona
Maggie Nichols: 2017 Floor For Oklahoma
Maggie does her floor routine to The Chainsmokers' "Don't Let Me Down" featuring Daya, and her elite-level training shows.
Danusia Francis: 2015 Floor For UCLA
Danusia is all about James Bond, and we love it.
Courtney Kupets: 2009 Floor For Georgia
When I first watched this a decade ago, I remember falling in love with Courtney's choice in music and choreography (though her performance at Athens 2004 alongside Carly Patterson was pretty fantastic too).
Alicia Boren: 2019 Floor For Florida
Alicia performed this fun routine featuring some Fifth Harmony at the beginning of the 2019 NCAA gymnastics season. And that opening track will take you straight to the movies.
Kennedy Baker: 2016 Floor For Florida
Beyoncé's "Run the World (Girls)" brings the heat to Kennedy's routine for the Florida Gators.
Angi Cipra: 2016 Floor For UCLA
Angi's floor music features a cell phone ringtone. Watch her pretend to search through the crowd to find her caller.
MyKayla Skinner: 2018 Floor For Utah
MyKayla was named an alternate for the 2016 US Women's Olympic Gymnastics Team. She crushes this routine that hints to songs you've probably saved on Spotify.
Lloimincia Hall: 2014 Floor For LSU
Lloimincia's performance went viral back in 2014. You'll see why.
Kyla Ross: 2019 Floor For UCLA
Kyla, a gold medalist at the 2012 London Olympic Games and former Fierce Five member, nails her first pass — a whip double back — and is all smiles in this recent routine.
Katelyn Ohashi: 2018 Floor For UCLA (Viral Michael Jackson Routine)
Just in case you wanted to give this performance, set to music like "Thriller" and "The Way You Make Me Feel," another watch.
Katelyn Ohashi: 2019 Floor For UCLA
Here's more Katelyn Ohashi magic from Jan. 12, where she got a perfect 10. We won't blame you if this is your 10th time watching. It's ours, too.
Katelyn Ohashi: 2019 Floor For UCLA (Yet Again)
Sekai Wright: 2019 Floor For UCLA
This freshman wowed us all with her "Uptown Funk" floor routine on Feb. 2. Try not to smile while watching (it's impossible!).
Margzetta Frazier: 2019 Floor For UCLA
Katelyn Ohashi: 2019 Floor For UCLA (Again!)
Katelyn Ohashi: 2019 New Floor For UCLA
At the Pac-12 Championships on March 23, Katelyn debuted an altered routine with added choreography and a line-up of all-female artists like Beyoncé. She received her sixth perfect 10 of the season on floor and tied for first place with teammate Kyla Ross and Utah's MyKayla Skinner. UCLA, led by coach Valorie Kondos Field, defended its conference title. Read more about why Katelyn made this change here.