As POPSUGAR editors, we independently select and write about stuff we love and think you'll like too. If you buy a product we have recommended, we may receive affiliate commission, which in turn supports our work.
In the last decade or so, leggings have become a staple in many people's athleisure wardrobes — they're equal parts comfy and supportive for both day-to-day activities and workouts and come in so many cute and flattering options. But not all leggings are created equally; you'll want a different pair for a high-intensity workout than you'll want for a chill yoga class or day working from home. That said, where do compression leggings fit in?
What Are Compression Leggings?
Compression leggings are like regular leggings, just tighter and typically made with a thicker fabric to provide that compression. They've gotten a reputation for their amazing hugged-in feeling, similar to shapewear. A pair of leggings may fit like compression leggings, even if they aren't marketed as such — the name isn't medical nor super specifically used.
Are There Any Benefits to Wearing Compression Leggings?
There might be. For one, compression leggings may help improve blood circulation in the legs, says Florence Comite, MD, founder of the Center for Precision Medicine and Health. "They apply gentle pressure to the muscles and blood vessels, which can help promote blood flow and prevent blood from pooling in the lower extremities," she explains.
Research shows that compression garments, like leggings, may also aid in recovery. Post-workout muscle soreness may be accompanied by swelling or inflammation, Dr. Comite explains, and "compression garments can assist in reducing swelling by applying pressure to the affected area, which helps improve lymphatic flow and encourages the removal of excess fluid."
While you're exercising, compression garments can also help keep muscles warm and may help reduce the risk of injury, Dr. Comite adds. "By compressing the muscles, compression leggings may reduce muscle fatigue during physical activity; some athletes believe this translates into improved sports performance, though little scientific evidence exists," she explains.
While there isn't any hard evidence confirming that compression leggings improve athletic performance, they also don't appear to harm performance, adds Allison Dastugue Furcolo, PT, DPT, doctor of physical therapy at The Stone Clinic — and some legging wearers report feeling benefits, regardless of what the research says.
When Should You Wear Compression Leggings?
You can wear compression leggings for workouts or just about anything else, as long as they're not so tight that they impede your body's natural movement or breathing pattern.
For instance, a pair of super-tight high-waisted leggings can interfere with your breathing, which can have negative effects on your core function and pelvic floor health, as pelvic-floor physical therapist Hayley Kava, PT, previously told POPSUGAR.
A sign that your leggings may be too tight is if you start to notice swelling below the leggings in the foot and lower-calf area, Dr. Furcolo explains. "This is because the leggings are too tight and the body's fluids can no longer travel effectively through the compressed tissues. . . . And good circulation is essential to any healthy body, particularly while training."
Other signs they may be too tight for you? Discomfort, muscle pain, skin irritation, bruising, and gastrointestinal issues or acid reflux, Dr. Comite says. If you have any issues while wearing compression leggings, it's probably best to take a break from them and chat with your doc. And while compression leggings may provide certain benefits, "they should not be considered a standalone treatment for underlying musculoskeletal conditions or injuries," Dr. Comite caveats. "If you have any pre-existing medical conditions, it's important to consult with a healthcare professional before using compression leggings." They can assess your condition and advise on any necessary precautions.
Overall, the ideal pair of compression leggings should move with your body whether you're stretching, running, or sitting and shouldn't feel overly restrictive or tight. To help you find a great pair of compression leggings, we curated some of the best and broke down the details on each style, so you can easily scope out what's best for you. Shop our top choices ahead.
— Additional reporting by Lauren Mazzo and Krista Jones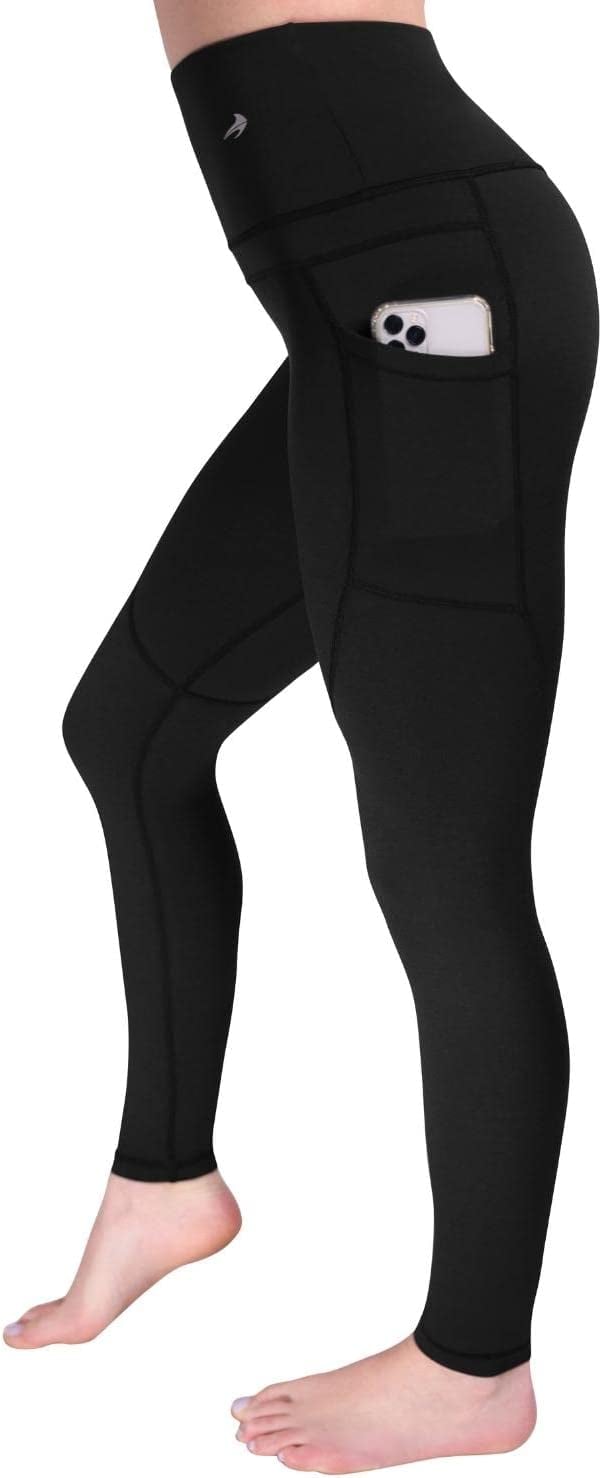 Best Size-Inclusive Compression Leggings
CompressionZ High Waisted Leggings ($40-$50)
These compression leggings are a popular pick from Amazon with more than 9,000 five-star reviews. They're made for a variety of workouts including running and cycling as well as for casual wear. They have a breathable, four-way stretch fabric that's supportive (and never see-through!) with chafe-free stitching.
What customers are saying: Customers rave about how soft and comfortable these are for both lounging and working out. They love how stretchy these are and how they stay opaque. The sleek design even convinced some reviewers to wear them for nights out. One customer detailed how she tried these instead of thigh-high compression stockings, and even her doctor was impressed with the results.
Why we love them: These leggings stay in place during your workout while allowing you to move around. The breathable fabrics holds and supports you wherever you need it without being constricting.
What's worth noting: They come in regular high-waist and super high-waist styles. Plus, some of them have pockets. The leggings are made from a spandex and polyester blend.
The Details: Sizes: XS–6XL | Length: Full length | Color Options: 16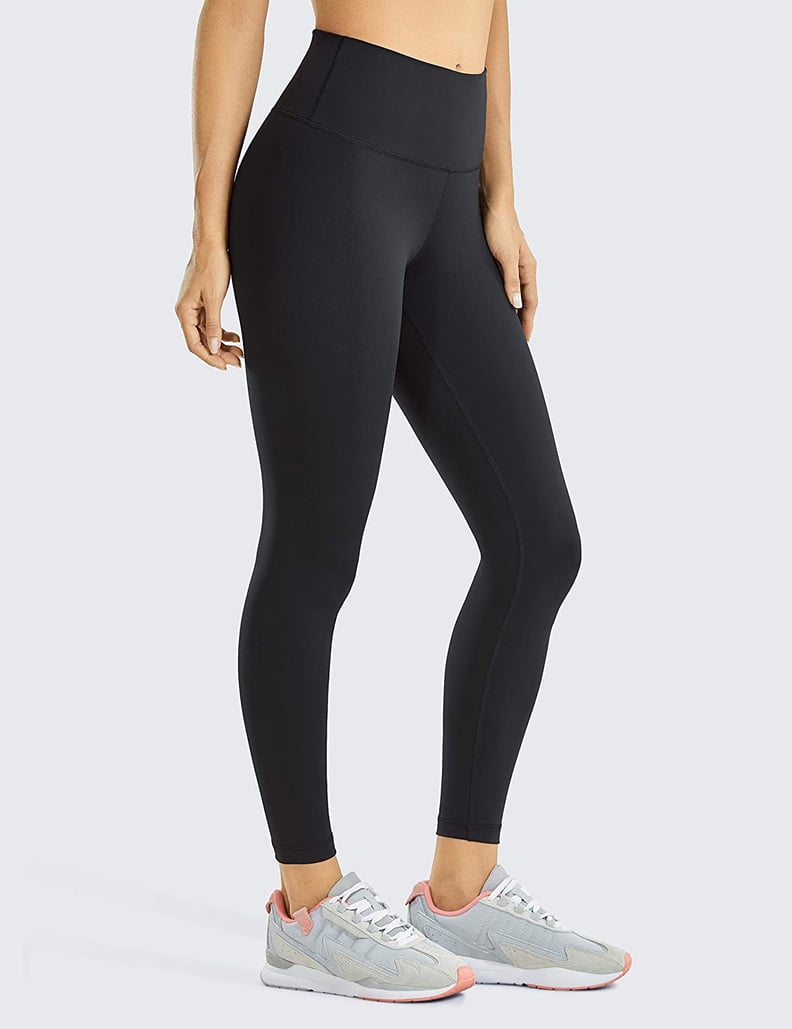 Best Compression Leggings on Amazon
CRZ Yoga Hugged Feeling Compression Leggings ($30–$34)
These compression leggings have a body-hugging feel for both everyday wear and workouts. They're squat-proof, minimize chafing, and have even got a decent amount of compression that delivers high support. Plus, the fabric is moisture-wicking, and they come with a seamless waistband that gives you extra coverage.
What customers are saying: Reviewers love that these are an affordable dupe for more expensive leggings. They not only pass the squat test, but also feel buttery-soft. Customers also comment on how they feel snug while still allowing you to move around. They're even a POPSUGAR editor-favorite; read our review of the CRZ Yoga Hugged Feeling Compression Leggings.
Why we love them: They have a hidden waistband pocket where you can store your keys, cards, cash, and a few other essentials. These leggings are also squat proof and designed for training.
What's worth noting: The fabric blend is polyamide and lycra, which makes it thick with a slight stretch. These leggings are best for training.
The Details: Sizes: XXS–XL | Length: 25 inches (ankle length) | Color Options: 22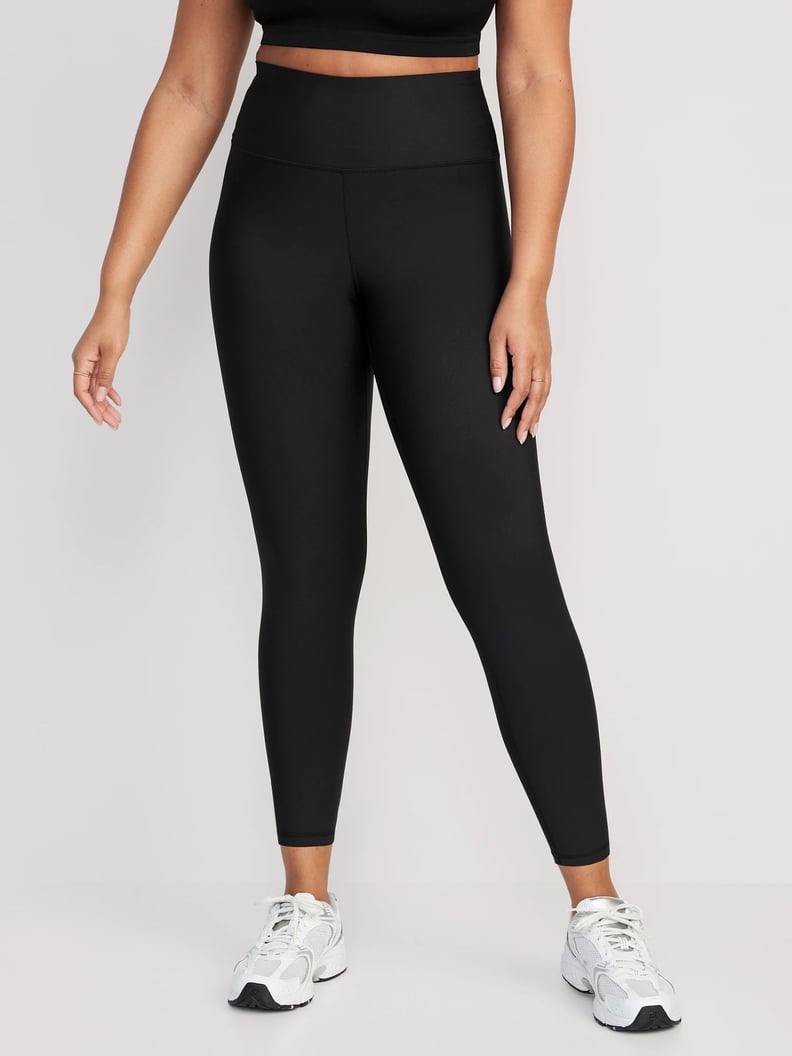 Best Compression Leggings For All-Day Wear
Old Navy High-Waisted PowerSoft 7/8 Compression Leggings ($14–$35, originally $35)
If you're looking for a pair of compression leggings that you can wear for just about everything, the are the ones you need in your life. This pair from Old Navy has a high level of compression while maintaining a four-way stretch, so they're great for everything from running to Pilates. Their breathable fabric is also moisture-wicking and will keep you dry during sweaty workouts.
What customers are saying: With a near five-star rating, these leggings are a customer-favorite at Old Navy. Reviewers love the snug but comfortable and flexible fit. People love to work out in them as well as wear them for lounging around. Customers also prefer the 7/8 length for warmer weather.
Why we love them: They're equipped with an elastic, flexible waist and a gusset for easy movement. These leggings support you in all the right places for a sculpted, figure-flattering look and have a buttery-soft feel.
What's worth noting: They have a polyester and spandex blend that can be machine-washed. They're also supposed to sit high on the waist and hit just above the ankle.
The Details: Sizes: XS–4X regular; S–XXL tall; XS–XL petite | Length: 7/8 | Color Options: 11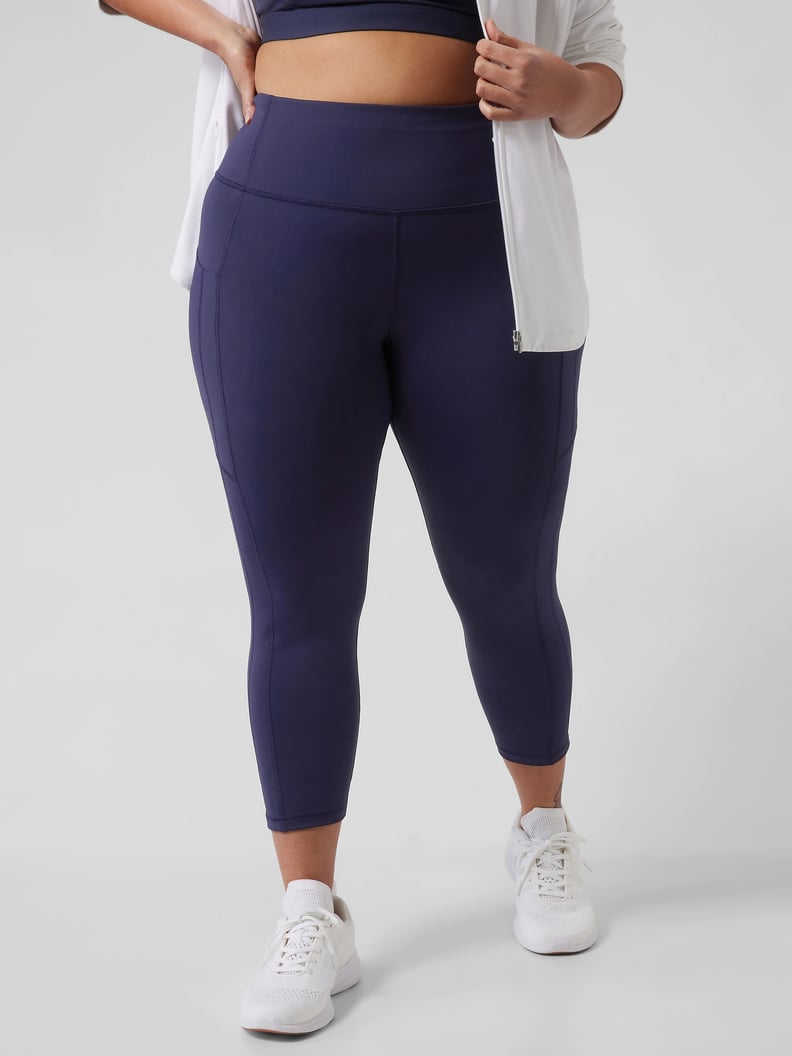 Best Compression Legging For High-Impact Training
Athleta Ultimate Stash II 7/8 Tight ($22–$109)
If you're someone who prefers medium- to high-impact workouts, this Athleta pair is your best bet. It has a sleek and supportive compression fabric that's also moisture wicking and breathable, which is perfect for intense workouts. It even dries quickly so you stay cool and comfortable, no matter how sweaty you get.
What customers are saying: Those who have a busy and active lifestyle adore these leggings — they say they're equipped to handle runs, strength training, yoga, and more. One reviewer writes: "They dont fold, hug in all the right places, material is super soft, and they don't fade. They withstand tough workouts and remain movable."
Why we love them: These leggings are made for any type of training. They have a back drop pocket, as well as side pockets where you can put your phone and keys, and the waistband is also anti-slip.
What's worth noting: The recycled polyester and lycra fabric blend with a UPF50 protection is machine washable. They also have a high-rise waistband and are meant to hit right above the ankle.
The Details: Sizes: XXS-3X regular; XS-XL tall; XXS-L petite | Length: 7/8 | Color Options: 6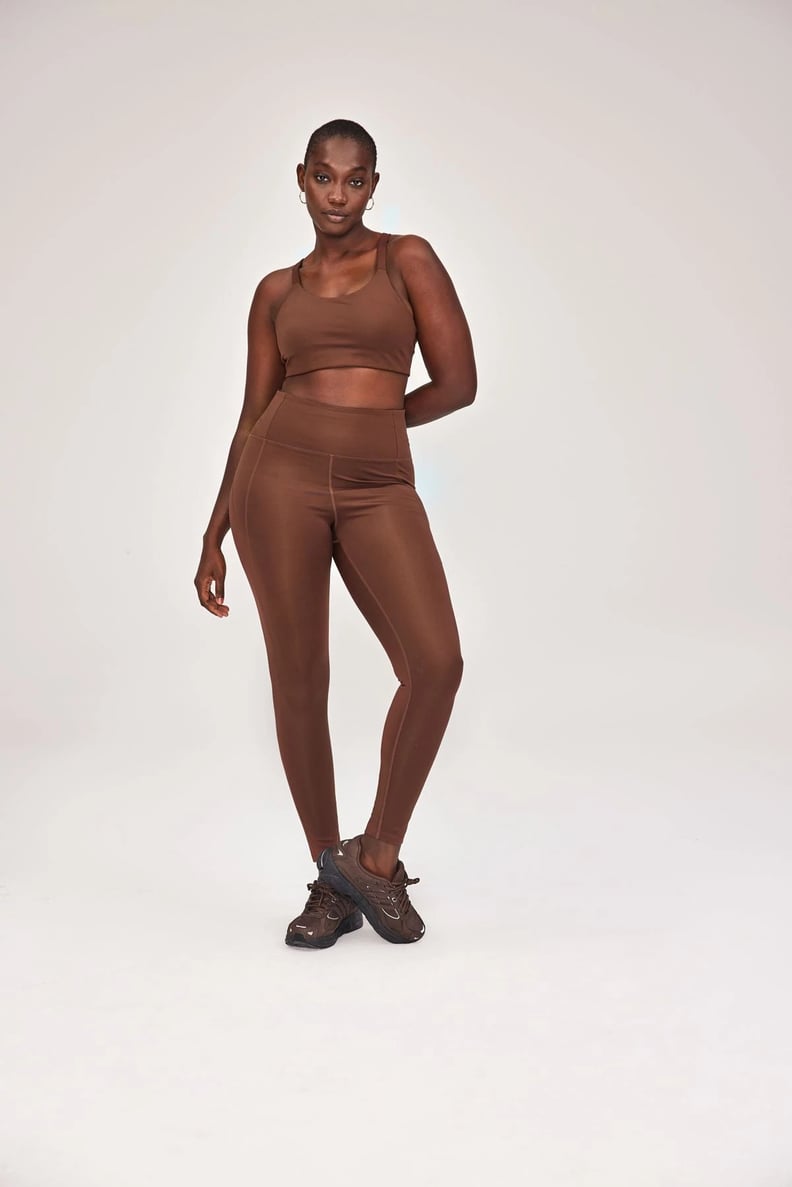 Best Sustainable Compression Leggings
Girlfriend Collective Earth Compressive High-Rise Legging ($78)
With an extra-high-rise waistband and four-way stretch for optimal coverage and flexibility, this pair of compression leggings from Girlfriend Collective is designed for any workout. The fabric is both thick and sweat-wicking, making it squat-proof and breathable. However, that doesn't mean you can't wear these to relax at home or run errands.
What customers are saying: Customers are into the comfort, but also can't get enough of the nine colorways. Reviewers claim these feel soft and airy with just the right amount of compression. They also rave about the flattering fit — there's a reason these are the brand's bestselling leggings!
Why we love them: These stylish leggings have a hidden back pocket and feel soft on the skin, making them easy for everyday wear. Plus, they're made from 25 recycled water bottles.
What's worth noting: If/when you're done wearing these leggings, you can recycle them with the brand's ReGirlfriend program and get $15 toward another purchase.
The Details: Sizes: XXS–6XL | Length: 28.5", 23.75", 19.5" | Color Options: 9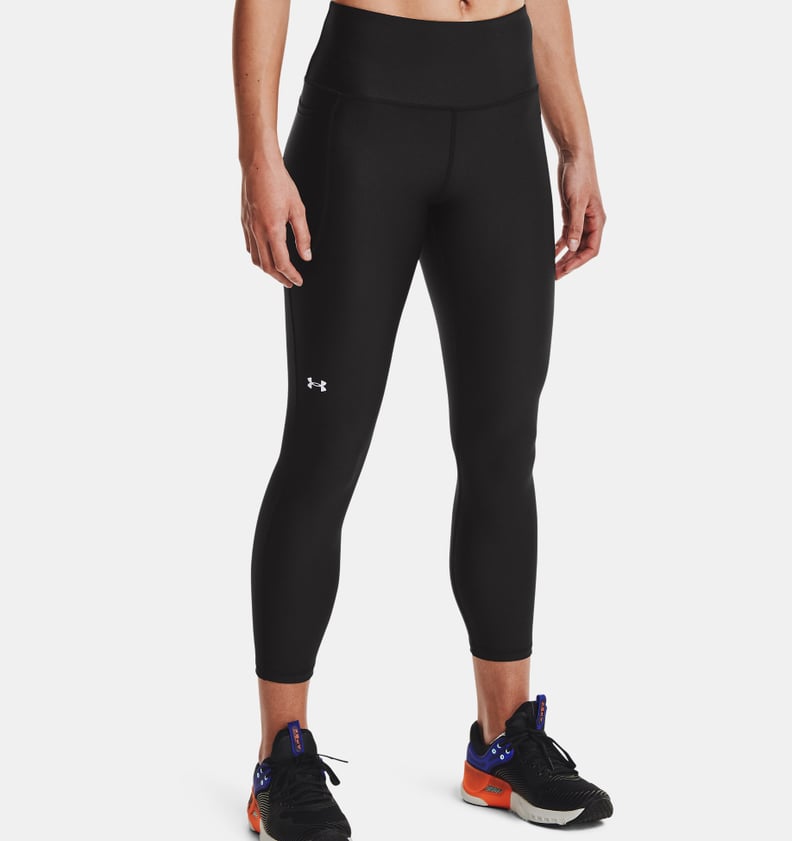 Best Base-Layer Compression Leggings
Under Armour Women's HeatGear Armour No-Slip Waistband Ankle Leggings ($45)
These Under Armour leggings are a durable option that can handle leg day like a pro. From squats to deadlifts, these leggings won't slip. They're also breathable with a sweat-wicking fabric using UA's HeatGear technology, making them a perfect base-layer for activities in any weather.
What customers are saying: Customers adore the comfort and durability of these compression leggings. Most reviewers said these stay up and don't feel constricting either. They love that the material is thin enough so it's breathable but thick enough so you can't see through them.
Why we love them: These leggings have a silicone lining on the inside of the waistband to prevent slipping. They're even equipped with anti-odor technology and pockets big enough to fit your phone.
What's worth noting: The leggings are made from an elastane and polyester blend. They have an ultratight compression with a second-skin fit.
The Details: Sizes: S–XXL in regular, XS–XXL in tall, and XS–XXL short; 1X–3X in plus sizing ($45) | Length: 7/8 | Color Options: 8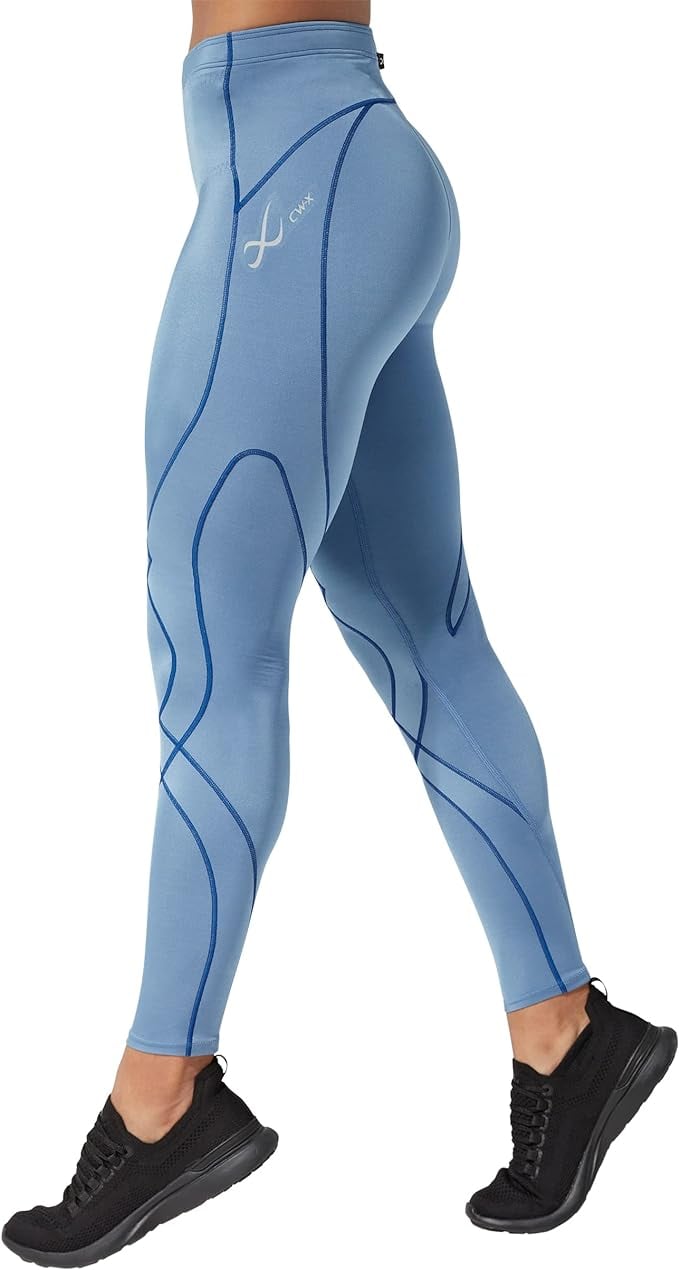 Best Contoured Compression Leggings
CW-X Stabilyx Joint Support Compression Tight ($80–$164)
These unique compression tights use a patented EXO-WEB support panel to contour your joints, helping to provide support and stability without restricting your movement, according to the brand. These tights combine compression with the benefits of kinesiology tape. Though the blue design shows off the strategic seaming, you can also go for all black for a more classic look.
What customers are saying: Customers swear by these leggings anytime they want to feel like their joints are supported. One reviewer writes that these give them much-needed "knee support, shock absorption and stability while active."
Why we love them: There's a little pocket at the waist for keys, credit cards, or lip balm. Though they provide serious compression, reviewers say they're still comfortably enough to wear throughout the day.
What's worth noting: They have a nylon and lycra blend. This style runs small, so the site recommends sizing up. It's best to machine wash cold and tumble dry on low.
The Details: Sizes: XS–XXL | Length: full, 3/4, and short | Color Options: 5

Best 2XU Compression Leggings
2XU Core Compression Tights ($80–$90)
The 2XU brand is almost entirely dedicated to compression gear, so you know their compression leggings are good. This sleek all-black pair offers 20–23 mmHg of moderate compression as well as UPF 50 sun protection.
What customers are saying: Reviewers love the design, fit, and look of these compression leggings. They say they stay in place during burpees and even help shave time off their runs.
Why we love them: These offer serious compression, thanks to medical circular knit fabric construction for 360-degree consistent yet powerful pressure. The brand reccomends them for any type of workout as well as for air travel.
What's worth noting: This pair of tights have an internal drawstring great for keeping them secure during runs or high-impact workouts, but some customers prefer leggings without.
The Details: Sizes: XS-XL | Length: Full length | Color Options: 1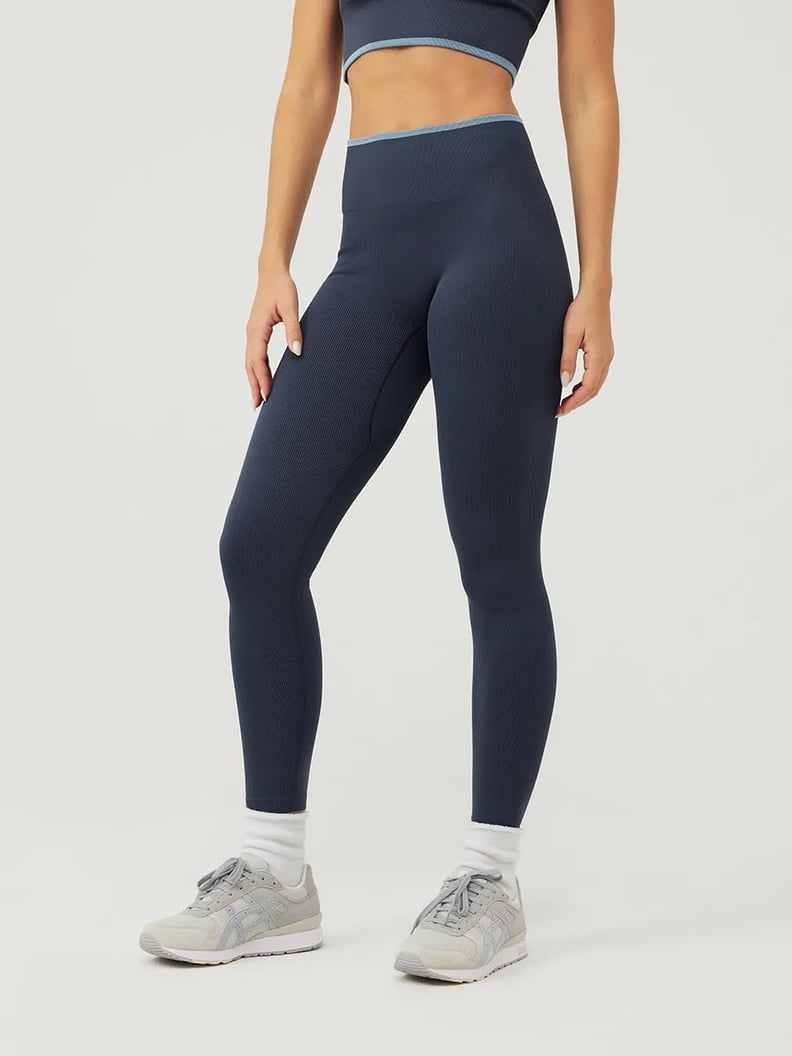 Best Ribbed Compression Leggings
Outdoor Voices SeamlessRib 7/8 Legging ($78)
If you like the feel of a ribbed legging, this pair from Outdoor Voices should be right up your alley. With a mid-weight and comfortably compressive fabric, these compression leggings are designed to feel like a hug for your lower half.
What customers are saying: Reviewers especially love the waistband on these leggings, swearing by them for Pilates, walks, weightlifting, and more.
Why we love them: The ribbed material makes these leggings feel extra cozy in the winter without overheating you when temps heat up. Pair with a matching bra top for a workout outfit that's easy and cute.
What's worth noting: While these leggings offer some compression, they're not as tight as others on this list. If you're looking for something with a little compression but room to move, this is your pair.
The Details: Sizes: XS–XL | Length: Full length | Color Options: 1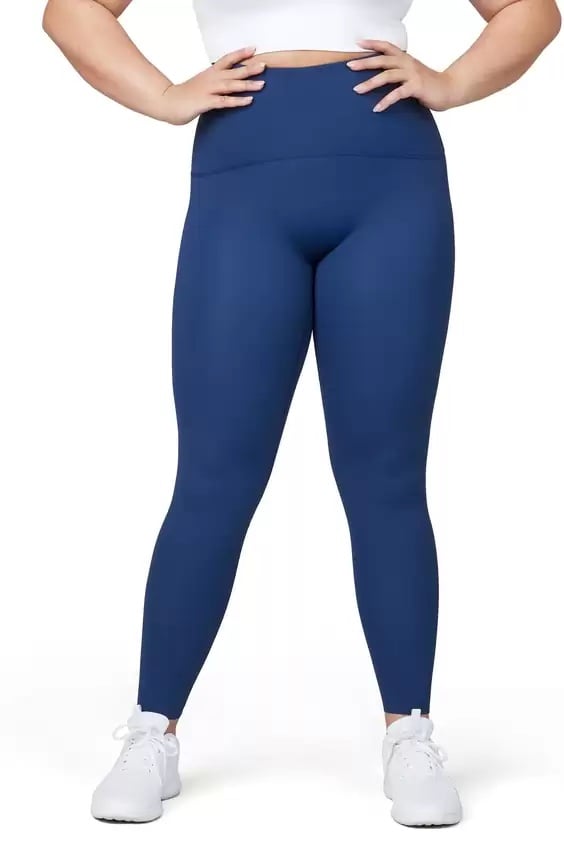 Best Spanx Compression Leggings
Spanx Booty Boost Active High Waist 7/8 Leggings ($98)
It's easier to understand why a pair of Spanx leggings are on this list; the brand got its start in shapewear, and its leggings offer that same strategic compression as the rest of their products. These Booty Boost leggings, in particular, give your hips and glutes room to breathe and move while still supporting your joints.
What customers are saying: Reviewers can't stop raving about the way these leggings "hug or tug in all the right places." They confirm that these won't roll down or sag — ever.
Why we love them: These high-rise leggings have a hidden pocket and a double-layer, dig-free waistband, so you're comfortable even if you're wearing these all day.
What's worth noting: Reviewers recommend sizing up in these leggings — when the brand says they're compressive, they mean it.
The Details: Sizes: XS–XL | Length: 23"| Color Options: 1