As POPSUGAR editors, we independently select and write about stuff we love and think you'll like too. If you buy a product we have recommended, we may receive affiliate commission, which in turn supports our work.
Considering buying a juicer but unsure where to start? We understand. With hundreds, if not thousands, of juicers of different types and functions, the choices can be overwhelming. Whether you're looking for a juicer that'll serve up enough juice for the entire family or a a compact, stylish design for your solo juice journey, Amazon is one of the best places to find one. Much like it has become the go-to hub for high-quality activewear leggings and fitness gear, the virtual retailer offers a wide selection of top-notch, reasonably priced juicers that will arrive at your doorstep in record time.
Ahead, we've curated a guide to eight top-selling juicers available on Amazon. Our selection includes citrus juicers, slow juicers, and centrifugal juicers. Below, Carolyn Bristowe, the juicing category product manager at Hamilton Beach, breaks down the basics of what you need to know about each type:
Citrus Juicers: "Citrus juicers are the best option if you are only juicing citrus," Bristowe says. "They're easy to use and require no peeling. Just rinse the citrus fruit, cut it in half, and juice." You simply place the citrus fruit on a reamer to extract the juice. Some require manual spinning, while others do it on their own via electric mechanisms.
Centrifugal Juicers: This type of juicer is "great for the majority of produce," the pro says. This kind of juicer "works by pushing produce through the chute and then grinds produce through the spinning blade and extracts the juice through the strainer basket. The juice then flows through the spout."
Slow Juicers: You may have heard of slow juicers as masticating juice extractors or cold-press juicers. Bristowe notes that, like centrifugal juicers, they're ideal for many types of produce. But they differ because they "work by pushing produce through a chute and then grinds the produce through the slowly turning auger and juice flows throw the spout." This kind tends to be more expensive than centrifugal juicers and works more slowly, though it may be a better option to prevent oxidation and minimize heat (two factors that can impact the nutritional quality of the juice).
Keep scrolling to learn more about the unique features of each of our favorite juicers to determine which fits your lifestyle and juice preferences best.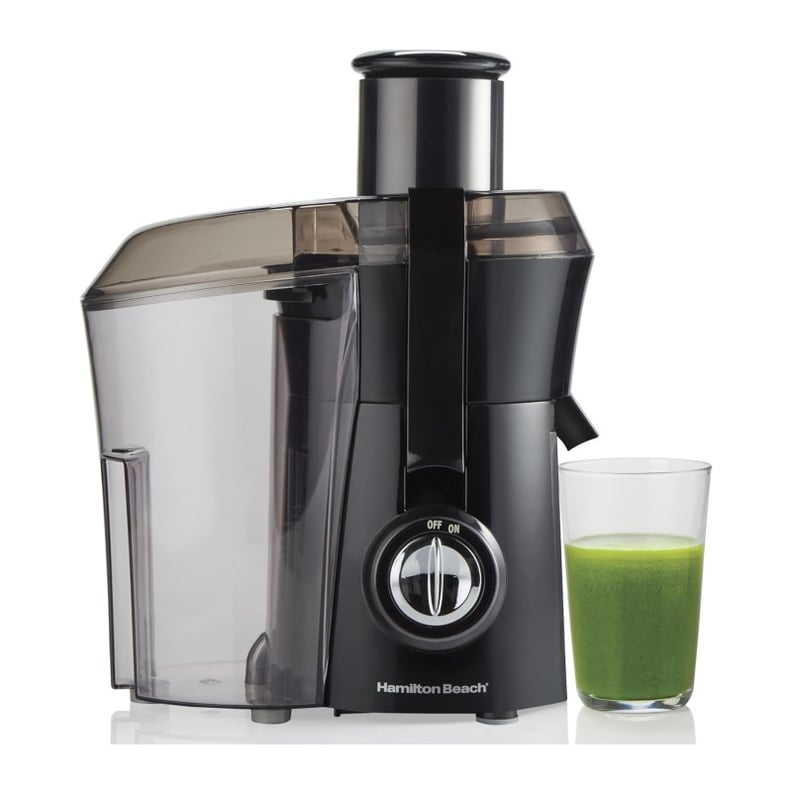 Best Big-Mouth Juicer
Hamilton Beach Juicer Machine ($70)
It's uncommon to find a high-quality juicer for under $100, yet this one has thousands of five-star reviews and is loved by everyone from busy families to first-time juicers. One of this centrifugal juicer's most compelling features is its large chute. It's three inches wide to fit a whole apple, a peeled orange, or a handful of kale, among other sizable amounts of produce. That means less precutting and faster juicing.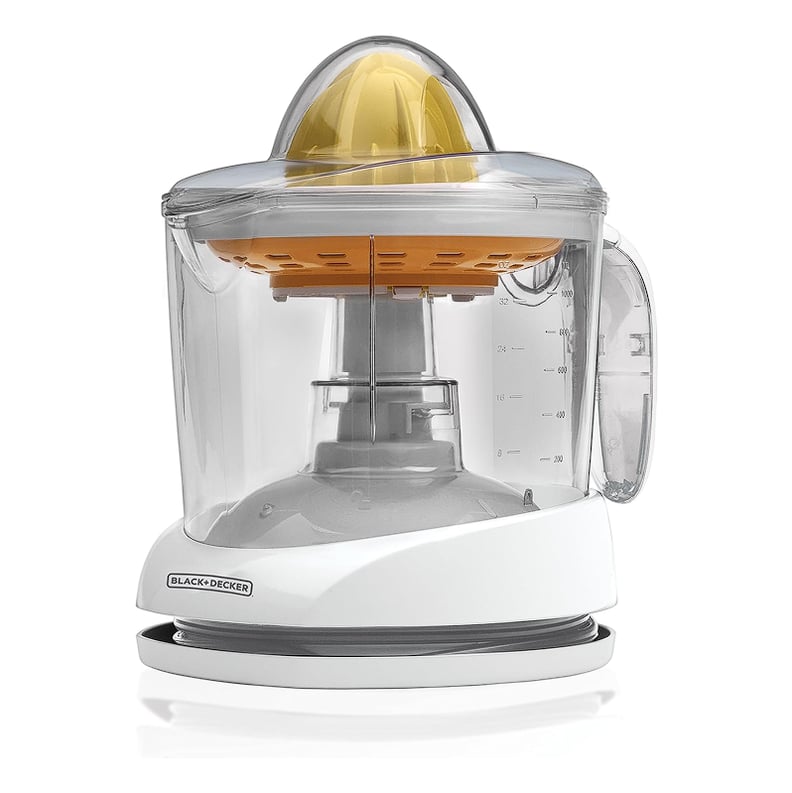 Best Citrus Juicer
Black+Decker 32oz Citrus Juicer ($31)
Citrus juicers like this one are practically self-explanatory. They're designed to extract juice from citrus fruits like oranges, lemons, and grapefruits. While some people might prefer manual options, this one's electric, meaning you simply press your citrus of choice onto the reamer, and it gets to work squeezing out the juice. It also has adjustable pulp control, so you can control how much or how little you want.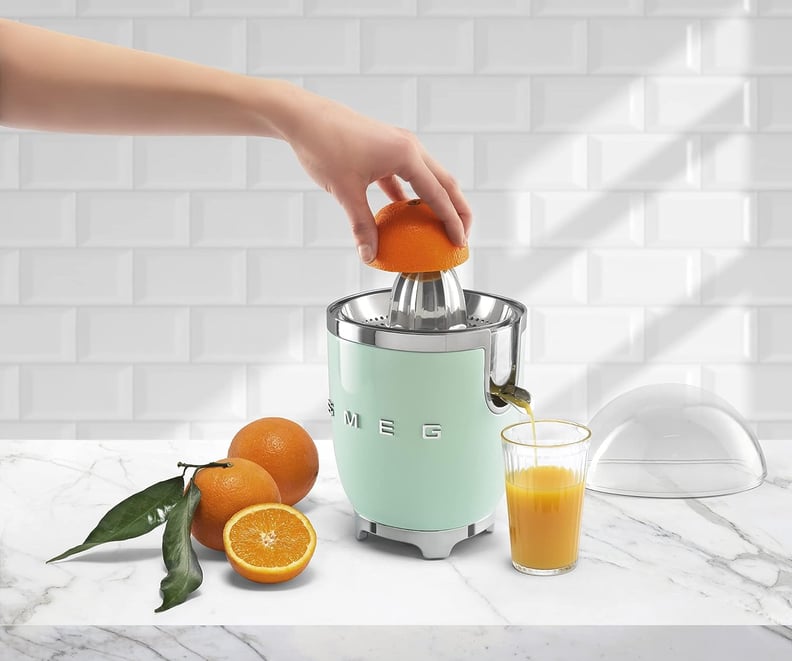 Best Aesthetically Pleasing Citrus Juicer
Smeg Citrus Juicer ($174, originally $200)
If you're in search of a citrus juicer with a more aesthetically pleasing design, Smeg has you covered. For those unfamiliar with the brand, it's known for its retro, '50s-inspired designs. However, this doesn't mean it lacks contemporary features. A satisfied shopper, awarding it a five-star rating, shared: "Does this thing tear up any citrus fruit it comes in contact with? Yes. Is it easy to clean? Very. Does it look cool on my counter? Definitely. Is it easy to use? It's a no-brainer." While it's on the pricier side, you won't feel the need to stash it away before hosting guests because it's a compliment magnet.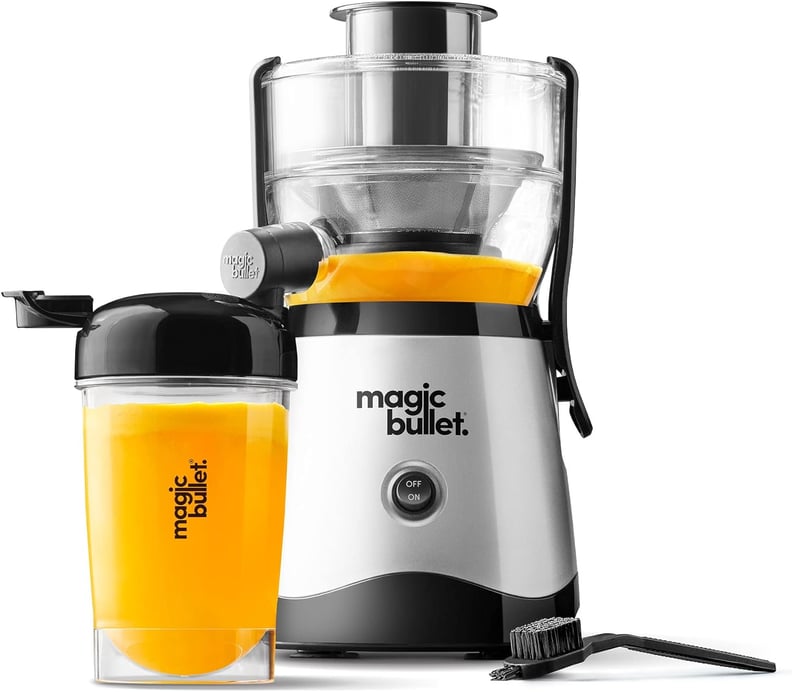 Best Mini Juicer
Magic Bullet Mini Juicer With Cup ($46, originally $60)
You've probably come across the famous infomercial for the Magic Bullet, but have you discovered its mini juicer counterpart? This compact centrifugal juicer is a smart option for solo dwellers seeking a space-efficient juicing solution. It comes with a 16 oz. tumbler that conveniently attaches to the juice spout, allowing you to pour your juice directly into the cup, making it perfect for those on the go.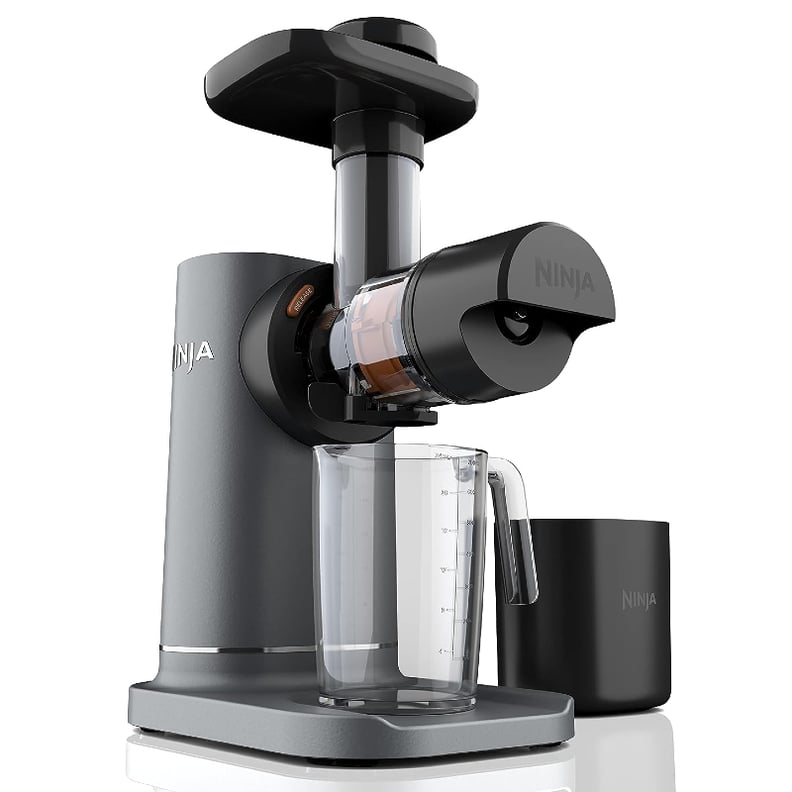 Best Slow Juicer
Ninja JC151 NeverClog Cold Press Juicer ($130)
As mentioned earlier, cold-press juicers operate more slowly than centrifugal juicers and help minimize heat from building up. Reviewers confirm that this juicer is no exception. One person who gave it a five-star rating and described it as a "game changer" wrote: "Veggies don't warm up, and I can adjust how much pulp I prefer," adding that it's "Easy to assemble, easy to clean, easy to use!" Because it has a small chute, you will have to cut up your fruits and veggies before loading them in, but that's a small price to pay for a refreshing glass of juice.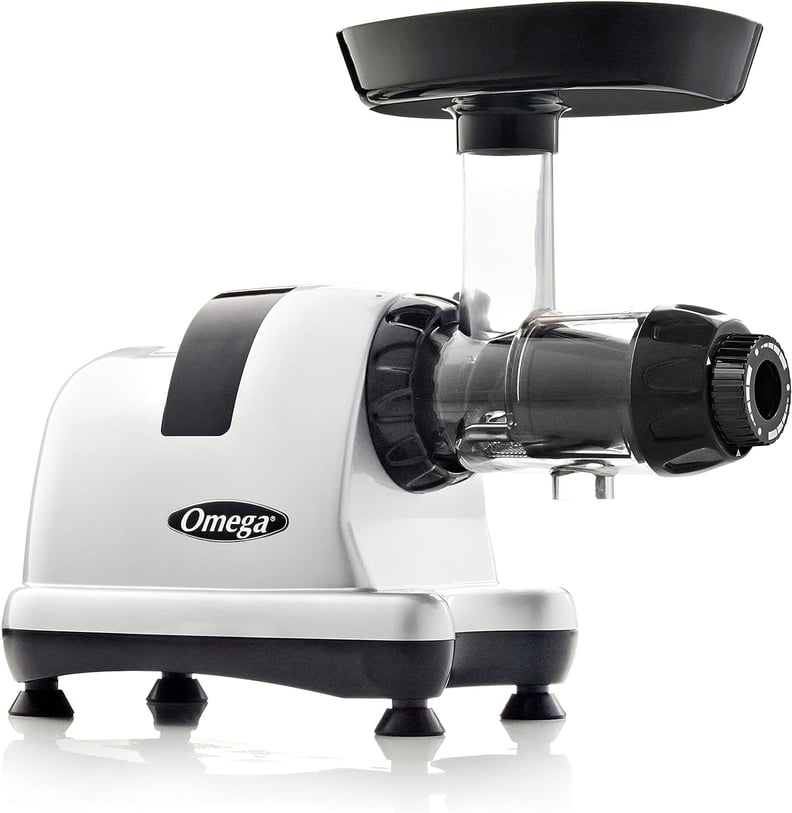 Best Versatile Juicer
Omega J8006HDS Cold Press Juicer ($223, originally $370)
This masticating juicer comes with a higher price tag compared to other options in our roundup, primarily because of its versatility. While it excels at producing cold-pressed juice, its capabilities extend beyond; you can utilize it to transform nuts into creamy nut butter, extrude pasta, grind coffee and spices, and much more. Shoppers praise its quiet operation, user-friendly design, and easy cleaning process.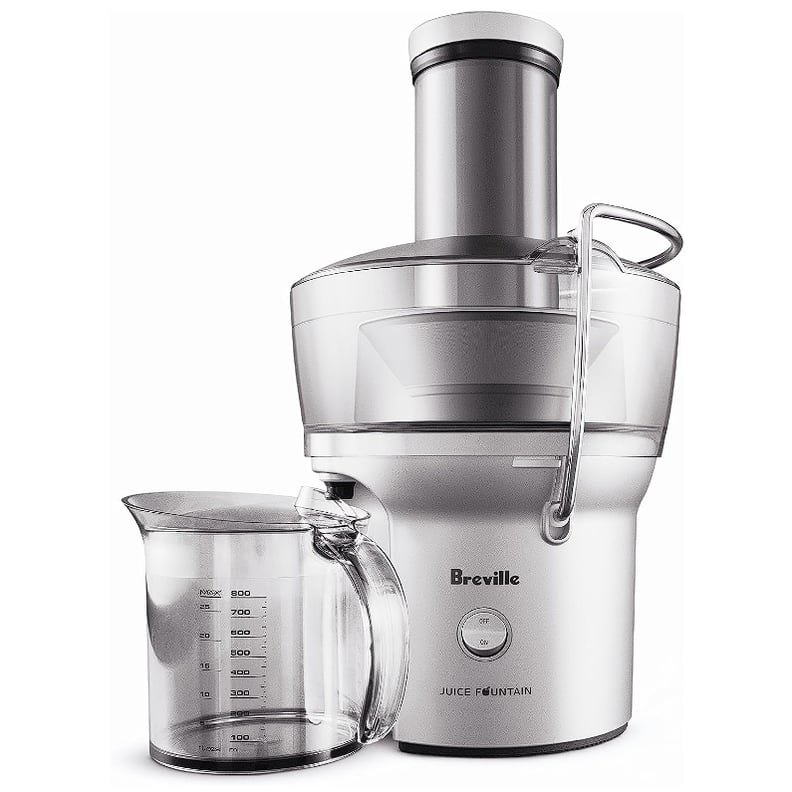 Best Stainless-Steel Juicer
Breville Juice Fountain Compact Juicer ($100)
In the documentary "Fat, Sick and Nearly Dead," Australian filmmaker Joe Cross goes on a journey to lose weight and buys this juicer. Call him one of the original influencers, but many people in the reviews section attest to buying it because of him. It's a centrifugal juicer with an internal pulp bin that conserves counter space, a generously sized three-inch feed chute, and a juice jug with a froth separator for those who dislike foam.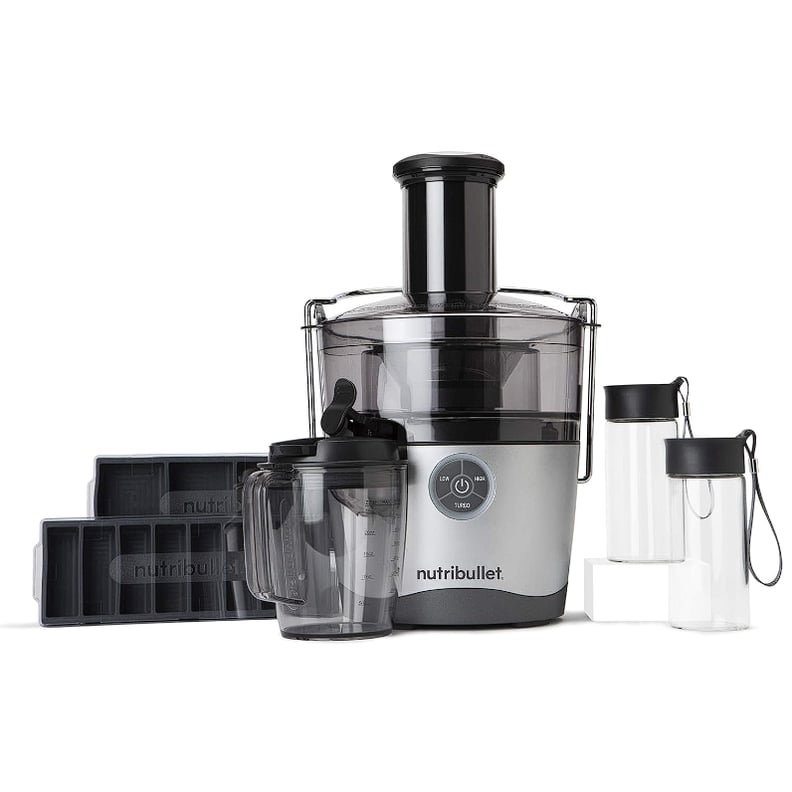 Best Juicer For Food Prep
NutriBullet Juicer Pro Centrifugal Juicer Machine ($127, originally $160)
This slow juicer has not one but two chutes, so you can choose between wide and narrow to fit different-size fruits and vegetables. We also appreciate that it comes with a storage pitcher that you can make ahead and throw in the fridge, freezer trays, and to-go glass bottles to streamline your juice routine. It's one of the most comprehensive juice-making machines we've come across.