As POPSUGAR editors, we independently select and write about stuff we love and think you'll like too. If you buy a product we have recommended, we may receive affiliate commission, which in turn supports our work.
Ah, pickleball. If you're a fan of the mega popular sport like Olivia Culpo and Stephen Colbert, the word "dink shot" or any pickleball paraphernalia can make you smile.
What can take the smile away just as quickly is an injury or bad set made from wearing the wrong shoes. "I've witnessed a significant number of injuries, [and] most of these injuries can be attributed to players underestimating the importance of wearing appropriate court shoes," says Laura Gainor, the founder of Vossberg Gainor, the world's first Pickleball marketing agency.
Not sure if your sneakers make the cut? We've tapped pickleball pros, coaches, and aficionados to get info on what makes a good pickleball shoe. Then we took their recs and sifted through countless reviews to find the best pickleball shoes for every need (including two pairs from the brand worn by pro pickleball player Parris Todd, shown above).
Read on to learn which shoes you should sport on the court, and to find your perfect pair so you can have your strongest, most confident game yet.
What Makes a Good Pickleball Shoe?
Alia Rieker, pickleball leader at Life Time Colorado Springs, says to look for a shoe that supports good lateral, forward, and backward movement; isn't too heavy; and has a tread (the bottom part of the shoe) that can hold up well over time.
What if you're a beginner — can you use a sneaker you already have, like your favorite running shoes? That's a big "no" from Nike Global Trainer and pickleball enthusiast Betina Gozo Shimonek. "The biggest thing NOT to do is wear something like a running shoe, which has a lot of support in the heel to keep you moving forward, but not a ton of support moving side to side."
What about your typical cross trainer? For your first few times on the court, Rieker, who trains a ton of first-timers, says it's OK to wear your favorite cross-training sneakers, as they typically offer more lateral support compared to running sneaks. But she emphasizes to be careful and to eventually invest in a pair of more court-specific shoes for pickleball. "To protect your toes, ankles, knees and hips, you should eventually purchase a good pair of court shoes to support their movement on the pickleball court," the coach explains. As the sport explodes across the US, there are more and more sneakers being marketed as pickleball shoes, but other court sneakers (such as those designed for tennis or even indoor volleyball) are a good choice, too.
Another detail you shouldn't overlook: the toes. You'll want to make sure your toes move around well in the shoe, Rieker says. "Do they have enough room to grip and clinch, but also splay out and stretch?" she adds. "If my pinky toe is getting pinched in, it impacts how my whole foot moves." Rieker recommends going to a store to try on some shoes and test out the sneakers with a few common Pickleball moves, "walk around the store, do some quick stops, jump around — really feel the shoes out and see how happy or sad your feet feel in them."
Not sure where to start? Click through to check out our list of picks.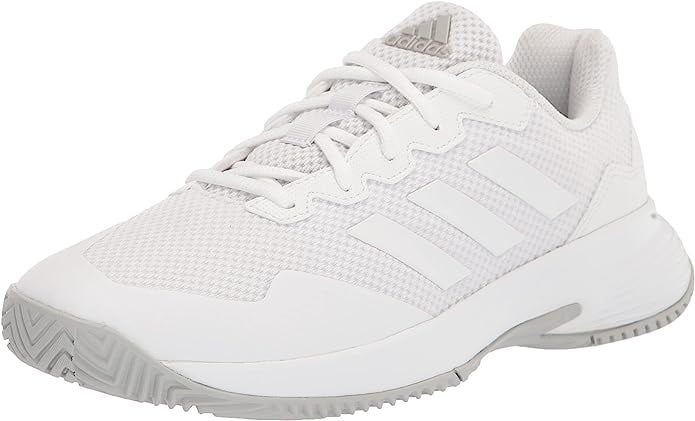 Best Affordable Pickleball Shoe
Adidas Gamecourt 2 Tennis Shoe ($51, originally $70)
New to Pickleball or not ready to $$$ into the hobby? You can still get a great pair of pickleball sneakers that will help you dominate the court. The Adidas Gamecourt 2 Tennis Shoe is beloved by many because they're lightweight and easy to change directions, making it a great pick for the pick-up player.
What reviewers say: They're supportive enough to play on all types of courts. "They feel substantial but not heavy like some other pickleball shoes I tried. I mostly use them indoor, but they are good for outdoor also," says one reviewer.
Why we love it: The fit and function are great but so is the fabric. The upper part of the shoe is made with at least 50 percent recycled content.
What to keep in mind: They tend to run small, so order half a size up. If you're not a fan of room in your toe box, these may be too wide for you or you may want to try thicker socks.
Additional details: Colorways: 8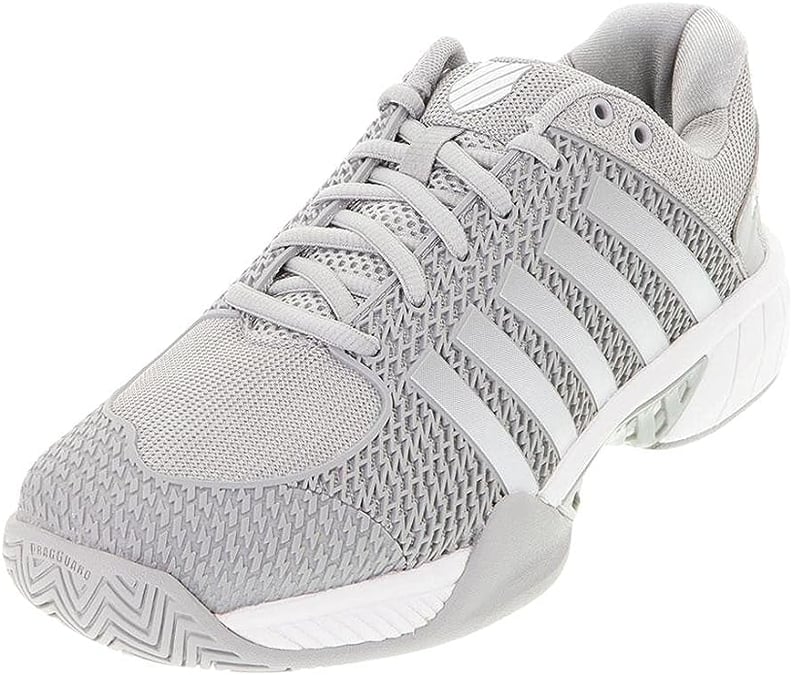 Best Overall Pickleball Shoe
K-Swiss Express Light Pickleball Shoe ($100, originally $105)
ICYMI, K-Swiss was the first sneaker brand to introduce a court shoe specifically designed for pickleball, and they do not disappoint. With more than 1,500 ratings on Amazon, these shoes give are comfortable, lightweight, and supportive. The best part? Our expert says they last. "They stand up well over time and their lateral support is outstanding," Rieker says. That durability is due to the rubber compound on the outsole which provides grip from heel-to-toe.
What reviewers say: These shoes are approved by countless pickleball veterans. Several reviewers that say after they've worn down, they go ahead and buy another pair, because the quality and comfort are unmatched: "This is the 3rd pair of these pickleball sneakers that I've bought. They are great. They have a good selection of colors, but most importantly they fit so well. "
Why we love it: Quality, comfort, price, and multiple colorways? This shoe has it all.
What's worth noting: Shoppers recommend sizing up by half a size to make sure you have room in the toe box.
Additional details: Wide sizes available Colorways: 6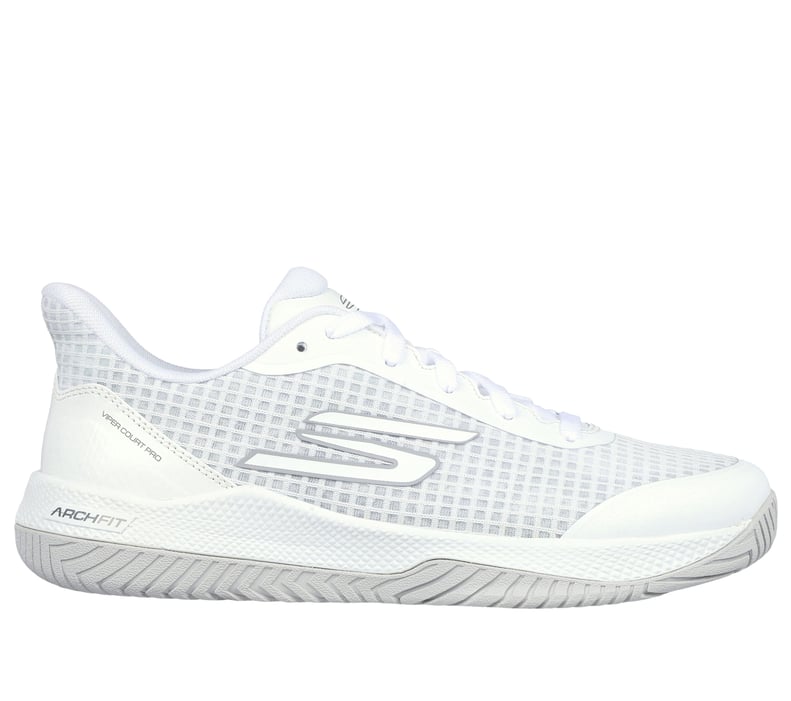 Best Skechers Shoe for Pickleball
Skechers Viper Court Pro ($115)
When you find a brand you like, others just won't do the trick. If you're a Skechers lover, you'll want to opt for the Viper Court Pro, Gainor says. Upon switching to these Skechers she's "experienced a noticeable reduction in knee and leg discomfort" when playing. (This is likely due to the podiatrist-designed insoles.) Another reason this shoe gets top billing is the Goodyear rubber outsoles that offer enhanced traction for both indoor and outdoor court play.
What reviewers say: Consider these the Goldilocks shoe for support. "There is a large amount of support and the sole of the shoe allows the foot to be planted firmly without causing undo stress on the plantar surface," says one pickleball player.
Why we love them: They are machine washable, so whether you're playing indoors or outdoors, you'll be able to clean your sneaks with the press of a button.
What to keep in mind: Some customers have found the shoes to run a little large so consider sizing down.
Additional details: Colorways: 3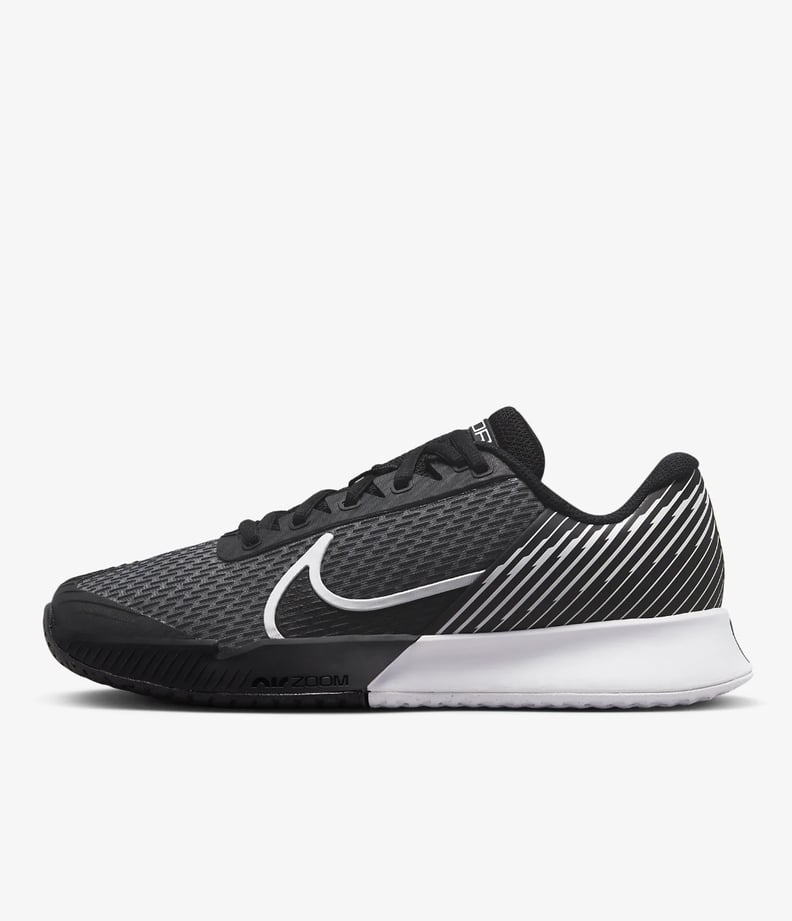 Best Nike Shoe for Pickleball
NikeCourt Air Zoom Vapor Pro 2 ($120)
Nike has a ton of training shoes, but when it comes to Pickleball, which reigns supreme? Nike Global Trainer Gozo Shimonek says the NikeCourt Air Zoom Vapor Pro is her go-to. A featherlight shoe built with a springy midsole, these court-friendly sneaks are the perfect pick to unleash explosive power, she says.
What reviewers say: "Fit is perfect! No breaking in. Love how light the shoes are. Will definitely buy again!" says one happy Nike customer. Another says, "After playing 2-3 hours of pickleball the very first time I had these shoes, it was the first time I had zero leg or ankle fatigue."
Why we love it: The style! These sharp-looking shoes are great on the court and off. We can see them pairing nicely with brunch or errands after a game.
What's worth noting: These shoes are narrow so if you have a wider foot, this the pickleball shoe for you.
Additional details: Colorways: 7


Best Fila Shoe for Pickleball
Fila Volley Zone Sneaker ($110)
Come on, Barbie, let's go . . . pickleball! Whether you're thoroughly into Barbiecore or believe the brighter the shoes, the faster the moves, these sneaks from Fila are sure to satisfy. They're backed by Rieker, who has a similar pair and says the shoe offers great support and comfort.
What reviewers say: Aside from their good looks, reviewers are pleased with the high quality and say they have plenty of arch support. "I love how these shoes look . . . They are very light and since I don't need arch support, I found them to be very comfortable when I play. Moving on the court is not a problem and I am very happy with them."
Why we love them: Between the rave reviews and the bright color, this sneaker is a standout on any court which proves you don't have to sacrifice fun for function.
What to keep in mind: Consider sizing up a half-size as shoppers suggest they run small.
Additional details: Colorways: 6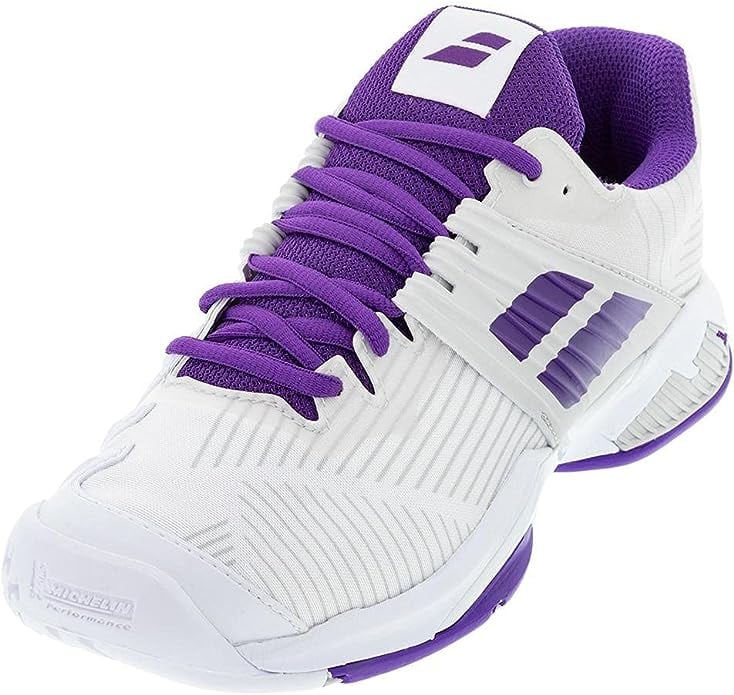 Best Outdoor Pickleball Shoe
Babolat Propulse Fury All Court Tennis Shoes ($75 to $85)
For the athletes who love the outdoors, Rieker recommends Babolat's Propulse Fury All Court for their comfort, great soles, and good support. When playing on a clay court, it's important to get a durable shoe, Rieker says, and this one fits the bill — it's the most durable model the brand offers. They use a dedicated sole for each playing surface, and these have an adapted rubber formulation using Michelin technology.
What reviewers say: Those in the know know about this shoe, says one reviewer: "Brand was highly recommended by other players due to their comfort and durability."
Why we love it: The enveloping lateral strap on the midsole adds extra stability when you're lunging to make a shot.
What's worth noting: Shoppers warn this shoe can run narrow, so size up a half or whole size.
Additional details: Colorways: 2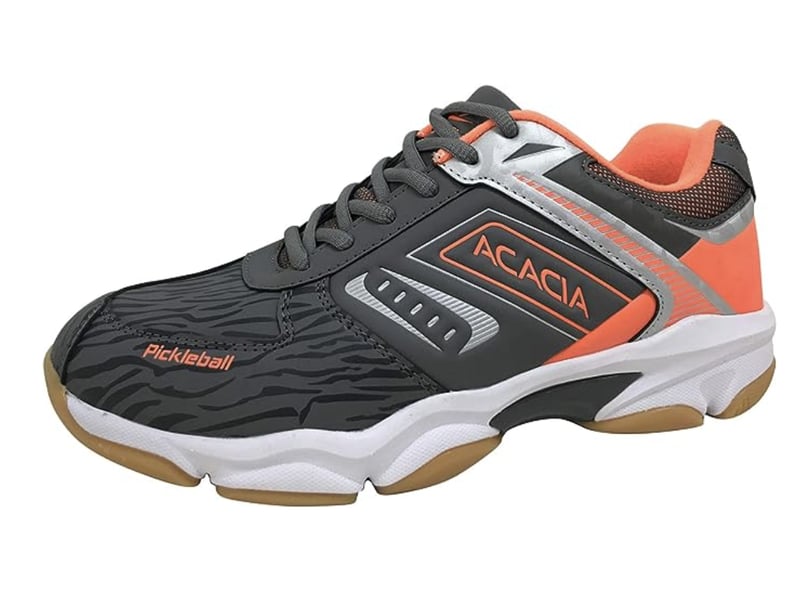 Best Shoe for Indoor Pickleball
Acaia Adult Pickleball Shoes ($52, originally $100)
"If you are playing pickleball on an indoor basketball court type surface or a very smooth concrete surface, you will want to get a court shoe with a gum rubber sole," Rieker says. Our pick: These Acaia Unisex Adult Pickleball shoes with gum rubber outsoles. "Gum rubber soles offer significantly more grip than regular court shoes and you will value that grip when you're playing on a smooth indoor surface," Rieker adds. In addition to a solid bottom, these shoes have a strong build with engineered ankle support to prevent spills.
What reviewers say: "These shoes are just right. Sturdy. I don't feel like I'm going to slip or twist my ankle," says a beginner player.
Why we love it: The brand caters to pickleball players, so you know the shoe is made to support all your on-court movements.
What to keep in mind: Since it's a unisex shoe, double check the size chart to ensure you get the right fit.
Additional details: Colorways: 3
Best Pickleball Shoe for Bad Knees
Asics Gel Rocket 11 ($65, originally $75)
Need to make sure your knees love your shoes just as much as you do? Go for the Asics Gel Rocket 11, an indoor pickleball shoe. The great absorption in the sole protects your knees and the structure of the shoe protects your ankles, Rieker says. And if you're worried about falling, these shoes have got you covered — literally. The soles are designed to resist over-twisting and improve stability during quick transitions thus saving your ankles.
What reviewers say: Another plus? They're incredibly plush and light. One reviewer says: "Love this because I could 'feel' the ground yet also 'feel' the support."
Why we love it: We trust Asics for supportive running shoes, so we sure as heck trust them for supportive pickleball shoes, too. The affordable price matched with the thoughtful construction makes these a sure win.
What's worth noting: These shoes are designed for indoor court wear, so take note if you typically play outside. Some customers said they run small, while others didn't have an issue with sizing.
Additional details: Colorways: 5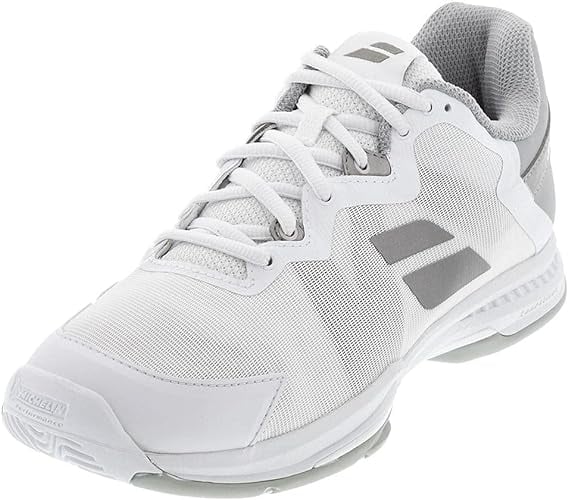 Best Pickleball Shoes for Wide Feet
Babolat SFX3 All Court Tennis Shoes ($79)
Whether you were born with wide feet or have grown a bunion or two, pickleballers say Babolat SFX3 All Court Tennis Shoes are the answer. The wide toe box is a godsend for some who've struggled to find the perfect pair that fits their feet.
What reviewers say: You won't have to worry about tight shoes slowing you down, says this happy customer: "These are my top favorites for my wide arched feet with bunions. Played hours of pickleball in them - brand new, first day - they were simply perfect."
Why we love them: These are such a fan favorite, buyers keep coming back calling them the perfect pickleball shoe. "I have 3 pair of these now and rotate them; they are perfect court shoes. Fit is exact," says one regular.
What to keep in mind: Some found the shoe bigger than expected so you may want to consider sizing down if you're in between sizes.
Additional details: Colorways: 4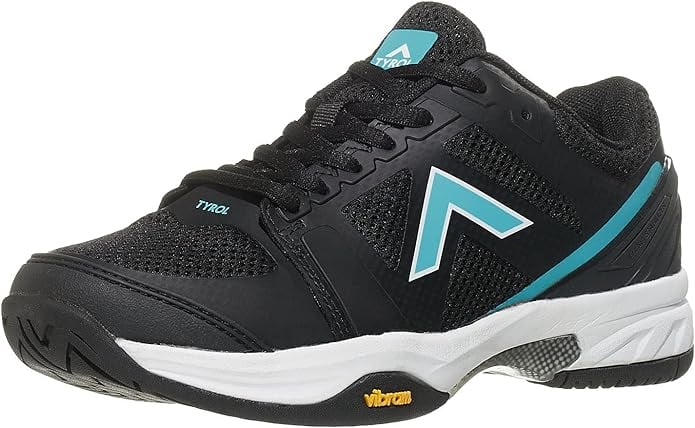 Best Luxe Pickleball Shoe
Tyrol Striker-V Pro Series Pickleball Shoe ($150)
Chances are, if you have your own pickleball paddle and setup, you're ready to invest in the best shoes — and that definitely comes from a brand made for the sport. As Rieker puts it, "Tyrol is not just a court shoe, but a pickleball shoe exclusively." The outsole and midsole are designed to offer stability to specific movements in pickleball, such as fast moves left, right, forward, and back. Similarly, the toe guard at the front is provided to help prevent ankle rollover from quick stoppages.
What reviewers say: Not only is the shoe sturdy and good for wide feet, but it's also breathable. "LOVE LOVE LOVE the wide and deep toe box! Three hours of play in Sacramento CA summer temps and still no overheating of my feet," says one Pickleball athlete.
Why we love them: Unlike most of the other shoes on here which can double for volleyball or tennis, these are *solely* made for pickleball.
What to keep in mind: Aside from the price, some customers say the long laces are a pain point.

Additional details: Colorways: 5