Britney Spears-Inspired Ab Workout by Patrick McGrath
This 30-Minute Core Workout Was Inspired by Britney Spears's Iconic Abs at the 2001 MTV VMAs
Britney Spears's iconic 2001 MTV VMAs performance of "I'm a Slave For You" was thrust back into the spotlight this week with news that Doc Antle — the ponytailed cat guy from Netflix's Tiger King documentary — was actually a part of Brit's show. And as the fuzzy action photos of Doc and his tiger went viral, not only did the internet go crazy over the surprise cameo, but we were also reminded just how epic Britney's performance was, from the jewel-toned costume (complete with anaconda) to her abdominal muscles that were so chiseled, they almost defied logic.
New York City-based certified personal trainer Patrick McGrath was so inspired by seeing the performance again that he immediately went to work creating a 30-minute core workout on IGTV to help his followers sculpt their abdominals, Britney style. "I was in middle school when she performed 'Im a Slave For You' at the VMAs, and I just remember being so mesmerized by not only the production and the costume, but also by the fact that her body looked so tanned and toned. To me, that Britney moment has always been the epitome of strength and beauty and confidence — she just exudes confidence!" Both Lagree and NASM certified, Patrick is no stranger to working with performers, either. For years, he's trained Ellie Goulding when the singer travels in the United States. "For this Britney-inspired workout, I tried to put myself in her trainer's shoes at the time," he told POPSUGAR.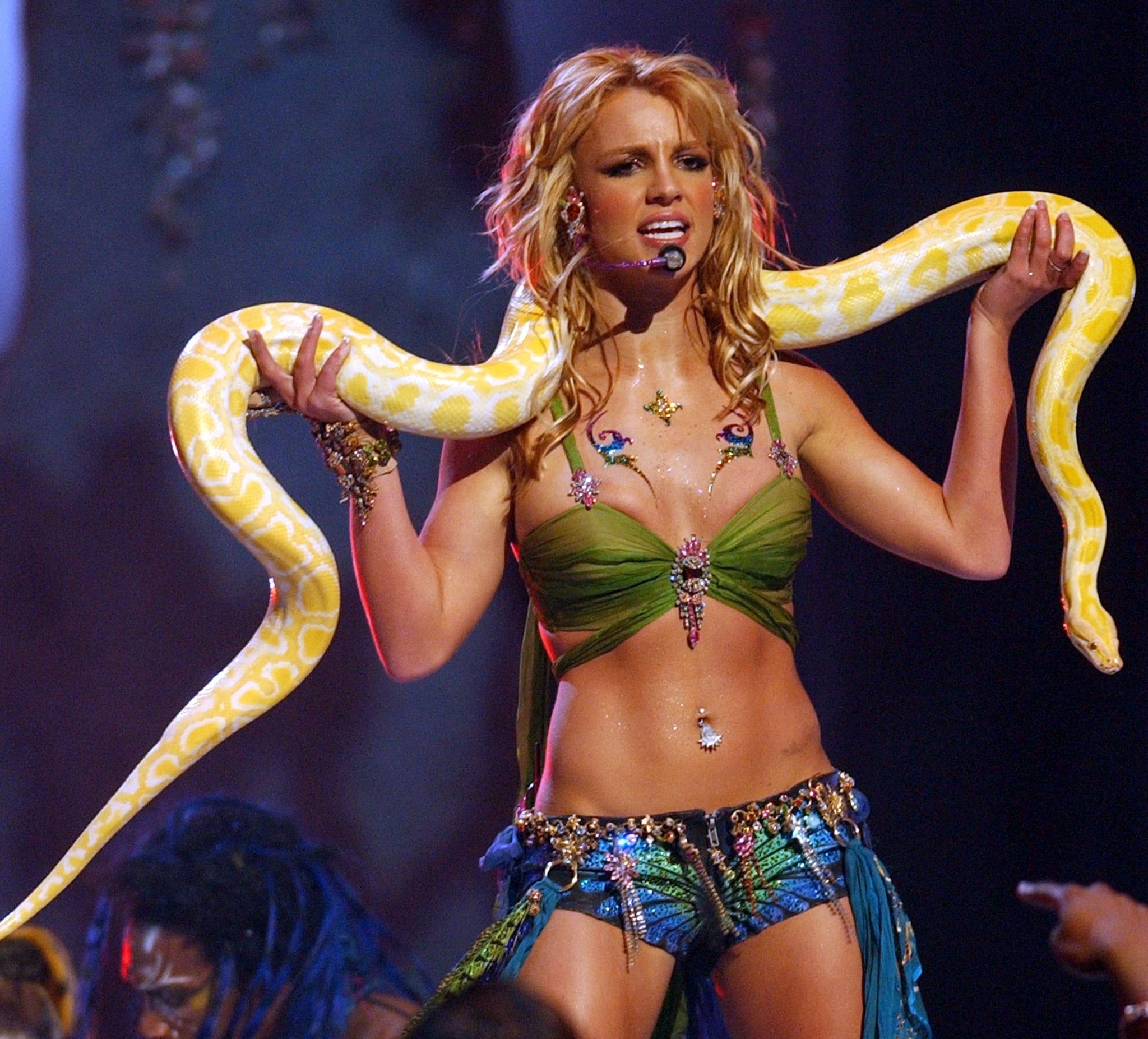 Image Source: Getty / Kevin Mazur
The workout is broken up into four parts: "I set it up so that we start the warmup by focusing on the transverse abdominals. We do a dead bug, a hollow body hold, all those really classic Pilates exercises that help cinch up your waistline and flatten out the front of your stomach," he said.
Next, he moves onto the obliques. "Obviously, the lines of her obliques are so well-defined here, so this ab series includes a lot of unilateral work, which basically means working one side at a time," he said. "We spend five minutes working the right oblique — doing isometric holds, lateral flexion, and rotation — and then transition to the other side, where we work the left oblique for five minutes. These moves are going to get a lot of definition of those lines and help create that 'V' shape."
"I also targeted the center core by including bottom-up crunches and worked the lower abdominal wall with top-down crunches, which is your standard forward crunch," he added. "Then, I finish off the workout with a core Tabata to get a little sweat going and create a little spike in the heart rate as well."
A preview of the workout can be found above, but head over to McGrath's Instagram account to find the full 30-minute Britney-inspired ab workout in the "Live" portion of his profile. And when you're done, check out all of his at-home, equipment-free workouts, ranging from a quick 20-minute ab session to a 50-minute Megaformer class, minus the Megaformer, that is.