Remember the name Caeleb Dressel. The 13-time World gold medalist stole the show at the 2021 US Olympic Swimming Trials, successfully securing a spot on USA Swimming's Olympic roster and a diving block in the 100-meter butterfly, 100-meter freestyle, 50-meter freestyle, and up to four team relays. And, should he compete and medal in all seven events — which is likely given his impressive career records and times — he'll be only the fourth American swimmer to do so in a single Olympics, joining the ranks of swimming greats Michael Phelps, Mark Spitz, and Matt Biondi.
A former swimmer from the University of Florida, which has produced a number of Olympic swimmers, including Ryan Lochte and Elizabeth Beisel, Dressel first began turning heads at the 2016 Rio Olympics, where he won two gold medals in the 4x100-meter free and 4x100-meter medley relays. However, it's his accomplishments since then that really put him on the map. In 2019, Dressel became the new world-record holder for the 100-meter butterfly, out-swimming Phelps's previous record by 0.32 seconds.
Dressel could have the biggest Olympics of his career in Tokyo, and it's only just getting started. Here are five facts you should know about this now two-time Olympian.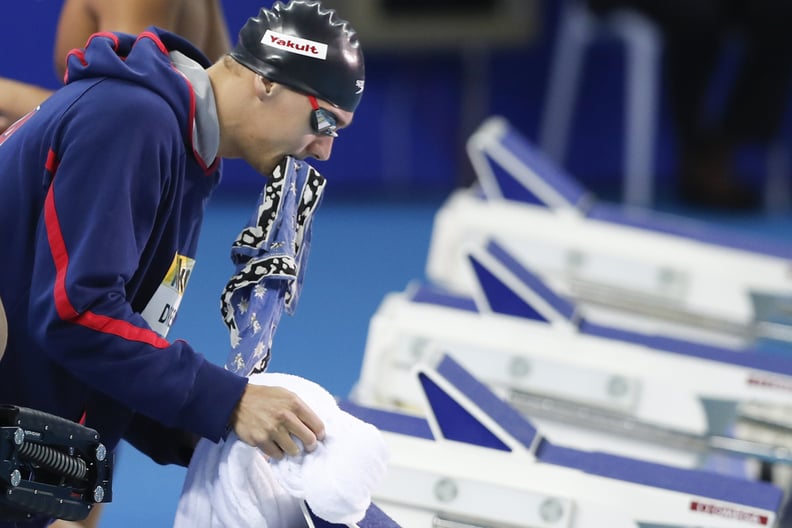 He Keeps a Bandana in His Swim Bag in Honor of His Late Teacher
Although Dressel prefers to keep this part of his life private, he did share with the Associated Press that at swim meets, he always carries a blue-and-black, cow-patterned bandana, which previously belonged to his high school math teacher, Claire McCool, who died from breast cancer in 2017. "It's just something special that I get to hold on to that represents her, something physical," he explained. McCool was a longtime supporter and confidant of Dressel's. Her bandana was gifted to Dressel by her husband after her death. "She's with me every race, and she will be until I finish my career," Dressel told Swimming World in 2018.
His Sleeved Tattoo Is Florida-Themed
Dressel's collection of tattoos has grown since the last time we saw him compete at the 2016 Rio Olympics. At the time, the sprinter only had a tattoo of a bald eagle on his upper left arm, but heading into Tokyo, he's sporting a full Florida-themed sleeve on his left arm, as well as the Olympic rings on his inner right forearm. The sleeve includes oranges, orange blossoms, magnolia flowers, and the Florida Gator, in honor of his alma mater, Dressel explained at the grand opening of the Hall of Fame Aquatic Complex in Florida in 2019. As of now, Dressel says he won't be getting inked again anytime soon: "I don't think I'm going to touch the other [arm]. I've got my whole body, but I think I'm done for a while."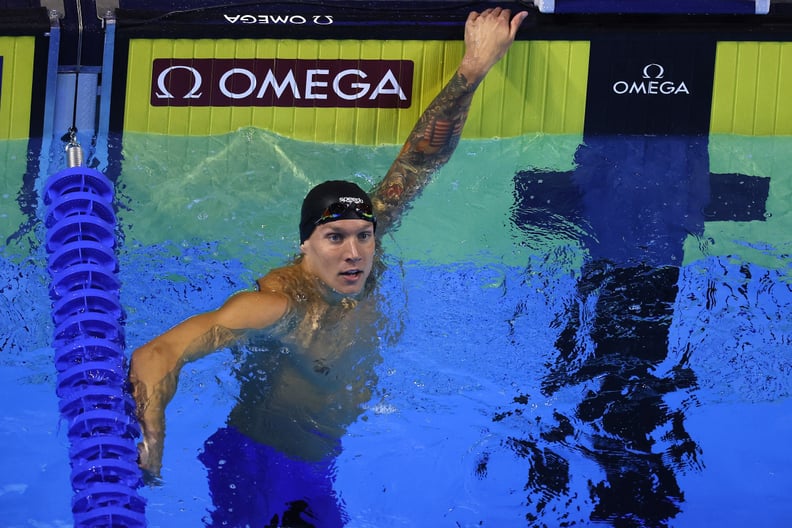 He Keeps 3 Different Journals
A big fan of journaling and self-reflection, Dressel keeps three journals, two of which he's maintained for nearly a decade. "I've been keeping practice logs since high school for statistical stuff and technique stuff," Dressel said in an interview with FINA Aquatics World Magazine. He explained that the practice log includes daily entries that go into explicit detail of every swim practice (what strokes he swam, short or long course, pace times, etc.), as well as how he felt during practice. Dressel also keeps a nightly journal, where he chronicles his day from start to finish. "It's for any anxious thoughts I've had, what I did that day, who I did it with, if I had a good time," he said. "No one gets to read the journal except me."
Dressel has one rule about his journals: "When I close the pages, the problems – good or bad – are over, I learn from it, and move on," he said. The last journal is filled with inspirational quotes Dressel has heard or read from books, movies, and billboards. Like the practice log, he's been jotting down notes in this book since high school, too.
He and His Wife Met Through Their Swim Club in High School
A love story that could only be written by the swimming gods, Dressel met his now wife, Meghan, as teenagers when they were both training with the Bolles School Sharks swim club in Jacksonville, FL. Meghan continued to swim at Florida State, while Dressel committed to swim at the University of Florida. Eight years later, in February 2021, the couple tied the knot.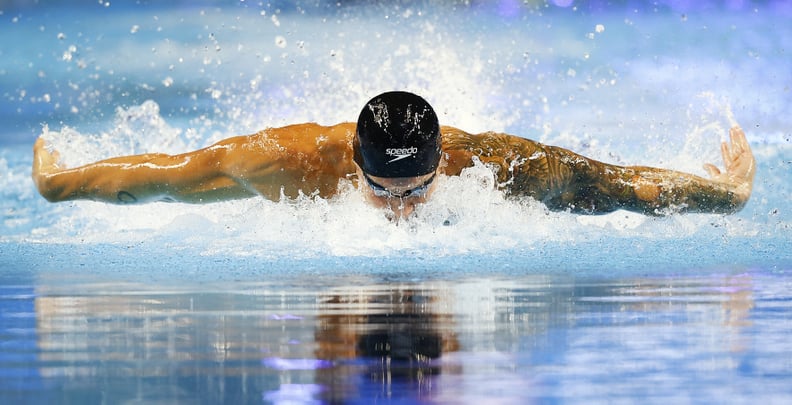 He's a SPIRE Institute and Academy Swim Ambassador