Cara Delevingne Talks Alcohol Addiction, Sobriety in Vogue
Cara Delevingne Opens Up About Misusing Alcohol at 7 Years Old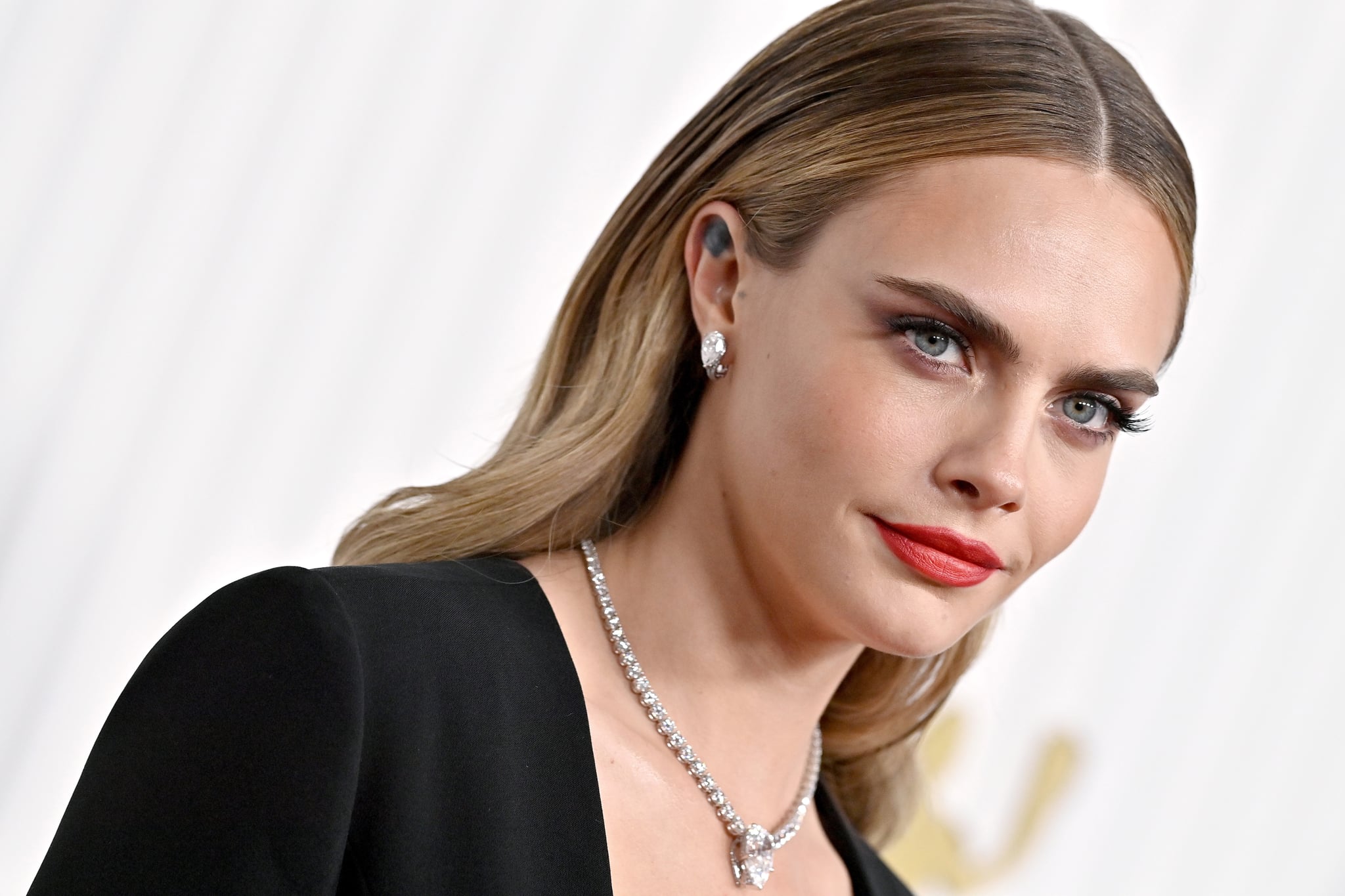 Image Source: Getty / Axelle / Bauer-Griffin / FilmMagic
Four months into her sobriety journey, Cara Delevingne is getting candid about recovering from alcohol addiction. In an interview for Vogue's April cover, the supermodel detailed her history with alcohol and substance misuse, the "reality check" moment that forced her to get sober, and her path to healing. When paparazzi photos of Delevingne behaving erratically circulated the internet in September 2022 after her 30th birthday, she ultimately decided to seek help, committing to a 12-step program and checking herself into rehab late last year.
Delevingne's alcohol misuse started when she was just 7 years old; she described the experience of "nailing glasses of champagne" at a family wedding and waking up hungover. Around 10 years old was "the beginning of mental health issues and inadvertent self-harm," as she took prescribed sleeping pills to manage her insomnia and also dealt with dyspraxia, a neurological disorder that impacts movement and coordination. After suffering a breakdown at age 15, she was eventually put on antidepressants that she said "saved her life."
"I decided I was going to party as hard as I could because this was the end."
Though she continued to deal with periods of depression in the years following, COVID lockdown brought her to a particularly low point and a "complete existential crisis." "All my sense of belonging, all my validation — my identity, everything — was so wrapped up in work," she told Vogue. "And when that was gone, I felt like I had no purpose . . . Instead of taking the time to really learn something new or do something new, I got very wrapped up in misery, wallowing, and partying." In the midst of that difficult time, she received news in April 2022 that her grandmother had passed away.
Grieving her grandmother's death, she ignored her extreme exhaustion and psoriasis flare-ups, continuing to party in the summer of 2022. "There was this need for change, but I was fighting it so much," she said. "I was welcoming in this new time but I was also grieving. It was like a funeral for my previous life, a goodbye to an era. And so I decided I was going to party as hard as I could because this was the end."
During one trip to Burning Man that summer, the "Only Murders in the Building" actor admitted she misused drugs and put herself in danger because she "[didn't] care about [her] life." "I would climb anything and jump off stuff . . . it felt feral. It's a scary thing to the people around you who love you."
Ultimately, the viral paparazzi photos gave Delevingne the "wake-up call" she's now grateful for. Though she'd had interventions in the past, she hadn't been ready to get sober previously. "Before I was always into the quick fix of healing, going to a weeklong retreat or to a course for trauma, say, and that helped for a minute, but it didn't ever really get to the nitty-gritty, the deeper stuff," she said.
But now, with her commitment to her 12-step program, weekly therapy sessions, and small changes to her daily routine that include meditation, movement, and eating three meals a day, she's learned the importance of consistently working on herself. "People want my story to be this after-school special where I just say, 'Oh look, I was an addict, and now I'm sober and that's it,'" she said. "And it's not as simple as that. It doesn't happen overnight . . . Of course I want things to be instant — I think this generation especially, we want things to happen quickly — but I've had to dig deeper."
Hear more about her journey in the Vogue interview below.
If you or someone you know is struggling with an alcohol use disorder, the Substance Abuse and Mental Health Services (SAMHSA) has resources available including a national 24/7 helpline at 1-800-662-HELP (4357). You can also send your zip code via text to 435748 (HELP4U) for treatment referral and information services.