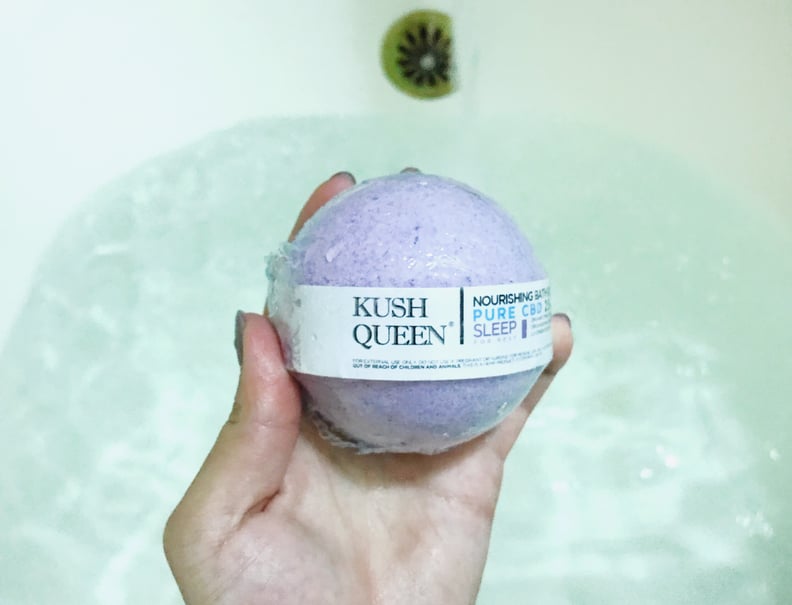 POPSUGAR Photography | Nicole Yi
POPSUGAR Photography | Nicole Yi
As POPSUGAR editors, we independently select and write about stuff we love and think you'll like too. If you buy a product we have recommended, we may receive affiliate commission, which in turn supports our work.
If you're looking for ways to spice up your bedtime routine, I highly recommend adding Kush Queen's Sleep CBD Bath Bomb ($10). The nourishing bath bomb is pure CBD (25 mg) and contains zero percent THC, so you won't have to worry about getting high in the tub (although it's also available in 1:1 THC to CBD). I recently tried it out before bed myself, and now I wish I had one for every night.
My shoulder muscles often tense up from sitting at a desk all day, but I felt them relax almost immediately into soaking. I'm admittedly a skeptic when it comes to most CBD products because they personally don't do much for me. Keep in mind, I do smoke weed regularly, so maybe the results from CBD just aren't noticeable enough to me. So even when I did experience muscle relaxation, I gave my bath a little more credit than the bomb itself. Its nourishing ingredients — which include a blend of organic citrus reticulata, origanum majorana, and lavender essential oils — made it enjoyable nonetheless. But I didn't notice its effects until I got out of the water 30 minutes later.
Not only did the bath bomb leave my skin soft and moisturized (not an easy feat when it comes to my dry Winter skin), but it made me sleepy as f*ck. It was to the point that I had to think about whether I had smoked at any point between drying off and getting dressed. I wasn't glued to my couch like smoking an indica blend would normally make me, but I was pleasantly drowsy and relaxed while watching a movie. I did smoke a small amount after, so I can't attribute my good night's sleep entirely to this product, but I definitely think it's safe to say that I would've woken up well-rested by using it alone.
The best part is that the infused bath bomb has no artificial dyes or preservatives, so it's completely safe for absorption and your tub will rinse clean. I'm excited to try out the rest of Kush Queen's bath products if Sleep was any indication of their effectiveness.
Any cannabis products referenced above are not intended to diagnose, treat, cure, or prevent any disease. The writer is not a medical doctor, and their experience is based on personal use, the results of which may not be typical or intended. The legality of cannabis products varies by state, and readers are encouraged to check their local laws before purchasing and using cannabis products. Nothing in this article should be construed as advice regarding the legal status of cannabis products. Any views expressed in this article by a third-party sponsor are those of such sponsor, and do not necessarily represent the views of POPSUGAR.