Chris Hemsworth's Mini "Meditations" Are Both Soothing and Utterly Hilarious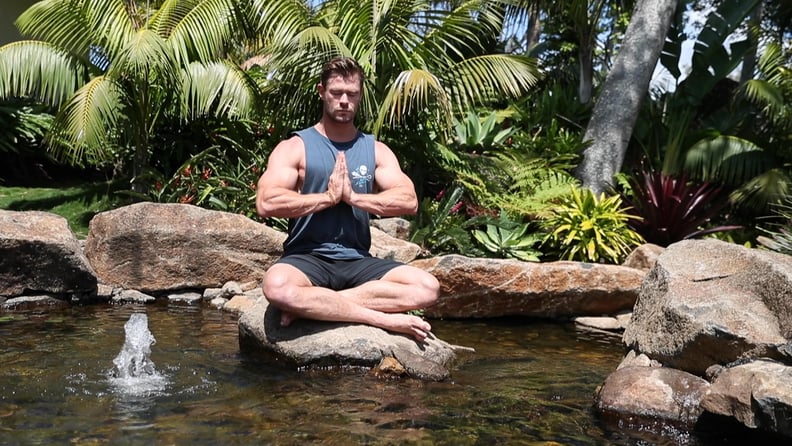 Centr
Centr
Allow us to make your day by introducing Chris Hemsworth's latest gift to humanity: "Affirmations That Positively, Absolutely, Probably (Most Likely) Won't Make Your 2020 Worse." This mini-series of mini-meditations combines Chris Hemsworth's charming, soothing voice, his dry sense of humor, and the relatable problems so many of us have when we try meditation, especially with all the thoughts and distractions of the current moment.
Each "affirmation" is basically a hilarious, one-minute-long meditation, with lines like "Allow my soothing baritones to wash over you," titles like "Inhale possibility, not bugs," and settings that include the bottom of a pool, where Hemsworth is holding his breath through the meditation (so relaxing!) while his son cheerfully kicks across the screen. The affirmations are here to promote Hemsworth's health and fitness app, Centr, which has actual meditations on it. And even though we know these clips are a bit tongue-in-cheek, are we alone in thinking they're still pretty soothing? Or is that just a side-effect of looking at Chris Hemsworth and listening to his voice for five lovely minutes? Look, at this point in this year, we'll take it. Settle back and enjoy all five mini affirmations ahead.
01
"Balancing It All. Sort Of."
"Feel like you're balancing it all these days? You're not alone. But if I've learned anything over the years, it's that standing on one leg in water really helps."
02
"Breathe. Or Don't."
Breathing is highly-recommended, except when you're meditating at the bottom of a pool.
03
"Rolling With the New Normal."
Let the possibilities wash over you until you're literally pushed off your rock into the ocean. "Hang on little starfish, hang on!"
04
"Become One With the Chaos."
"Nothing can penetrate your mind. Not that buzzing. Not those kids yelling. Those are mine aren't they? Sorry."
05
"Inhale Possibility, Not Bugs."
"Find a comfortable place to sit: your yard, a park, some strange pink flowers."