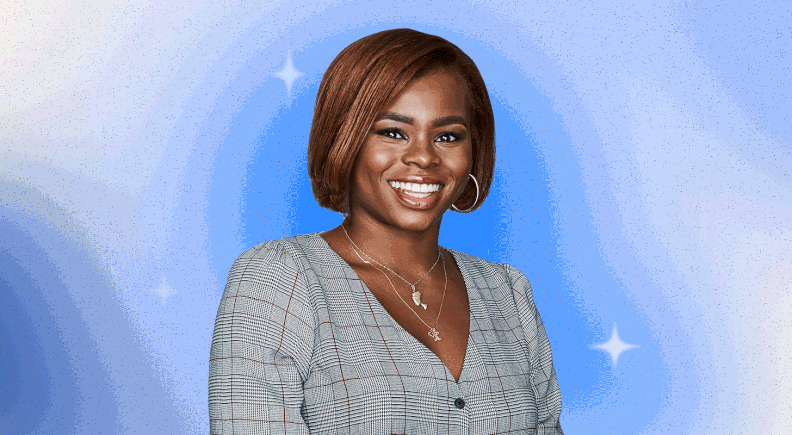 As POPSUGAR editors, we independently select and write about stuff we love and think you'll like too. If you buy a product we have recommended, we may receive affiliate commission, which in turn supports our work.
POPSUGAR's How Does She Sleep at Night takes a peek under the covers of admirable women's wind-down routines to reveal their nightstand staples, sleep schedules, and dream lives.
You might recognize CNN reporter Jasmine Wright from the network's documentary On the Trail: Inside the 2020 Primaries, which followed several women on the cable network's staff as they tirelessly (and sometimes tiredly) covered the 2020 presidential race as embeds with the candidates. If you watched, you'll know that sleep is a precious commodity for anyone doing Wright's job: you're bopping around the country, finally getting back to your hotel late at night, then starting the whole cycle again, typically at the crack of dawn. Becoming something of a sleep strategist comes with the territory. "My sleep philosophy is get it in wherever you can," the 29-year-old told POPSUGAR. "I'm an expert napper. I could fall asleep anywhere."
In early March 2020, Wright wrapped up a stint on the road and headed home to Chicago to spend what she thought would be a quick break with her family . . . just a week or so before the COVID-19 lockdown went into effect. At the same time her day-to-day life settled into more stability as she spent the next several months hunkered down at her family home, the pandemic destabilized, well, everything else. "Once I managed to cope with my anxiety [around] what was going on," she admitted, "I was never more excited to get enough sleep." Now that she's back in DC, Wright is fully immersed again in that unpredictable, always-on news cycle — and back to early-morning spots on television most days. But while sleep may be hard to come by, getting a decent night of shut-eye is nonnegotiable for Wright, especially when she has to be on TV the next morning: "I've noticed if I didn't get enough sleep at night, my thoughts don't flow as easily."
Early to Bed, (Extremely) Early to Rise
These days, Jasmine regularly pops out of bed as early as 3 or 4 a.m. for morning hits on CNN. That means going to bed at a time more familiar to most toddlers than to her fellow adults. "I'll get into bed at 7 or 7:30 at the latest. It requires a pretty intense routine," she admitted. While she likes to talk to her roommates or call her mom on the phone at the end of the day, she tries to nix screen time while she preps for bed. "About an hour before I go to sleep, I really try to disengage from my phone so I can start to shut my brain down. And it's difficult, because I'm trying to do that around 6:30 p.m."
Moisturize, Hydrate, Repeat
Wright is a devotee of her nighttime skin and hair routine, applying eye cream as well as face and body lotion, and moisturizing her hair before putting on her bonnet for bed. "Right now, I'm obsessed with CeraVe [Skin Renewing] Night Cream ($19). It's so thick and simple and soothing." For body, her go-to moisturizer is the ultrarich Hanahana Beauty Amber Vanilla Shea Body Butter ($30). She also indulges in another evening ritual she picked up from her CNN colleague Abby Phillip, who's no stranger to early call times herself: sipping on a mug of Well Rested Herbal Tea from Trader Joe's ($7) as she winds down.
On Her Nightstand
Wright tries to absorb at least one chapter of a book she's reading just for fun before she hits the lights, and likes to alternate between two books at once: one more serious read and something a little lighter. Right now, she's diving into Isabel Wilkerson's Caste: The Origins of Our Discontents ($29) and Philip Pullman's His Dark Materials series: "I just love the way he puts words on paper." And as a self-described "candle enthusiast" who recently celebrated a birthday, she estimated she has at least a half-dozen gifted candles vying for space on her nightstand right now. "I love anything amber, vanilla, musky," she said of her laid-back scent preferences.
Perfecting the Chill-Out Playlist
Wright isn't big on meditation, so she turns to music to help relax her mind. She often had to lull herself to sleep for brief pockets of time on airplanes while she was covering the campaigns, and heavily favors soft R&B for helping her do just that. "I have a fantastic sleep playlist I made at the beginning of the campaign trail," she said. "There's Jon B. from the '90s, Beyoncé's 'Rocket,' Local Natives . . . and Drake is all throughout it."
What Keeps Her Up at Night
While Wright said she tends to be a solid sleeper, if anything regularly prevents her from shut-eye, it's the sheer volume and opportunity her work as a reporter presents: "I think what keeps me up at night is the amount of things that we as journalists have to cram into one day." And if you're wondering, she hasn't been immune to the kind of pandemic nightmares many of us have experienced lately. "I [recently] had a dream I was on a plane and I didn't have a mask on," she laughed. "It caused me intense anxiety."