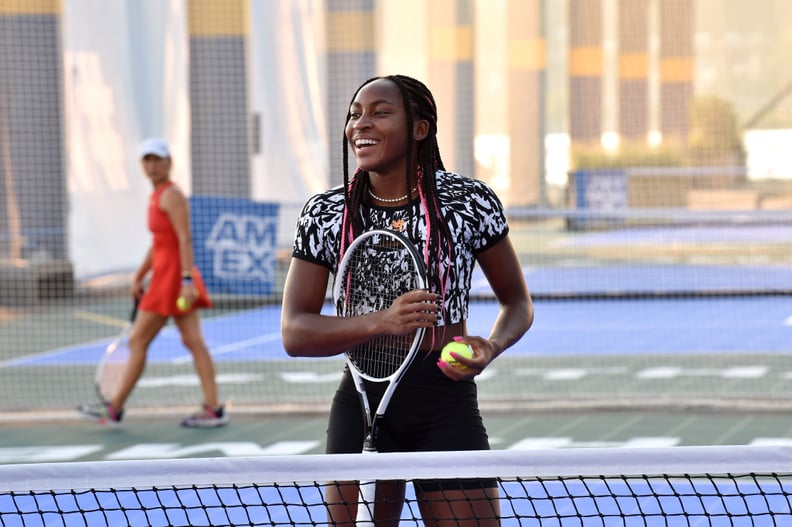 Bryan Bedder | Getty Images for American Express
Bryan Bedder | Getty Images for American Express
Cori "Coco" Gauff is no stranger to major tournaments. The 17-year-old professional tennis player, who is currently ranked #22 in the world per the Women's Tennis Association (WTA), started her career as a junior player and finished as runner-up in the junior 2017 US Open at just age 13. By age 15, she was hitting the pro circuit and won her first WTA title at the 2019 Linz Open. Since then, she's competed all over the world on the WTA Tour, and even beat legendary player Venus Williams in the opening round of Wimbledon in 2019.
But for Gauff, there's something special about the US Open in New York, especially this year. "Now that fans are back, I'm just happy to play in front of a crowd and not an empty stadium," she told POPSUGAR on Aug. 24 at the opening of the American Express Courts on Pier 76 in New York City. Last year, the US Open took place, but there were no spectators in the stadium per COVID restrictions. Fans have returned this year, and they had to prove their vaccination status to attend.
"I feel like New Yorkers bring out the most emotions on the court and in the stands," she added. "They all sometimes think they're out there too, which is nice . . . And, definitely, the night sessions are like no other tournaments."
"I feel like New Yorkers bring out the most emotions on the court and in the stands."
To make sure she's always match-ready, Gauff's training is a mix of full-body strength work in addition to practicing tennis. Her favorite ab exercise is the dead bug, but says planks are good for working your whole body, even though she admitted she hates doing them. Gauff said training during tour is mostly for maintenance — especially for her upper body, which gets worked so much on the court. Then off-season is where athletes try and work on strength gains.
While Gauff already has a big tennis career, she is still a 17-year-old. When she's not playing tennis or training, Gauff goes to her brothers' sports games, watches Netflix, and reads. She just finished The Young Elites by Marie Lu and said she "really loved it." She's planning on reading the next book in the series (The Rose Society), but her favorite book of all time is The Alchemist by Paulo Coelho.
Gauff also has a pump-up playlist that she calls her "hype" playlist that she only listens to before she plays tennis ("I don't really listen to much rap off court"), which includes Cardi B, Lil Baby, Jaden, Latto, and more rappers. Whether or not Gauff plays her hype playlist tonight in her second-round match against Sloane Stephens at the US Open, we can't wait to watch.