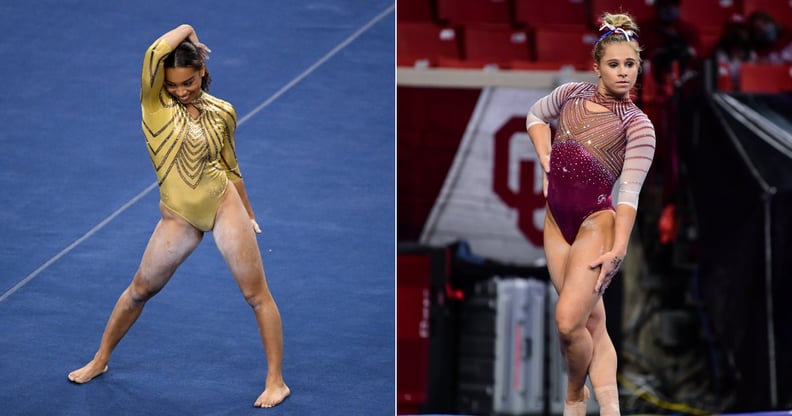 Getty | MediaNews Group / Pasadena Star-News
Joshua Gateley | OU Athletics
Getty | MediaNews Group / Pasadena Star-News
Joshua Gateley | OU Athletics
Collegiate floor routines are a treat to watch. Aside from the impressive tumbling, leaps, and jumps, the performances — the right performances — are full of expression, fierceness, and grace all the same. They are even more exciting when they're set to hit songs we know and love. It's kind of like being awe-stricken by an incredible athlete only to realize that they listen to the same tunes we do: it brings some familiarity and fun to the wow factor that is gymnastics.
As a former gymnast who did not have much variety when it came to picking my own floor music, I'm a huge fan of using popular songs on the collegiate level. Ahead, check out a handful of routines from the 2021 NCAA gymnastics season so far featuring hits you've most likely heard and sang along to (maybe in your car with the windows down!). There are major throwbacks (think: Prince and boy bands) and a classical version of Ariana Grande's "7 Rings."
Margzetta Frazier's Janet Jackson 2021 Floor Routine For UCLA
UCLA junior Margzetta Frazier went viral for this Janet Jackson floor routine — so much so that Jackson herself surprised Frazier on FaceTime. Songs featured include "Nasty" and "If," and Frazier even does some of the singer's iconic choreography throughout!
Natalie Wojcik's "7 Rings" 2021 Floor Routine For Michigan
Natalie Wojcik, a junior at the University of Michigan, has a floor routine this year set to Ariana Grande's "7 Rings." It's a classical version, and Wojcik credited assistant coach Maile'ana Kanewa-Hermelyn for her vision and choreography. Her artistry is incredible to watch!
Sekai Wright's Boy Band 2021 Floor Routine For UCLA
Are you ready for some boy band throwbacks? Sekai Wright, a junior at UCLA, has a floor routine featuring "Everybody (Backstreet's Back)" from the Backstreet Boys, "Motownphilly" from Boyz II Men, and *NSYNC's "Pop." Dance party? We think so!
Jaylene Gilstrap's "Despacito" 2021 Floor Routine For Utah
Freshman Jaylene Gilstrap of the University of Utah performs to a classical version of "Despacito" by Luis Fonsi featuring Daddy Yankee, and she opens up with a high-flying double tuck. She executes her choreography beautifully along to this rendition of the hit song.
Soraya Hawthorne's Prince 2021 Floor Routine For Georgia
We wrote about Soraya Hawthorne's Prince floor routine at the beginning of the 2021 season, and we still can't get enough of it! The sophomore from the University of Georgia flips, shimmies, and leaps along to "When Doves Cry" and "Kiss."
Ragan Smith's Beyoncé Medley 2021 Floor Routine For Oklahoma
Ragan Smith, an alternate at the 2016 Olympic Games and now a sophomore at the University of Oklahoma, performs to "Already," "Run the World (Girls)," "Halo," "Get Me Bodied," "Naughty Girl," "Crazy in Love," and "Single Ladies (Put a Ring on It)" by none other than the queen herself: Beyoncé.
Sydney Soloski's "Mi Gente" 2021 Floor Routine For Utah
University of Utah senior Sydney Soloski has a floor routine this season that's set to a remix of the original "Mi Gente" by J Balvin and Willy William. This particular performance on Feb. 19 received a 9.925.
Derrian Gobourne's '90s Throwback 2021 Floor Routine For Auburn
We're such big fans of Derrian Gobourne's '90s routine. The Auburn University junior told POPSUGAR previously that dancing to Will Smith's "Gettin' Jiggy Wit It" is one of her favorite parts of the routine. Also featured is Salt-N-Pepa's "Push It" as well as "Take It to da House" by Trick Daddy.
Nia Dennis's Viral 2021 Floor Routine For UCLA
Luisa Blanco's "Que Calor" 2021 Floor Routine For Alabama
Sophomore Luisa Blanco from the University of Alabama showcases her gorgeous toe point and dance moves featuring music that incorporates "Que Calor" by Major Lazer with J Balvin and El Alfa.
Lucy Stanhope Pink Panther 2021 Floor Routine For Utah
University of Utah freshman Lucy Stanhope is a former member of the Great Britain National Team. She used a Pink Panther theme song remix for her floor routine this year. Give it a watch!
Jordan Matthews's Napoleon Dynamite 2021 Floor Routine For BYU
We couldn't leave you without adding this routine into the mix. An honorable mention goes out to Jordan Matthews, a senior from Brigham Young University, who absolutely nails her performance inspired by Napoleon Dynamite. You can even see a "Vote for Pedro" shirt on the sidelines!