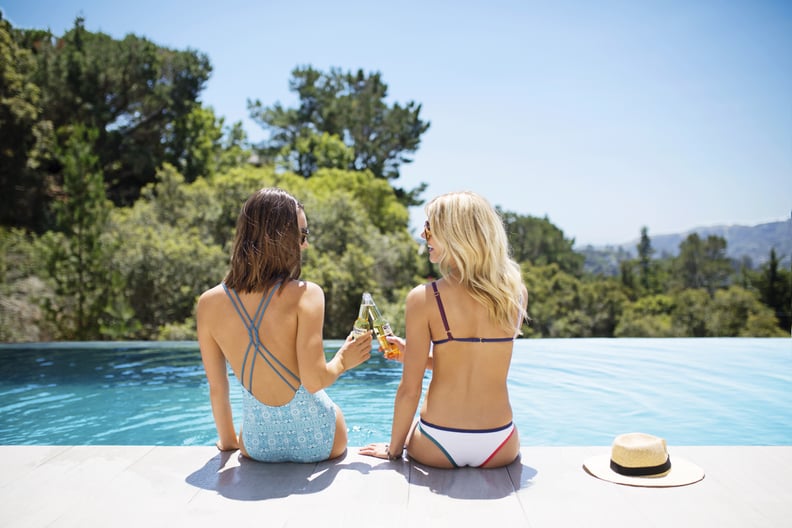 POPSUGAR Photography | Sheila Gim
POPSUGAR Photography | Sheila Gim
Sunning yourself with a cocktail in hand might sound like a recipe for ultimate relaxation. However, according to Venus ambassador and resident dermatologist, Dr. Anita Sturnham, when it comes to the health of your skin, the combination is anything but.
Sunburn can have detrimental effects on your skin health, and although that may not be news to most people, a study by Venus recently revealed that it's only a major Summer concern for 38 percent of women in the UK. If you count yourself among the number who put sun safety at the top of their Summer beauty list, you might be shocked to learn about how your seemingly harmless holiday habit is increasing your likelihood of sunburn.
According to Dr. Sturnham, it all comes down to our body chemistry. The dermatologist told POPSUGAR, "When we drink alcohol, this can exacerbate the risk of sunburn. It is believed that drinking may increase the skin's sensitivity to light, generating molecules that damage cells." Basically, the compounds released when we metabolise alcohol can heighten our skin's vulnerability to harmful UV rays, and Dr. Sturnham points one acid out in particular, saying, "Acetaldehyde, a product of alcohol metabolism, can reduce the skin's natural immunity."
This is especially worrying because your skin is already in a more vulnerable state when on holiday because with activities such as sunbathing "we have already exposed our skin to a significant level of UV damage, enough to stimulate our melanocytes to produce protective melanin pigment."
Although this is scary news, there are ways to protect your skin from sun damage without putting an end to your Summer fun. Make sure to invest in a great sunscreen all year-round, eat foods that fortify your skin against sun damage, and avoid staying out in direct sunlight for prolonged amounts of time without adequate protection.