As POPSUGAR editors, we independently select and write about stuff we love and think you'll like too. If you buy a product we have recommended, we may receive affiliate commission, which in turn supports our work.
Y'all, I'm too freakin' excited about this announcement, so I'm gonna go ahead and cut to the chase: Saucony just teamed up with Dunkin' Donuts to release a colorful doughnut- and coffee-themed running shoe, and it's truly a sight to behold.
Created in honor of the 2018 Boston Marathon, the Saucony x Dunkin' Donuts Kinvara 9 sneaker is totally decked out with one-of-a-kind designs that we've never seen on a running shoe before. For starters, the Saucony logos on the sides feature a coffee bean print detailing, and the insoles are covered in images of hot and iced coffees — so you're literally running on Dunkin', as the coffee chain's slogan goes. Orange and pink sprinkle-like accents are plastered on the sides of the shoe to match the brightly colored soles. Our favorite part of these limited-edition kicks? The heels feature a pink frosted doughnut illustration, so you can leave your fellow marathoners in the dust in style.
Saucony's new Dunkin' Donuts sneaker is now available for preorder for $110. We suggest snatching up your own pair ASAP because the other doughnut-obsessed marathoners out there are sure to cause a quick sellout. Crack open those piggy banks and then read on to admire the fun kicks from all angles.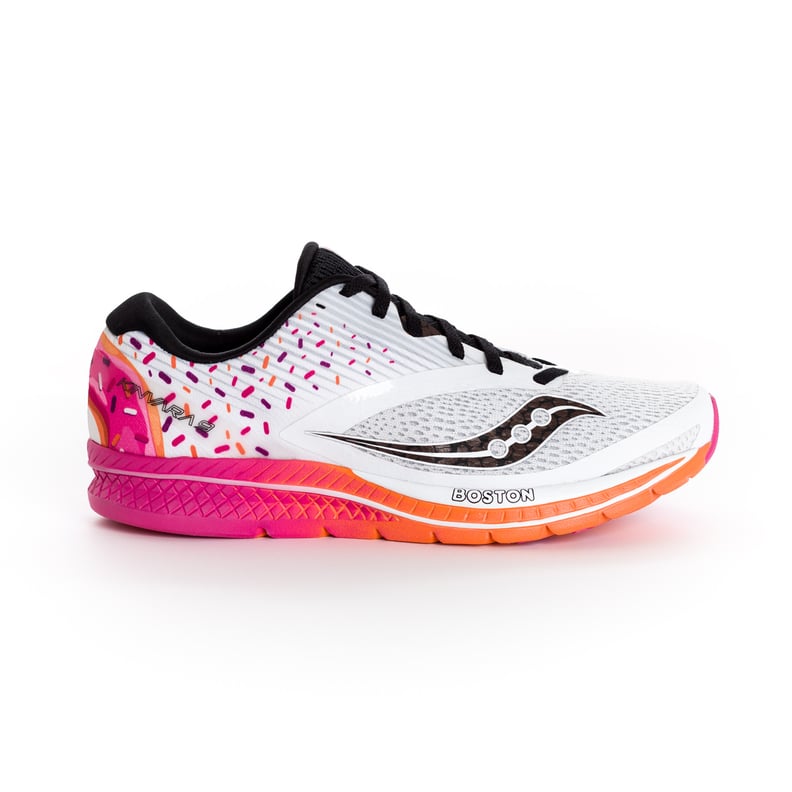 Preorder Your Own Pair Before It's Too Late