First Acupuncture Experience
My Fear of Needles Didn't Stop Me From Getting Acupuncture, and Here's Why I'll Be Going Back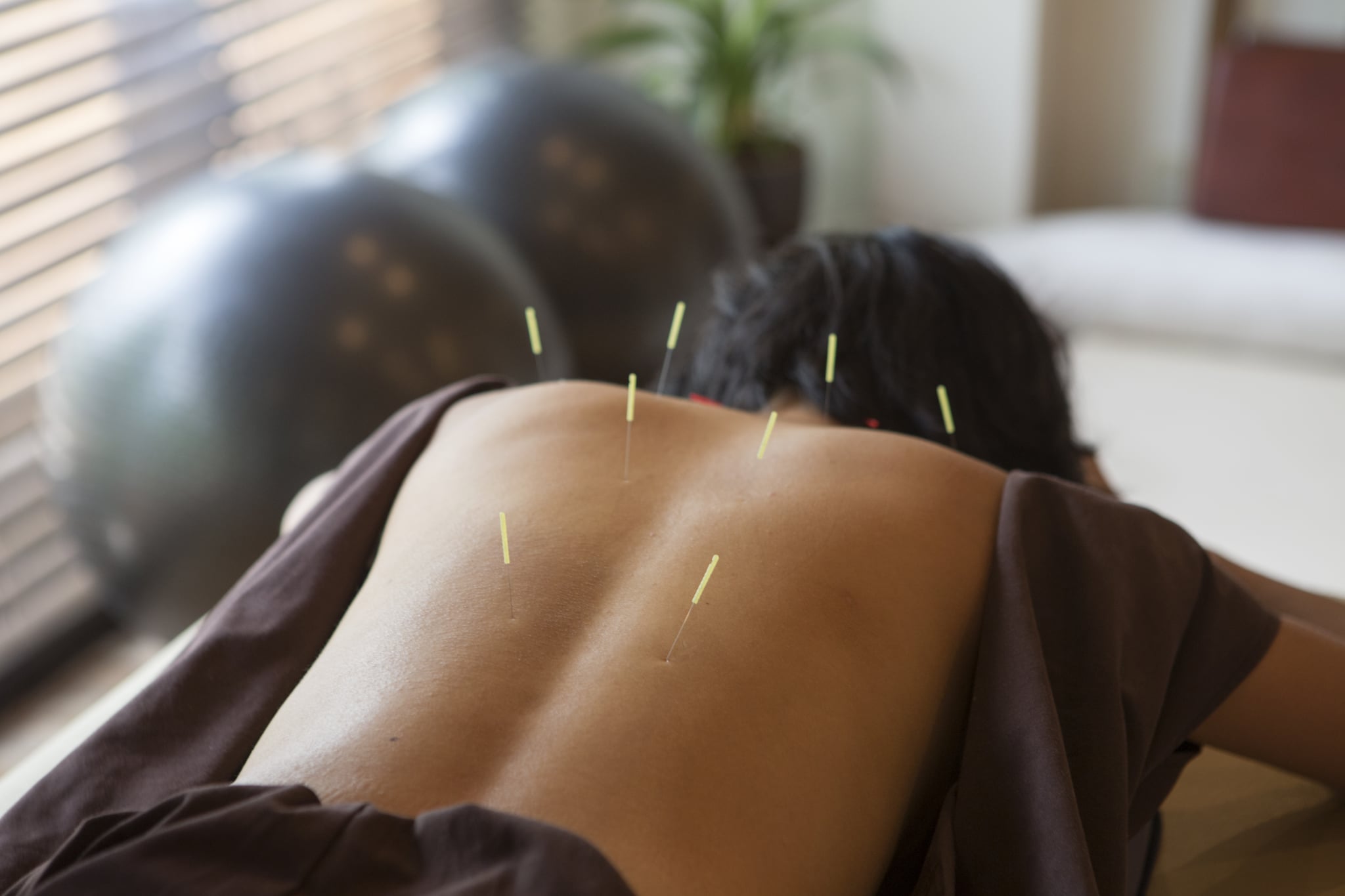 Growing up, my parents always encouraged my brother and me not to depend on medicine for healing. It's not like they asked us to disregard Western medicine and its techniques, but they just didn't want us to be putting chemicals in our bodies every single time we had a minor discomfort. So, I grew up to be a huge believer in alternative medicine.
Even though I'm not really a fan of needles, I've always wanted to try acupuncture. However, I didn't really see acupuncture as a "must" or a "need" (and if I'm being completely honest, I found it to be an expensive treatment), so I never got the chance to try it. But when I got invited by the Yinova Acupuncture and Wellness Center for a free experience, I was down. Energy Medicine author Jill Blakeaway opened Yinova in 1999 because she wanted to create a calm and private center where all sorts of people could feel protected and start their healing process. I made an appointment at their Manhattan location and was told to expect a one-and-a-half hour visit.
On the morning of my appointment, I showed up at the center a little early. The center was well-designed with soft colors, and the atmosphere was overall calming, which was good because I was a little nervous. The receptionist checked me in and gave me a form to fill out, which was pretty standard: it asked about my age, ailments, medical history, and any medication and supplements I was taking. After I filled out the form while sipping on a cup of tea, I was greeted by my acupuncturist, Anne Brunn. She grabbed my form and we went down to the examination room, which felt like a small massage room with dim lights and soft instrumental music.
Once we got some privacy, Anne asked me if I was having any difficulties falling asleep, how many hours of sleep I got each night, and the quality of my sleep. Then we talked about the frequency of my bowel movements and if I had any problems with digestion or menstruation. Next, she asked me to show her my tongue, to which she said "OK, good." She also wanted to learn more about my reasoning for this acupuncture session and if I had any areas of pain that I would like to work on. I told her about my chronic abdomen pains and how I've been feeling particularly bloated lately. She assured me that acupuncture could help with both. Anne left to give me time to undress; she told me to remove everything except my bra and underwear and to lie down on the massage table under a sheet.
To begin our session, I was facing up as Anne started opening up the disposable sterilized needles, which were definitely less scary than the ones that are used for injections. But I was still curious and a little nervous to see if it was going to hurt. I think Anne saw the terror on my face because she explained the the needles aren't like the ones used for shots; rather, they are hair-thin. Then, I felt her hand on my lower abdomen followed by a light tap and an even lighter prick. I would feel the the small pin needles for a second, but the sensation would go away quickly.
She continued the same hand-tap-prick sequence on the front of my body and put a couple needles on my head. The needles were placed evenly on both sides as if she was trying to rebalance my body. I felt a little pinch on my right hand between the thumb and index finger, which was the most uncomfortable part of the session and the only part that hurt when I tried to move around. I still hadn't felt anything other than the needles going in to my skin, but right after she inserted needles on my forearms, I felt a sensation – kind of like a sound wave going through my arm, which lasted about 30 seconds. I don't know what that buzzy feeling was, but that sensation made me believe that acupuncture does work.
When Anne was done, she told me to lie still for 30 minutes and then she'd come back. At the time, I thought it was going to be hard to lie still for 30 minutes with 25 needles in my body. I wasn't in pain, but I could feel the needles in me the whole time. But then once I stopped thinking about the needles, I was relaxed and my body started feeling heavy. Before I knew it, I was in a sleeping state and the 30 minutes had passed quickly. Anne came back to remove the needles.
And just like that, my first ever acupuncture session was done. Anne told me to put my clothes back on and that she was going to come back in five minutes to talk about how I should proceed to feel my best. Her instructions were to take a break from eating or drinking any cold foods. She told me to drink warm liquids but try to avoid coffee for a bit. Anne said that I should eat more homecooked meals that have dark leafy vegetables and warming flavors like ginger. She gave me a tincture to drop in my drink three times a day for the next two weeks. I've also been instructed to avoid buying processed meals even if they were from Trader Joe's. She wrote down a treatment plan of one session a week for the next four weeks to start with.
I felt great after the session, had no issues where the needles were stuck, and would actually love to do the plan she outlined for me. As someone who is not a big fan of needles and didn't see this treatment as a "must" before my experience, I can surely say that if you're looking for a way to diminish pain or treat other minor ailments, acupuncture could be the way to go. Just be sure to talk to your doctor to see if acupuncture is safe for you, and what other benefits acupuncture could have in your life.