Sculpt Your Back Muscles With These 6 Halle Berry-Approved Strength Exercises
Not going to lie, I've taken a much-needed workout break — but Halle Berry has me ready to jump back in the game with her most recent Fitness Friday post. I always feel like she's speaking to me (because in my head we're fitness besties) but I really felt like today's post was dedicated to me.
"With so many of us sitting in front of a computer all day or looking down at our phones, developing good posture can be so, so important," she said in her Instagram caption. I hear you and I promise to do better, Halle! She also mentioned that focusing on your upper-body strength can help prevent back pain, and who doesn't want to avoid that?! If you're looking for some new arm and back exercises to weave into your workouts, give these six Halle Berry-approved moves a shot.
01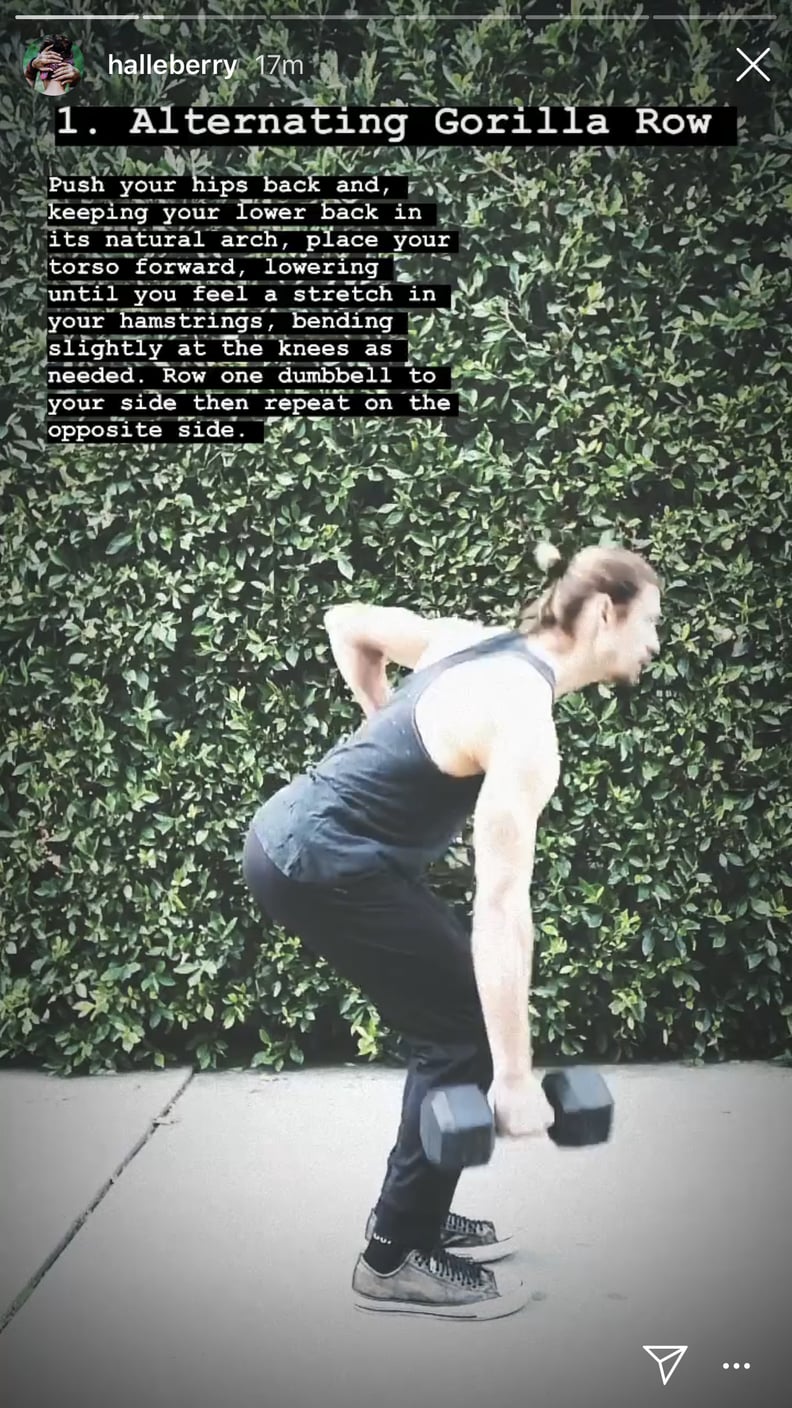 Alternating Gorilla Row
Halle's trainer Peter said to push your hips back and have a slight forward lean with your torso until you feel a stretch in your hamstrings. Keep a slight bend in your knees. With control, pull one dumbbell to your side and then repeat with the opposite arm. Complete 10 to 20 reps.
02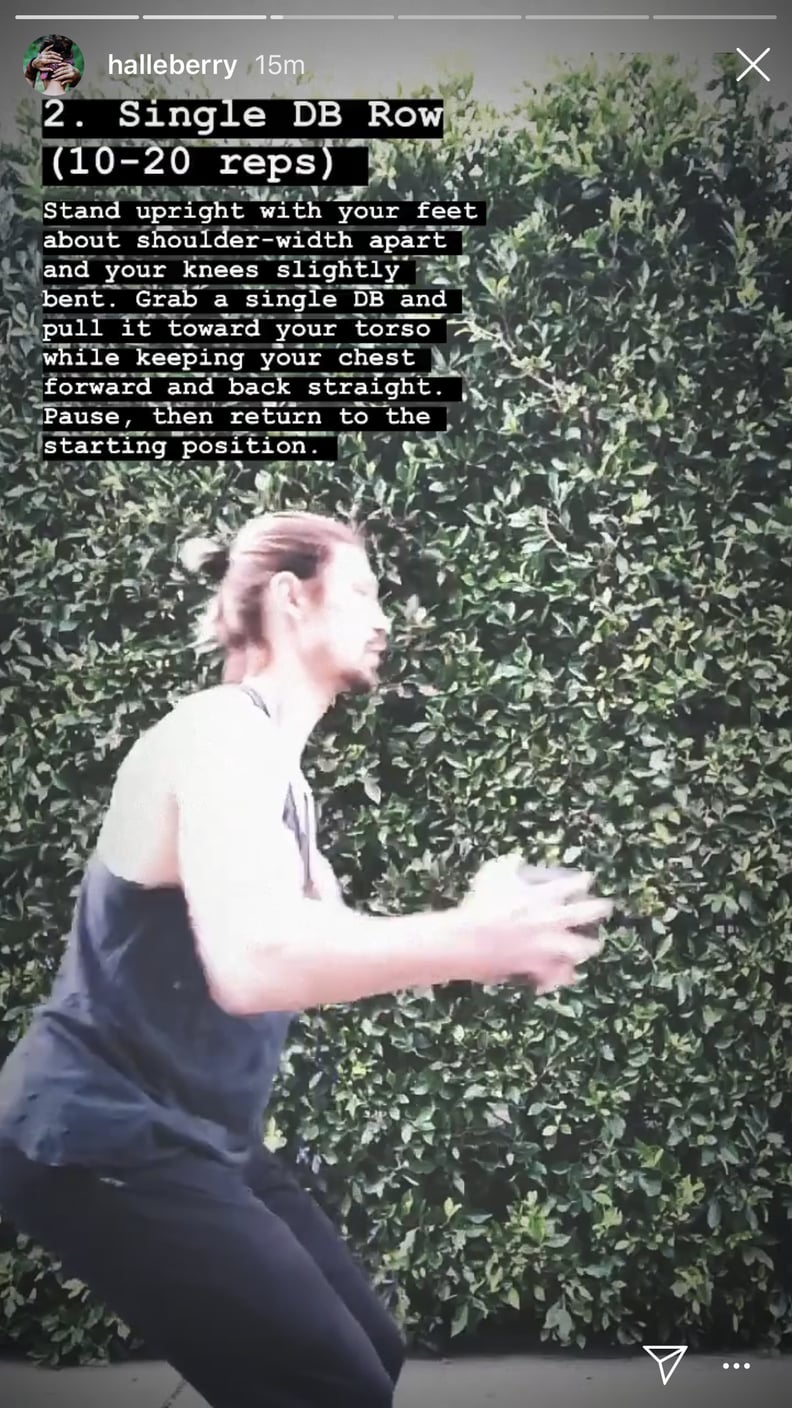 Single-Dumbbell Row
The next move Halle shared is the single-dumbbell row. To perform this move, stand upright with your feet about shoulder-width apart with a slight bend in your knees. Slightly lean your torso forward. With the dumbbell in both hands and your arms extended, pull the dumbbell toward your chest while maintaining a flat back. Hold for one to two seconds then return to the starting position. Complete 10 to 20 reps.
03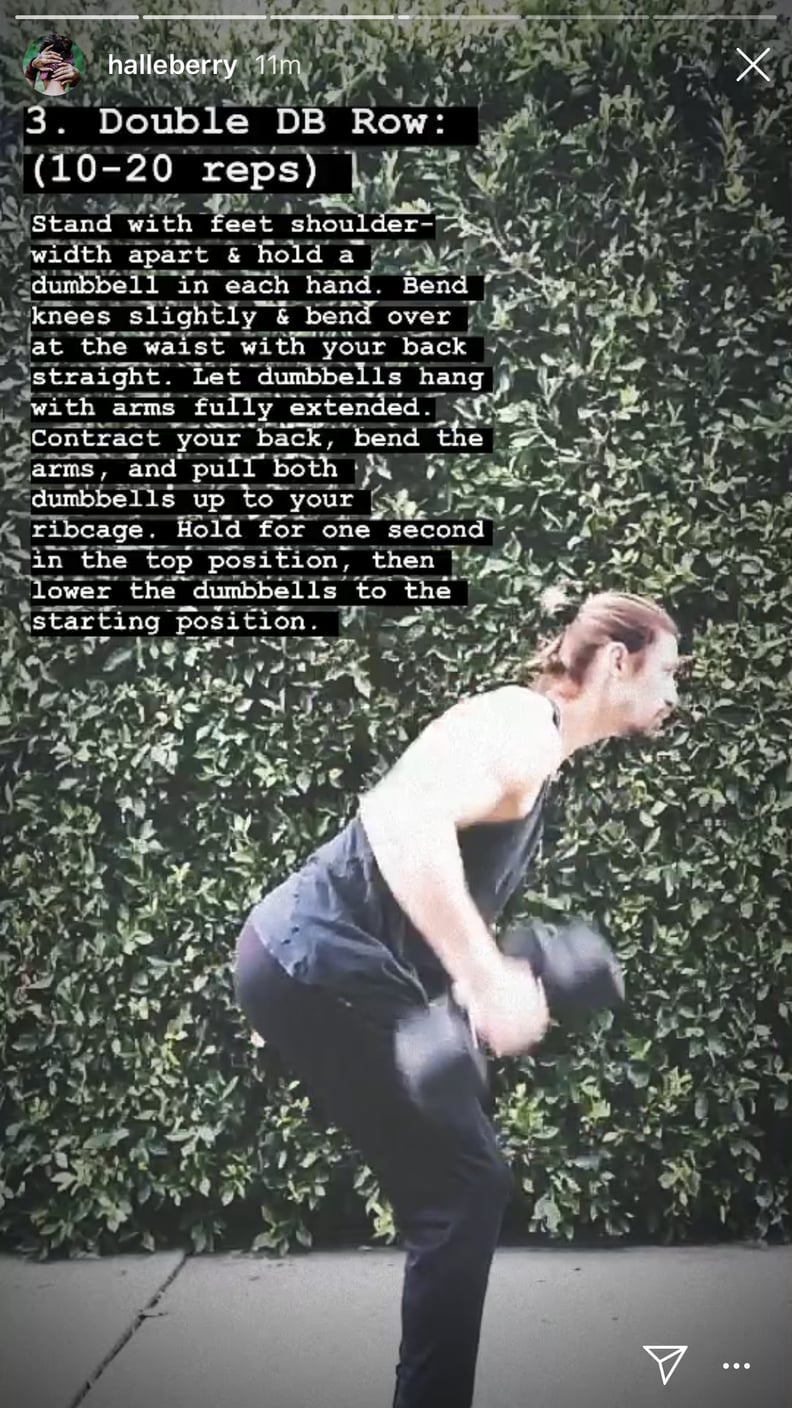 Double-Dumbbell Row
Up next is the double-dumbbell row. Start standing with your feet shoulder-width apart with one dumbbell in each hand. Maintain a slight bend in your knees and hinge (bend) at your hips slightly while keeping your back flat. Start with your arms fully extended, contract your back muscles, and simultaneously pull the dumbbells up to your ribs. Hold for one second, and then lower the dumbbells back to the starting position. Complete 10 to 20 reps.
04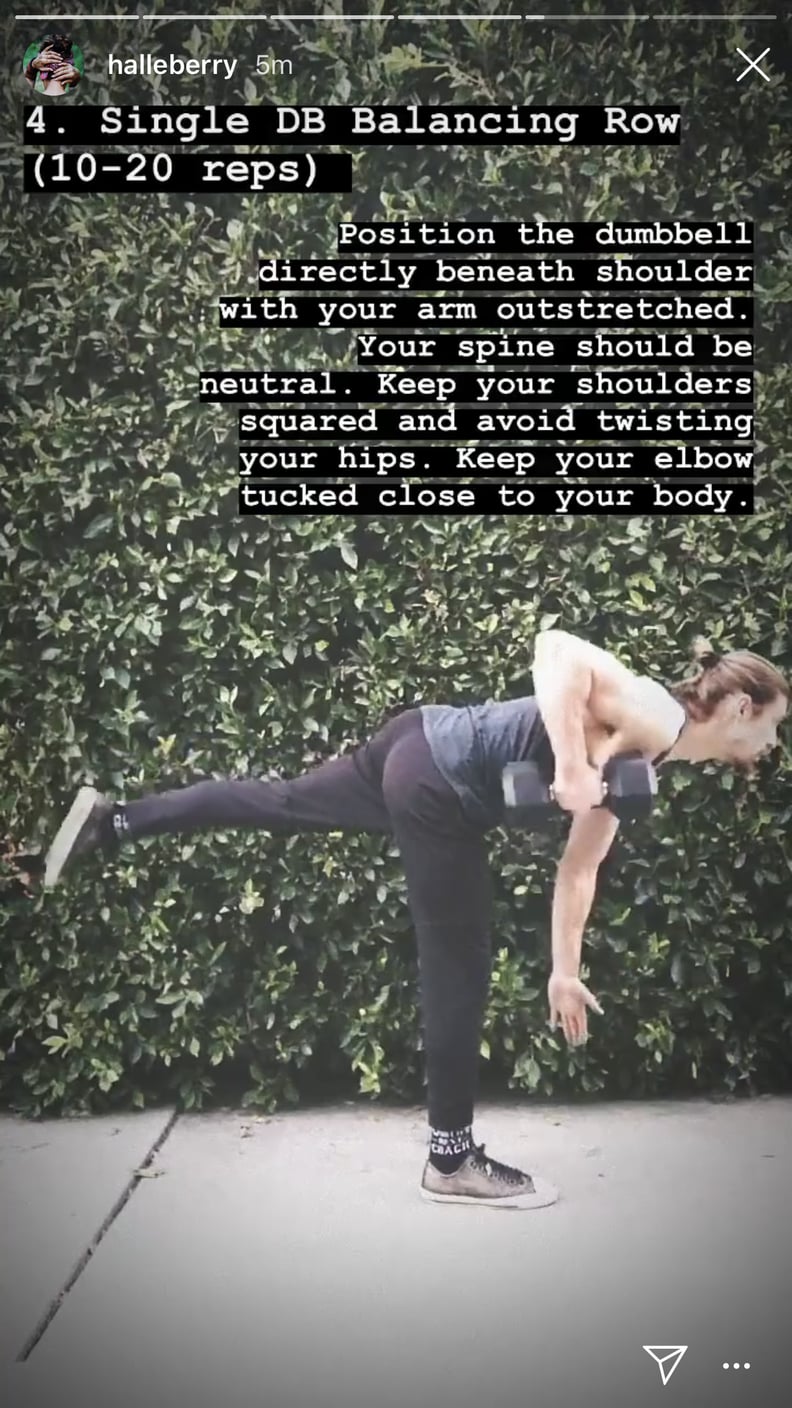 Single-Dumbbell Balancing Row
Start balancing on your right leg. If this is too hard to do, place the ball of your left foot on the ground with most of your weight on the right leg. Hold one dumbbell in your right hand, directly below your shoulder, and maintain a neutral spine. Be sure to keep your shoulders and hips square (think about your hips and shoulders pointing down toward the ground). With control, pull your elbow up toward your body as you keep it tucked by your side. Complete 10 to 20 reps.
05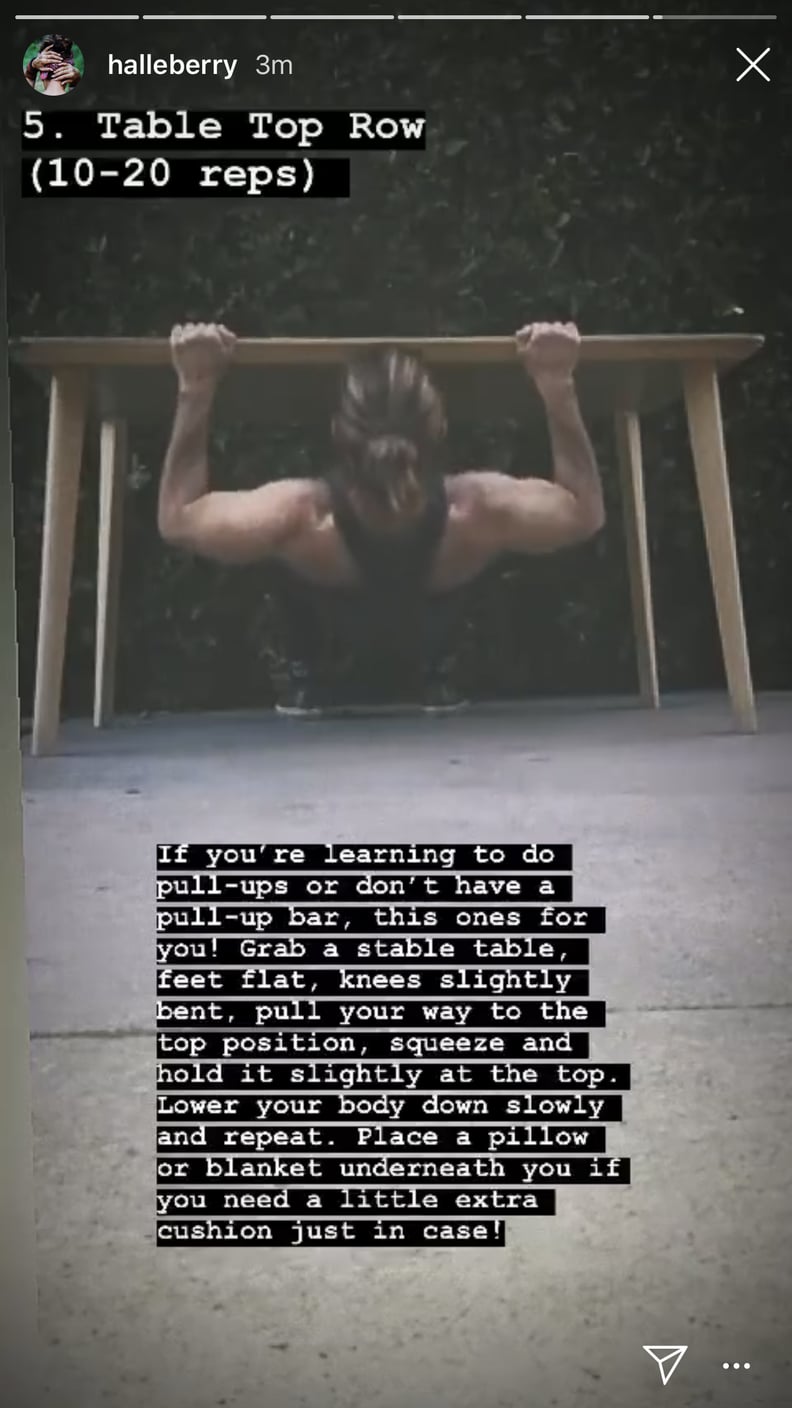 Tabletop Row
If your goal is to learn how to do pull-ups, Halle and her trainer recommend implementing the tabletop row into your workout routine. Place your legs underneath a table with your hands gripping the top of the table. With your knees slightly bent, pull yourself up toward the table. Squeeze and hold and then return to the starting position with control. Complete 10 to 20 reps.
06
Single-Arm Supported Row
The last move Halle shared to strengthen your back is the single-arm supported row. Start in a slight lunge and pull the dumbbell toward your hip, keeping your elbow in close to your side as you drive your elbow back. Squeeze your shoulder blades together and then lower the dumbbell down with control back to the starting position and switch sides. Complete 10 to 20 reps.