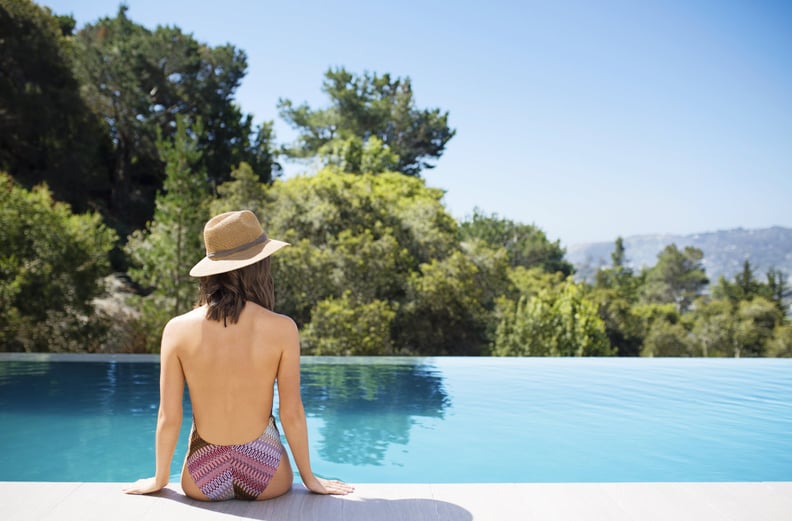 POPSUGAR Photography | Sheila Gim
POPSUGAR Photography | Sheila Gim
Summer may be the season when you want to be in the best shape ever, but that doesn't mean you need to spend all of your warm-weather time inside a stuffy gym, either. Luckily studios and trainers alike are bringing their signature classes and workouts outside in the form of HIIT on the beach, barre in the vines, cycling in the water, and much more. Check out this list of ideas, then get ready to break a sweat.
1. Aqua Spinning
Getting your heart rate up doesn't seem so rough when it's in the water, so consider cycling there instead of on a dirt path. Aside from cooling you off, it's a supereffective workout since your body is consistently moving against the natural resistance of the pool. Also, you can wear your swimsuit as a reminder of your #summerbodygoals.
Where to Try It: In an Open-Air Pool in Miami
Sign up for Blue Aqua Bootcamp at The Confidante, which consists of circuits with medicine balls, underwater boxing, water sprints, and core calisthenics. Hey no pain, no gain, right? Class schedule varies by month and can be found at the hotel's Facebook page.
2. Rowing
Never did crew in college? Now's your chance to turn that around. Not only is rowing amazing for your upper body, but doing it outside on the water is way more enjoyable. Who wouldn't want a nice breeze and some rays in their face? Just remember the SPF.
Where to Try It: Saugatuck Rowing and Fitness Club
Row House NYC has tons of inside studios all over Manhattan, but it's taking its cult-following fitness craze outdoors for the Summer in Saugatuck, CT. Warm up on the dock, spend a few hours rowing, then relax with a fully catered lunch and social time. Sounds good to us! Visit the website for dates and pricing.
3. Rock Climbing
Indoor rock climbing walls are popping up everywhere these days as the trend grows, but in order to fully appreciate scaling a natural boulder you should try it where it was originally concepted: in the wild. Plus, the photo potential here is huge.
Where to Try It: Canyon Ranch in Tucson, AZ
After a hike in the serene Sonoran Desert, try the rock wall for an innovative workout option that builds strength and burns calories as you work every major muscle group. Visit Canyon Ranch's website for pricing and to book.
4. Yoga
Where to Try It: Your Backyard
The best thing about yoga (as most yogis know) is that it can be done anywhere and the options are endless throughout Summer. Rooftops, sun decks, open fields . . . you name it, you can probably Downward Dog there.
Where to Try It: On the Beach in Miami
The Shelborne recently partnered with Innergy Meditation to bring its guests the ultimate "Zen-menity" with free beachside meditation every Saturday morning at 10 a.m. As part of its GUYandGIRL wellness program, the class is meant to practice of mindfulness and sharpen the ability to focus. Grab a spot, listen to the sound of the waves, and don't forget to BYOM (bring your own mat)! More information can be found at Shelborne's website.
6. KIPS (Kayak Interval Paddle Sets)
Based on Tabatas, these high-intensity interval sets take your workout to the next level in kayaks, a unique way to connect nature with fitness. We're in.
Where to Try It: On the Lake in Austin, TX
Lake Austin Spa Resort has countless outdoor fitness activities to choose from (like stand-up paddleboarding, wakesurfing, sunset-glow paddling, and water skiing), but it's known for its KIPS program, so grab your suit and get in the water. Visit Lake Austin's website to book.
7. Barre
Lengthening and toning à la the ballet technique is much easier when your view involves a skyline, sunset, or grapevines instead of a beige wall, don't you think? Now you have no excuse not to make it to the bar(re).
Where to Try It: Wölffer Estate Vineyard in Sagaponack, NY
Join Exhale for its signature core fusion and barre plus yoga class every Saturday at 5 p.m. in July and August outside at Wölffer Estate Vineyard. The best part is you can sip a glass of Rosé after you bend and stretch for an hour because #summer. Visit Wölffer Estate Vineyard's website for more information and pricing.
8. Surfing
Channel Blake Lively and Kate Bosworth and put a bodysuit to good use on a surfboard. Surfing can burn hundreds of calories an hour and the better you get, the more addicted you'll become. Isn't that always a positive for working out?
Where to Try It: Manhattan Beach in LA
The Westin Los Angeles International Airport runs private and semiprivate surf lessons (the 90-minute experience costs $100 for one person or $80 per person for two people) that anybody can book in advance. Because what could be better then getting off a plane and heading straight to the beach? You'll meet with the property's surf concierge at the hotel, then take a short shuttle to the El Porto section of Manhattan Beach, where you're provided with a wetsuit and surfboard before hitting the water. Visit the hotel's website to book.
9. HIIT
For a proper butt kicking, try HIIT al fresco. The best thing about high-intensity interval training is that it will give you the cardio/body-strength conditioning combo you need, and the time flies by.
Where to Try It: Tone House in Montauk, NY
Tone House will be teaching its famous sports performance classes every Saturday at noon at Ruschmeyer's, kicking off June 17 weekend. So before you brunch, get ripped. Visit Ruschmeyer's website to book.